Cabins, Crowds, and Cowrillas: An Update on My Visit Last Week
By Dave Shute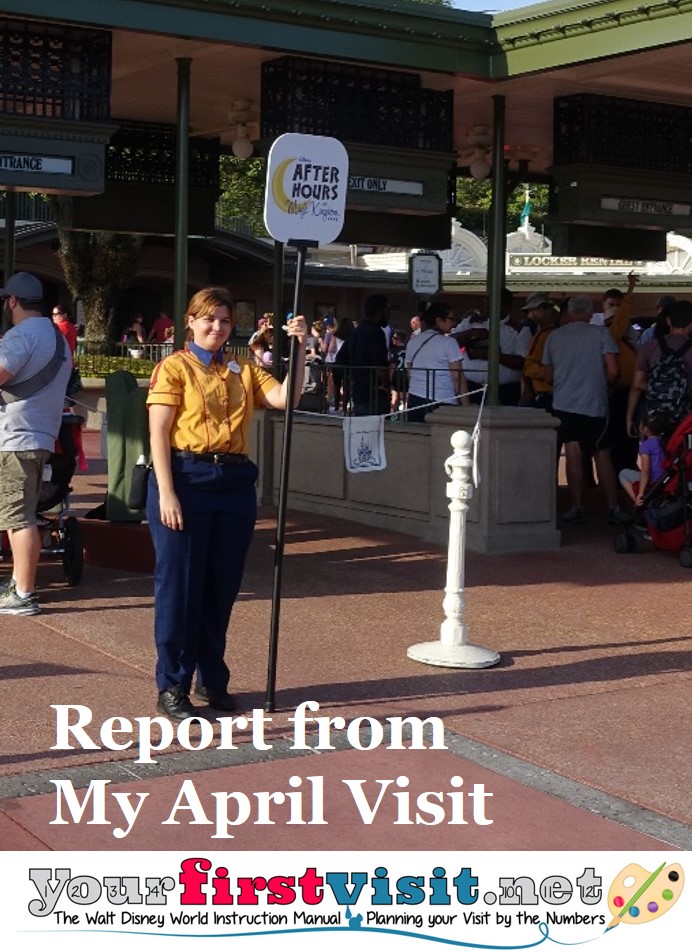 I had a whirlwind trip to Disney World last week and have lots of news to share from it.
Almost everything noted below will later result in its own post, or in a major revision to an already existing post.
However, I know my track record for the pace with which I get such material written, so thought I'd better get the key news out now.
One bit of news is missing–my whole trip was planned around seeing  Rivers of Light, which got delayed…oh well that gives me an excuse to return to Disney World soon!
NO REFURB FOR LOOP 2100
When last we spoke about the Cabins at Fort Wilderness, I'd noted that Disney's plans about Loop 2100 were unclear.
I'd seen a rumor on disboards that the Cabins on this loop were being unbound and hauled off, and confirmed that on a visit to the campground as soon as I arrived.
Josh of easyWDW.com took this shot from the passenger side of my rental car as we were low-riding near the Magic Kingdom.
What will happen to this loop is still not clear–but we can rule out that the cabins that were on it will be refurbed…
There's more on the lost Cabins here.
SCAFFOLDING IS DOWN AT THE WILDERNESS LODGE
Next I rolled over to the Wilderness Lodge to see the state of the refurb there.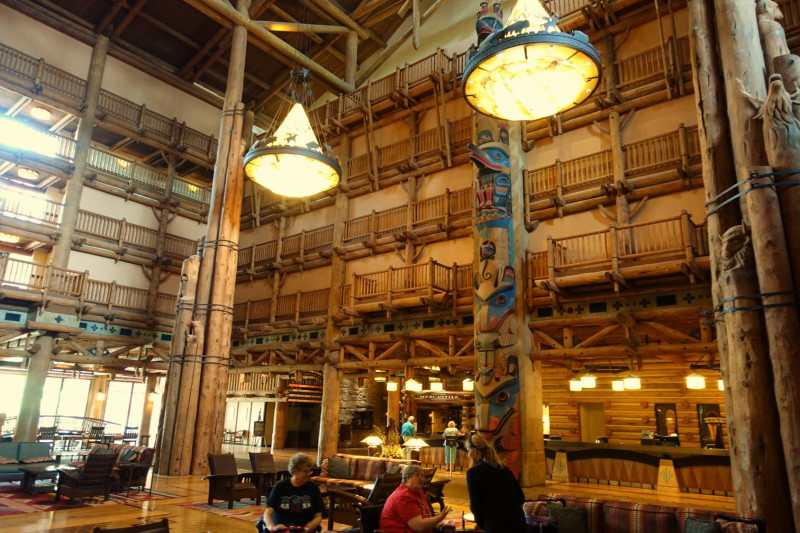 The lobby is still marred by construction walls…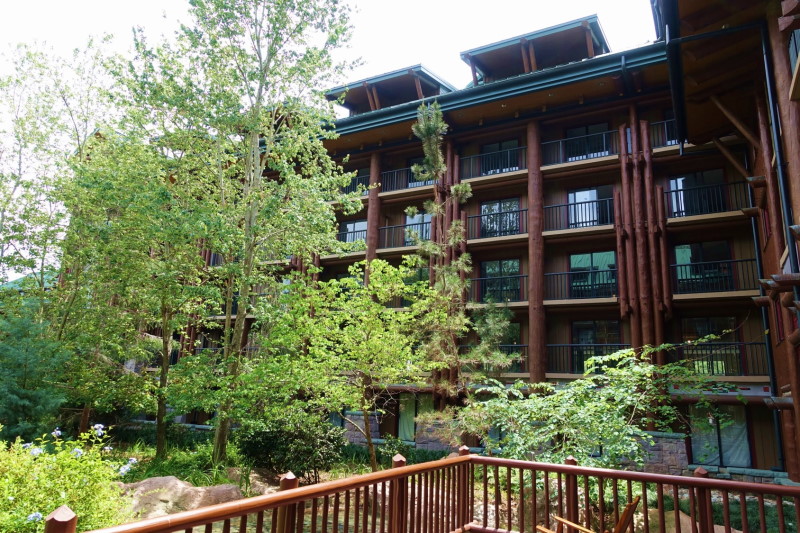 …but the scaffolding is down around the south-east wing, making the Wilderness Lodge not as bad a choice as last I'd suggested.
COOL NEW KIDS WATER PLAY AREA AT PORT ORLEANS FRENCH QUARTER
Port Orleans French Quarter replaced its old lame kiddie pool with a great new kids' water play area, which I saw next.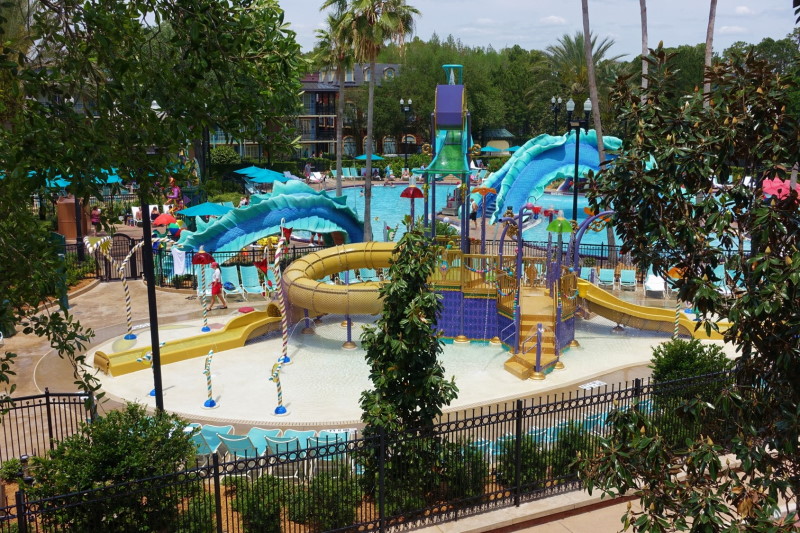 This new feature is huge–you have to see it to appreciate it–and it greatly enhances the appeal of the pool here to younger kids.
NEW STAR WARS STAGE SHOW OF HUGE APPEAL TO REALLY TALL STAR WARS FANS
Next it was off to the Studios, where I saw the new Star Wars: A Galaxy Far, Far Away stage show.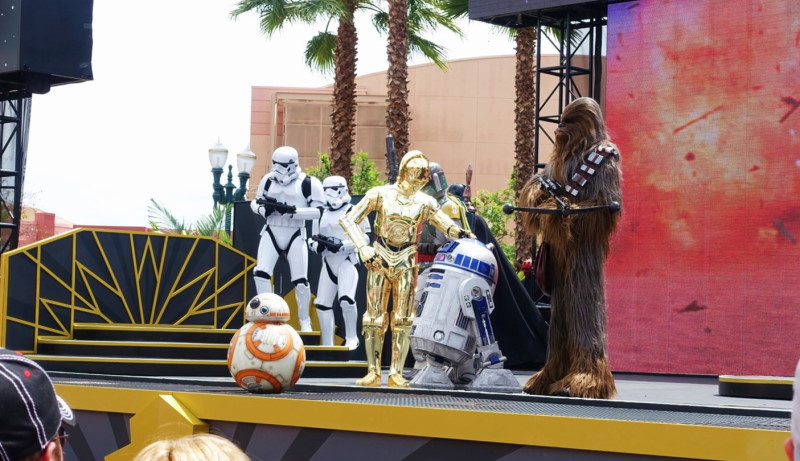 This show–kinda an extended curtain call for Star Wars characters, interspersed with movie clips–is of appeal to Star Wars fans who arrive early, or are really tall, as the stage is far too short for good sight lines to it.
REFURBED JAMBO HOUSE STUDIO
The Jambo House Villas at Disney's Animal Kingdom Lodge are being refurbed.
Wednesday night I stayed in and photographed a refurbed Studio.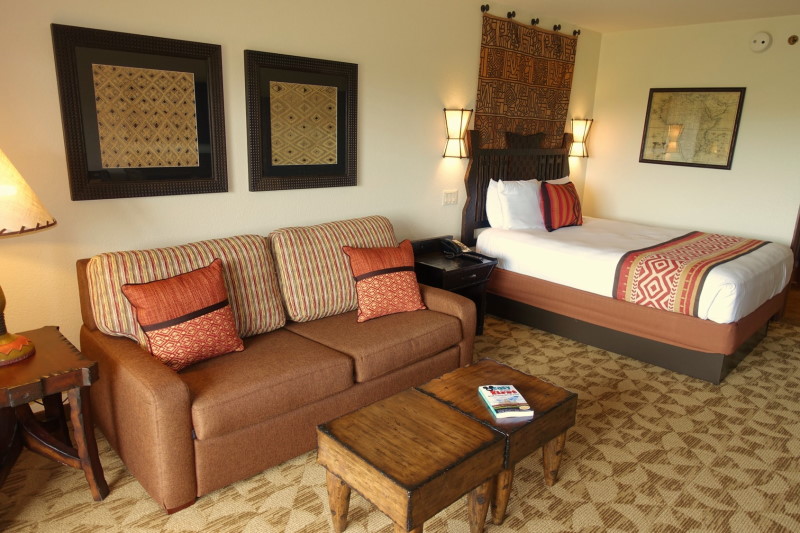 The refurb is really light–new carpet, cushions, TV, and more power points.
REFURBED STANDARD ANIMAL KINGDOM LODGE ROOMS
Thursday, for reasons that will become apparent, I mostly slept, but in the middle of the day shifted from my Studio to a standard Animal Kingdom Lodge room.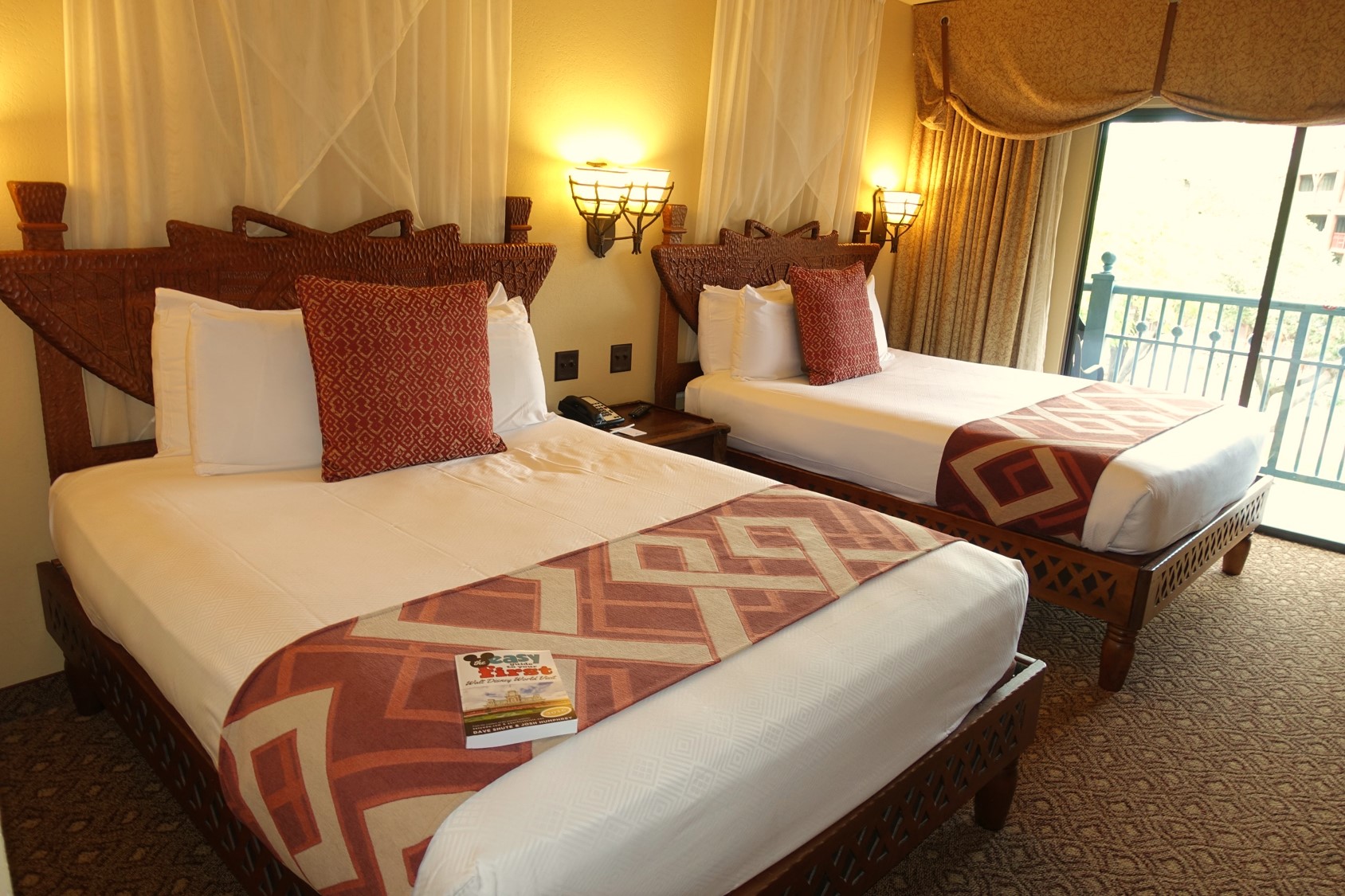 These rooms had been refurbed since my last visit to the Animal Kingdom Lodge in 2014, so I took new photos to post in my review of this hotel.
125 DISNEY OWNED ROOMS
Incidentally, this room was the 125th different Disney World-owned room, studio, villa, suite, campsite or cabin I've stayed in.
I've always had the quaint notion that Disney World bloggers should write about things they actually have experienced. Most have stayed in just a few room types, and for the rest simply write words about others' words.
THE OASIS POOL AT DISNEY'S POLYNESIAN VILLAGE RESORT
The Oasis Pool, the last component of Disney's multi-year refurb of the Polynesian Village, opened in early April.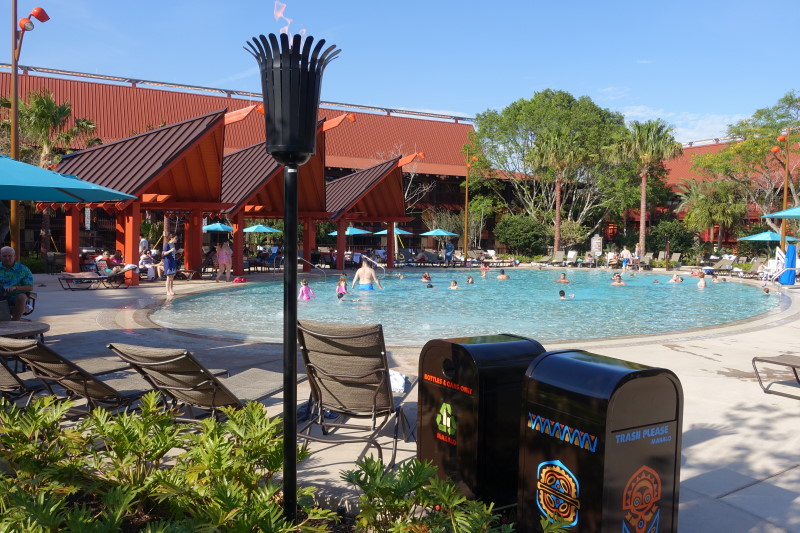 I stopped by on my way to the Magic Kingdom–it's a much more expansive pool and set of amenities than I had thought, and worth a visit, soon…
DISNEY AFTER HOURS
Next I tested the Disney After Hours party…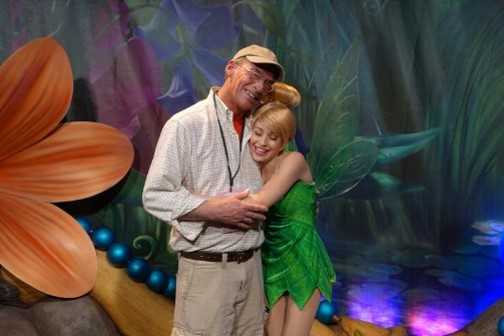 …beginning with a little dalliance with Tink. Note how much she's into me. Most can't really blame her.
The short version is that I saw 29 attractions and shows, including every single headliner. A full report on the After Hours event is here.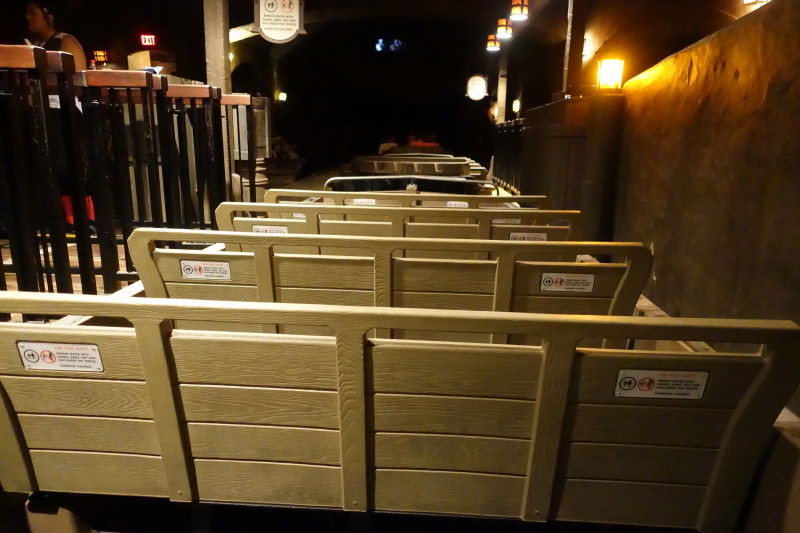 Here's who else was in my ride vehicle on Pirates of the Caribbean.
STORYMAKER
StoryMaker is the personalization system that's being rolled out across Disney World.
Disney World pulls data from its databases as cued by your MagicBand, and StoryMaker uses the data to present personalized messages and also charge your credit card for Shanghai overtime.
In the Haunted Mansion, the hitchhiking ghost knew what state I had traveled from, and held up a sign saying "Back to Ohio."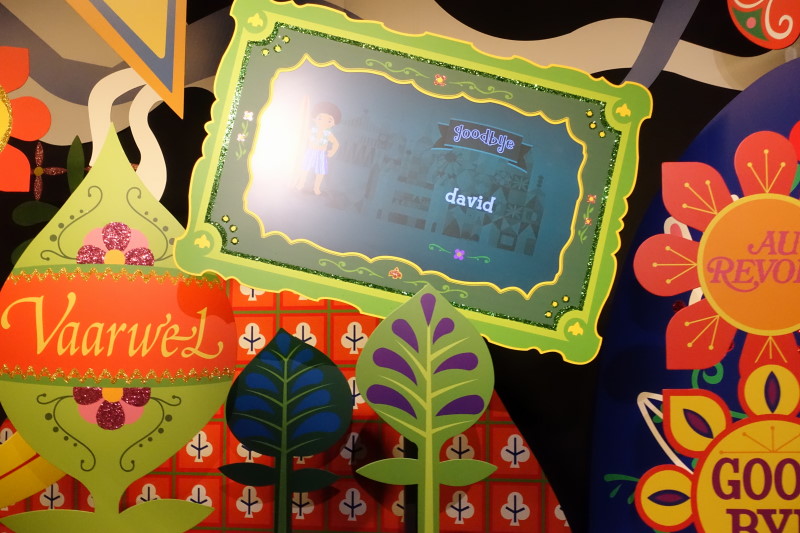 On it's a small world, I got a personalized goodbye.
I knew this was coming, and expected to be weirded out by it.  In fact, I found it charming.
CAPA AT THE FOUR SEASONS
Friday morning I got up earlier than I wanted to (I'd gotten back to the Lodge about 3a after the After Hours event) and raced down to Mara to fill my refillable mug with coffee.
There I ran into my imaginary internet friend Tami (of Colorado Mountain Mom) and her family, but since I had not yet ummm brushed my teeth we agreed to act like it never happened.
Lovely wife Amy Girl (below) flew in later Friday morning (hence Tink on Thursday).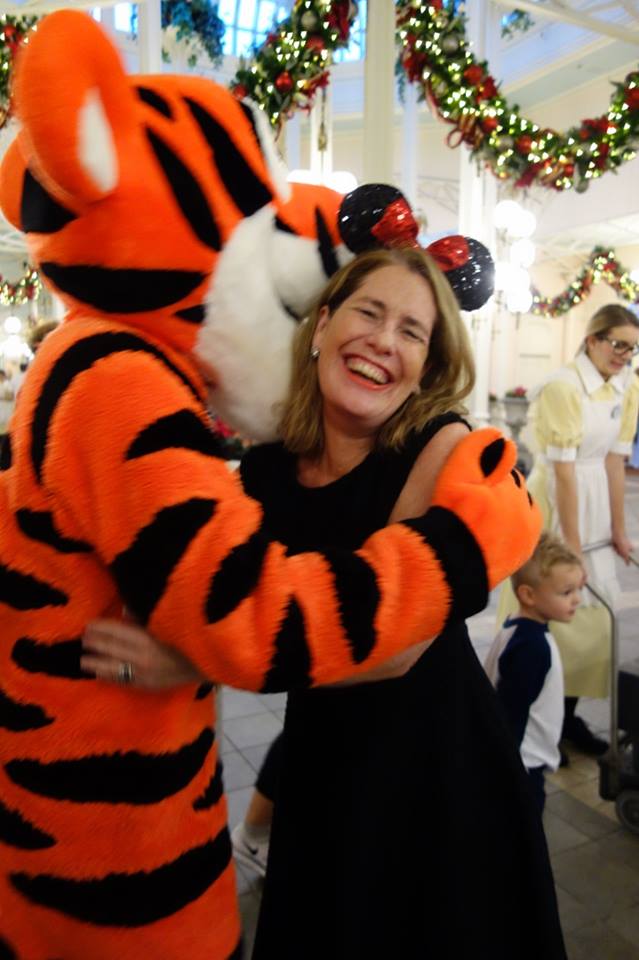 I'd planned for us to be at the Animal Kingdom Friday, perhaps to do the Joe Rohde meet and greet, but instead we lazed at one of my favorite spots at Disney World, Uzima Pool at the Animal Kingdom Lodge. (We did walk behind Joe's ear later at the Lodge.)
From there we had a really nice dinner at Capa at the Four Seasons (which had not yet been open during my earlier stays at this hotel).  Amy had not been there before, and given her delight in relaxing at pools, I wanted to show the hotel and its pools to her to entice her to stay at the Four Seasons on our next visit.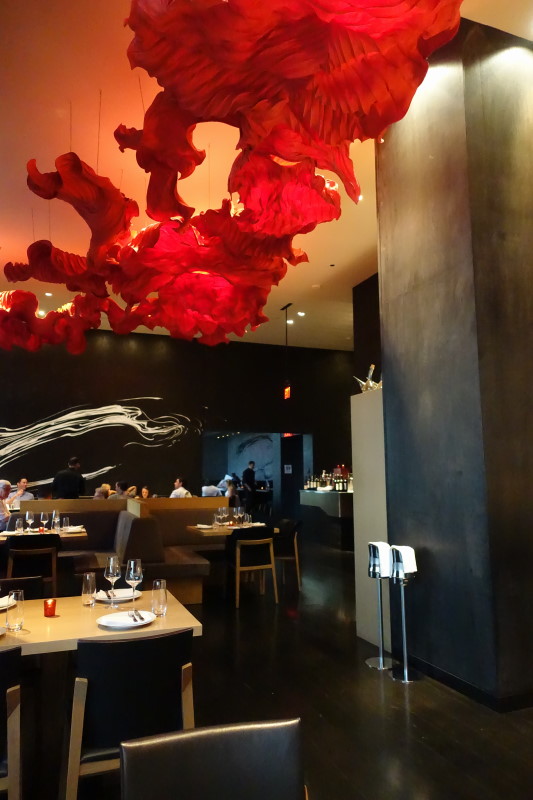 We enjoyed Capa and she loved the pools, but I forgot to take photos of our entrees so it's like we were never even there.
MEET AND GREET WITH JOSH AT EPCOT
Saturday Josh and I did a meet and greet and book signing at Epcot.
We've done a lot of these, but this one was my favorite.  We met some really neat people, and made some children happy.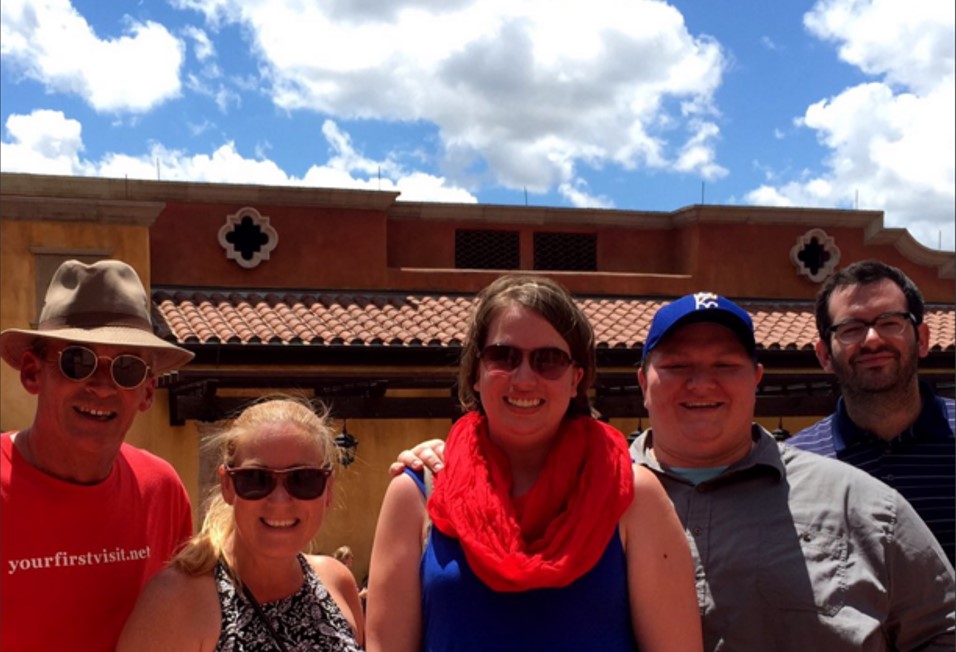 Josh is on the right, I'm on the left with my new hat (I left my cap behind on Seven Dwarfs Mine Train), and Allison from Destinations in Florida is next to me.  Between her and Josh is a really sweet couple we met and whose book we signed.
Another family had a son who had just turned ten, and as a birthday present got his own copy of The easy Guide to Your First Walt Disney World Visit, which Josh and I autographed.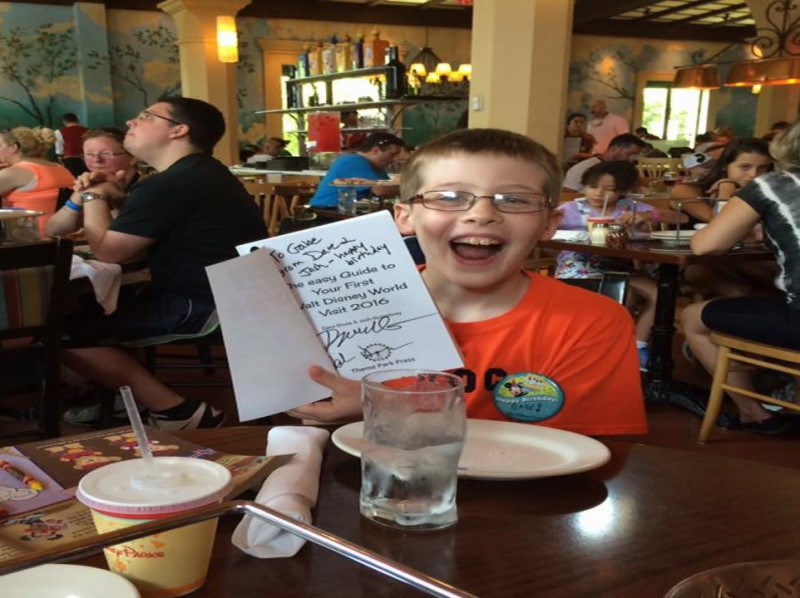 A later photo from his mom indicates his satisfaction with our signatures…
REFURBED ONE BEDROOM VILLA
We then moved into a refurbed One Bedroom Villa at Jambo House.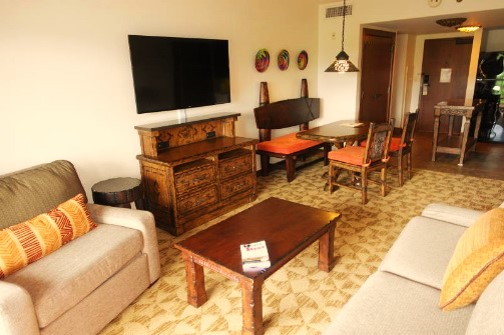 Like the Studio, the changes in the refurbed Villa were very subtle–carpet, cushions, TV, power.
EPCOT FLOWER AND GARDEN FESTIVAL
Amy had only seen the Flower and Garden show in early March, not late April, so we took a spin around Word Showcase Saturday evening and ate in Morocco.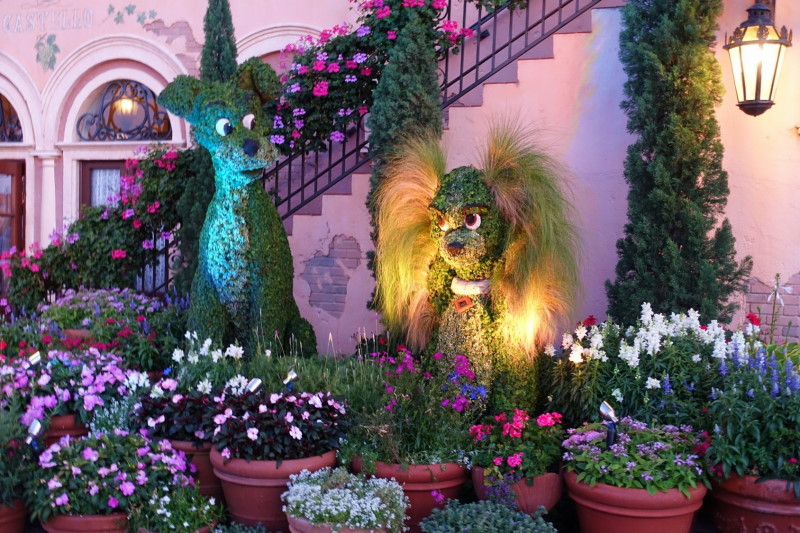 Lotsa fun pictures…we have a soft spot for Lady and the Tramp, as our first family dog, Molly, looked just like Lady.
COWRILLAS
I had trouble falling asleep Saturday night, so hung out on our balcony and watched the animals go to sleep.
Three giraffes fell asleep in front of me–here's them about to get up the next morning: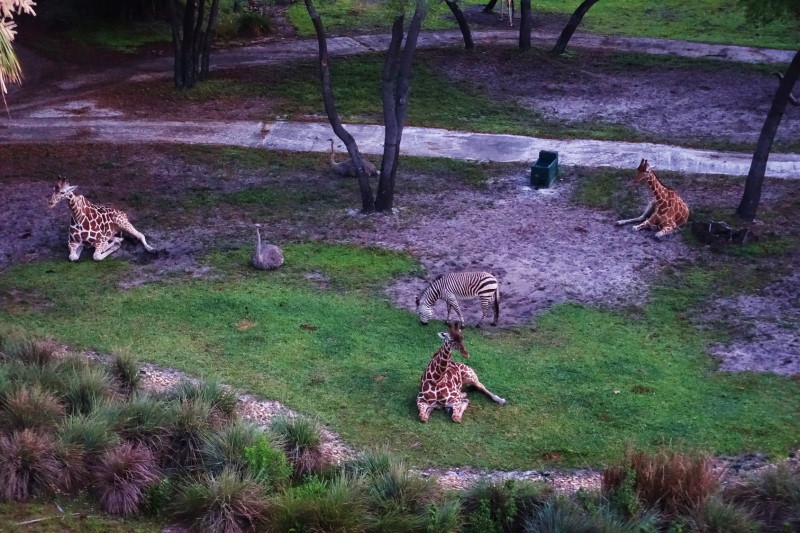 Above the trees behind them, I could see the fireworks from the Studios. Later, while drinking some Orange Blossom Pilsner that Josh got for me, thanks to a trick of the wind I could hear the Electrical Water Pageant all the way from Seven Seas Lagoon.
The giraffes were eventually joined by cowrillas.  I'd noted cowrillas a coupla times on my Facebook page, but never explained them.
Cowrillas are cattle with horns as big as gorillas would have, if only gorilla had horns…


Follow yourfirstvisit.net on Facebook or Google+ or Twitter or Pinterest!!
RELATED STUFF