Free Dining and Other Disney World Deals
By Dave Shute
The last two years, Disney World's most anticipated deal, Free Dining, was released in late April–April 25 in 2016, and April 27 in 2015.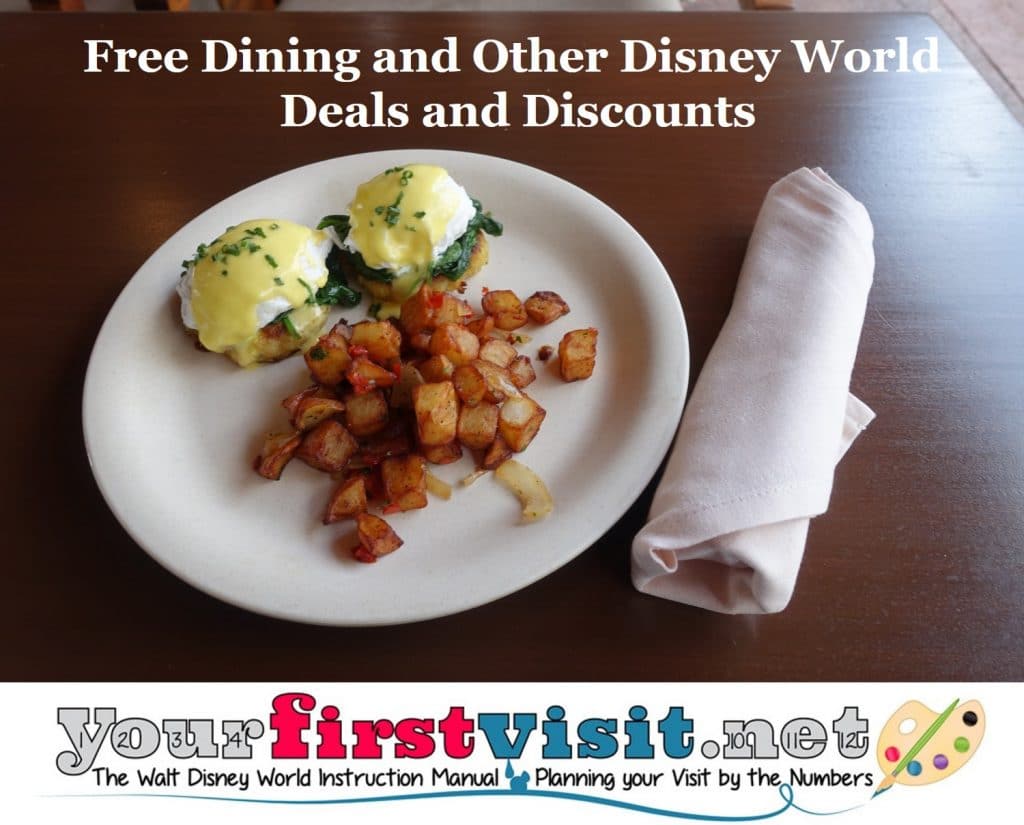 In the hopes that Free Dining will be coming again, maybe even in three weeks or so like the past few years, Kelly B, my friend and the travel agent from Destinations in Florida dedicated to this site, composed the following thoughts to help people understand Disney deals and how to get them!!
Kelly has saved my readers tens of thousands of dollars…so I'd give her thoughts a read!
All About Disney Discounts from Kelly B
What is the most sought after "prize"….Grammy, Oscar, Super Bowl ring…….Nope it's the coveted and often misunderstood Disney World Vacation Discount.
You're planning your vacation and see a social media ad, TV commercial, or even get a special discount offer in their mail.  With excitement you get online or call your favorite Travel Agent ( WHAT? You don't have one!?!?!?!?! Don't worry, call Kelly B – Destinations in Florida's designated travel agent for yourfirstvisit.net – at 980-429-4499 or email me at KellyB@DestinationsInFlorida.com), only to find nothing is available or you only saved $25. How can that be?
Well, I'm here to explain a bit more about Disney Vacation Discounts and how they work. So sit down, put on your Mouse Ears (if you don't own any yet, don't worry, you'll be able to get some on your next vacation), get comfy and learn all about the best way to save on your next magical vacation to Walt Disney World.
Types of Discounts
Let's take a look at the actual discounts offered.
There are two common kinds of discounts offered when Disney releases a standard promotion – room only discounts and package discounts. What's the difference?
"Room Only" discounts require only booking a room, and do not require any other components (tickets, dining, etc.) to be included (they can be added, but are not required
"Package" discounts usually have other components that are needed, most commonly a minimum number of days of park tickets.
We'll explore "Room-Only" discounts first. These offers are discounts on the previously posted prices for the room portion of your vacation.  Typically, Each level of resort has a different discount. For example
Value resorts may have up to 15% off
Moderate resorts may have up to 20% off
Deluxe resorts and Villas may have up to 25% off
Did you notice anything about these offers?  The words "Up to". The discounts range in amounts and go "up to" the discount being given with a particular promotion. It also depends on the specific resort, the room category (often these days, the least expensive room types—typically "standard" views in areas of the hotel that are not "rpeferred"—have little availability) and dates.
The other type of discount of discount is the "Package Discount".
These discounts come in all shapes and sizes, and change from year to year. They include everything from getting a free day of tickets to the coveted FREE Dining deal, which gives you one or another version of the Disney Dining Plan for free. (While one of the best discounts, smaller parties staying in one of the more expensive resorts—like two people in a deluxe—often do better with room only discounts than with free dining).
These package deals usually come with requirements.  There may be a minimum number of nights you must stay, a minimum number of ticket days you must buy, etc.
What, Where, & Why Discounts Available
Now that you know about the kinds of discounts, let's talk about getting one. One of the biggest misunderstandings about Disney discounts, is that many people believe if a discount is offered for their vacation dates, they will automatically get it.  Unfortunately, this is NOT true.
When you originally book your reservation (and it is always best to book as soon as you can commit at current prices–resort availability goes fast., and if you wait, you could miss out on a favorite resort or the view or room type you were dreaming about), unless you booked a deal you will be booked in a non-discounted room.
Then Disney World starts planning for a discount.  They contact each of the resorts (each run by its own management team, sometime shared across nearby resorts) with the discount information. Disney takes a look at current availability. They decide how many rooms, what room categories, etc. they will release in the discount.
It's basically booking trends viewed through the lens of supply and demand.
If certain rooms (like Little Mermaid standard rooms at Art of Animation) are booking quite well at undiscounted rates own, they aren't included.
If other rooms have a lot of availability (Like Pirate rooms at Caribbean Beach Resort) it's an easy decision to include them in the discount.
Some resorts may have availability for some dates of the discount, but not during other dates, or be excluded entirely—common circumstances at Port Orleans French Quarter
As much as Disney World is a magical place that I've come to call my second home, it's still a business.  And they are in the business not only of making magical family vacations, but doing so at the highest profit that they can. We can believe the discount is created just to sprinkle some pixie dust on our vacations but we need to understand the reality is to fill rooms and draw in more guests. How does Disney do this? They release a discount to fill resorts and rooms that are empty.
How to Get a Discount
There are two ways to obtain a Disney discount, the hard way and the easy way.
The hard way is to book your Disney vacation on your own. Then check every morning to see if a discount came out. Then if you see one has come out, you can try to change it online. Often the system will crash from so many people being on it so you'll need to call instead. But hold times can be hours long. And I'm all about Disney hold music, but about the 10th time you listen to Heffalumps and Woozles – well every Disney fan has their limits.
What is that EASY way to book a Disney discount I spoke of?  Book through a travel agent that specializes in Disney like me, KellyB@DestinationsInFlorida.com!
Before the discount is projected to be released, I've already booked your reservation, sent you multiple emails (including signing you up for Destinations in Florida's FREE weekly MOUSE PERKS). I've sent you a form to fill out that goes over any changes you're willing to make to your reservation to get the best discount.  The day of the discount release I am up early (like it's still dark out that the roosters are still sleeping, early) checking on your reservation online. Looking at your answers to the form, I'll make changes to your reservation and apply the best discount based on availability. As soon as the phone lines open, I'm in the hold queue waiting to make changes I couldn't online.
You'll sleep in, snuggled under the covers, dreaming about enjoying a Dole Whip while you watch the fireworks. No stress. No lost sleep.  Just savings.
And remember, all of my services are FREE.  Free dining planning.  Free FastPass+ planning. Free itinerary planning. Plus, by letting me know you found me on yourfirstvisit.net – I'll send all qualified Disney vacation packages a FREE copy of Dave's latest easy Guide to Your Walt Disney World Vacation.
Why You Didn't Get A Discount
When the craziness of Disney Discount Release Day is over, there is still a chance you may not have gotten the discount you were hoping for–wheter you or someone like me was doing the trying.  You're left wondering what happened. A few different things may have happened:
Your resort was not included in the discount
Your resort was included in the discount, but your room category was not. You would have had to upgrade into a higher-priced room, and the new price ended up costing more than the discount.
Disney puts only some of the rooms in the offered resorts int the deals. Even with all the best planning and work, sometimes there just isn't enough availability for everyone to get the discount.
Because you know it's best to book as early as possible you did.  BUT since the time you booked, other prices increased. Tickets went up around 10% in February, so if you booked a room and tickets before then, the difference from your discount might be very small or it might actually cost more to add the new discount.
Disney only allows one discount per reservation. If you applied a previous discount to your reservation, that discount could be a better savings than the new one—especially if prices have gone up since you applied it.
Don't give up.  Many guests place reservations on hold that include the discount. If they do not book, that means their discounted room could become available. Disney may release more availability. And sadly (for them) some guests do have to cancel a planned vacation. I know that when I book a client's vacation, I continually check for the best option.
Some Parting Words On Disney Discounts and Planning Your Vacation
When planning your Disney vacation don't count on a discount to make your trip affordable. Plan a vacation you can afford, and think of discounts as a cool thing if they happen. Getting a discount is never guaranteed.  Disney has changed options, dates and availability with each new release. If you are sprinkled with pixie dust and do get a discount, that's great.
Ultimately a trip isn't about getting a certain discount, or obtaining that hard to get dining reservation. You'll spend hours planning, working, packing and traveling, creating the "perfect" Disney vacation. And when you return, someone asks your 5 year old what their favorite ride was and they say "the bus". You just know that mid-afternoon rain shower ruined the day.  But ask your 3 year old what they liked best about Disney World and their answer is "I got to jump in the puddles". Ask your teenager daughter what she like best about staying in a Polynesian Studio. Was it the gracefulness and beauty of the resort??  Nope "We had TWO bathrooms".
Ultimately it's not about how much you spend. Or about what level of resort you stay at.   Enjoy each moment – big and small. Let them ride Dumbo or Expedition Everest 5 times. Stand in line to meet YOUR favorite character. (Doesn't matter how old or young you are. I do it every time.  Ask Russell). Take pictures. Try something new. Enjoy yourself and your family. Ultimately – It's about making memories to last a lifetime.  – KellyB@DestinationsInFlorida.com
RELATED STUFF