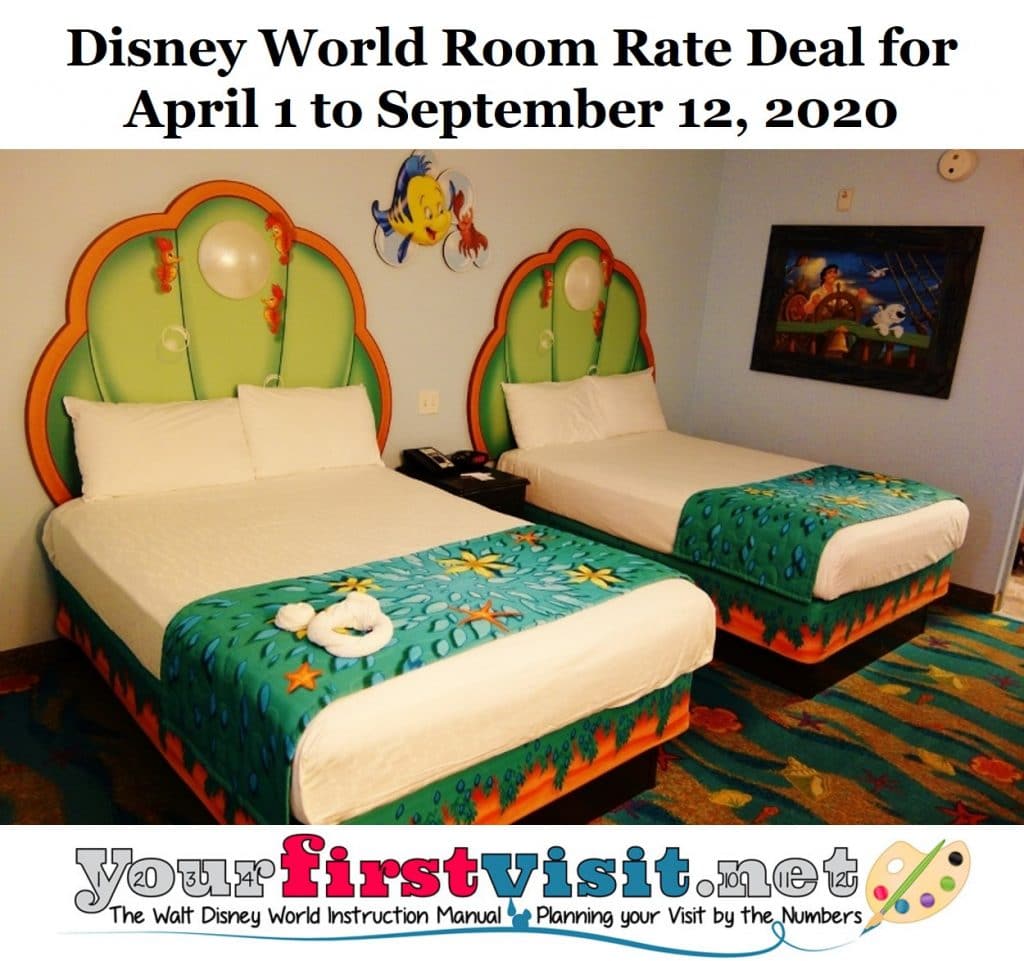 This morning Walt Disney World released a room rate deal that covers stays April 1 through September 12, 2020.  It needs to be booked by February 26.  Saving range from 10% to 25% off standard rates per night, varying by both hotel and time period.
Also this morning Disney World released a free dining for kids three to nine years old offer that covers some–but not all–of the same resorts, for a shorter time frame–May 25 through August 28.
And a few days ago Disney World released a very limited free dining deal.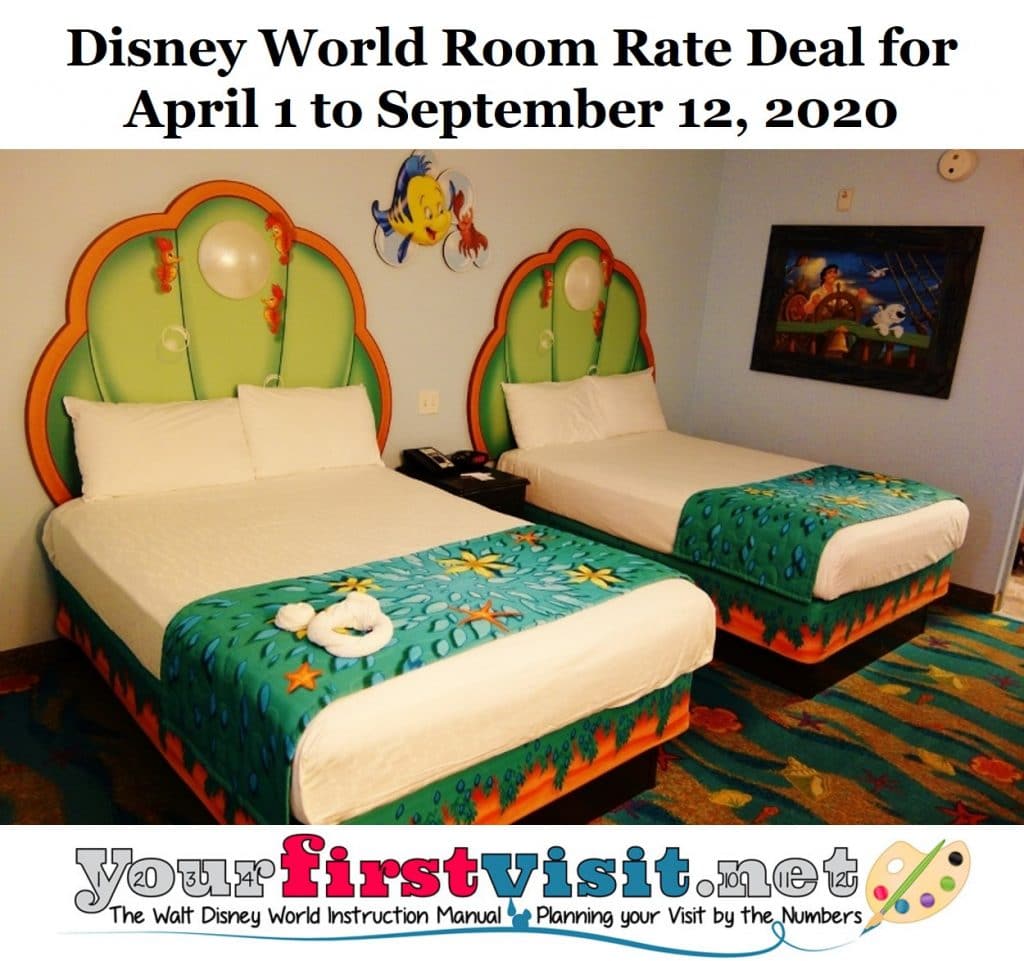 With some dates seeing as many as three different offers, your best bet is to work with a travel agent to see which of these deals–if any–is best for you. A contact form for my travel agent partner, Kelly, is at the bottom of this page.
DISNEY WORLD ROOM RATE DEAL FOR APRIL 1 THROUGH SEPTEMBER 12
The room rate offer needs to be booked February 26th (note that Disney's website has some confusion on this point, so it may change*), and includes in rates for three different periods:
April 1 through April 25, 2020
April 26th through July 9, 2020
July 10th through September 12th, 2020
2020 ROOM RATE DEAL AT THE DISNEY WORLD VALUE RESORTS
At Disney's value resorts all room types are in the deal–including Little Mermaid rooms at Art of Animation, which is quite unusual. Savings are low, but better after late April.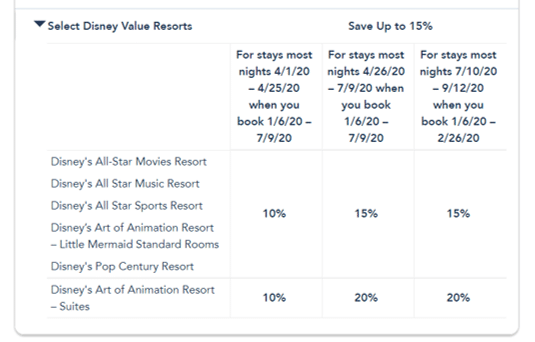 2020 ROOM RATE DEAL AT THE DISNEY WORLD MODERATE RESORTS
At Disney's moderate resorts all resorts are in the deal, but the Port Orleans options–especially French Quarter–see the lowest savings.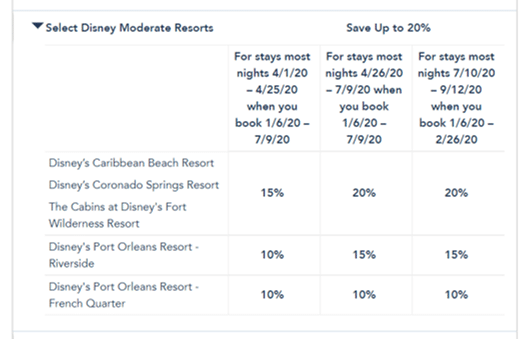 2020 ROOM RATE DEAL AT THE DISNEY WORLD DELUXE RESORTS
At Disney's deluxe resorts, all are in the deal, but savings are quite varied.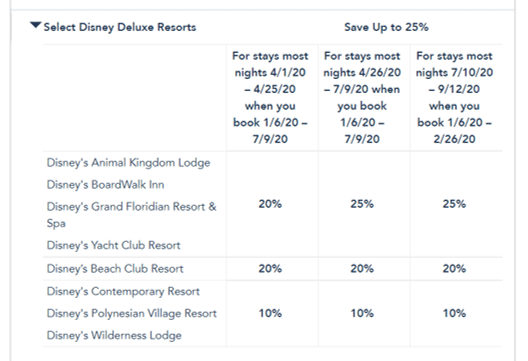 2020 ROOM RATE DEAL AT THE DISNEY VACATION CLUB RESORTS
At Disney's DVC resorts all the options except the Villas at the Grand Floridian are in the deal, at substantially varying savings.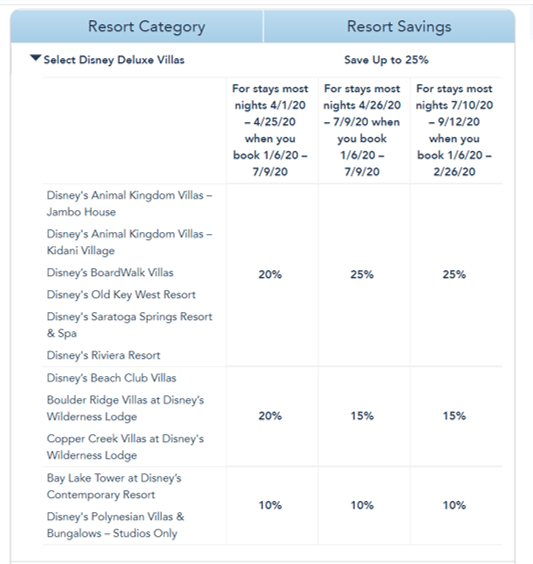 Kelly, the long term travel agent partner of this site, can book you into this or another 2020 deal after figuring out which is best for your circumstance.
Contact her using the form below!
*Disney's "offer details" page says book by February 26th, but as you can see in the screenshots above, there is lingo that says, for example, that a room you stay in April 20th can be booked at deal rates through July 9…


Follow yourfirstvisit.net on Facebook or Twitter or Pinterest!!