Theming and Accommodations at Disney's Beach Club Resort
By Dave Shute
(For the first page of this review of Disney's Beach Club Resort, click here.)
THE THEMING OF DISNEY'S BEACH CLUB RESORT
Disney's Beach Club Resort opened in November 1990, and in 2015 completed a badly-needed renovation.
According to Disney World's website, the Beach Club Resort is
"a New England-style Disney Deluxe Resort, shaded by broad oak trees and lapped by the gentle waters of 25-acre Crescent Lake."
As we will see in a minute, the "New England" reference is a bit of a crock, but in general the theming is meant to evoke summer beach houses and old-fashioned sea-side vacation resorts.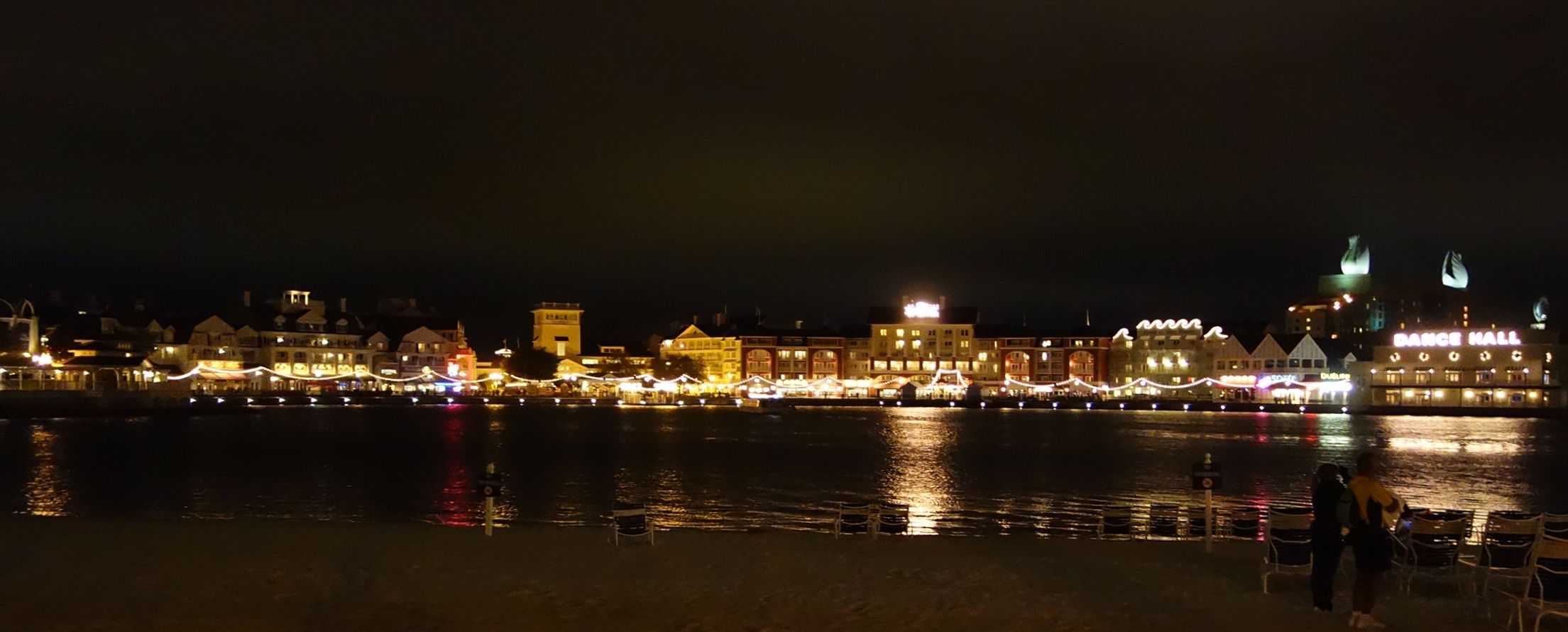 The Beach Club, its sister resort the Yacht Club, and the nearby BoardWalk Inn (across Crescent Lake above) were all designed to water-side themes by Robert A. M. Stern, a noted architect who was deeply involved in multiple properties during the Michael Eisner years at Disney.
Stern's website notes that the Beach Club is "airy in expression. It is modeled on the many Stick Style cottages and resorts that could be found in towns like Cape May, New Jersey."
Note that Cape May is not a New England beach town–nor is Stone Harbor, which is in Cape May County, New Jersey–and after which the Beach Club's concierge lounge is named. In fact the Beach Club is themed to the New Jersey summer beach homes of denizens of the Philadelphia Main Line.
Calling it a "Jersey-style Disney deluxe resort" may have lost the point to those not familiar with these levels of Philadelphia society. My mom's favorite sister married into such a family, so as little ones we summered frequently with them in their cottage at Stone Harbor.  I will shortly embark on a campaign to get Disney to refer to the Beach Club as a "Jersey-style… resort," in memory of my mom and her favorite sister (both here).
STERN, EISNER, AND DISNEY WORLD HOTELS
Stern had designed Eisner's parents' apartment (Michael Stewart's DisneyWar, p.  62) and gained fame for many later residential designs, including "lavish re-creations of turn-of-the-century shingle-style beach cottages…in wealthy enclaves like the Hamptons" (DisneyWar
 80-81).
He later joined Disney's Eisner-era board of directors, and was later dean of Yale's School of Architecture.
The Beach Club was part of a renaissance of architecture and hotel options at Walt Disney World following Michael Eisner's becoming Disney's CEO in 1984–but this renaissance was not so completely an Eisner thing as it sometimes is made to seem.
You'll see here and there references that imply that before Eisner, Disney World had only two options for guests to stay overnight: the Polynesian and Contemporary.
For example, you could infer this from p.63 of DisneyWar
, which also quotes pre-Eisner chairman Card Walker as saying "Disney is not in the hotel business."
Well, pre-Eisner, under Walker, Disney World had 5 on-site overnight options, was expanding these existing overnight options, and was planning even more hotels.
In place were the Polynesian and Contemporary, the Golf Inn (later re-named the Disney Inn, and then transformed into Shades of Green), the Fort Wilderness campgrounds, and the Walt Disney World Village resort area–the original parent of what are now known as the Treehouse Villas.
Both Fort Wilderness and the Polynesian had been expanded before Eisner came on board, and before his arrival the Grand Floridian was being planned. Also being planned then were an early version of what later became the Wilderness Lodge, and a never-built monorail resort called the Mediterranean Resort. (Koenig Realityland
116; Jim Hill, The Kingdom that Never Came.) Moreover, Tishman, as per its contract with Disney, was designing two hotels that it would own for Disney World.
From the beginning, Disney World was intended to have many more overnight options than it opened with.  (See the second half of this for early Bay Lake and Seven Seas Lagoon plans.) A recession in the 70s delayed these plans, but did not eliminate them.
That said, Eisner was absolutely right when he wrote in his autobiography Work in Progress
 that when he arrived at Disney in 1984 "no initiative [at Walt Disney World] had more promise than building new hotels." (213.)
At that time there were no value resorts, no moderate resorts , no Disney Vacation Club resorts, and no Epcot resorts.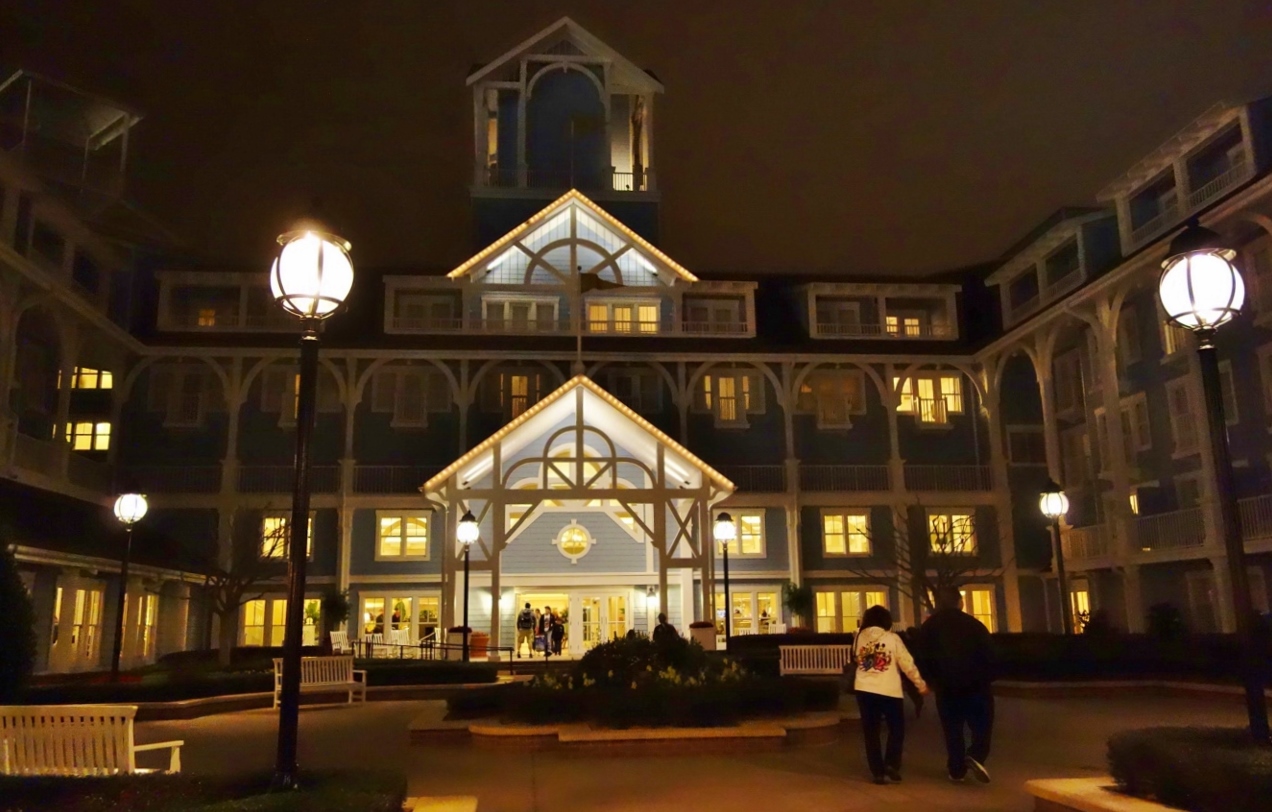 The Disney-owned and Stern-designed Yacht and Beach Club opened in November 1990, followed over the next 12 years by the Stern-designed BoardWalk Inn and Villas, and the Beach Club Villas.
The Yacht and Beach Clubs "became Eisner's favorite hotels at the resort, the ones where he himself stayed." (DisneyWar
 81.)
The Yacht Club and Beach Club are in fact two sides of one ginormous building, with prettier decor at the Beach Club. Other than balconies–where the Yacht Club shines–rooms used to be similar, but after each of their latest refurbs, standard rooms at the Yacht Club are a bit more livable for most.
ACCOMMODATIONS AT DISNEY'S BEACH CLUB RESORT

All Disney deluxe resorts have standard rooms; concierge rooms, which Disney calls "club" rooms; and suites.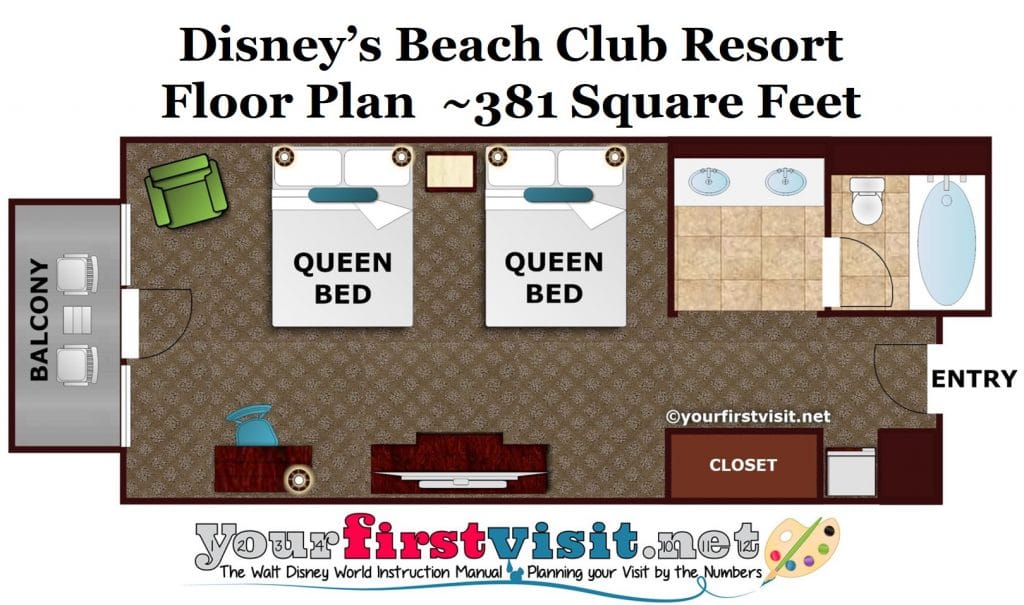 At Disney's Beach Club Resort, standard and club/concierge rooms sleep either four or five, in either two queen beds, or two queens and a fold-down day-bed. See the detailed overview of standard Beach Club rooms with photos here.
King bed rooms that sleep two or three (the third on the day-bed) are also available.
I generally advise against special room types for first-time visitors, as they won't be spending much time in their rooms. However, they may be well worth it for families intending to spend more time at the Beach Club Resort than implied by this site's itineraries.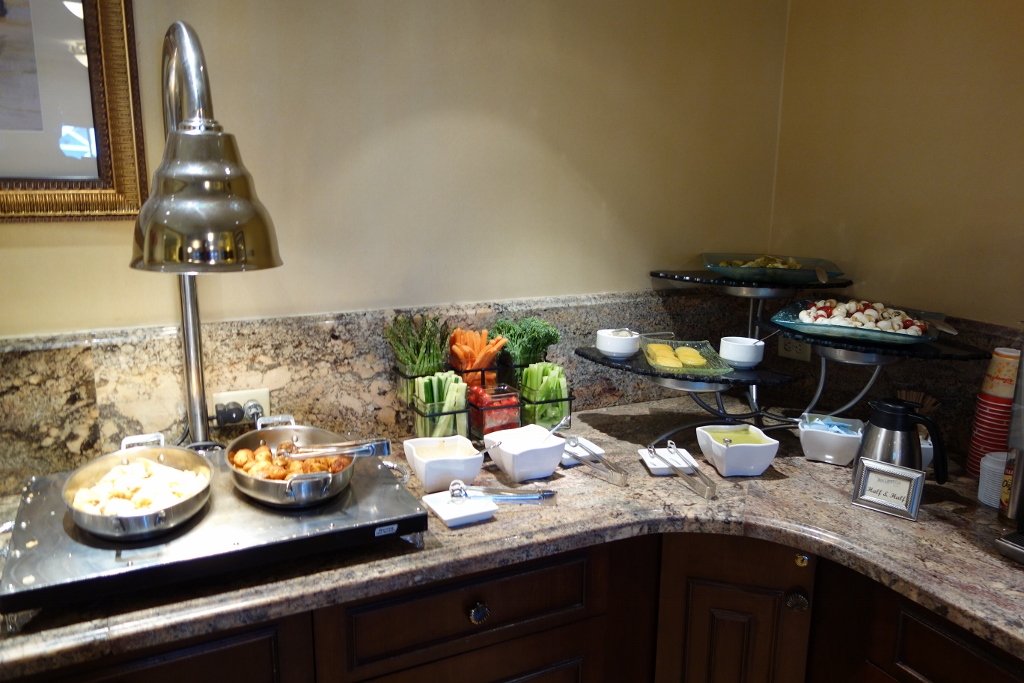 TikimanPages.com has a great discussion of the value of concierge rooms here. Though focused on the Polynesian, it applies to any deluxe resort. An image of the evening spread in the Beach Club's Stone Harbor Club Lounge is above.
Most Beach Club concierge rooms (Disney calls them "club" rooms) are the same size as the rest of the resort's rooms.
However, there's also an option called a "Deluxe" rooms, and both one and two-bedroom suites.
We've never purposely pursued concierge rooms at the Beach Club, but twice got upgraded into them–once into a regular concierge room, and once into a one bedroom suite.
Some photos from our November stay in a one bedroom suite:
The sitting room in a one bedroom suite: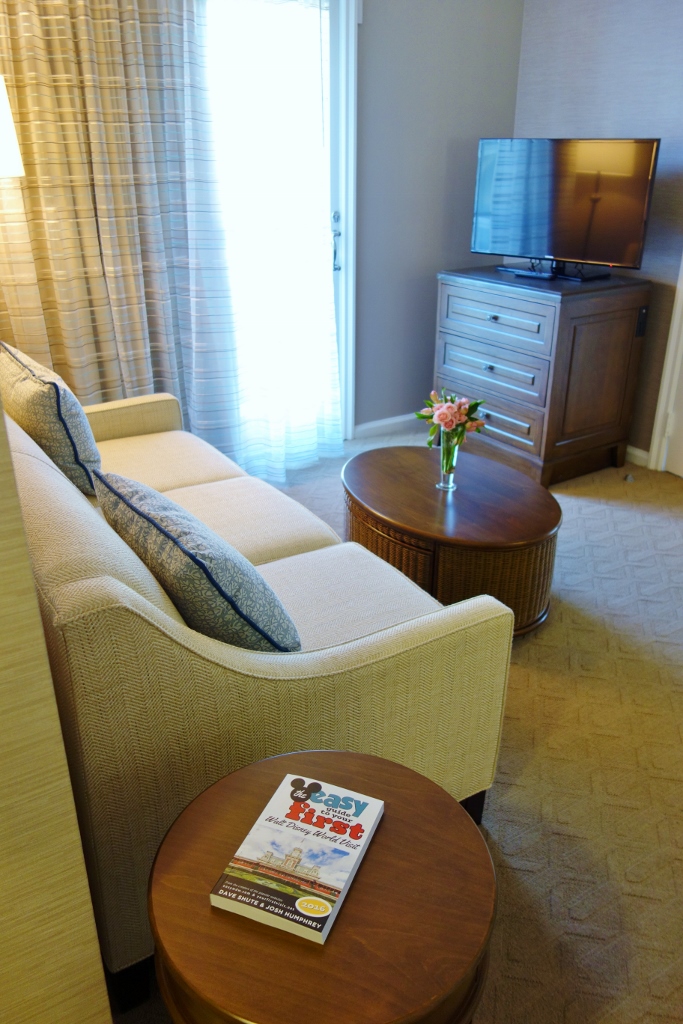 The bed side of the king bedroom in a one bedroom suite: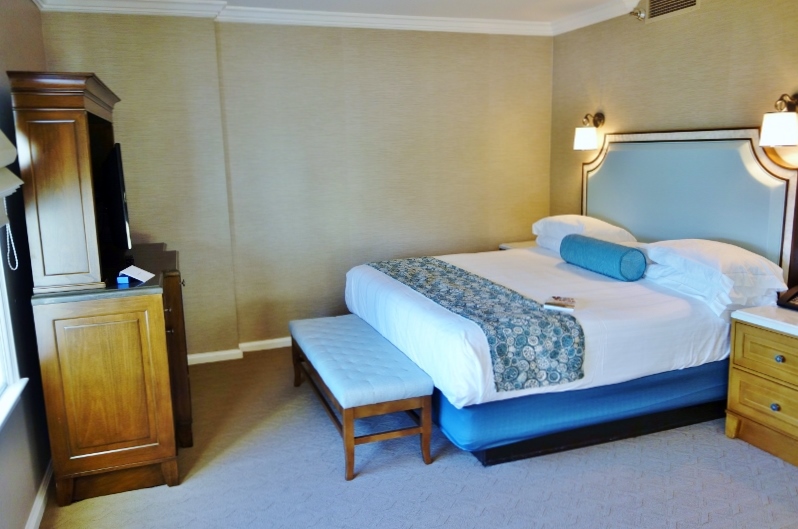 The suite floor plans that follow are old, but I'm not aware of any better…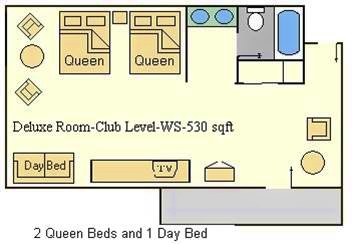 Deluxe rooms (and most one-bedroom suites) don't offer any more sleeping capacity–they just give you more space, and/or more separate spaces, for your family to live in.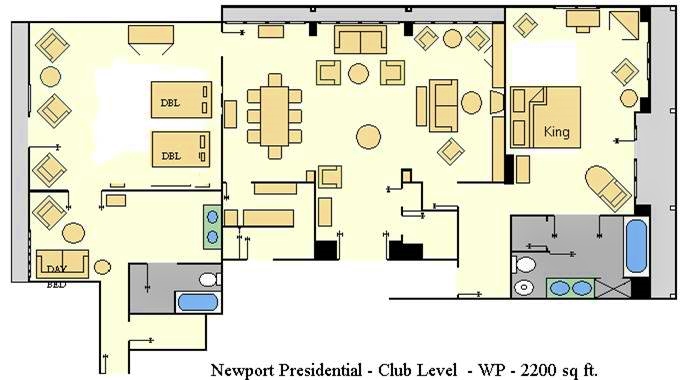 Most one bedroom suites are one and a half or two bays wide, and most two-bedrooms three bays.  The exceptions are the one-bedroom Vice Presidential Nantucket suite, which is two and a half bays, and the two-bedroom Presidential Newport suite, twice the size of the Nantucket.
For more on suites, see this, and for more on larger families seeking deluxe options, see this.
Note that to all the capacity figures above you can add a child under three in a crib.
This review continues here.
PAGES IN THIS REVIEW OF DISNEY'S BEACH CLUB RESORT
OTHER KEY PAGES FOR WHERE TO STAY AT DISNEY WORLD


Follow yourfirstvisit.net on Facebook or Twitter or Pinterest!!
RELATED STUFF