Kids, Fear, and Walt Disney World
By Dave Shute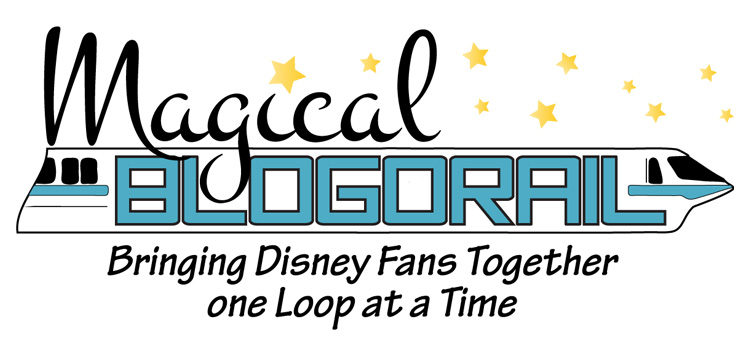 Welcome to the first stop aboard Magical Blogorail Teal. Enjoy the ride as we explore this month the unexpectedly scary side of Walt Disney World!
LITTLE KIDS AND THE SURPRISINGLY SCARY AT WALT DISNEY WORLD
For reasons explained here, this site mostly focuses on kids eight and older. Kids that age can "get" pretty much everything at Disney World, and on average aren't likely to be freaked out by much on offer.
But every kid is different, so you never know.  I was scared of Space Mountain well into my 30s–which I think of as the middle of my childhood–and until then would ride it with my eyes closed.  (Why it helped to close my eyes on a ride that happens in the dark is something I still haven't been able to explain to myself…)
And there's a lot at Disney World that might trouble the younger set–preschoolers. When leaving Fantasmic a month ago, I walked behind a family whose little boy–probably around five–in tears kept repeating "Never again! I'm never seeing this again!"
So this made me wonder where I'd marked Fantasmic on the Comprehensive Guide to Rides, and if that marking was right…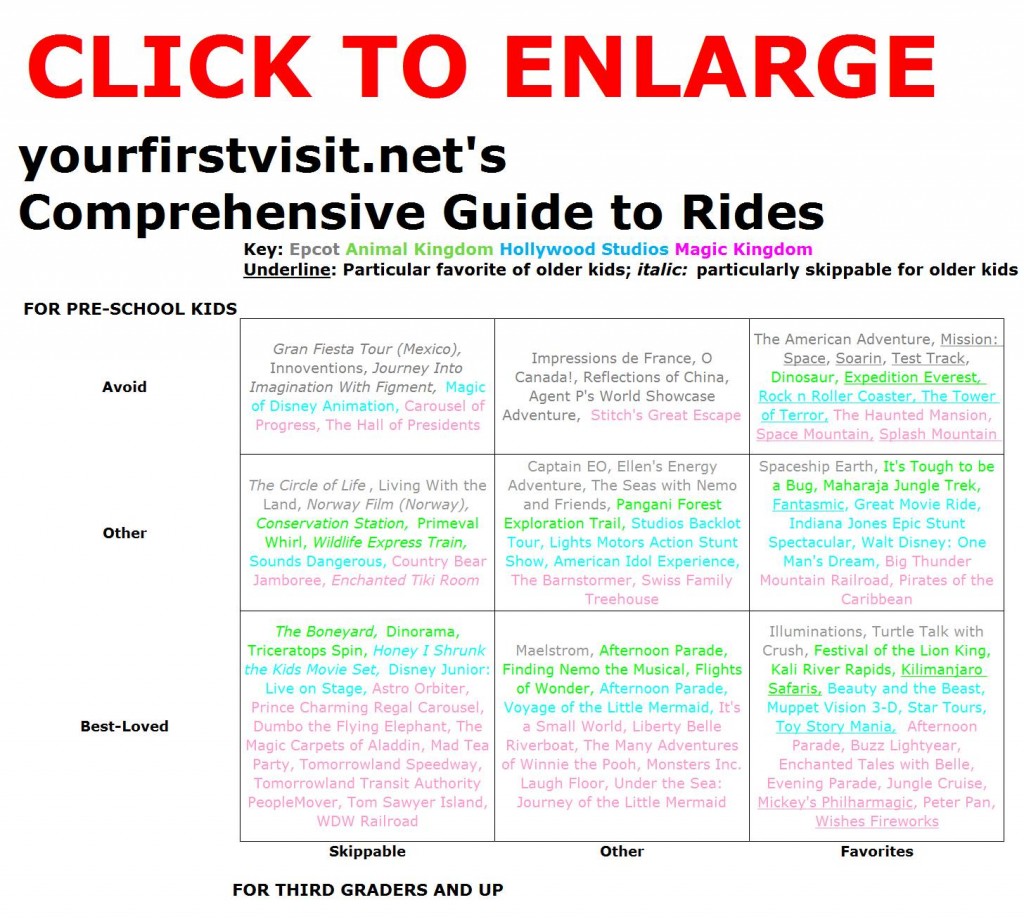 This guide (above) is meant to help families not using one of my itineraries to prioritize what to see, based on both the time they have and the ages of their kids.
The vertical axis is for preschoolers, and it divides rides for them into rides to avoid, best-loved rides, and "other"–rides neither best loved nor to be avoided.
Most of the scary rides are in "Avoid," but I have Fantasmic in "Other."  And I'm wondering what those of you with preschoolers who have seen Fantasmic think of this?
Fantasmic–like many other story-based attractions at Disney World, and many other stories in the Disney canon–has both good guys and bad guys. The strength and fearsomeness of the bad guys makes us care more about the struggle of the good guys, and makes the ultimate victory of the good guys (this is Disney, after all!) that much more to be savored!
And Fantasmic has villains everywhere, in images, as characters, and as the world's biggest snake (I close my eyes when the snake comes out, and think instead of Space Mountain).
For those not freaked out by the villains, the quality of the antagonists makes the ultimate victory of the hero of Fantasmic, Mickey, that much more fun…but some little kids don't get that closure, as they remain lost in unhappiness at the bad guys.
So what do you think?  For preschoolers, should I leave Fantasmic–one of Disney World's best offerings, and a favorite of millions–as "other"?  Or should I move it for these little ones to "Avoid"?
MORE ON THE SCARY SIDE OF WALT DISNEY WORLD FROM MAGICAL BLOGORAIL TEAL
Thank you for joining me today. Your next stop on today's Magical Blogorail Teal Loop is  Disney-Lovin' Spectrum Mom.

Here is the map of our Magical Blogorail Teal loop should you happen to have to make a stop along the way and want to reboard!
1st Stop ~ yourfirstvisit.net
2nd Stop ~ Disney-Lovin' Spectrum Mom
3rd Stop ~ The Disney Babies Blog
4th Stop ~ The Disney Kids
Final Stop ~ Capturing Magical Memories
Follow yourfirstvisit.net on Facebook or Twitter!
RELATED STUFF