Review: Ollivanders at the Wizarding World of Harry Potter
By Dave Shute
OLLIVANDERS AT THE WIZARDING WORLD OF HARRY POTTER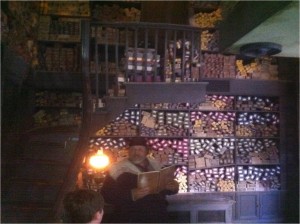 The Wizarding World of Harry Potter's Hogsmeade has a branch of Ollivanders–in the books located solely in Diagon Alley. (Ollivanders has also been included in Universal Orlando's new Diagon Alley.)
As a means both of crowd control to the associated gift shop and as a way of plussing the whole Hogsmeade Wizarding World experience, entry is through a show where the wand chooses the wizard.
Lines for this have been so long on my prior visits to the Wizarding World that I did not bother.
However, I recently had my first chance to take advantage of the early entry available to Universal resort hotel guests.
Even though I had to backtrack because I had forgotten my hotel room key–which serves as your entry pass–at 20 minutes after the early opening only three people were in line, so I did Ollivanders.
The short version: while your results will vary, what I saw was incredibly cute.
THE WIZARDS DEFINE HOW MUCH FUN IT IS TO WATCH THE WAND CHOOSE THEM AT OLLIVANDERS
Small groups of 20 or so are admitted to a tiny high-ceilinged space, filled with wands.
As my group entered, two friends, younger tweens–both, as it turned out, named Sarah–were driven to wordless awe by the space, capable only of "oohs" of admiration and longing.
When capable of words, one said haltingly to the other "Ooh, oooh, Sarah…look at the wands!"
The cast member playing the shop keeper picked the Sarahs, who as they came forward almost levitated with delight.
With show business and effects–which I am not going to give away–the wands picked the Sarah.
All was drop dead charming for me to watch–in the same way that Epcot's Turtle Talk with Crush is.
However, Turtle Talk gives a much more consistently charming experience.
Part of the issue is that the shopkeeper stays in a most serious role, so the real fun is solely in the response of the kids.  (The actual effects of the wands are minor.) However, the chosen kid or kids have their backs to you, so you can't see the expressions on their face.
Moreover, even though the space is small, the half of the attendees who weren't near the Sarahs pre-choice to see their inarticulate awe couldn't have had as much fun as I did.
So the upshot for many visitors to Ollivanders will be a slight entertainment hardly worth the wait if it's more than 20 minutes or so–unless of course their own kids are chosen.
How to be chosen?  Have your kids act like the Sarahs…as you enter, try to get them into a position in the front where the shopkeeper can seem them…and have them thrum with awe and longing!
RELATED STUFF