Changes to Hollywood Studios Approach After the Parade Cancellation
By Dave Shute
THE HOLLYWOOD STUDIOS AFTERNOON PARADE AND DISNEY WORLD ITINERARIES
This site offers integrated eight night itineraries for every week of the year for first time visitors to Walt Disney World who may never return. The three central itineraries are
The Summer Itinerary, for the operating patterns and issues faced during the summer and also during other very high crowd times of the year—some not so warm!
The Basic Itinerary, for the operating patterns and Christmas programs available the three weeks after Thanksgiving, and
The Autumn-Winter-Spring Itinerary, for operating patterns the rest of the year—although for some weeks some slight modifications are needed
In addition there's nine variants of these itineraries— eight shorter, and one longer.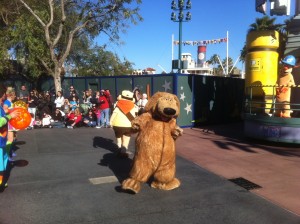 And each of these itineraries was designed so that people could see the afternoon parade at Disney's Hollywood Studios, which had its last known run Saturday April 6.
Now Disney has not yet said whether or not there will be a replacement—although many have inferred that there may not be.
In the absence of confirmation of whether or not a new parade is coming, I've taken the Hollywood Studios afternoon parade off of the itinerary images, and will shortly be putting into the daily agendas notes about the cancellation.
MODIFYING HOLLYWOOD STUDIOS ITINERARIES IN RESPONSE TO THE ABSENT PARADE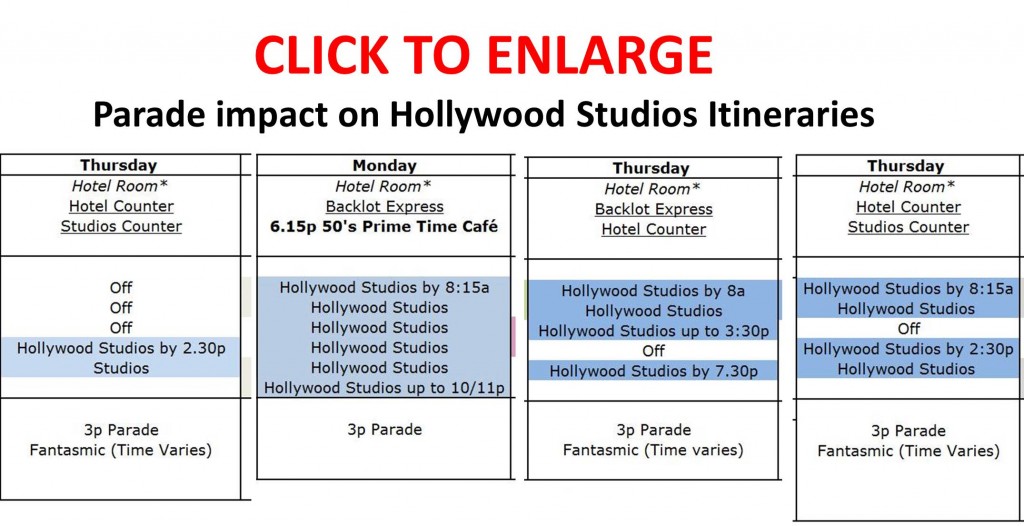 There's four different ways the Hollywood Studios parade was treated—see the image for examples of each.
Going left to right in the image, here's the suggested response:
Parade at the beginning of a late afternoon visit, on what is otherwise an "off" day: simply go to the Studios an hour later than indicated
Parade in the middle of a full day in the Studios: just skip over the "parade" steps for an overall shorter and simpler day
Parade as the last event in the first part of a two part day: simply leave the park around 2.30p rather than 3.30p
Parade as the first event in the second part of a two-part day: arrive at the Studios at 3.30p instead of by 2.30p.
I'm gonna leave this fix up until it becomes definitive—either by Disney announcement, or simply the passage of time with continued silence—whether a new parade is in or out.
If the parade becomes definitively permanently out, I'll then re-think the whole approach to the Studios, as Toy Story Mania (or a Fastpass for it) first thing, the parade, and Fantasmic times are the three fundamental beats to which a Studios plan for first time visitors who may never return has to be designed.
Thus the absence of a parade will create much more flexibility in all but the "all day long" itineraries—and might even make a difference there!
But in the meantime, I'm just gonna take these half-steps, so that the itineraries don't suffer from too much whiplash in case a new parade comes out soon!
Follow yourfirstvisit.net on Facebook!
RELATED STUFF