NextGen and Personalization at Walt Disney World: Musings from the 2012 Disney Analytics and Optimization Summit
By Dave Shute
PERSONALIZATION AND DISNEY WORLD'S NEXTGEN PROJECT
Disney's NextGen project has several parts.  Most widely discussed is the planned ability to reserve ride times, parade spots, etc., from home months ahead (people are currently calling this the "FASTPASS+" program). The part people have been seeing for a while is enhancements to the experience of waiting in line for those not able to reserve a time.
And then there's "personalization."
Most speculation about personalization has focused on the potential ability of cast members and digital signs to recognize and respond to guests, keying off of identity data encoded in either an RFID device or—in the longer run more likely—two way communicating smart phones.  It's a technologically enabled way to say "hi" before you've been formally introduced.
Well, OK on that…but personalization could involve a lot more…
PERSONALIZATION THOUGHTS SPURRED BY DISNEY'S 2012 ANALYTICS AND OPTIMIZATION SUMMIT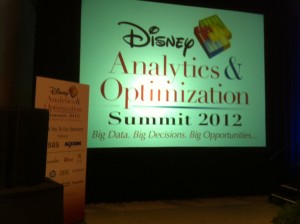 I had a chance to attend the 2012 Disney Analytics and Optimization Summit in late August at the Contemporary Resort.
I attended on a lark as a birthday gift to myself because I am a geek for professional development on "big data" both for my "real" job as a strategist and also to inform this site.
Of the 550 attendees, some 400 worked for Disney in a variety of analytic, marketing, revenue management, and decision science roles.
Many of the presenters were Disney leaders, and at times the event took on the flavor of Disney talking to itself (but not, perhaps, to me—I was the only attendee in shorts, and was a decade older than anyone else there except for presenters and some Disney bosses at the back of the room…).
There was no proprietary information made available in either the presentations or in the subsequent free-wheeling discussions they gave rise to.
But there was a lot of food for thought, and what follows is some speculation about the possible operational implications of personalization.
The holy grail of personalization is not knowing your name and saying "hi"; rather, it is knowing enough about who you are and what you've done to be able to create a pretty tight set of predictions about what you might do next, and responding to make the preferred prediction more likely.
Such knowledge, shaped into a personalized probability distribution, could have profound implications for operational improvements and guest satisfaction.
For example, let's say NextGen "knows" that you've just left Dumbo, and, based on everything it knows about you and people it thinks are like you, thinks the odds are that your next visit will be to Peter Pan, but that there's also a good chance that you will next go to it's a small world, a slight chance you'll get on the railroad, and a very high probability that you want do all three today.  It also knows that you don't have a FASTPASS+ for Peter Pan.
Modeling the next few hours of your day almost instantaneously, the system notes that you'll have the best visit if you get a regular FASTPASS for Peter Pan and then hit small world, and put the train off until much later.
It then messages you that while Peter Pan waits are long, FASTPASSES are available for it, but going fast; and that small world has a ten minute wait but lines are expected to build soon; and that wait times for the train will be low all day…and so you FASTPASS Peter Pan and get in line for small world!
The accuracy of the personalized prediction—and hence the usefulness of the personalized intervention—is a function of the quality of the probability distribution.
The more the system knows about you—not just your names, family structure, and ages, but also what you've done today, what you've reserved for later, what you did earlier on this trip, what you did on prior visits, how you have interacted with Disney's website and Facebook pages, etc.,—the better it can match you to data it will have already collected about what visitors like you tend to want to do soon.
So personalization at its best requires a lot of correlated data about people and who they are, and about guests and what they do.
Disney World does not—so far as I know—currently have this data.  So the way to think about NextGen and personalization is as an unfolding process.
Various tools and techniques ranging from RFID to the efforts of social media analysts are required to assemble and tie together information about you, and to create and refine data about what people have done in the parks and what they then tend to do next.  Linking past behaviors to past guest types is what permits creating predictions of what current guests who fit one of those types might do next, and this is what permits taking interventions to either enable or redirect those actions to improve the guest experience.
Since the data does not yet exist, if this happens at all, it'll take a while to unfold. But at its best, personalization at Walt Disney World will be like having your own personal cast member tour guide who is reading your mind…
As noted, this is just speculation, and not based on any proprietary information from the 2012 Disney Analytics and Optimization Summit.  In fact, the Summit focused more on the revenue side of big data and personalization (that is, getting you to buy…) than it did the operational side.
But Disney World's revenue is your cost…the question is, how does NextGen create value for this cost for you?  And personalization, as it unfolds over time, could help a lot of families have much better experiences at Walt Disney World…
… and sorry about the shorts…
RELATED STUFF