Walt Disney World in the Summer Rain
By Dave Shute
SINGING THROUGH THE RAIN AT WALT DISNEY WORLD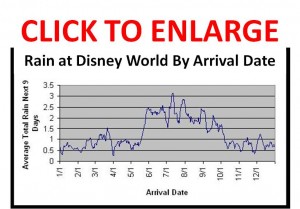 Rain–sometimes afternoon showers, sometimes multi-day storms–can happen anytime, but is a fact of life in the summer at Walt Disney World.
When the forecast is for heavy continuing rain, you'll see some advising taking the day off at the hotel, others suggesting a trip to Downtown Disney for a movie, DisneyQuest, and shopping, and still others advising going to the parks.
But if it's a warm day, and your kids are pre-teens, there's really no question about what to do: on a rainy but warm summer day at Walt Disney World, go to the Magic Kingdom!
WATER: DELIGHTFUL IN A POOL OR SHOWER, A CURSE WHEN FROM THE SKY?
People, being in most cases human, have funny attitudes towards water.
Glad to shower, bathe, or luxuriate in a pool, many resist warm summer rain. Because of this, crowds drop substantially in the parks when the rain comes.
The rain starts; people leave the parks in droves and head back to their hotels; back at their hotel, many parents are surprised that their kids want to then play in the pool.
"It's raining!," the parents exclaim.  With a logical clarity that disappears in early adolescence, the kids respond: "So we're already wet, so we'll be wetter in the pool, so who cares about rain?"
Leverage this "who cares" attitude and use it to enjoy the theme parks when they will have hardly any crowds–focusing in particular on the Magic Kingdom.
There's a couple of reasons to focus your rainy day on the Magic Kingdom.
Most important of these is that it's a multi-day park anyway, so that if a few rides are closed because of rain, wind  or lightning, you'll be able to revisit those another day.  Ditto if Wishes is canceled, or, as more commonly happens in a storm, delayed until later than you are willing to stay up
Next most important is the density of rides in the Magic Kingdom.  There's simply less walking outside at the Magic Kingdom to get to the next ride than you'll find at, for example, Epcot or the Animal Kingdom.
(Disney's Hollywood Studios also has good density, but it's a one day park, and you don't want to risk missing Fantasmic, which is often canceled during weather. If you have hopper tickets and free evenings, or regular tickets but a planned off day, that will let you see Fantasmic later, the Studios is the next best choice after the Magic Kingdom )
DRESSING FOR THE RAIN AT WALT DISNEY WORLD
You'll see some recommending the kinds of technical rain gear–e.g. Gore-Tex shells with pit zips–that some backpackers and sailors have.
This is silly, since most people don't have this gear, it is inordinately expensive to buy just for Disney World, and it has the dirty little secret of not working in the summer all that well at its purpose–keeping the rain off of you, while providing pathways for the heat and moisture you generate to leave your body.
Rather, in the warm summer rain at Disney World, your rain gear should be as follows:
Shorts and a t-shirt
A poncho, ball-cap, folding umbrella, and extra belt
Comfortable, new footwear that's impervious to water and has drain holes–e.g., Crocs
Shorts and a t-shirt because your arms and legs will get wet anyway, and it's more comfortable for this to happen against your skin than to soak your clothes
A poncho, ball-cap, folding umbrella, and extra belt in sum provide a flexible rain gear set. (You can buy the poncho in the parks.) Start with the umbrella; if the wind becomes too much for it shift to the poncho and ball cap; the extra belt is on the gear list to hold the poncho together better in a more whipping wind.
Comfortable new footwear that's impervious to water and has drain holes–e.g., Crocs. I've evolved on this point and now wear Crocs, or similar footwear that also combines imperviousness to water with drain holes, exclusively in the rain at Disney World. ("New" because as ElCid notes below, Crocs can get slippery fast–anyone have equally impervious and drained, but not-so-slippy footwear to recommend?)
I used to wear technical foot systems in the rain at Disney World–e.g. inner socks, hydrophilic outer socks, and technical shoes that wicked water away from the outer socks.
But even these systems just can't stand up to steady, heavy rain.  It doesn't matter how technical your shoes and socks are once your shoes are saturated and water is sloshing around in your footbed…
After soaking through four sets of footwear on a rainy tent-camping visit to Fort Wilderness a few years ago, I bought some Mickey Crocs at the Meadows store (sadly, not always in stock in adult sizes!) and have never gone back to my technical gear…
YOUR KIDS STILL WANT TO PLAY IN THE POOL
Your kids still want to play in the pool, and in particular to play with you in the pool. Save this for a sunny day if you can, and go to the parks on the rainy days!
RELATED STUFF