Personal Favorites: The Monorail Resorts
By Dave Shute
This post on the monorail resorts is one in a series about personal favorites. See lower on the page for more about this series.
FAVORITE MONORAIL RESORT: DISNEY'S CONTEMPORARY RESORT
This site's ranking of the deluxe resorts at Walt Disney World for first time visitors puts Disney's Polynesian Resort first, Disney's Wilderness Lodge second, and Disney's Animal Kingdom Lodge third.
I've posted previously that my overall personal favorite deluxe resort is far and away the Wilderness Lodge, with the Animal Kingdom Lodge my second favorite.
But among the monorail resorts–the three deluxe hotels linked by monorail to the Magic Kingdom–my personal favorite is Disney's Contemporary Resort.
Why?  Well, keep reading…
WHY THE CONTEMPORARY RESORT IS MY FAVORITE MONORAIL RESORT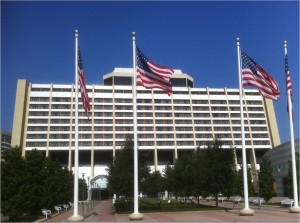 Resorts are ranked on this site for first time visitors based first on their kid appeal, and then on their convenience.
Among the monorail resorts, Disney's Polynesian Resort ranks first in both categories; the Grand Floridian is third in both, and the Contemporary Resort is second in both.
So what brings it to the top of my list of the monorail resorts?
First, if I'm looking for kid appeal (and I do…I'm just a big kid, after all), I don't even think of the Polynesian, as fun as it is–rather, the Wilderness or Animal Kingdom Lodge is what comes to mind.
And on convenience, the Polynesian's draw is the ability to walk from it to the Epcot monorail…but if Epcot convenience is key, we rent a car or stay at an Epcot resort.
But the real draw of the Contemporary is that it's where we mostly stayed when my sister and I were kids. Those family memories still pull strongly a long time later. Yes, the Polynesian is more fun and more convenient, and the Grand Floridian more serene and lovely…but the Contemporary is my personal favorite among the monorail resorts.
MORE ON THE PERSONAL FAVORITES SERIES
The advice on this site—when to go, where to stay, what to do, etc.–is aimed at the typical family visiting Walt Disney World for the first time, unsure if they will ever return.
It is based not on personal favorites or my own taste, but rather on a combination of facts, analysis, inference and judgment about what would be best for such a family.
My personal favorites can be quite different from my advice for these families–particularly because I'm older and hence traveling with twenty-year-olds, not little kids; have been to Disney World more than forty times; and know I'll be coming back!
I thought at least some might be interested to hear about some favorites…if for no other reason than so that they can argue, using the comment form below!
MORE ON WHERE TO STAY AT DISNEY WORLD
RELATED STUFF