Suggestions for Your First Trip to the Disneyland Resort
By Dave Shute
SUGGESTIONS FOR THE DISNEYLAND RESORT
Unlike this site's instructions for Walt Disney World (and for Harry Potter), the thoughts that follow for a first family visit to the Disneyland Resort in California are suggestions.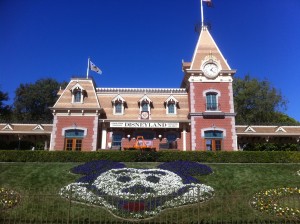 What that means is that they aren't yet as backed up by analysis and experience as they will become.
These suggestions will evolve over time—especially based on your feedback, so use the comment form below to add your ideas!
Supplement these suggestions with the insights of two great guidebooks:
WHEN TO GO TO DISNEYLAND
Times when kids are on vacation are the worst time to go, and so the best and worst times to go to the Disneyland resort are generally similar to the best and worst times to visit Walt Disney World.
However, Disneyland is more of a weekend resort than Walt Disney World. As a result, parks are most crowded on Saturdays, and stupendously crowded on the weekends during kids' vacation and holiday periods.
During the off-season, however, key fun stuff like Fantasmic and the fireworks may not be shown on weeknights at all.
The trick, therefore, is that if you are going during the busier seasons, avoid Friday, Saturday, and Sunday, but if you are going during the slower season, include either Friday or Sunday evening in your time on site.
As at Walt Disney World, the period beginning the Sunday after Thanksgiving and ending the week before Christmas is a very special time to go.  This period can be cool and wet, but crowds and prices are low, and Christmas decorations are spectacular.
Because southern California does not have a hurricane season, another wonderful option for a Disneyland visit begins the week after Labor Day weekend and ends before the Columbus Day weekend.  There's no holiday decorations, but the weather is perfect and crowds and prices are low.
HOW LONG TO STAY AT DISNEYLAND
You can see all the best of the Disneyland Resort in three full hard days or five easy ones.
If you can afford it, book four full days plus two partial travel days. This translates into five hotel nights.
This will give you time to relax as well as to tour the parks, and gives you enough evenings and early mornings that you should be able to catch the evening shows and sleep in a day or two.
During the low season, aim for something like a Monday arrival and a Saturday departure, giving you Friday evening for Fantasmic and such
During busier times, aim for a Sunday arrival and a Friday departure, to map your full days to the less crowded days of the week.
HOW OLD AND TALL YOUR KIDS SHOULD BE FOR DISNEYLAND
Kids of any age can have a ball at the Disneyland Resort. However, as at Disney World, if this may be your kids' only childhood visit to Disneyland, wait until your youngest is around 8.
Minimum height requirements on certain rides suggest that your kids be at least 48" tall to enjoy the best of Disneyland.
WHERE TO STAY AT DISNEYLAND
This material continues here.
RELATED STUFF