Suggestions for Your First Trip to the Disneyland Resort, Continued
By Dave Shute
(For the first page of these suggestions, click here)
WHERE TO STAY AT DISNEYLAND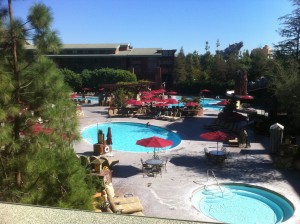 If you can afford it, stay at Disney's Grand Californian Resort.
Disney owns and operates three hotels at the Disneyland Resort.
Of these, the Grand Californian is the most kid-appealing, and far and away the most convenient.
It will cost more than $350 per night.
(Note to those familiar with Walt Disney World: designed by Peter Dominick, the Grand Californian parallels not Disney World's Grand Floridian, but rather Dominick's two Walt Disney World designs, the Wilderness Lodge and the Animal Kingdom Lodge.)
For less expensive options, Disney's other two hotels (Paradise Pier and the Disneyland Hotel) can be about $60-100 a night less than the Grand Californian.
Also check out Disney's Disneyland Good Neighbor hotels, some of which can be less than $150 a night during the quieter periods.
Note that unlike at Walt Disney World, perks for staying at a Disney owned and operated resort (i.e, the Grand Californian, Disneyland Hotel, or Paradise Pier) are not that compelling. 
For example, the early entry program, which lets you in an hour before the park opens to select rides in Fantasyland and Tomorrowland, is available to anyone who buys more than 2-day tickets in advance, and is not tied to where you stay.
For more on the Disney hotels and other nearby options, see The Unofficial Guide to Disneyland 2011.
WHAT TO BUDGET FOR DISNEYLAND
For a typical family of four staying for five hotel nights, if you can, budget $4,000 plus your transportation costs—about $1,800 for the Grand Californian, about $1,100 for tickets, and the rest for food, souvenirs, and such.
You can save $1,000 to $1,500 compared to this by staying in less expensive hotels and thinning down on food and souvenirs. Staying fewer than 5 nights will cut your hotel and food costs proportionately.
WHEN YOUR DISNEYLAND PLANS NEED TO BE FIRM
During the busier times of the year, your preferred hotel may sell out early, so the sooner you can commit to a date and sign up for it, the better.
The Disneyland Resort does not have the same sorts of compelling family dining opportunities that Walt Disney World has, and its dining reservations are only accepted beginning 60 days before arrival.
Thus neither dining experiences nor dining reservation timetables are as big a driver of your scheduling and timing as they are at Walt Disney World.
WHERE TO EAT AT DISNEYLAND
The sort of remarkable family sit-down dining opportunities that are available all over Walt Disney World are not so strongly present at the Disneyland Resort.
There are wonderful places for adults to dine–e.g. the Blue Bayou in Disneyland and Napa Rose in the Grand Californian–but these are kinda dull for kids.
Character breakfasts are available, but these interfere with getting to the parks before they open–the heart of a crowd-avoiding approach to the theme parks.
(Mornings that you take off from the parks, or that the parks open at 10a, can be good options for character breakfasts.)
The best of a not overly compelling set of family dining venues are
A character dinner at Ariel's Grotto in Disney California Adventure (Ariel and other princess)
A character breakfast at Storytellers Cafe at the Grand Californian (Chip, Dale, Goofy etc.), and
Lunch at the Golden Horseshoe in Disneyland (no characters, but a wonderful show)
The first two can be reserved; the last is first-come, first served. Call 714-781-3463 to make dining reservations, beginning 60 days before your arrival.
HOW TO SPEND YOUR TIME AT DISNEYLAND
This material continues here.
PAGES:  Previous  | 1  |  2  |  3  |  Next
RELATED STUFF