Air Travel 101 for Walt Disney World: 2. Seats and Ground Transportation
By Dave Shute
OVERVIEW: WALT DISNEY WORLD AIR TRAVEL 101
(This page is one of a series explicating Walt Disney World lingo, abbreviations, and FAQ for first time family visitors to Walt Disney World.)
This page is one of a several designed to give tips and insights to those traveling by air to Walt Disney World for whom air travel is a new or rare thing.
I will try to cover in it all the key things they may not know about such travel.
This series purposely excludes tips and hints for getting the best deals  on air travel.  Those are on a different page—Air Travel 201.
Air Travel 101 for Walt Disney World includes the following pages:
B. PICKING YOUR SEATS
Your seats should be assigned when you booked your flight. You can change these assigned seats from the airline's website.
If you don't like your choices, book the best you can, and return to the website every now and then, and especially a few days before departure.
More seat options may show up, especially in the last few days (check each day if you need to) as they are released from being held for frequent fliers, full-fare passengers, and those paying to upgrade their seats.
The worst seats are typically those just behind or in front of a bulkhead (the fore and aft walls of the cabin.) Seats behind a bulkhead sometimes have more legroom, but usually have no place to store carry-ons you may wish to keep handy. Seats in front of a bulkhead often have limited scope for reclining.
Beyond this, the best seats sorta vary depending on what you are doing with your baggage. Seats nearer the front typically board later and deplane earlier than those further back. On the other hand, the more forward you are, the more risk that there will be no overhead room left for your carry-on baggage.
If you plan to check all your bags (except for small carry-ons the size of a small briefcase or backpack, or large purse, which will fit under the seat in front of you) you can sit as far forward as there are seats available, avoiding the seats right behind the bulkhead.
If you are taking some carry-on bags which will fit only in the overhead compartments, but are doing so solely to avoid the baggage check fee, then you can also safely seek a seat in the front. If the plane crew runs out of overhead baggage space, they will check your bags for you, but will not charge you the baggage fee for this.
If you have carry-ons for overhead compartments because you are trying to insure that your bags don't get lost, or that they don't miss your connection, then pick a seat as far back in the plane as you can (other than right in front of the bulkhead). This will allow you to be among the first of the groups to board, and you will be able to find an overhead compartment.
Websites give perspectives on the best and worst seats in the various equipment used by US airlines. See this, for example. However, these perspectives are designed for frequent flyers, who usually get to board early, and hence don't have to worry about overhead space. So attend to the notes above about your carry-on bags when you use them!
A SPECIAL NOTE ON SOUTHWEST AIRLINES
Southwest does not assign seats, and it boards in groups. There's real value to being in the first group to board—the "A" group—if you want your family to sit together.
There's two ways you can get into this group. One is that you buy your way in at the time you make your reservation. The second is that you check in for your flight exactly 24 hours before departure. Southwest assigns you to a group based on how soon you check in once your flight is 24 hours away.
C. PLANNING YOUR GROUND TRANSPORTATION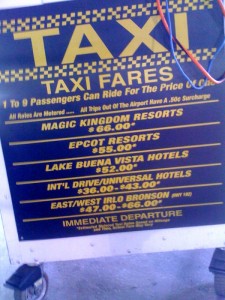 When you arrive in Orlando, you'll have several options for getting from the airport to Walt Disney World:
Disney's Magical Express (recommended for first time visitors because it is relatively simple, and more important, free)
A different, paid shuttle service, such as Mears (search the web for latest contact info for Mears)
A limo (search Orlando town cars and limos)
A taxi, which can cost including tip more than $75 each way
A rental car
If you are signing up for Disney's Magical Express (free transportation of you and your luggage back and forth from the Orlando International Airport and your Walt Disney World resort hotel), you can do so as soon as you have a hotel reservation. You can also do so afterwards. See this page for more on Disney's Magical Express, and see this page for which hotels are eligible for it.
(Note: a very rich source of advice on air travel can be found in Scott McCartney's The Wall Street Journal Guide to Power Travel
.)
AIR TRAVEL 101 TOPICS
RELATED STUFF