Table Service Meals at the Walt Disney World Theme Parks Ranked in Order
By Dave Shute
OVERVIEW: TABLE SERVICE MEALS AT WALT DISNEY WORLD
This site's recommended dining venues  are in the basic itinerary and are listed at the bottom of this page.
They were selected based on how well-loved they are by families, kid-pleasing menus, how effectively they achieve their show intent, value for money, and convenience.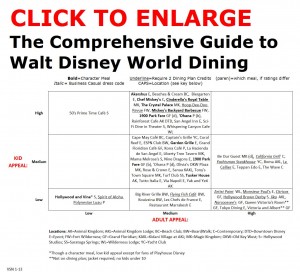 If you cannot follow these recommendations, use one of two tools.
The thumbnail (click to open; when open, click again once or twice to enlarge) ranks the table service meals at the theme parks on the basis of both kid appeal and adult appeal.  Use this to balance kid vs. adult desires.
Or, for options ranked in order, see the list that comes next. These restaurants are ranked based on comparison of guest reviews from a number of printed and online sources.  The sources do not generally agree, but they often do agree on a relative order—e.g. The Plaza at the Magic Kingdom is almost always rated lower than the Liberty Tree Tavern is. Any remaining lack of agreement is resolved based on my own family's experience.
Additionally the table service restaurants are coded as follows:
Bold means especially delightful atmosphere/visual appeal for kids
Italic means relatively dull for kids

Strike-thru

means new or recently renovated/re-conceived, with slender data so far
(C) means character meals available
DISNEY WORLD THEME PARK DINING RANKED IN ORDER
MAGIC KINGDOM
Be Our Guest
Cinderella's Royal Table (C), Menu changes often
The Crystal Palace (C), Buffet
Liberty Tree Tavern
The Plaza, Diner-style food
Tony's Town Square, Italian
ANIMAL KINGDOM
Yak and Yeti
Tusker House (C)
Rainforest Cafe
HOLLYWOOD STUDIOS
Hollywood Brown Derby, American
50s Prime Time Café, American
Mama Melrose, Italian
Sci-Fi Dine in Theater, American
Hollywood and Vine (C), American Buffet
EPCOT
Tokyo Dining Japanese
Biergarten German
Le Cellier Steakhouse
Akershus (C) Norwegian and American
Teppan Edo Japanese, Chefs artfully chop at table
Monsieur Paul's French
Les Chefs de France French
Garden Grill (C) American
Restaurant Marrakesh Moroccan
Rose & Crown British
Via Napoli Pizza/Italian
Tutto Italiano Italian
San Angel Inn Mexican
La Hacienda de San AngelMexican
Coral Reef Seafood
The Nine Dragons Chinese
COMPLETE LIST OF DISNEY WORLD DINING SITES IN THE BASIC ITINERARY

Magic Kingdom:
Cinderella's Royal Table (Character Meal)
Pecos Bill Café
Crystal Palace (Character Meal)
Dole Whip at Aloha Isle (Snack)
Hollywood Studios:
Backlot Express
Sci-Fi Diner (Snack)
Epcot:
Akershus Banquet (Character Meal)
Sunshine Season Food Fair
San Angel Inn
Boulangerie Patisserie (Snack)
Animal Kingdom:
Resorts:
Hoop-Dee-Doo Revue (Fort Wilderness, Dinner Show)
Chef Mickey's (Contemporary, Character Meal)
Beaches and Cream (Beach Club, Snack)
Dole Whip at Captain Cook's (Polynesian, Snack)
Plus your hotel's counter service and your hotel room!
Downtown Disney:
House of Blues Gospel Brunch
Rainforest Café
MORE ON WALT DISNEY WORLD DINING
Home    Donate    Sitemap    FAQ     Travel Agents