The Holidays Around the World at Walt Disney World's Epcot
By Dave Shute
(This page is one of a series explicating Disney World lingo, abbreviations, and FAQ for first time family visitors to Walt Disney World.)
HOLIDAYS AROUND THE WORLD AT EPCOT
Holidays Around the World is the overarching term that covers Epcot's key holiday celebrations:
In addition to these three special events, Santa Claus is available for visits in the American Adventure, and holiday decorations are everywhere.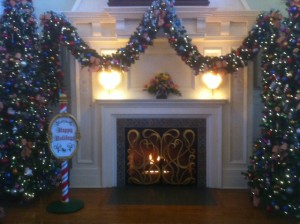 The Epcot resorts join the festivities, with special Christmas decorations in their lobbies and grounds.
See the image for the fireplace in the lobby at Disney's BoardWalk Inn, decorated for Christmas.
Other hotel decorations include gingerbread houses and Christmas trees.
All these events and decorations add up to a wonderfully festive atmosphere, and all are worth viewing!
RELATED STUFF