The Top Weeks of 2012 at Walt Disney World
By Dave Shute
CHRISTMAS IN JULY
Magical Blogorail Teal is writing this month about Christmas at Walt Disney World.
Welcome to those of you joining me from The World of Deej and those of you who have just hopped aboard. I am the 3rd stop on our Magical Blogorail.
Since 2008, this site has been listing the weeks of the year ranked in order for first-time Walt Disney World visitors who may never return.
(For example, see this for 2011 and this for 2012.)
Every year the top 3 weeks have been the Christmas season weeks beginning right after Thanksgiving.
WHY THESE CHRISTMAS SEASON WEEKS AT WALT DISNEY WORLD?
Each year I end up with about 14-18 recommended weeks.
I get to these by tossing the ride closure weeks, the horribly crowded holiday, spring break and summer weeks, the weeks that happen at the peak of the hurricane season, and some other higher-crowd weeks.
The weeks that remain are lower-crowd weeks that don't have a weather or ride-closure reason not to go.
I generally sort these remaining weeks by crowds and prices, but the weeks that rise to the top are always the three Christmas season weeks right after Thanksgiving.
These aren't the  lowest crowd weeks of the year (which occur in the peak hurricane and ride closure seasons) nor are they the lowest price weeks of the year (ditto).
What they are is lower crowd, lower price weeks that also have the full display of Disney World Christmas magic.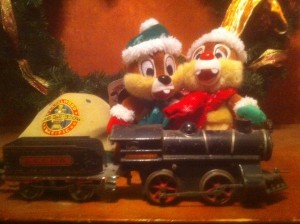 Special Christmas events and displays occur across the parks and the resort hotels beginning in early November.
They are fully in place by the Friday after Thanksgiving, and continue to New Years.
I won't go into details here as I have done so elsewhere, plus my buds in Magical Blogorail Teal will cover them.
Any family vacation at in the Christmas season is magical.
A Christmas season family vacation at Walt Disney World would be even more magical, even if this special Disney Christmas stuff wasn't happening (avoid the latter part of December though–the crowds and prices then are unimaginably high.)
But combine a family Christmas season vacation with all the wonder that Disney puts into celebrating Christmas, and you've got a family vacation you will never forget…
MORE ON A DISNEY CHRISTMAS IN JULY FROM MAGICAL BLOGORAIL TEAL
Thank you for joining me today. Your next stop on the Magical Blogorail is The DisneyFAITHful.
Here is the map of our Magical Blogorail loop should you happen to have to make a stop along the way and want to reboard:
MORE ON WHEN TO GO TO WALT DISNEY WORLD
RELATED STUFF