THE TRAINS OF WALT DISNEY'S IMAGINATION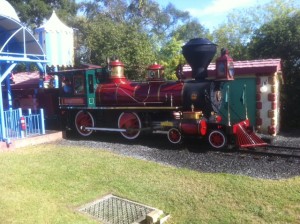 There are two traditional railroads at Walt Disney World.
They are the Wildlife Express Train at the Animal Kingdom, and the Walt Disney World Railroad at the Magic Kingdom.
In my Comprehensive Guide to Rides, I rate these as "skippable" for typical older kids and adults.
This is true even over the holidays, and even though the two toys that have dominated the imaginations of boys over the past century are trains and toy soldiers.
There are many reasons why both these parks have railroads, why the monorail serves as Epcot's railroad, and why railroad tracks are buried in the paving of Sunset Boulevard at Disney's Hollywood Studios.
These reasons range from simple transportation to support of the theming.
But with the launch of the Red Car Trolley at Disney California Adventure in 2012, every domestic Disney theme park will have a train, or the footprints of a train.
As skippable as these rides may be…Disney World was born from Disneyland, and Disneyland, as far as I am concerned, was born from the Christmas-present Lionel train layout that Walt Disney set up in a room adjoining his office in 1948, big enough to fill half of a two car garage.
TRAINS AND THE DEVELOPMENT OF WALT DISNEY WORLD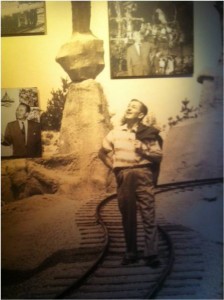 Walt Disney's delight in trains and model trains dates back to his childhood.
Like many boys of the time, the power and romance of the trains that surrounded him, and the railroad workers he knew, led to fascination.
Trains were the source of much of the built world around him, and the pathway to destinations that were almost unimaginable.
Disney's own family spent little on toys and Christmas presents.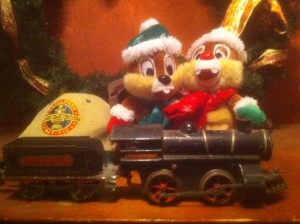 As a paper boy, Walt would play with the wind-up model trains he would find on the porches of the families to whom he delivered papers.
Jim Korkis notes in his recent book The Vault of Walt
that much later, in the early thirties, Walt helped create a model train layout for his nephew Roy, focusing in particular in "the surrounding landscaping and structures for the train track."
The hobby of model railroading has many components and subcultures, but most essentially it involves a fascination with full size trains, with miniaturization, with model-building, and with mimesis—the translation of imagined trains in an imagined landscape into a designed, miniaturized, and modeled world.
Attention can flow from the tiniest detail of a modeled miniature to the overarching grand design of the modeled world itself, and back again.
The conceptual work and play of the hobby is similar to that of animation, but with key differences that what is being imitated is not a conceptual story but rather excerpts from and re-arrangements of the physical world itself, and that the tools of the imitation are not pencil and paper, and ink, paint and cels, but rather physical objects themselves—wood, glue, plaster, metal axles, wheels, and smokestacks (and still paint).
By 1947, Walt faced a damp November of the soul.
His studio had been devasted by a strike and the war, and, according to Neal Gabler's wonderful biography Walt Disney: The Triumph of the American Imagination, Walt was bored, lonely and depressed.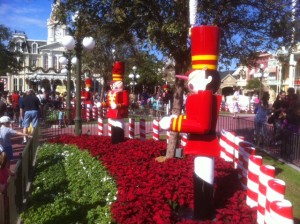 Nothing could ever again be as good as it had been.
That December, for Christmas he bought each of his three grand-nephews model trains, and then he bought himself one, too.
Gabler quotes his letter to his sister Ruth:
"I bought myself a…Christmas present—something I've wanted all my life—an electric train….[Y]ou probably can't understand how much I wanted one when I was a kid, but I've got one now and what fun I'm having." (465)
Disney built a scale model railroad layout in a room adjoining his studio office, filled it with track, buildings, and scenery, and "loved playing with it."
He shortly moved from smaller to larger scales, electric to steam-powered models, and indoor to outdoor model railroading—influenced by the outdoor live-steam set-up he had seen in animator Ward Kimball's yard in 1945. (Many Disney animators, and later, imagineers, were also model railroaders.)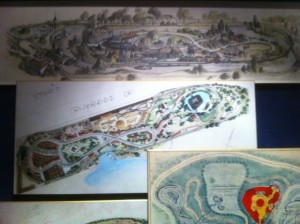 Walt's outdoor scale model railroad—the Carolwood Pacific—only whetted his interest for more.
Model railroaders never have enough space, and always doodle what they would do if only they had a little more room.
These thoughts intersected with many other current trains of Disney's imagination, and Disneyland emerged.
Disneyland started as mostly trains, but also some other stuff. Click the image above for these early plans.
It grew in conception to mostly other stuff, but still trains.
The "Inspiration" plaque at the Disneyland Story exhibit on Main Street in Disneyland includes these words:
"Walt Disney loved trains…To Walt, trains meant adventure, excitement, and the optimism of America. And although his ideas for a new kind of "family park" would change many times, one thing was always certain—it would be surrounded by a train."
Walt's 1947 Christmas present to himself of a model railroad brought together many strands from his past into a combination of play, nostalgia, mimesis, and fascination, and created a governing conception, that of the model train layout writ large, to guide and unify his evolving thoughts about Disneyland, which led to the Magic Kingdom and Walt Disney World.