How the Disney World Week Rankings are Created
By Dave Shute
CREATING THE "WEEKS TO VISIT RANKED IN ORDER" PAGES
Month in and month out, among this site's most popular pages are its "Weeks to Visit Walt Disney World, Ranked in Order" pages–for example, this one for 2011, and this one for 2012.
This page explains why these were built, how they were built, and some of their limitations.
WHY BUILD A LIST OF WEEKS TO VISIT WALT DISNEY WORLD RANKED IN ORDER?
The value of this site for first time family visitors to Walt Disney World, unsure if they will ever return, is "Exact Instructions, Next Best Options."
What that means is that the site provides exact advice–e.g., arrive December 3rd, 2011–but also ranks the next best options, in order, so that families who can't do the exact instructions can simply scan down the list of next best options to find the first one that works for them.
Hence, the week rankings.
HOW THE DISNEY WORLD WEEK RANKINGS WERE BUILT
My basic approach is to group weeks based on positives or negatives, assign a rough overall position to the groups, and then rank weeks within the groups.  After this, I assemble them back in order.
The first grouping is the weeks in January, and to a lesser extent February before President's Day, that routinely see rides closed.
Since this may be a family's only visit, go during a time when the rides and attractions are likely to be open.
While rides can be closed for refurbishment at any time, the most common period is January and the first half of February.
Over the last five years, closed rides in this period have included Splash Mountain, Test Track, Rock N' Roller Coaster, Buzz Lightyear, Mickey's Philharmagic, and more. Splash Mountain has been closed every year, for periods ranging from 5 days to the entire time, and averaging about a month.
For more on winter ride closures at Walt Disney World, click here.
These January and early February weeks go to the bottom of my list for first-time visitors who may never return. Among them, I rank the February weeks better than the January ones–since typically fewer rides are closed in February than January–and sort otherwise based on crowds.
They are, by the way, typically great weeks for returning visitors, combining prices as low as they get with very low crowds.  Crowds can be higher in the first week of January depending on the specifics of school breaks, over the Martin Luther King Day holiday weekend, and all of the week that includes Presidents Day.
The second grouping is the busiest weeks of the year.
These include Christmas and New Year's weeks, the weeks before and after Easter, the summer from Memorial Day to mid-August, Thanksgiving week, Presidents Day week, and many March and April weeks before Easter.  These weeks come next to the bottom after the ride closure weeks, and among them, I sort by expected crowds.
Note that my crowd calendar, while having the virtue of being transparent and replicable, is a bit of a blunt instrument–a second opinion is wise, for which I recommend Testa and Sehlinger's TouringPlans.com.
Sign up for a fee (or buy their book,
which allows you to use their website for a discount), and double check their crowd calendar (the best available anywhere) before making a firm commitment to a particular week.
The hardest elements in this group to forecast are the spring break weeks.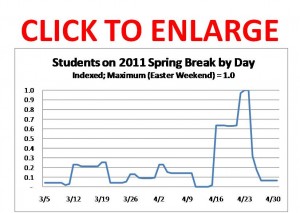 It's easy to ding every week from March 1 through 7 days after Easter.
However, early March is usually OK, and depending on when Easter happens, other weeks in this period can be relatively uncrowded as well.
I put a ton of work into finding out actual school spring break schedules to try to find some weeks in this period to recommend–see the graphic.
That said, spring break weeks should be tested against another opinion.
The third grouping is the peak of the hurricane season, which is from late August to early October.
Hurricanes mess up a Disney World trip much less than you'd think…but for families who may never be able to afford to return, the possibility of one is a good reason to avoid their peak dates.
I sort among the peak hurricane dates based on expected crowds, with a little more discrimination based on prices.
These groups leave as possible recommended weeks:
Some weeks in late February and during Spring Break
Some weeks between the week after Easter and Memorial Day week, and
Some late October, early November, and post Thanksgiving but pre-Christmas weeks
In the last group are included weeks as inexpensive as any among these recommended weeks, and also, in the post-Thanksgiving weeks, times when Disney's Christmas program is going full speed.
These Christmas weeks end up being the top recommendations
Although the late April/early May weeks are a little more expensive than the October/early November weeks, their weather is as good as it gets, so these weeks show up next
The late October and early November weeks (except Jersey Week) are the next best weeks–nice weather, low crowds and prices
Later May (rain and heat) and Spring Break weeks (expensive) show up last among the recommended weeks
Some years the week before Christmas has so many good (uncrowded and inexpensive) days that it ends up on the list as well, as a fourth recommended post-Thanksgiving week.
LIMITATIONS OF THESE DISNEY WORLD WEEK RANKINGS
This article continues here.
RELATED STUFF