Review: Wishes at the Magic Kingdom
By Dave Shute
WALT DISNEY WORLD'S WISHES
Wishes is a 12 minute or so fireworks show at the Magic Kingdom.
 It combines fireworks, music, narration, colors and images projected onto Cinderella Castle, and, weather permitting, live performers, into a spectacle and a spectacular show.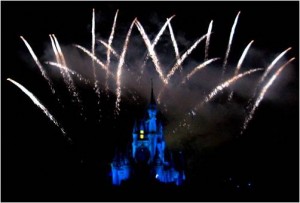 Narrated by the Blue Fairy and Jiminy Crickit, the show has the theme of believing in the power of wishes, and of good triumphing over evil.
I have never met anyone who does not love the show, and it is listed as a favorite on this site's Comprehensive Guide to Rides.
HOW OFTEN WISHES HAPPENS
Depending on the time of the year, Wishes can be shown from nightly to twice a week. Sunday night is the most certain night for it to be shown.
Check the Magic Kingdom Calendar (find your month, then click on the days of your visit) to see when it is being shown during the time you will be at Walt Disney World.
(Disney's calendars are harder to use than they should be–see this if you need help.)
WHERE TO PLACE YOURSELF TO SEE WISHES
Returning visitors have any number of favorite spots to see Wishes:
Near the Tomorrowland Terrace
From the waiting area of the Main Street railroad station
From the top of the Swiss Family Treehouse
While riding Splash Mountain
From out of the park,  including the California Grill at the Contemporary Resort, the beaches at both the Polynesian and Fort Wilderness, and other spots.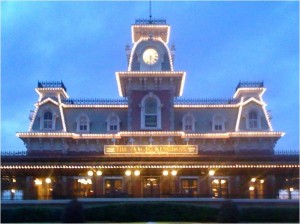 First time visitors should avoid all these. 
Wishes was designed to be seen facing the Castle, with the Main Street railroad station at your back, and that is where you should position yourself.
Where in this axis you should stand depends on whether Wishes is closing the park or not. 
If it is closing the park, stand closer to the railroad station–for example, halfway down Main Street.  This will limit the crowds you have to deal with on exit.
If it is not closing the park, stand closer to the Castle–even as close as the hub in front.
See this for positioning yourself for both the evening parade and Wishes.
Seeing Wishes is in all this site's itineraries.  Many returning visitors have made a tradition of seeing Wishes on their last night at Walt Disney World, as a fitting coda to their experience.
Home   Donate   Sitemap   FAQ   Travel Agents
RELATED STUFF