Review: The Evening Main Street Electrical Parade at the Magic Kingdom
By Dave Shute
THE MAIN STREET ELECTRICAL PARADE
The evening parade at Walt Disney World's Magic Kingdom, the Main Street Electrical Parade, re-opened in the summer of 2010.
Originally returned for the summer as part of Disney's Summer Nightastic program, it has been now made the permanent evening parade, replacing Spectromagic.
The Main Street Electrical Parade ran at Walt Disney World for years, and then went to Disney's California Adventure.
It has returned to Walt Disney World with a few new floats, and a general refurbishment.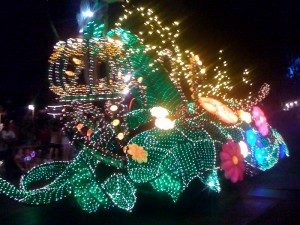 For those for whom it is new, the dated modulation of its introduction and orchestration will take a minute to get used to.
After that it is great fun.  The evening parade remains ranked, on this site's Comprehensive Guide to Rides, as a favorite of both littler and bigger ones.
HOW OFTEN THE PARADE HAPPENS
Depending on the time of the year, the evening parade can be on from twice a night to twice a week. 
(If the parade is showing twice in a night, and you have the energy to stay for the second showing, see that one, and get on rides during the first showing. Each will be less crowded.)
Check the Magic Kingdom Calendar (find your month, then click on the days of your visit) to see when it is playing during the time you will be at Walt Disney World.
WHERE TO PERCH YOURSELF TO SEE THE MAIN STREET ELECTRICAL PARADE
The best place to see the parade depends on how much time you are willing to sit and wait for the parade (thereby saving your seats), how short your kids are, and what is happening after the parade.
If the parade is closing the park, then you want to see it from Main Street, nearer to the entrance than to the Castle end.  This will let you beat most of the crowds exiting the Magic Kingdom when the parade ends.  If your kids are short, you need to be near the curb so that they can see the parade as it passes by.  Depending on how crowded the park is, you may need to stake out your spot 60 minutes or more before the parade beings.
If fireworks happen after the parade, and you plan to stay for them, then a spot at the end of Main Street closer to the Castle, or in the hub in front of the Castle itself, is best, as you will then be in the best spot to see the fireworks.  You may need to reserve your spot 90 minutes in advance.
If nothing is happening after the parade–the park is not closing, and either the fireworks aren't showing or you aren't going to watch them, then the best place to see the parade is from Frontierland.  In all but the busy seasons, you can get good spots 30 minutes before the parade.
Home   Donate   Sitemap   FAQ   Travel Agents
RELATED STUFF