New Disney World Deal Covers Most Nights 12/11/22 through 3/30/2023
By Dave Shute
Walt Disney World earlier this week announced the first discount available to the general public in months.
The new Disney World deal offers $20/night, $40/night, or $100/night discounts off of standard ("rack") rates for a subset of Disney World hotels for various nights beginning December 11, 2022, and continuing through March 30, 2023.
From December 11, 2022, through December 25, 2022, it covers "most nights."
It then goes away, returning in a diminished way on January 2. From January 2 through February 28, 2022, it covers ONLY "most Sunday through Thursday nights."
March 1 through March 30 it returns to covering "most nights," without the Friday and Saturday exclusions present in January and February.
The offer requires the purchase of not just rooms but tickets as well, and has a minimum stay of two nights and a maximum of 14. (Note—any website calling this a "save up to $400" offer is not very good at this sort of thing, as you can save up to $1,400. Disney World promotes this as a "save up to $400 for a four-night stay" but as noted, stays of up to 14 days are permitted.)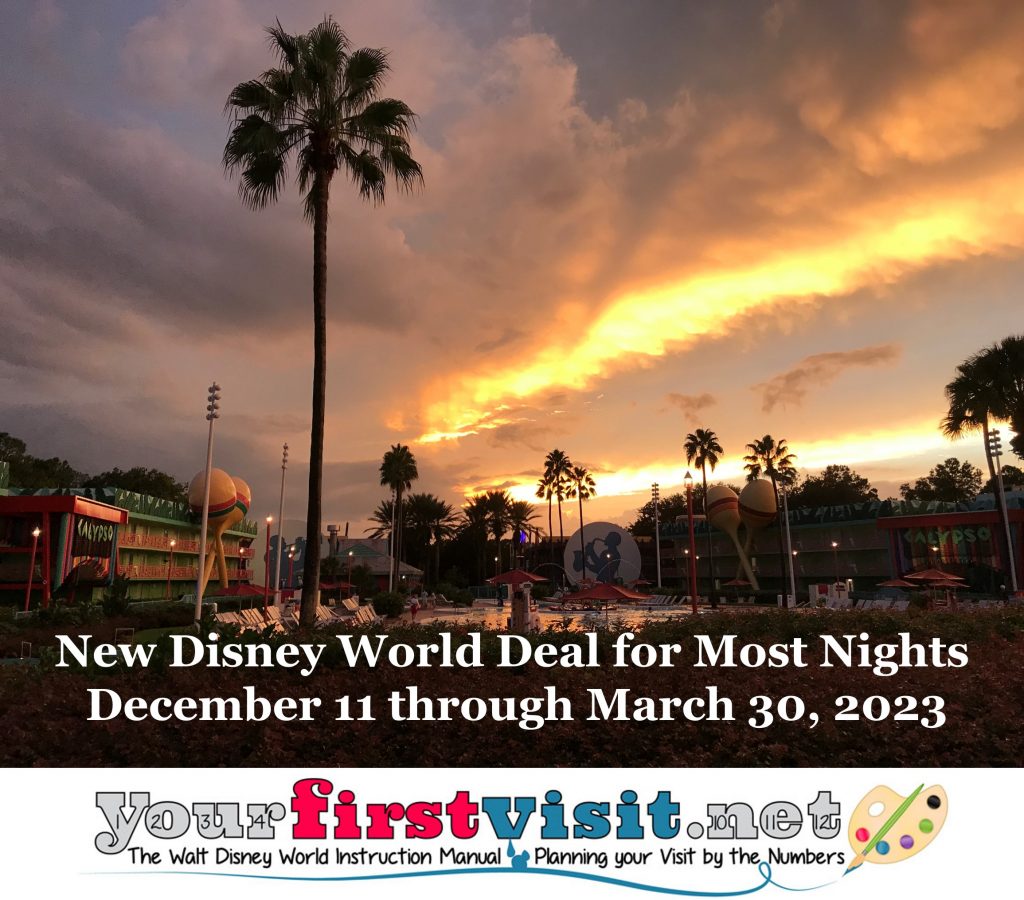 Not all hotels are in the deal, and even those that are in it will have limited availability. In recent years, at any given hotel, Disney World typically has made it much easier to book that hotel's most expensive rooms, driving percentage savings down.
More details are available on this Disney World page.
DISNEY RESORTS OFFERING A SAVINGS OF $100 PER NIGHT
All the $100/night savings hotels are deluxes or DVC resorts. Not all of these are in the deal.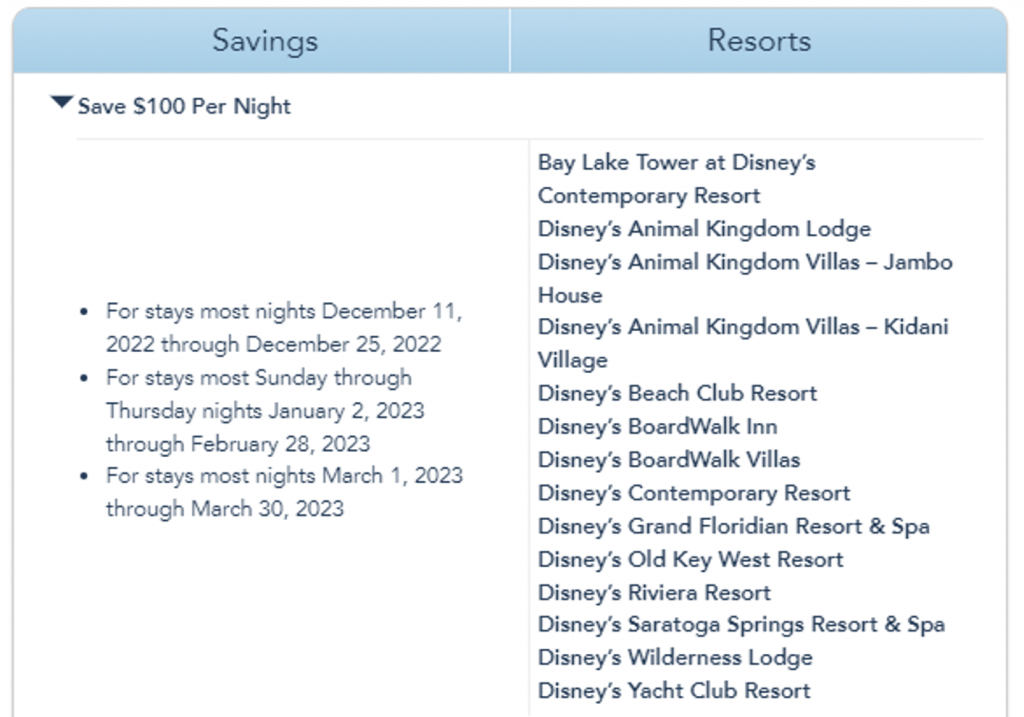 DISNEY RESORTS OFFERING A SAVINGS OF $40 PER NIGHT
All of Disney World's moderate resorts are in the deal at $40/night off, as are Family Suites at value resort Art of Animation.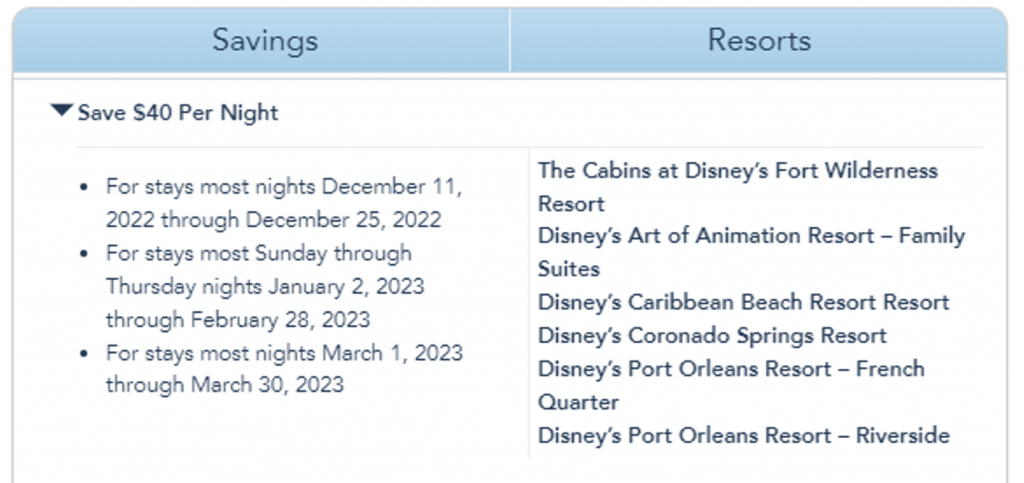 DISNEY RESORTS OFFERING A SAVINGS OF $20 PER NIGHT
Value resort standard rooms in the deal are at $20/night off, except for standard Little Mermaid rooms in Art of Animation, which as usual are not in the deal at all.

A few final thoughts:
Other deals are out during the same period but not for the general population. The one that likely has the highest overlap is a deal out for Disney+ subscribers. A good travel agent, such as my friends at Destinations in Florida (see the contact form below) can sort through your options, if you have any, and recommend and then book the best deal for you.
This deal has its complexities, but at the highest level it has the simplest presentation of any recent Disney World deal I've seen.
For example, rather than quoting percentage discounts, it quotes dollars per night discounts, perhaps recognizing—as proven throughout the pandemic—that most can't do math. Moreover, rather than grouping hotels in its offer by class (e.g., separate sections for deluxes, DVCs, moderates and values), the offer groups them by discount level, meaning that you don't have to know what Disney World's resort classes are before you can interpret the deal.
Follow yourfirstvisit.net on Facebook or Twitter or Pinterest!!
RELATED STUFF