Disney World in 2023
By Dave Shute
DISNEY WORLD IN 2023
Elements of the Disney World fan community view the parks with a degree of disquiet, dismayed by prices increasing even more quickly than usual, previously bundled costs now being unbundled and charged for, and increasing complexity to managing a day in the parks. Some changes announced in January 2023 are welcome, but much remains troubling to some.
On the other hand, in late September 2022 I accompanied a couple of six year old children for their first visit to the parks, and their experience was magical. Their parents and grandparents had not been in the parks since the end of 2016, and they were astonished by the improvements at Disney's Animal Kingdom and Disney's Hollywood Studios, and intrigued by and willing to be patient with what was going on at Epcot. The three best rides at Disney World—Flight of Passage, Rise of the Resistance, and Guardian of the Galaxy—have all opened since these folks last visited…
So while some repeat visitors may be dismayed, for first-time visitors and folks who have not been in a while, Disney World remains a marvelous, marvelous destination.
Moreover, the increasing "day-of" complexity replaces what used to be "60 days before complexity." As a result, first timers are on a more even playing field with returning visitors than I have seen since the days before FastPass+.
Of more long-term interest, Disney World is shifting from a strategy designed to extract a higher proportion of the total vacation spend of an ever-increasing guest count to a strategy that uses higher prices to yield a better overall experience for a smaller number of guests. This builds on and extends a strategy that began in 2014 to run the parks on a more commercial basis. As former Disney World exec Jim MacPhee notes, "this may seem like an obvious expectation of all senior business leaders. However, there was a much different philosophy that preceded these expectations."
I'll have more to say about much of this, I imagine, later.
WHAT'S NEW AT DISNEY WORLD IN 2023
Disney World's 50th anniversary celebration will come to an end, replaced with celebration of the Walt Disney Company's 100th anniversary.
All major attractions, and most minor, have re-opened. However, at Magic Kingdom Splash Mountain has closed for a multi-year re-theming into Tiana's Bayou Adventure January expected to re-open in "late" 2024.
The transformation of Epcot will continue with changes to its entrance and what used to be known as Future World. The new-in-2021 evening show Harmonious will be replaced in 2023, first with a temporary  return of the show Epcot Forever on April 3, then with a new permanent show "Luminous" on December 5, 2023.
At Magic Kingdom, an updated version of the former evening show Happily Ever After replaced the new-in-2021 evening show Disney Enchantment on April 3, 2023, and the next day, April 4, the new ride Tron Lightcycle Run at Magic Kingdom opened.
DISNEY WORLD TICKET PRICING IN 2023
Disney World moved to date-based ticket pricing in 2018, and in 2020 added to its requirements the need to book in addition to tickets also park reservations. For current 2023 Disney World ticket prices, see this.
DISNEY WORLD RESORT PRICING AND DEALS IN 2023
Disney World uses a combination of complicated and changing room pricing, and, on top of that, deals, to keep its resort hotel occupancy very high. Typically, rooms are more expensive—sometimes much more—during the more attractive times to go to Disney World.
Mousesavers.com has specific material on nightly prices in 2023 by hotel and within them room types here, and I have easier to use but much less detailed information on 2023 Disney World resort hotel seasonal prices here.
Several hotel deals have come out for 2023, and cover most dates. Find more on current Disney World deals here.
The simplest way to handle getting any deals that might be available is to make your initial booking through a travel agent, who will then–if a deal comes out for your dates–move heaven and earth to try to get you in to it.
I recommend Destinations in Florida, who has been the travel agent partner of this site for years. To book your vacation through them, contact them using the form at the end of this page.
DISNEY WORLD CROWDS IN 2023
Barring external economic shocks, I expect the Disney World parks to continue to see substantial demand in 2023. Moreover, a higher degree of resistance to taking kids out of school than before the pandemic will continue to particularly focus much of this demand into the traditional US school holidays: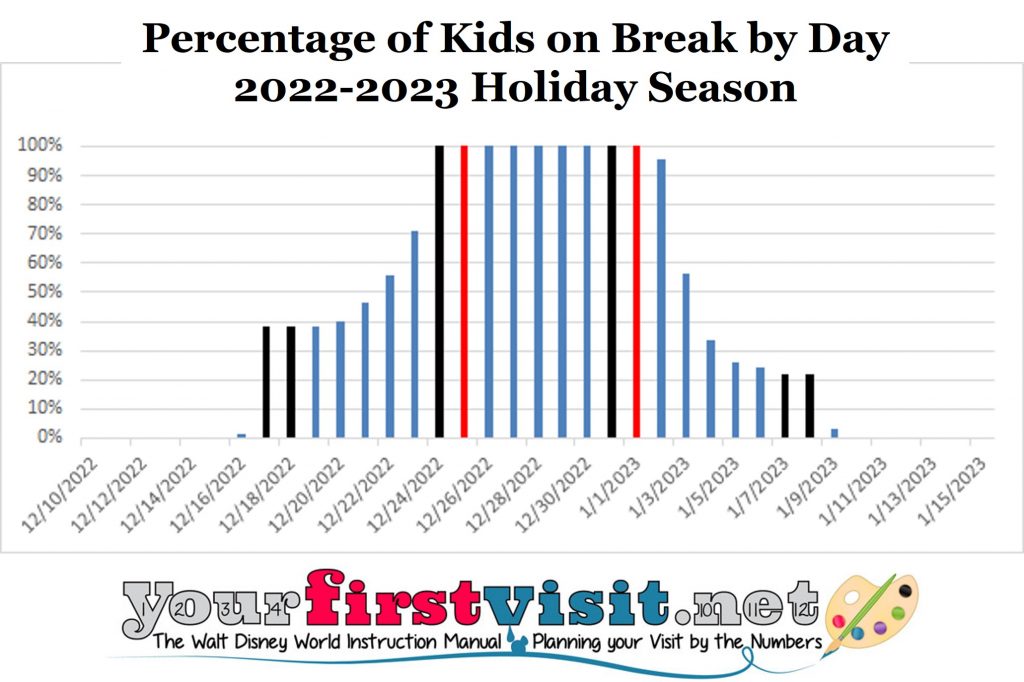 Early January 2023 will be busy through the first full weekend, as lots of kids continue on holiday on break through January 3, 2023 and a full 20% through January 8. The rest of the month should be much better, with the Martin Luther King holiday weekend being the next worst dates in the month.
Presidents Day, February 20 in 2023, is late in its possible range. With Mardi Gras 2023 the very next day, the week that includes Presidents Day will be even worse than usual. (Tons of kids in the northeast have the whole week off and a much lesser number in a few southern states have breaks around Mardi Gras.)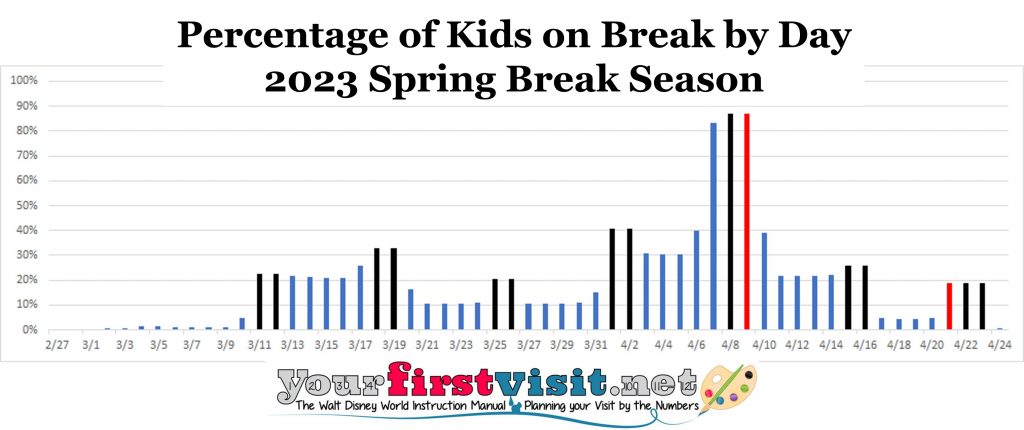 Easter in 2023 will be about in the middle of it possible range, on April 9. The patterns of spring breaks in 2023 are not as monolithic as in some years-I'm not seeing week followed by week followed by week of really bad crowds. Rather, the worst crowds are particularly concentrated into the weeks beginning 3/11, 4/1, and 4/8.
The week beginning 3/11 sees most of Florida and most of Texas on spring break, as well as districts from Alaska to Virginia. While the sorts of annual passes Florida residents typically buy are blocked out this week, I'm still seeing it as a very bad week thanks to everyone else.
The weeks beginning 4/1 and 4/8 are the usual busy weeks before and after Easter. Many schools frame their breaks around one or the other of these two weeks, and those that don't not uncommonly have a long weekend that includes Good Friday, Easter Monday, or both. If anything, this last trend is increasing, as many schools whose principal breaks are in March are adding two long weekends in April, one for Easter and one for Eid al-Fitr.
While still substantial, crowds are not as bad the two weeks beginning March 18 and March 25. Finally, the week beginning 4/15 sees minor crowding from some northeast schools with that week off, supplemented at the end of that week with increasing numbers of schools having a long weekend associated with Eid al-Fitr.
Summer 2023 crowds I expect to be substantially higher than the crowds in the years before COVID, as people continue to make up for missed holidays in 2020 and 2021, and overseas visitors come more fully back to Disney World. I also expect to see a spillover effect to the traditional holidays from parents being more resistant to taking their kids out of school…we newly cherish face-to-face time with teachers.
Kids start getting out of school in substantial numbers on May 27, 2023, are more than half out by June 10, more than 80% out by the next weekend, and fully out of school by June 28. Thus, as in most years, early June will be better than July—as will be later August, with more than half of kids back in school by August 17, and two-thirds back in school by August 21.
I expect the new Tron ride at Magic Kingdom opening April 4 to be a major spring and summer draw as well.
Thanksgiving, November 23, 2023, is early its possible range, yielding good weeks the three weeks after—the weeks beginning 11/25, 12/2, and 12/9.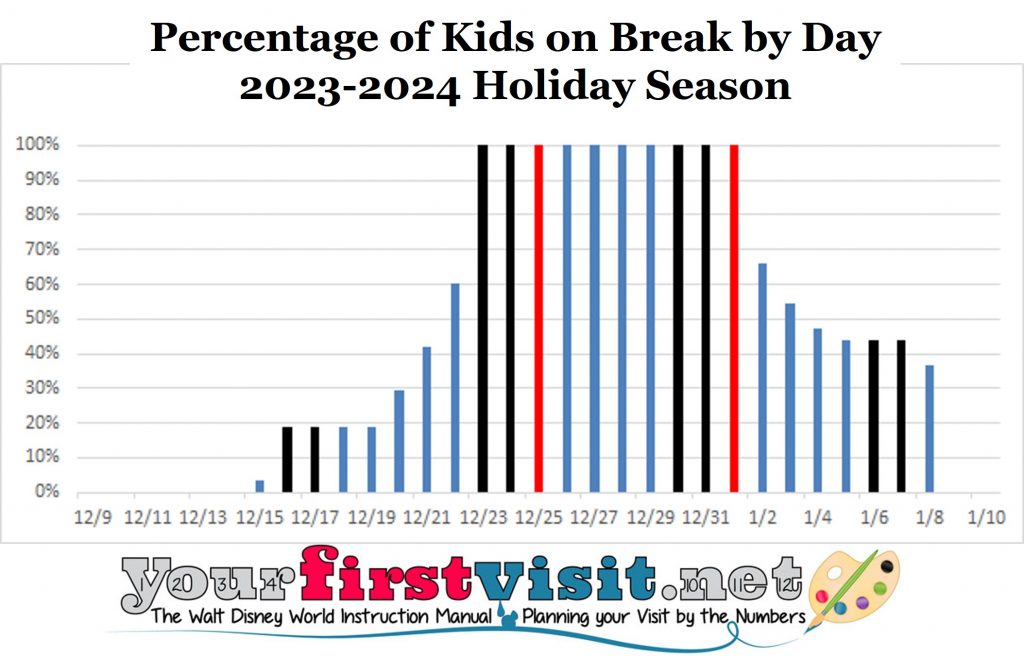 Christmas is on a Monday in 2023.  The period from 12/23/23 through 1/1/24 will see the worst crowds of the year. Breaks the weeks before and after are a bit more scattered in the 2023-2024 holiday season than in some other years. The week beginning 12/16 will start OK but end very rough. This week has some 20% of kids out at its beginning, building to 30% out by Wednesday 12/20, 40% out by Thursday, and 60% by Friday. After New Years, school breaks continue, with almost half of kids on break through the weekend of January 6, 2024, and a fair number still out on Monday January 8, 2024.
See the links for more on 2023 at Walt Disney World:
My friends at Destinations in Florida, the long-time travel agent partner of this site, can book your vacation for you.  Contact them using the form below.

Follow yourfirstvisit.net on Facebook or Twitter or Pinterest!!
RELATED STUFF