Walt Disney World in 2022
By Dave Shute
DISNEY WORLD IN 2022
Walt Disney World's suite of attractions and hotels has largely re-opened, and the two most significant attractions remaining to re-open–Fantasmic at Disney's Hollywood Studios and the afternoon Festival of Fantasy Parade at Magic Kingdom–will be returning at some point in 2022. My guess–and it's just a guess–is that the parade may be back as soon as mid-February, and Fantasmic by summer.
Given that, I think it's fine for first-timers who may never return to plan a visit to Walt Disney World in 2022, with the best time to visit being after Fantasmic and the parade have re-opened, but a great visit before then quite possible.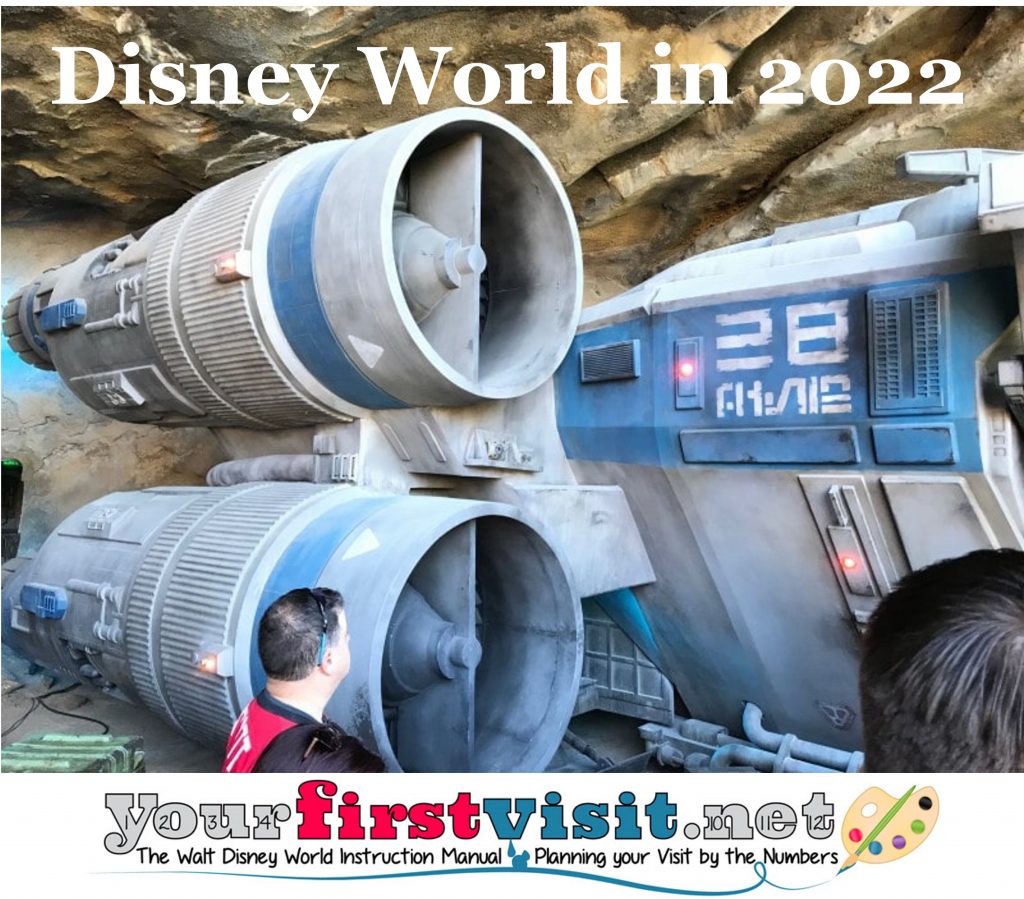 The implications of Disney's new admissions and new wait management systems on the best ways to visit the parks are still in flux.  The value of the extra-cost components of some of these (Genie+ and the a la carte rides with reservations available for individual purchases, all covered here) is in particular still up in the air.
Wheat it seems like so far is that almost always valuable are
A la carte purchase of an appointment time for Rise of the Resistance, Flight of Passage, Seven Dwarfs Mine Trina, and Remy's Ratatouille Adventure
Genie+ at Disney's Hollywood Studios pretty much any day and at Magic Kingdom on at least one day
Moreover, Early Entry and Extended Evening Hours are very helpful perks for those staying at an eligible hotel pretty much anytime, and especially on busier days
I need some more experience with all these systems to emerge before I can write sound itineraries.  But I do suspect that my initial itineraries will be not work on the highest-crowd days, will be solely for those staying in Early Entry eligible hotels, and require purchase of both some al la carte reservations and some Genie+ days.
Of more long-term interest, Disney World is shifting from a strategy designed to extract a higher proportion of the total vacation spend of an ever-increasing guest count to a strategy that uses higher prices to yield a better overall experience for a smaller number of guests.
The merits of the new strategy, and the specifics of getting from one to the other, are wildly controversial in some quarters, and in addition operationally fraught, because the incentives don't align. I'll have more to say about much of this, I imagine, later.
WHAT'S NEW AT DISNEY WORLD IN 2022
Disney World's 50th anniversary celebration will continue all year.
Almost all major attractions, and most minor, have re-opened. Major attractions still missing in the beginning of 2022 are the afternoon Festival of Fantasy Parade at Magic Kingdom and Fantasmic at Disney's Hollywood Studios (which will be returning in a yet-to-be-specified date in 2022), and the Walt Disney World Railroad at Magic Kingdom (no return yet announced). Other attractions still missing are many meet and greets (and those that have re-opened remain somewhat distanced) and some show-style attractions.
The transformation of Epcot will continue with changes to its entrance and what used to be known as Future World. Joining the new-in-2021 evening show Harmonious and the also new in 2021 attraction Remy's Ratatouille Adventure will be another new attraction, Guardians of the Galaxy: Cosmic Rewind, in "summer" 2022
No other significant new attractions are confirmed to open in any park in 2022, although the Tron Lightcycle Run at Magic Kingdom still has some rumors that it may open in 2022. A 2023 for Tron is more likely.
A new, totally different experience, the Star Wars Galactic Starcruiser, will be opening March 1, 2022.  While widely described as a hotel, I'd advise not thinking of it that way.  It is meant as a deeply immersive experience, not as a place to sleep/go to the pool/and relax while you otherwise spend most of your time at the parks.  While a component of the immersive schedule for Star Wars Galactic Starcruiser includes some time in Galaxy's Edge at Disney Hollywood Studios, it is best thought of as something you do instead of, or before or after, a Disney World visit–kinda like a cruise–rather than as a lodging option for your Disney World visit.
DISNEY WORLD TICKET PRICING IN 2022
Disney World moved to date-based ticket pricing in 2018. I expect a ticket price update for 2022 ticket prices, most likely in February, that will increase in particular prices for the second half of 2022.
For current 2022 Disney World ticket prices, see this.
DISNEY WORLD RESORT PRICING AND DEALS IN 2022
Disney World uses a combination of complicated and changing room pricing, and, on top of that, deals, to keep its resort hotel occupancy very high. Typically, rooms are more expensive—sometimes much more—during the more attractive times to go to Disney World.
Mousesavers.com has specific material on nightly prices in 2022 by hotel and within them room types here, and I have easier to use but much less detailed information on 2022 Disney World resort hotel seasonal prices here.
While pre-pandemic deals were technically available for most times of the year (you'll find any current Disney World deals here), the number and types of rooms available became more and more restrictive over the years leading up to the pandemic.
Post-pandemic, Disney is dealing with both high demand and with continuing resort hotel capacity issues. The most apparent issue is hiring enough staff for full operations at its resort hotels–some wings/amenities/offerings still remain closed, and as I write this, one entire hotel (All-Star Sports) is yet to re-open–its reopening is scheduled for March 31, 2022.
Less obvious but I suspect even more meaningful in 2022 will be capacity issues related to limits with bus transportation.  Folks with the requisite CDL have more good alternatives jobs than ever before, and from what I hear, upheavals in management of the Disney buses have caused quite a bit of concern.  Resorts entirely dependent on buses–the three All-Stars among the values, all of the moderates except Caribbean Beach, and the Animal Kingdom Lodge among the deluxes–may see their capacity limited by bus constraints.
As a result of these supply and demand issues, I don't expect to see a lot of capacity made available for deals in 2022.
The simplest way to handle getting any deals that might be available is to make your initial booking through a travel agent, who will then–if a deal comes out for your dates–move heaven and earth to try to get you in to it.
I recommend Destinations in Florida, who has been the travel agent partner of this site for years. To book your vacation through her, contact them using the form at the end of this page.
DISNEY WORLD CROWDS IN 2022
The major question for 2022 crowds at Disney World is the balance between Disney's practical capacity, affected by staffing, its offered capacity though its theme park reservation system, and the effectiveness and usage of the new tools Disney World is offering that might let one avoid crowds, such as its paid line-skipping offerings and its daily early entry options for guests in eligible hotels. While I could–and probably will–say a lot more about these, frankly there is not enough experience yet, especially with the  paid line-skipping offerings, to make sensible judgments.
On the premise that whatever effect all these have, they will somewhat work over the course of the 2022, I offer the following observations:
Early January 2022 will be busy through the first weekend, but better after then, with the Martin Luther King holiday weekend being the next worst dates in the month.
Presidents Day, February 21 in 2022, is as late as it can possibly be. The week that includes Presidents Day will be bad as usual. (Tons of kids in the northeast have the whole week off.) Crowds for this holiday week actually begin the Thursday before. For some reason, the weekend before President's Day–through Monday February 14th–is blocked out in the least expensive of Disney's newest Annual Passes. I can speculate about this, but honestly don't know why the weekend of the 12th is blocked off.  Until more specifics emerge, I'd avoid that weekend as well.
Mardi Gras in 2022 is March 1.  A few southern school districts have it off as a single or multi-day holiday. The impact of Mardi Gras-related visitors on Disney World is overrated, so don't worry about it. (People mix up the effects from it and the effects of President's day breaks–many years have seen the week of Mardi Gras also influenced by crowds from President's Day breaks, which does not happen in 2022.)
Easter in 2022 will be late in its possible range, on April 18. The patterns of spring breaks in 2022 lead me to be forecasting heavy spring break crowds March 12 through April 24.
Summer 2022 crowds I expect to be substantially higher than the crowds in the years before COVID, as people continue to make up for missed holidays in 2020 and 2021, and overseas visitors come fully back to Disney World. I expect the new Guardians of the Galaxy ride at Epcot, Cosmic Rewind, to be a major draw as well.  The current opening date for Cosmic Rewind is "Summer 2022."
Thanksgiving, November 24, 2022, is in the middle of its possible range, yielding good weeks both the two weeks before and the two weeks after.
Christmas is on a Sunday in 2022.  That means almost all schools that take two weeks off for Christmas will begin their breaks on Saturday December 17, 2022, and be off through Sunday January 1, 2023 or Monday January 2. Schools with shorter breaks will largely be out Friday December 23 or Saturday the 24th through January 1 or 2. As a result, the period from Christmas Eve through January 1, 2023 will be especially crazy, but things will also be bad the 17th through the 23rd.
See the links for more on 2022 at Walt Disney World:
My friends at Destinations in Florida, the long-time travel agent partner of this site, can book your vacation for you.  Contact them using the form below.

Follow yourfirstvisit.net on Facebook or Twitter or Pinterest!!
RELATED STUFF