Disney World's New Means for Accessing its Attractions: Genie+ and Its Confusing Alternatives
By Dave Shute
Walt Disney World has implemented a wreck and rebuild of its former FastPass+ system, with more and different options for accessing its rides, some for the first time since the days of E Tickets at an extra fee.
The key parts of this are known as "Individual Lightning Lane" ("ILL")–paid scheduled access, by individual ride, to a small group of rides–and "Genie+," paid access to all of a group of other rides.
Below is a comprehensive overview of my current understanding of all the different ways you will be able to access Walt Disney World's rides and shows–its "attractions."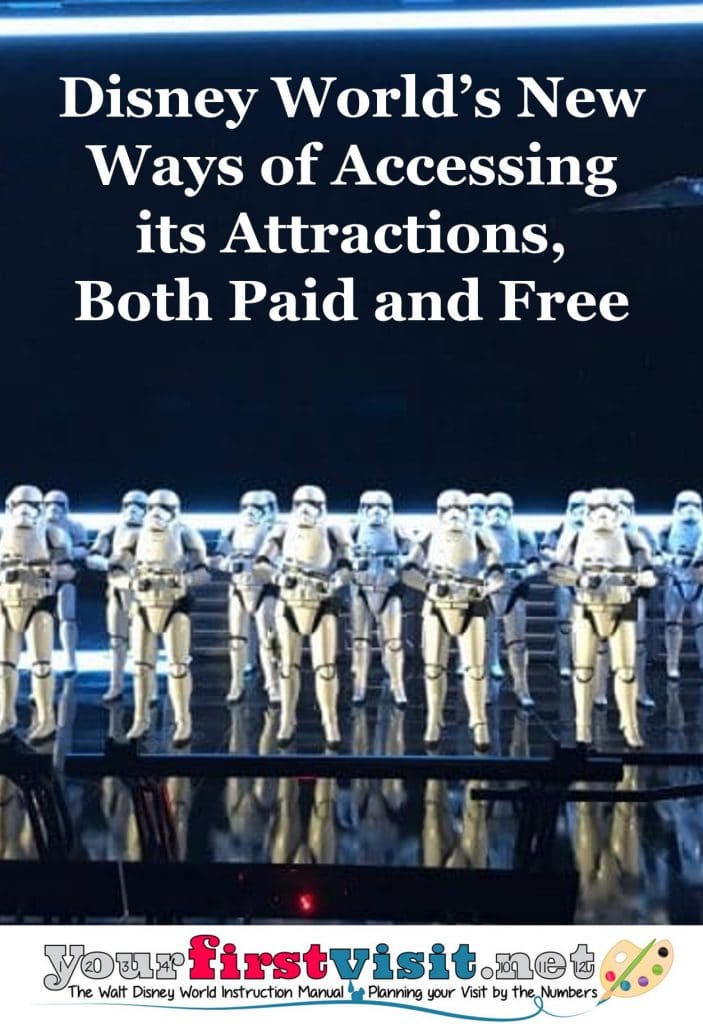 Note that I was unable to discuss the new means of accessing these rides without also talking about Disney's new Early Entry program, a much more important than commonly understood replacement for Disney's former "Extra Magic Hours" program.
ATTRACTIONS AVAILABLE BY EITHER A FREE
VIRTUAL QUEUE/STANDBY GROUP

OR BY A SPECIFIC INDIVIDUAL PAYMENT FOR THEM

Attractions in this class are popular rides for which long standby lines are not attractive to Disney.

As of January 10, 2022, no rides are in this class, with all that used to be in it moved to the next class.  It may be re-instituted for current or new attractions.  If so, I will re-post the details on such Boarding Group rides.
ATTRACTIONS AVAILABLE BY EITHER
WAITING IN A FREE LINE OR BY A SPECIFIC INDIVIDUAL PAYMENT

FOR THEM

Many of these rides have traditionally had high demand compared to capacity and, often, high waits.

You can access them during Early Entry by waiting a standby line, during the regular day by waiting in a line, or by purchasing individual access to them–making them "Individual Lightning Lane" or "ILL" attractions.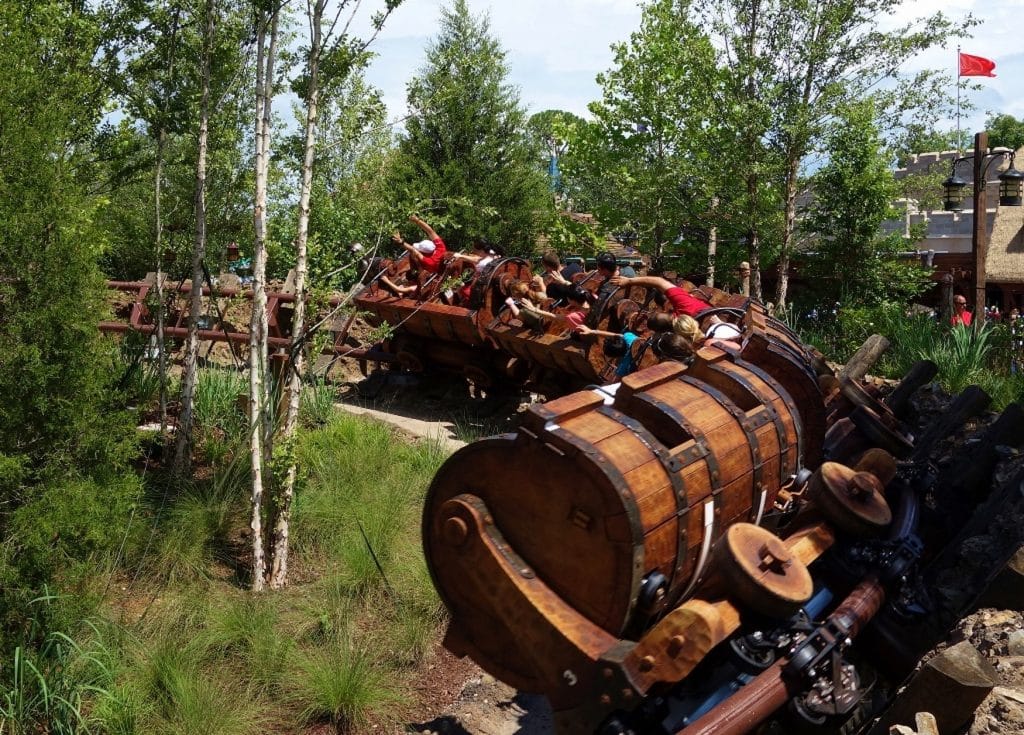 At Disney's Animal Kingdom, at first the rides in this class were Flight of Passage and Expedition Everest. Expedition Everest is currently under refurb and unavailable.
At Epcot, the new Remy's Ratatouille Adventure and Frozen Ever After are in this class. (Remy began as a "Virtual Queue/Boarding Group" ride, and switched to this class on January 10, 2022. It might return to this status)
At Disney's Hollywood Studios, Rise of the Resistance and Mickey's Runaway Railway are in this class. Note that like Remy at Epcot, Rise of the Resistance began in the "Virtual Queue/Boarding Group" class noted above and might possibly return to it, especially in March and April for spring break crowds.  This will be important to track for your own trip.
At Magic Kingdom, Seven Dwarfs Mine Train and Space Mountain are in this class
Options for accessing these attractions. These rides may be accessed by everyone for free by waiting in standby lines during normal park hours; most are accessible for free by Disney resort hotel and other eligible guests during Early Entry; and all will be accessible via individual paid access ("ILL.")
ILL for these rides opens for same-day reservations to Disney World resort hotel guests and other eligible guests (and guests at a narrow list of non-Disney hotels on or near property) at 7a, and to everyone else when the park the rides are in officially opens.
Early Entry eligibility. All these rides are generally available during Disney World's Early Entry program—where Disney resort hotel guests, and guests at a limited number of other eligible guests, can enter any park any day at least 30 minutes before everyone else.
Having them available during early entry is both a valuable perk for Disney resort guests, and also a way to drive up the value of paid individual access for these rides—because at the "everyone else" park opening time, many of these rides will already have a line….
Pricing. Standby lines and Early Entry access are free. Individual paid access will be paid per person, and varies by ride, date, time of day, phase of the moon, etc. Prices typically are >$5 and <$25, with the higher prices at the more popular rides and on more popular dates.
Logistics, limitations, constraints
All guests will be able to book via individual paid access each day no more than two of either this class of rides or the class above, and these two can't be the same ride. Pricing will be per person, and you will not have to buy it for all in your party—only those who wish to use it. Those with park hopper tickets will be allowed to book their two rides in two different parks, so long as the timing complies with whatever park hopper policies are in place the day of booking—and availably exists…
Genie+ (the third class, below) is NOT required to access these rides, and these rides are NOT a part of Genie+.
You can book the time to come to the attraction that you wish from among those offered–that is, unlike the Genie+ rides noted below, you are not stuck with the next available time.
No cancellations or refunds will be available except for those related to ride closures. A temporary ride closure during your window will result in an "anytime" pass allowing you to re-enter when you choose. If the ride is closed at your return time, and never re-opens that day, you will automatically receive a refund.
You do not need to be physically present in a park or even on Disney World property to book.
Best for: Those staying at a Disney-owned or other hotel eligible for both 7a paid virtual access and also for Early Entry, and for whom this day/this trip/their entire life would be powerfully harmed by missing out on the attractions in this class. Such folks will be pretty likely to be able access these rides, via Early Access or by signing up for paid individual access at 7a.
Worst for: Everyone else.
ATTRACTIONS AVAILABLE BY EITHER WAITING IN A FREE LINE OR AS A GROUP BY A SINGLE PAYMENT FOR THAT ENTIRE GROUP OF ATTRACTIONS–FORMALLY KNOWN AS
"GENIE+"
Attractions included.
When Disney's free FastPass+ shut down in March 2020, ~65ish attractions were available for FastPass+ booking or headed that way: ~25 at Magic Kingdom, ~15 at AK, ~15 at Hollywood Studios, and ~10 at Epcot.
This has been replaced with a paid option that covers about 45 rides–Disney calls the program that lets you buy access to this entire group of rides for a day for a single fee "Genie+."
The current list of rides available for both individual purchase (i.e. in one of the two classes above) or in Genie+ is here.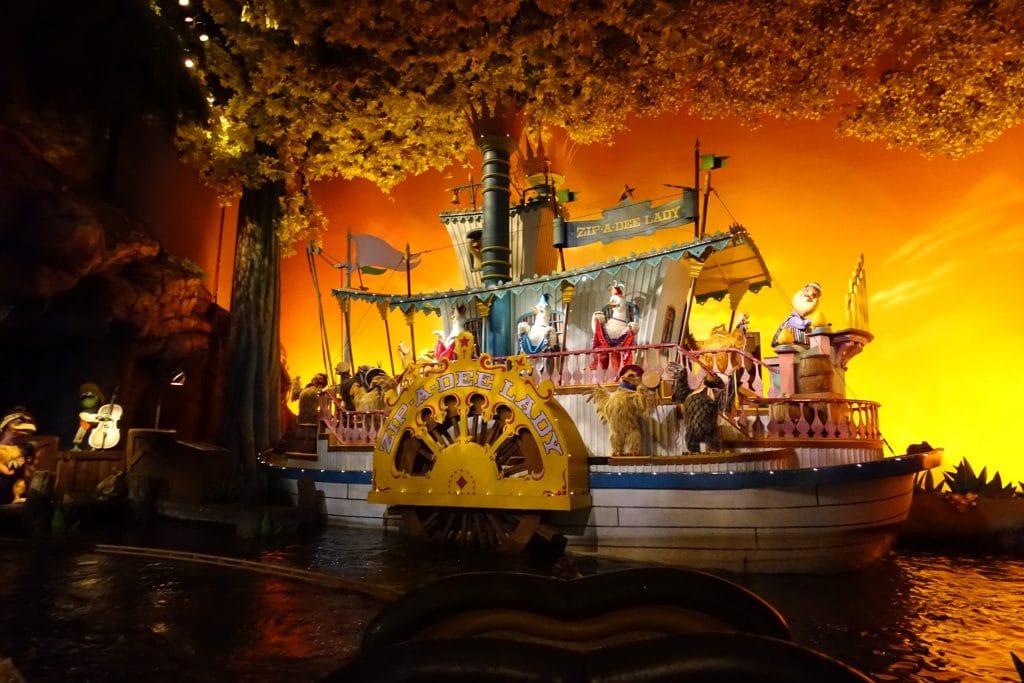 The number of rides in this class–available both in paid Genie+ and free by waiting in line–is 8 at Disney's Animal Kingdom, 9 at Epcot, 12 at Disney's Hollywood Studios, and 17 at Magic Kingdom.
These rides are collectively attractive enough to enough people that there will be some value to paying for the entire group to either avoid lines or assure access, but not so attractive compared to their capacity to otherwise generate the kind of lines that might warrant individual paid access.
Options for accessing these attractions. Attractions in this "Genie+" class are available to experience both for free by waiting in line or as a group for special scheduling for a flat per-person per day fee—that is, one payment will grant you access to all ~forty rides, with no additional individual attraction payment required. Many will also be available for free during Disney World's Early Entry program.
Early Entry eligibility. Almost all of these rides will be available during Early Entry.  The major exception is Magic Kingdom rides that are not in Fantasyland or Tomorrowland, as those are the only two lands open during early entry. The only other major ride I can think of that is on the Genie+ list but excluded from Early Entry is Kilimanjaro Safaris at Disney's Animal Kingdom–I believe ruminant union rules is the issue here.
Pricing. These attractions all can be accessed by standard standby lines for free. Access to Genie+ for this group of rides is available either by the day, or for all days of a Disney World package. By the day pricing will start at $15/person/day, and that pricing will almost certainly change as Disney learns more about the balance of supply and demand. Per day pricing will be per person. For per-day use, you will not have to buy it for all in your party—only those who wish to use it.
Capacity allocated among access options. Disney has claimed that it will not stop selling Genie+ on any given day—that is, that the program itself will not "sell out." It is unclear how much of the capacity of Genie+ attractions will be allocated to it vs. the traditional standby lines. The fairly simple point here is that the more capacity allocated to Genie+, the longer the waits in the standby lines, thus strengthening the value proposition of Genie+…but raising complexity in responding to operational closures. There are more complicated interactions to think about as well…So far, on very high crowd days, access to popular rides has booked out early, greatly diminishing the value of Genie+ on days when folks might want it most…
Logistics, limitations, constraints, things we—or I—just don't know yet.
The way Genie+ works is similar to the old paper FastPass days. You will be able to book one Genie+ attraction at a time, and then book your next as soon as the first of the following conditions is met:
When you enter the old FastPass+ return line (now called the Lightning Lane, and used not only for Genie+, but also for individual paid attractions, a point of massive confusion), or
If the park is scheduled to open after the time you booked, after two hours pass after park open
If the park is open when you book, after two hours have passed since you booked
You can only pick the "next available" slot for any specific Genie+ ride–that is, for a specific ride, you cannot pick your time among various possibilities, but rather must book the next available time–or book something else. You can't "change" such a booking, but you can cancel it and seek a different ride–or the next time for that same ride–instead.
There is no theoretical limit to how many Genie+ passes you can use in a day so long as a park remains open, but not all rides will be bookable all day long, and you may book a specific ride only once per day via Genie+ (this last constraint is quite different than how paper Fastpasses and FastPass+ worked). Depending on how Disney manages both overall attendance at the park level (via the park reservation system) and balances individual ride capacity between waiting lines and Genie+, on many high crowd days some rides could sell out their Genie+ capacity, some perhaps quite early. The most popular rides can sell out almost any day.  This has been a problem for Slinky Dog Dash at Hollywood Studios
At the moment, Genie + for the day will be available for purchase beginning a tick after midnight, and the first bookings of an attraction among the 40 or so attractions in the group can be made by everyone who has already purchased Genie+ at 7a for that day's touring—whether a Disney resort guest, someone staying off-site, or an annual passholder booking from Josh's apartment.
Rides in the two classes above will NOT be available in Genie+. Rather, to access them, you will either pay individually, or successfully book a boarding group for boarding group rides, see those participating in it during Early Entry, or wait an amount of time tolerable to you in line for non-boarding group rides.
Best for: Because everyone who has bought Genie+ can book beginning at 7a, Disney World resort guests (and others eligible for the first two classes and for Early Entry) don't at first glance have much advantage in Genie+ compared to everyone else.
However, there is a nuance to this. Because Disney World resort guests (and others eligible for the first two classes and also for Early Entry) will be able—if they arrive early enough—to see one or two Genie+ rides during early entry, and be in line for another before anyone else can get in the park, with a well-designed itinerary, such guests can remain two to four steps ahead of everyone else over the course of their day. This can have a substantial impact on both waits and the availability of good Genie+ return times.
Worst for: Those not eligible for Early Entry will have the other side of the coin. In the best case these folks will inherit pre-existing lines in the most attractive rides, be a couple of steps behind on the highest-demand rides, and will be likely many days of the year to move from rough line to rough line to rough line.
ATTRACTIONS AVAILABLE ONLY BY WAITING IN A FREE LINE
When Disney World is fully re-opened, there will be on the order of 100 attractions. ("On the order of" because people can disagree on whether something is an attraction or not. Is the petting zoo in Animal Kingdom's Conservation Station an attraction? Is the Boneyard? What about the China Pavilion at Epcot? The vehicles on Main Street? Fantasmic? My answers: yes, yes, no, no, yes.)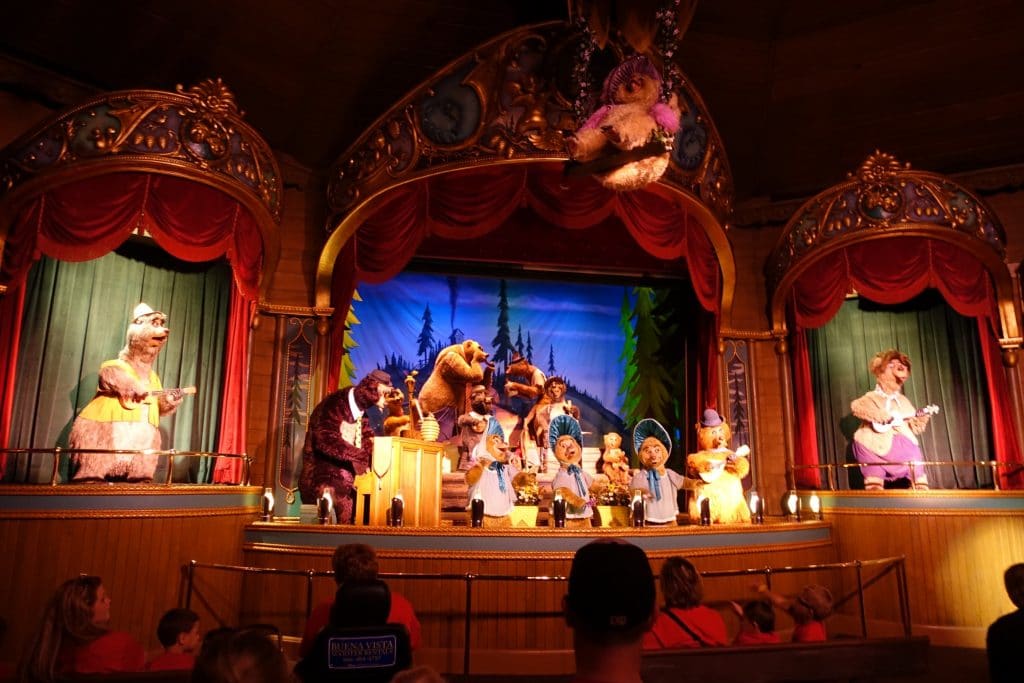 Among these (at least as I've defined them), there's about 40 attractions at Magic Kingdom, and about 20 each at the other three parks. Subtract 6-8 paid individual access rides, and 45ish Genie+ rides, and you've got 50ish attractions that will be available only via waiting in line. Think Country Bears, Tiki Room, Carousel of Progress, Tomorrowland Transit Authority PeopleMover, etc.
All guests will have nominally equal access to these attractions–show up, wait in line–and most of the time waits will be reasonable. That said, for the reasons noted above, a lower proportion of Disney resort hotel (and other eligible) guests) will be in long standby lines, so they will have more time, if they choose, to clot up Country Bears…
It's likely that only a few of these rides will be available in Disney's morning Early Entry program.
A BEST-CASE DAY AT DISNEY'S HOLLYWOOD STUDIOS
It's clear that the way to optimize your overall wait-in line experience, and to not be shut out of the hottest new rides, is to take advantage of all the tools available to you, including your retirement savings. This means
Staying in a Disney-owned or other resort eligible for the early entry program and for 7a booking of individual paid access rides, and
Using multiple members of your party on multiple devices to book the highest demand rides first in the first three classes at 7a
By doing so, in the best case, you'll begin your day at for example Hollywood Studios with ]individually-paid access for Rise of the Resistance Mickey and Minnie's Runaway Railway, and Genie+ access to Slinky Dog Dash.
You'd then arrive at the Studios well before Early Entry begins, and while many other early entry folks are heading to one of the three rides you've already booked, you will see Rock 'n' Roller Coaster and get in line for Tower of Terror during early entry. You'll then use your first Genie+ on Slinky Dog Dash, and be able to book your next Genie+ ride while in line for Slinky Dog Dash. After you check in to Slinky Dog Dash, you will have seen two of the highest demand rides in the park, have three more high-demand already fixed in your schedule (Rise of the Resistance and Mickey and Minnie's Runway Railway via paid individual access, and the second Genie+ ride you booked while in line for Slinky Dog Dash) and will be three to five steps ahead of almost everyone else in the park…
A WORST-CASE DAY AT DISNEY'S HOLLYWOOD STUDIOS
There are many conceivable worst-case days, and I'll be thinking about and writing about several later. But the worstest worse case is that Disney World's IT platform serving these various classes crashes at 6.59a, no one can book nothing, and the only advantage the family trying to do the above will have is the Early Entry program. Showing up early for Early Entry still puts you in an optimal position compared to those who don't or can't—just not as good a position.
This may seem far-fetched to some, but those who interact a lot with Disney IT a lot know it is quite fetched…

Follow yourfirstvisit.net on Facebook or Twitter or Pinterest!!
RELATED STUFF