Fridays with Jim Korkis: The Music of Star Wars: Galaxy's Edge
By Dave Shute
Welcome back to Fridays with Jim Korkis! Jim, the dean of Disney historians, writes about Walt Disney World history every Friday on yourfirstvisit.net.
THE MUSIC OF STAR WARS: GALAXY'S EDGE
By Jim Korkis
Inside Oga's Cantina at Star Wars: Galaxy's Edge, the droid DJ R3X spins favorites from around the universe, and nearly all were written and recorded specifically for the attraction.
Among those tunes are tracks by fictional acts Gaya (performing Oola Shuka), Chaka Mater Laka featuring MW-59 (Batuu Boogie) and Junee Veech featuring Gubz (Bai Tee Tee). There's even a cut that adapts John Williams' familiar Cantina Band theme from Star Wars: A New Hope.
Adam Dorn was handpicked to take on the task of remixing the tune synonymous with Obi-Wan Kenobi and Luke Skywalker's first meeting with Han Solo and Chewbacca inside the Mos Eisley cantina.
Dorn told media representatives that he vividly remembers being six years old and sitting in a movie theater in Philadelphia watching Star Wars: A New Hope for the first time. "When the cantina scene came on, I was transfixed. I will always remember this piece of music and every time I hear it, I still smile."
Original composer John Williams listened to Dorn's version and commented, "Well, that was perfectly lovely."
Matt Walker, executive in charge of music for Walt Disney Imagineering, said that since the Batuu outpost didn't exist in the films, it would need "its own score, one that belonged to it, but of course lived within the universe of John Williams' music for the films but the last thing we wanted was to feel like you're walking in and hearing, you know, any kind of music that was being pumped into the land as background."
Instead, the aural backdrop of the Black Spire Outpost on the planet of Batuu is the buzz of space bugs, radios tuned into pod-race broadcasts interspersed with in-universe commercials, and X-wings flying overhead. Like in real life, music is faintly heard coming from apartments, the market, or piped into restaurants and restrooms.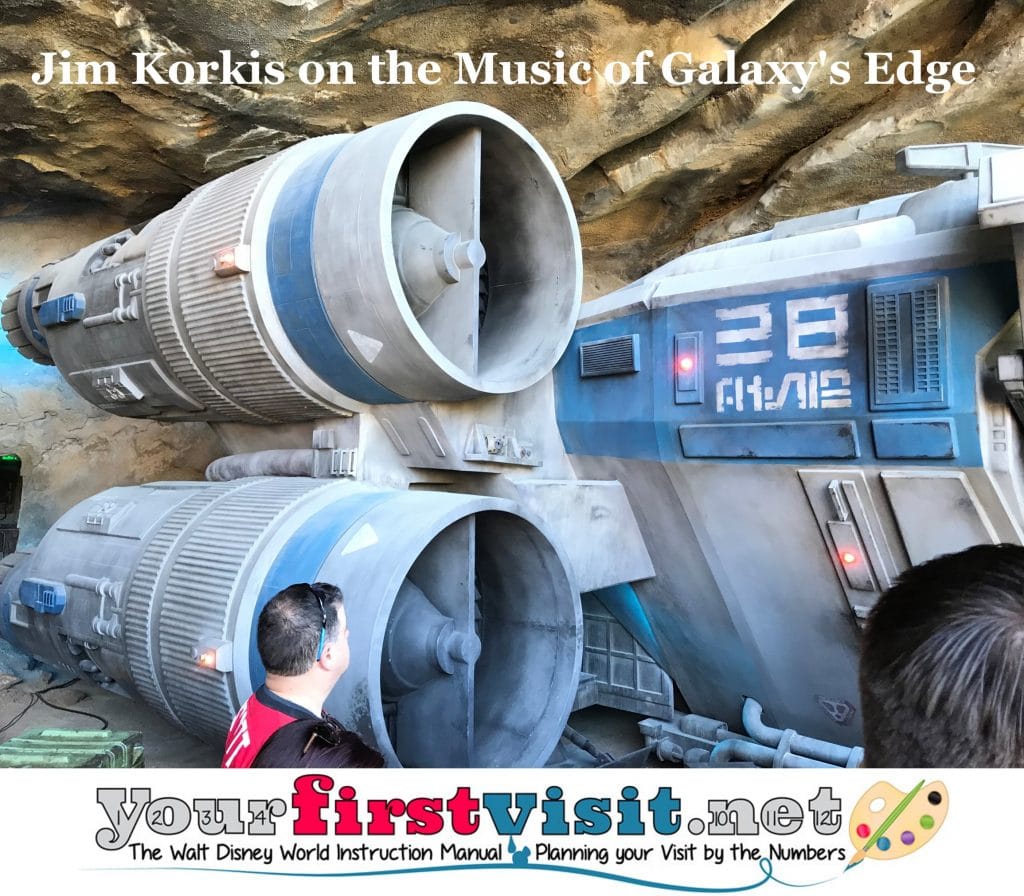 Nearly 300 individual soundscapes were produced for the land, from the rustle of creatures in the bushes to the trembling roar of a First Order ship preparing to fly off.
Yaron Spiwak, senior music producer at Imagineering, said that for the songs in the cantina, "We took several types of world music, like a Chinese erhu, and mixed it with African drums, and on top of that put something Middle Eastern, and then put it in a Pro Tools session and filter it and reverse it, and then basically if you can't recognize the instrument, or the style, that's how we kind of made it out-of-worldly. Some of the aliens have like 20 fingers, or some of them have weird embouchures or mouths, so obviously they would play instruments differently than we do. It was kind of fun to imagine how that would sound."
Walker added, "We started with the known alien languages established by Lucasfilm, and that was the springboard. And then we wanted to encourage the writers to have fun and to create their own alien languages. But then of course we would have to make sure that those alien languages that were created by our writers didn't inadvertently mean something questionable in Brazilian Portuguese or other languages."
Spiwak stated, "We had great partners in Lucasfilm, and we partnered with Margaret Kerrison [managing story editor at Walt Disney Imagineering], Matt Martin [creative executive, Lucasfilm Story Group], and we had two great guys from LucasFilm, Matt Wood [supervising sound editor, sound designer, Lucasfilm] and David Collins, that helped us write the lyrics for some of these songs. Especially the songs in Huttese. And also we had a Jawa song called Utinni, so that's in the Jawa language."
The overall goal, Walker said, was to create an authentic-sounding exotic locale, "weaving in musical textures, being careful not to overuse John's thematic material. It's a very textural approach to the source music."
*  *  *  *  *
Thanks, Jim! For more on the music of Galaxy's Edge, see this. And come back next Friday for more from Jim Korkis!
In the meantime, check out his books, including his new books Kungaloosh! The Mythic Jungles of Walt Disney World and Hidden Treasures of Walt Disney World Resorts: Histories, Mysteries, and Theming, much of which was first published on this site.

Follow yourfirstvisit.net on Facebook or Twitter or Pinterest!!
RELATED STUFF