A Friday Visit with Jim Korkis: Disney's Coronado Springs Resort
By Dave Shute
Welcome back to Fridays with Jim Korkis! Jim, the dean of Disney historians, writes about Walt Disney World history every Friday on yourfirstvisit.net.
DISNEY'S CORONADO SPRINGS RESORT–IN MODERATION
By Jim Korkis
Disney's Coronado Springs Resort opened August 1, 1997 as a "moderate" priced resort, but with convention facilities and other enhancements aimed at business travelers not typical for the moderate level. By carefully doing things like having a lobby that employed millwork, vaulted ceilings, a mural and a fountain, the resort seemed more luxurious than it actually was.
It also included a fine dining restaurant (Maya Grill) that gave the impression of a more upscale resort.
"In a moderate hotel there is little demand for room service, a concierge or beauty parlor so you couldn't justify those amenities," said Boll Holland, who was Director of Design and Development for the resort.
"And some conventioneers see only business deals and don't want too much of a 'good time' atmosphere. However, the Walt Disney World Resort market requires more amenities. It's all very subjective and you must take into account the nature of convention business and meetings."
So the convention area is more neutral in tone than the rest of the resort. "There was a struggle between Southwestern and Mexican styles," explained Holland. "Southwest is more serious and acceptable for business while Mexico provides a fun and fanciful image.
"The architect, Graham Gund, is not a literal architect. His style is evocative and exterior details are never exactly the same as the historic precedent. He has a tendency to reconfigure historical architectural elements."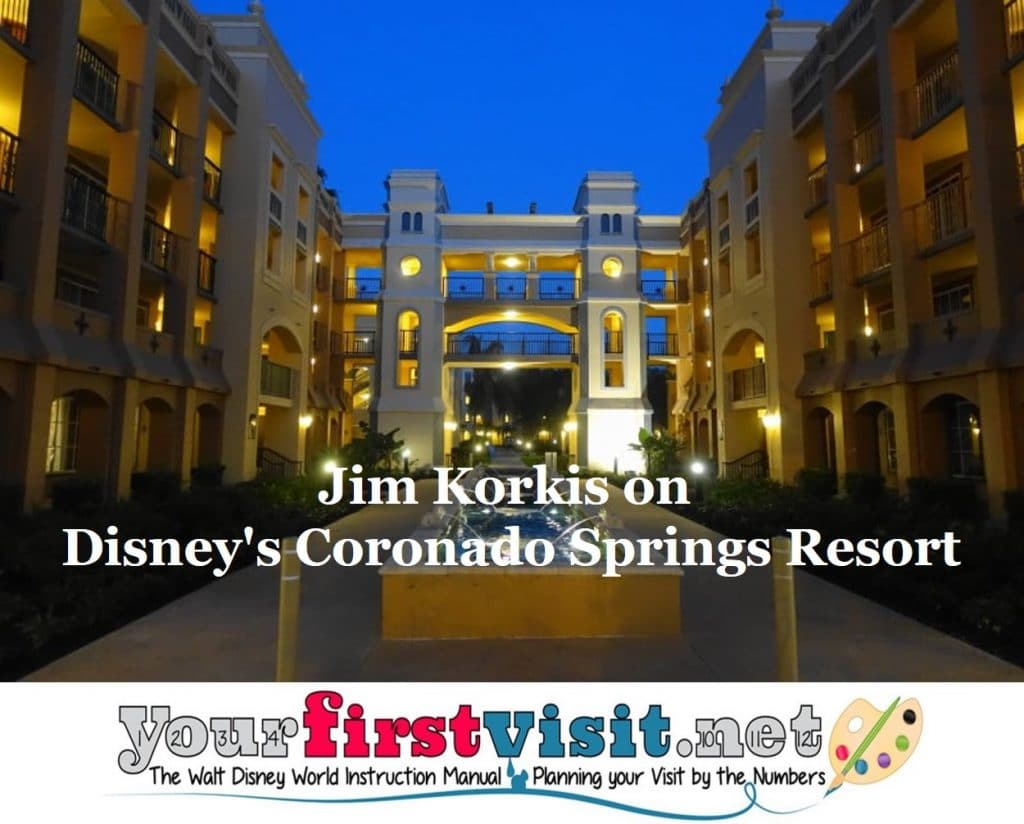 However, since it was to be a moderate resort, budget factors to contain costs were important. Assistant project manager Bill Hanus stated, "Economic concessions were made from a design standpoint. For example, there are open air walkways as a motel would have, versus corridors. We used real ceramic tile in high visibility areas, while in other less prominent areas we mixed the real thing with fake. That meant that for every 10,000 feet of tile, 5,000 might be ceramic but the remainder were faux finished.
"In the rooms, the headboards are painted for texture instead of using wood molding. It all adds up when each room's savings is multiplied many times. The contractor purchased everything up front – door frames, hardware, roofing and then stockpiled the materials in site trailers which protected the project from price increases over a two year period.
"He also used 'just in time' delivery for all 'pilferable materials', a significant cost containment step."
Looking for savings in low-maintenance, fan-coil air conditioning units resulted in the elimination of extra ductwork systems, a more efficient unit with less maintenance for the operator, and millions of dollars in savings for Disney. The Coronado Springs team even sparked a competitive bidding war between commode manufacturers to obtain the optimum savings in toilets that provided water conservation, quiet flush and less stoppage.
Construction manager Dean Majors recalled, "The highest savings came from using Tunnel form system, a fast method of construction using two L-shaped metal forms to pour concrete room structures. The speed in which the rooms were built – twice as fast as regular construction – could not have been achieved without it. Lowering overall construction costs was a key factor in realizing the resort's moderate price point."
Executive Vice President of Architecture and Design Wing Chao said when the resort opened, "the theme is attractive. It's something you can't find in other places in America. We offer our guests the opportunity to escape to a different geographic and time period. This resort was purposely designed to perform at the same level as a luxury class hotel with the individual products of the same quality because the expectation level of our guests remains high."
*  *  *  *  *
Thanks, Jim! My review of Coronado Springs begins here–I'll post an update to it after my stay there at the end of July.
And come back next Friday for more from Jim Korkis!
In the meantime, check out his books, including his latest, The Unofficial Walt Disney World 1971 Companion: Stories of How the World Began, and Secret Stories of Walt Disney World: Things You Never You Never Knew
, which reprints much material first written for this site, all published by Theme Park Press.


Follow yourfirstvisit.net on Facebook or Twitter or Pinterest!!
RELATED STUFF