Review: The Pools at the Waldorf Astoria Orlando
By Dave Shute
REVIEW: THE POOL COMPLEX AT THE WALDORF ASTORIA ORLANDO
The Waldorf Astoria Orlando has two pools, and guests staying at it can also use the pool complex at the nearby sister resort Hilton Orlando Bonnet Creek.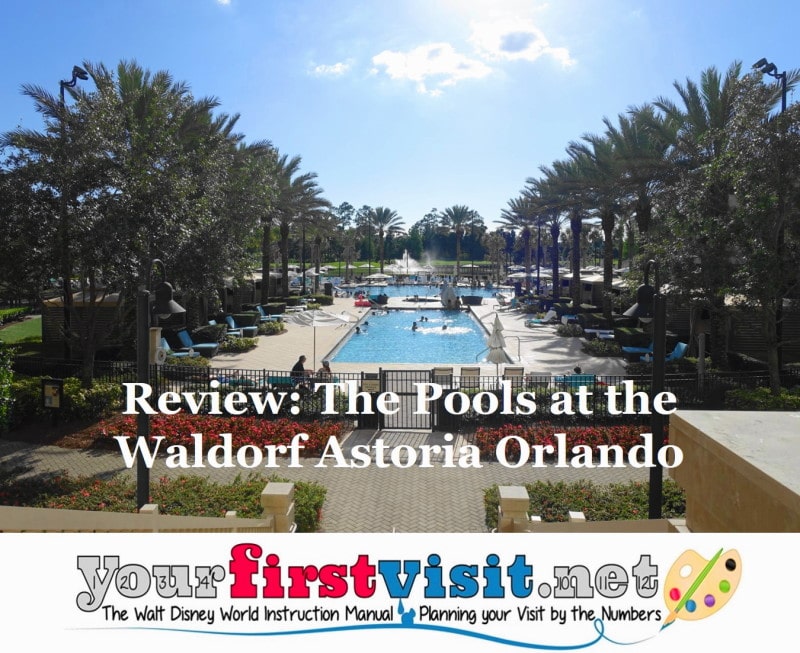 One pool at the Waldorf Astoria Orlando, visible above, caters more to adults, as it has no distinctive features other than cabanas.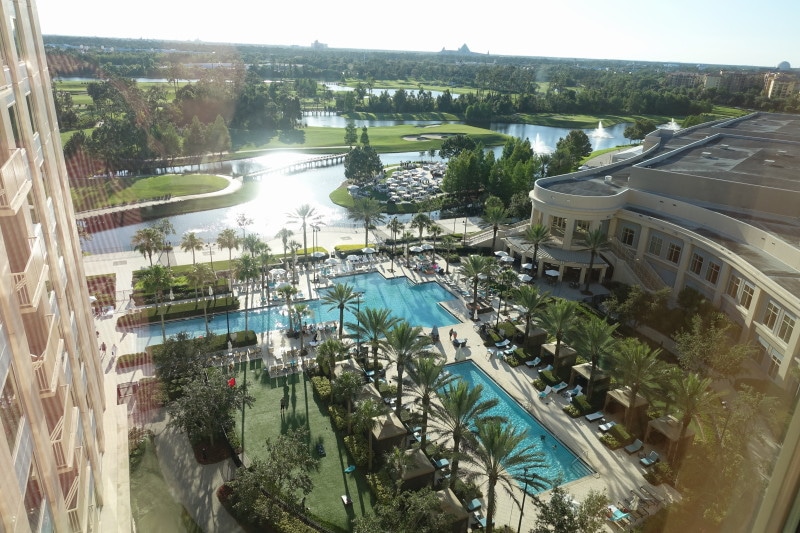 The second pool in the middle of the image above (shot from my room, you can see my shirt) is a bit more family friendly, with a zero entry, and a turf play area that occupies the lower left of the image. There's no slide nor any lazy river–for those you need to go to the next-door Hilton.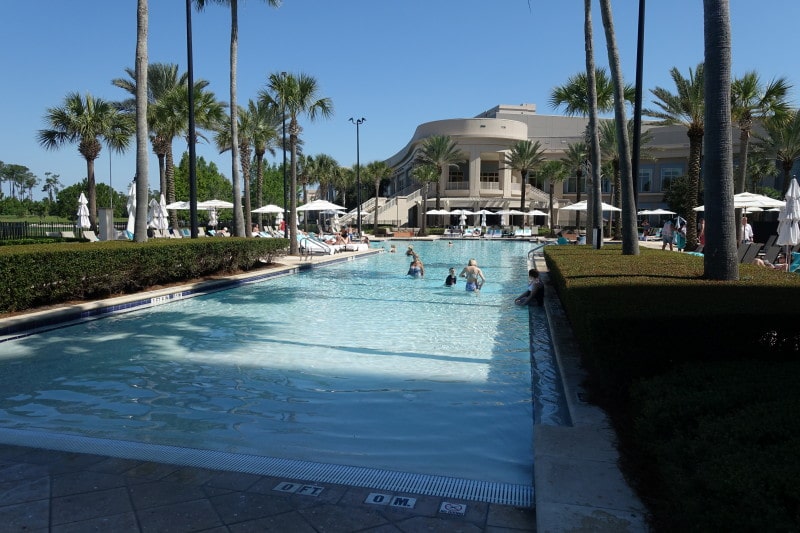 The second pool combines a long narrow area with a cross-shaped area.  This view begins our walk down the long narrow part of the pool. Note the zero entry.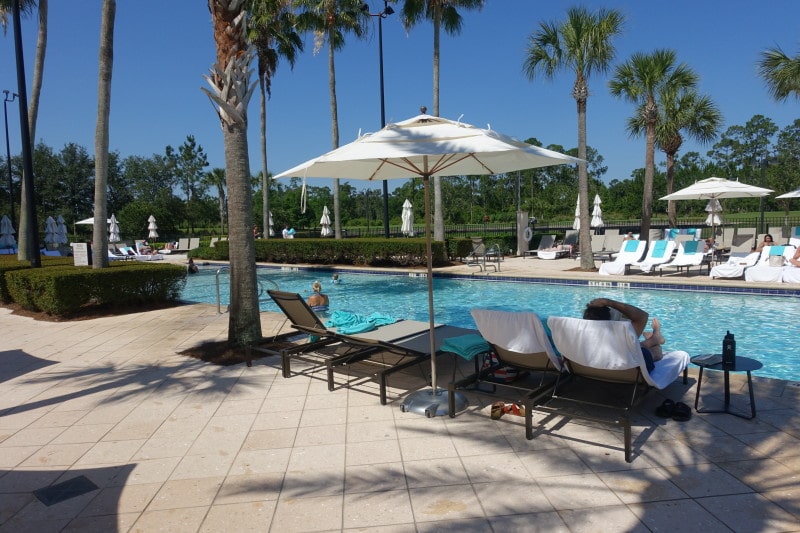 Tables and pool chairs line the pool sides.  At least on my visit, there was plenty of room–and great service.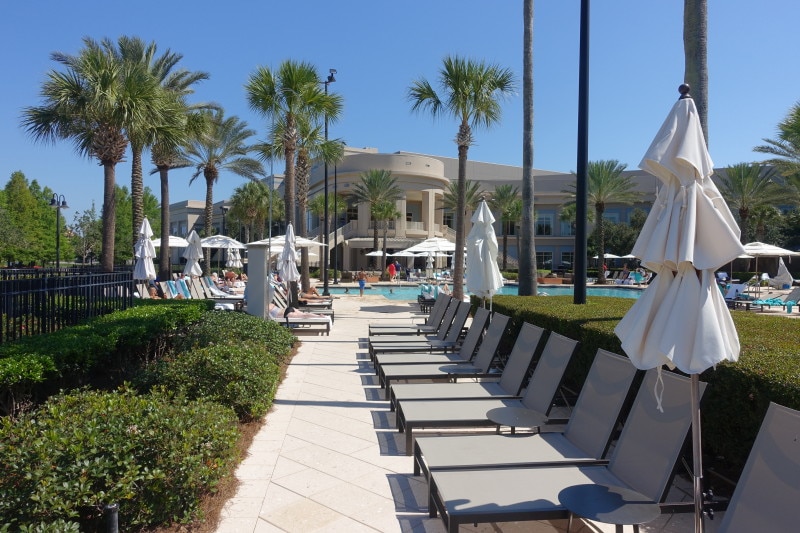 In this area you'll also find a more private group of chairs, handy for introverts, that also present nice views of those parts of the Epcot and Hollywood Studios fireworks that are visible from here.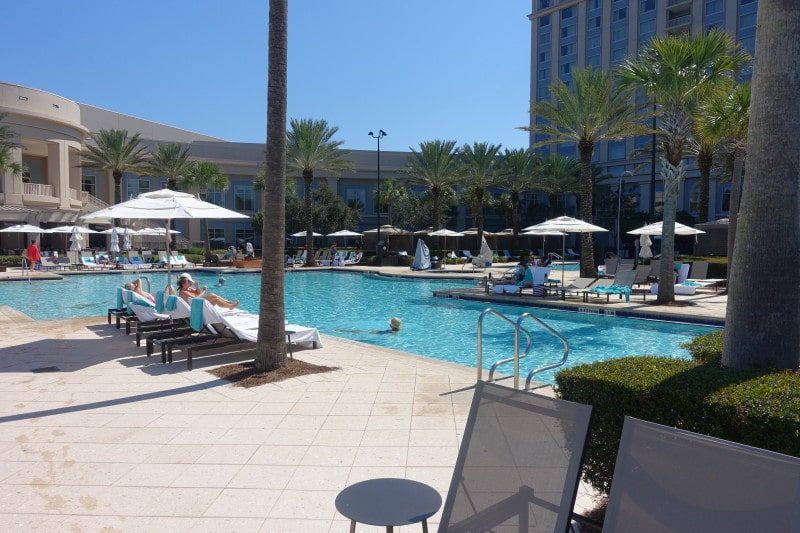 Continuing down to the cross-shaped area of the pool.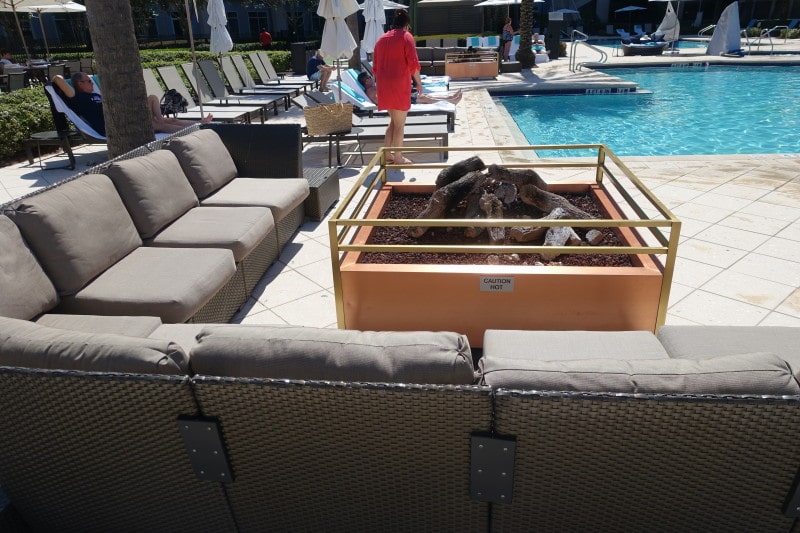 The most interesting part of this area is the presence of two firepits–the second is in the top center.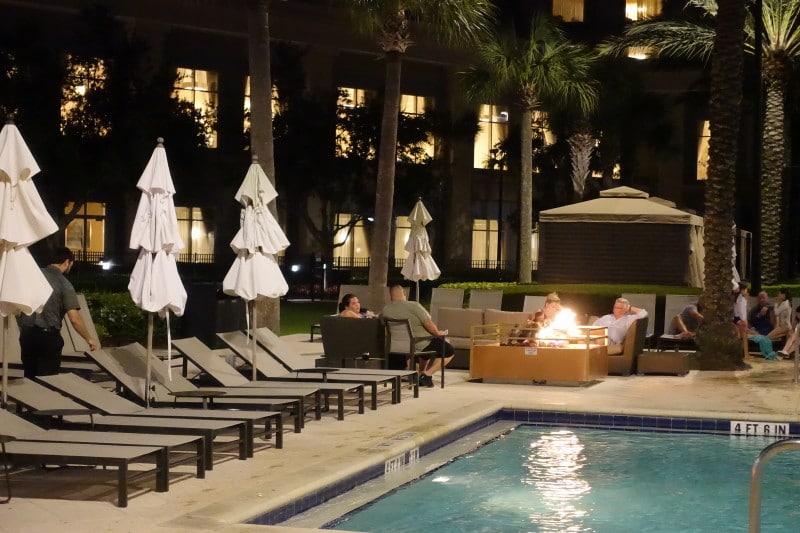 Fire is generally an unwelcome addition to a day at the pool in Florida, but becomes more interesting at night.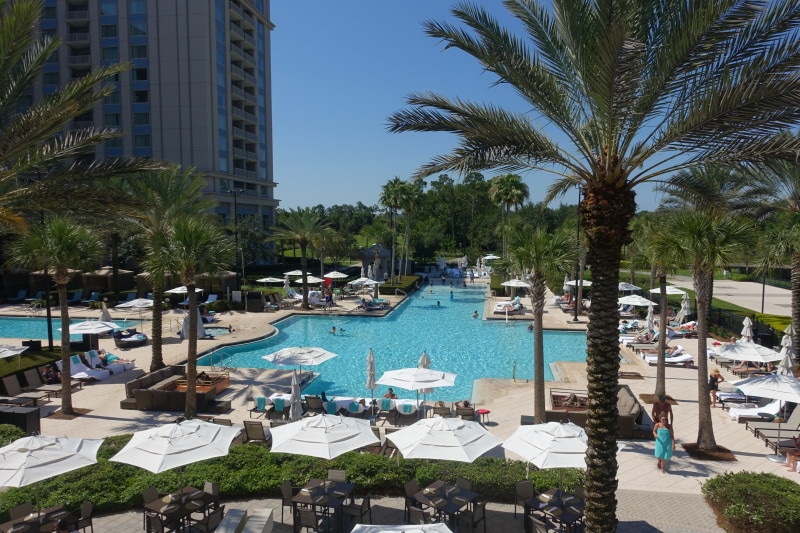 This end of the pool, seen from an upper walkway (the edge of the cabana pool is at the left).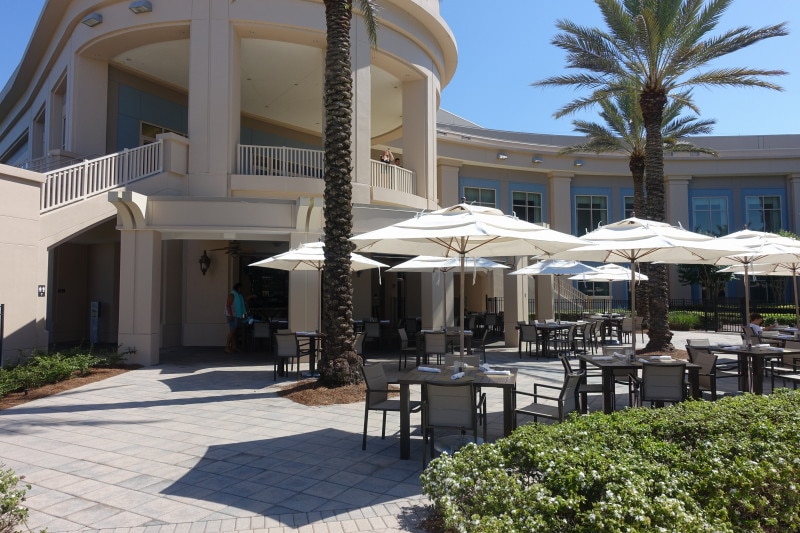 Also at this end is the bar and dining option, Aquamarine (menu here).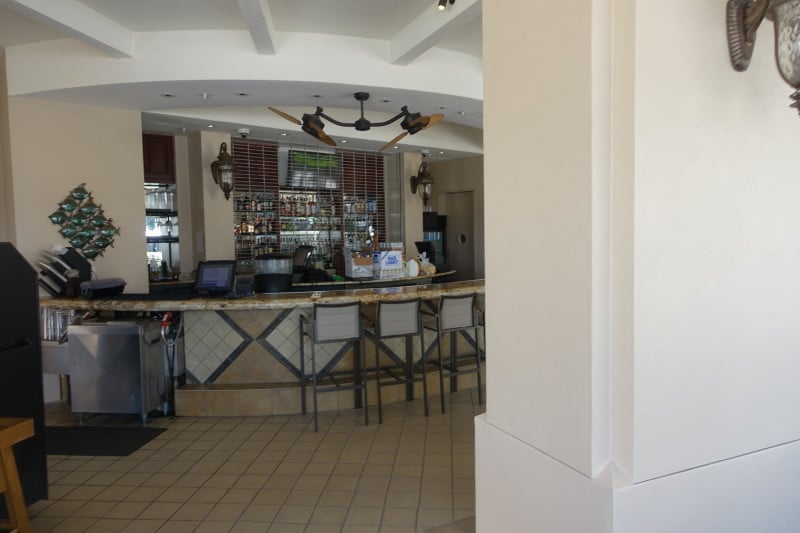 Inside.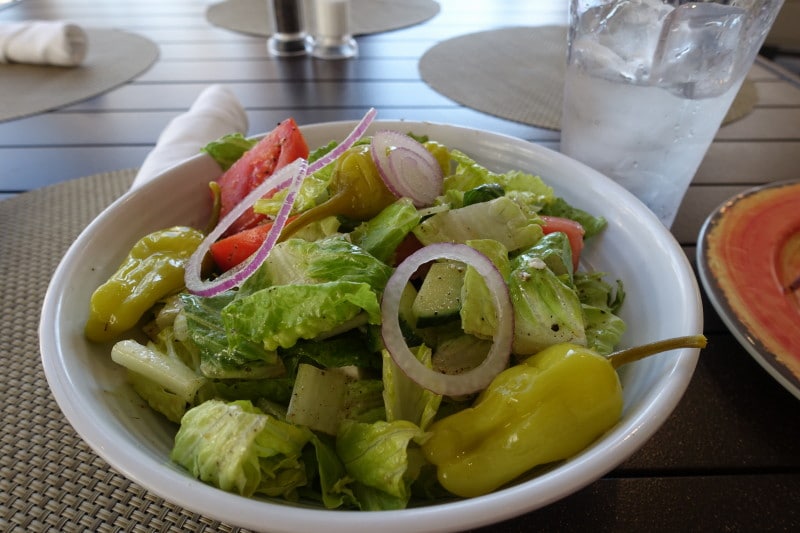 I had an undistinguished Greek salad…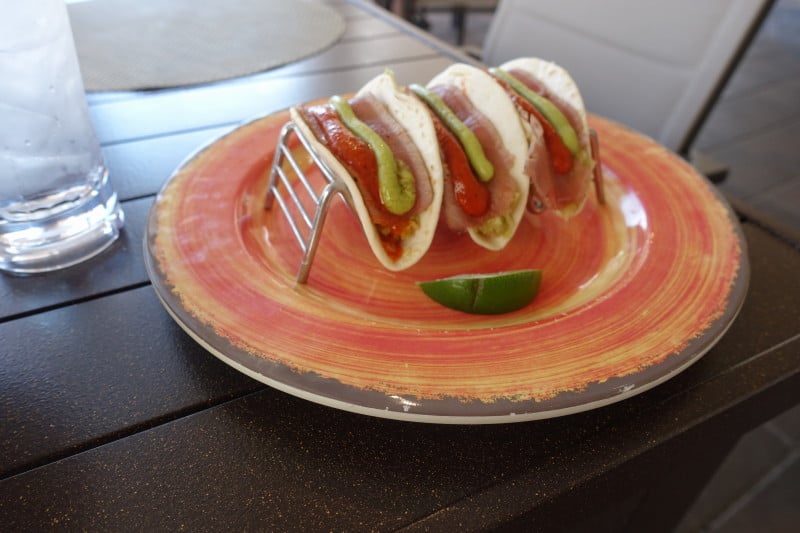 …and some fine tuna tacos.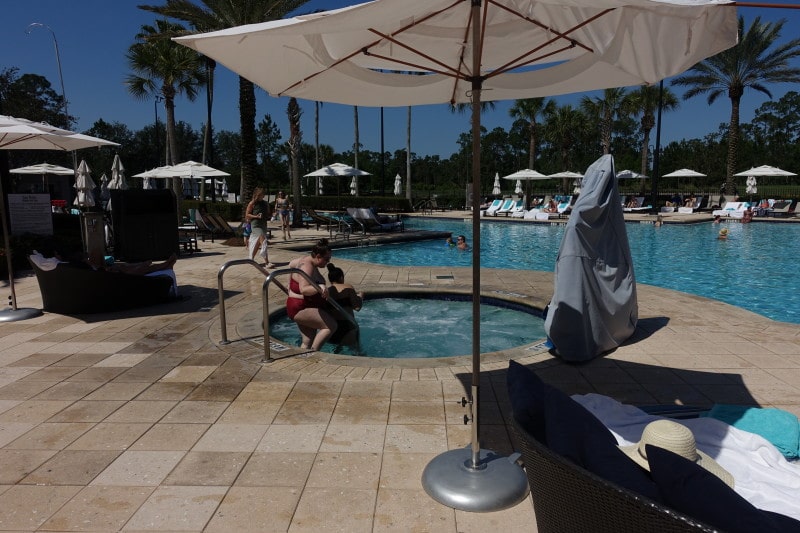 Heading back toward the longer end of the pool, you'll find this hot tub between the larger pool and the cabana pool.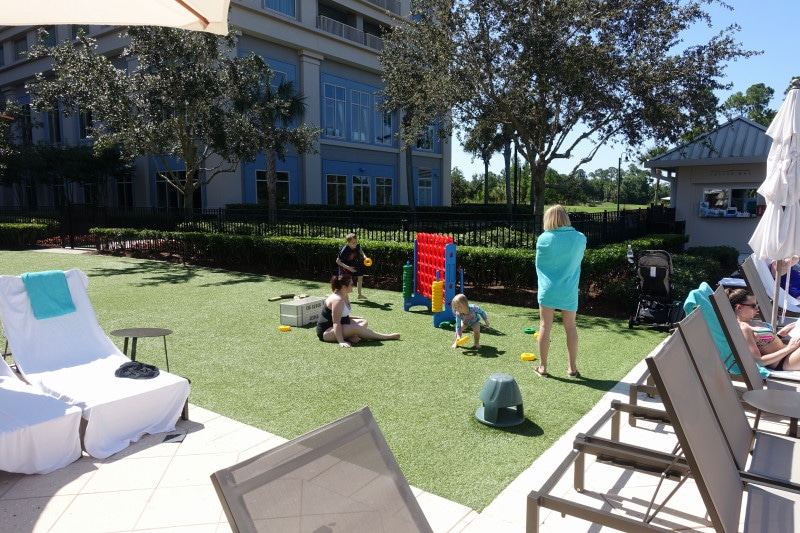 Further down–close to where we started our tour–is a turfed play area with toys for kids.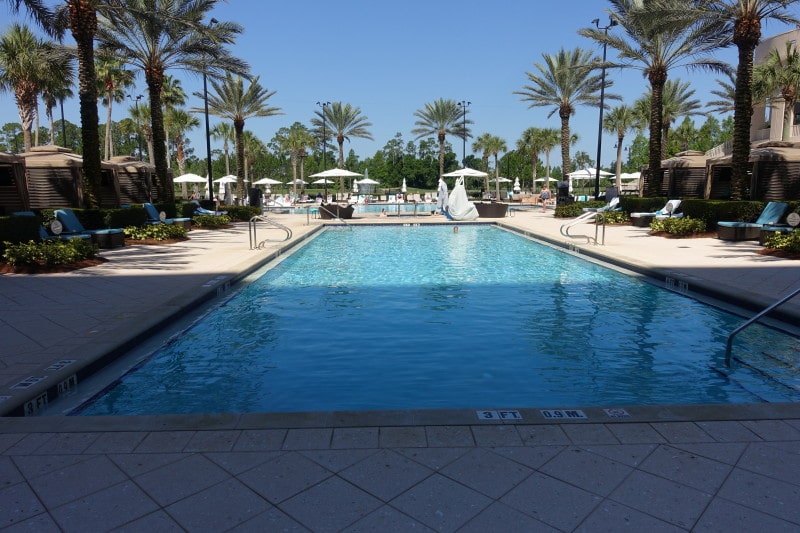 The cabana pool is probably meant for adults–although it saw little use during my stay.  This shot is from one end towards the pool we've just been looking around.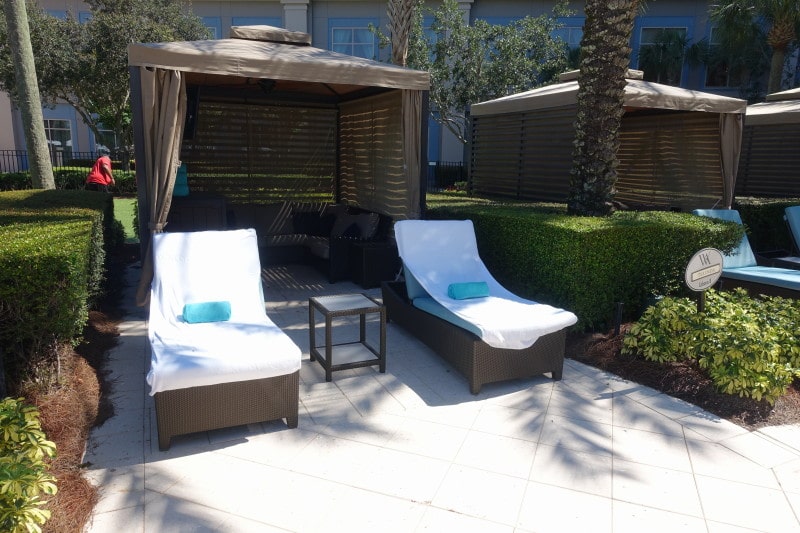 Cabanas are on two sides…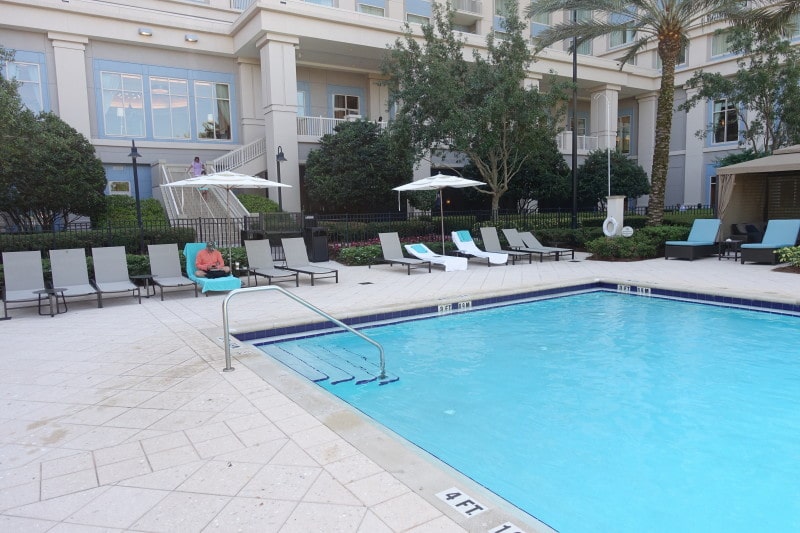 …but the far end–more attractive than this cloudy shot implies–has regular pool chairs.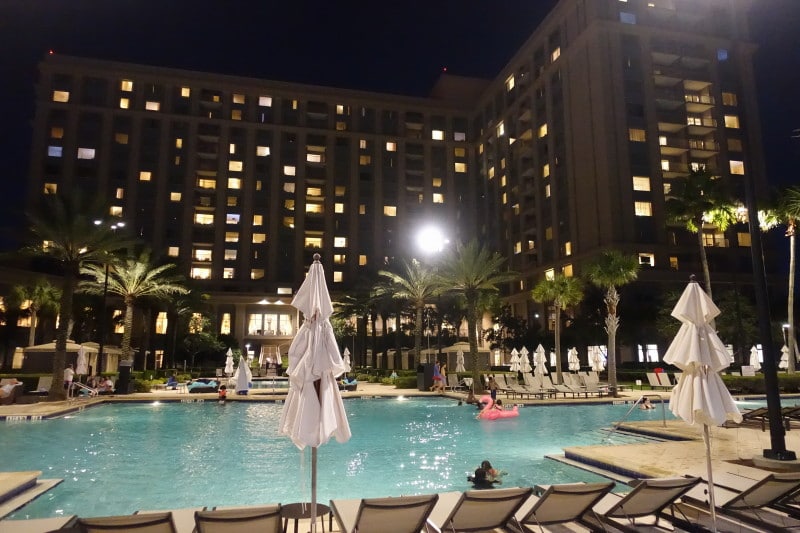 The pools at night.
I was a bit disappointed overall with the Waldorf Astoria Orlando pool offering.  It's uncrowded, has some positive features for both kids and adults, great service, and interesting dining.
But it's not a lot of fun.  Families in particular (at the expense of crowding) will much more enjoy the pools at the next-door Hilton, which welcomes Waldorf Astoria guests.
The long-time travel agent partner of this site, Kelly, can book you in the Waldorf Astoria Orlando or any other Disney World room.  Contact her using the form below!
OTHER KEY PAGES FOR WHERE TO STAY AT DISNEY WORLD

Follow yourfirstvisit.net on Facebook or Twitter or Pinterest!!
RELATED STUFF