Picking Your Park Days During Extra Extra Magic Hours
By Dave Shute
On May 3 Walt Disney World announced massive changes to its Extra Magic Hours calendar parallel with the partial opening of Star Wars: Galaxy's Edge on August 29, 2019.
The basics are that
Two of Disney World's parks, Disney's Animal Kingdom and Magic Kingdom, will have daily morning Extra Magic Hours (EMH) from 7a to 8a every morning beginning 8/29 and ending 11/2
Disney's Hollywood Studios—where the new land will be found—will have daily EMH from 6a to 9a beginning 9/1, also ending 11/2. (The first three days the new land is open—8/29, 8/30, and 8/31, the Studios will simply open at 6a—there will be no EMH of any sort at that park those three days)
Epcot will not have its EMH pattern of Tuesday evening and Thursday mornings changed.
(There's more on EMH in the link above, including what hotels are eligible for them, etc.)
This turn of events has thrown many folks for a loop, and I am getting millions of questions related to the new dynamic this period, ranging from
What days will be best for what parks?
What should people who are either not eligible for EMH or not willing or able to get their gang up early enough to take advantage of them do?
How should folks think about hopping among the parks?
See for example my exchange with Jennifer: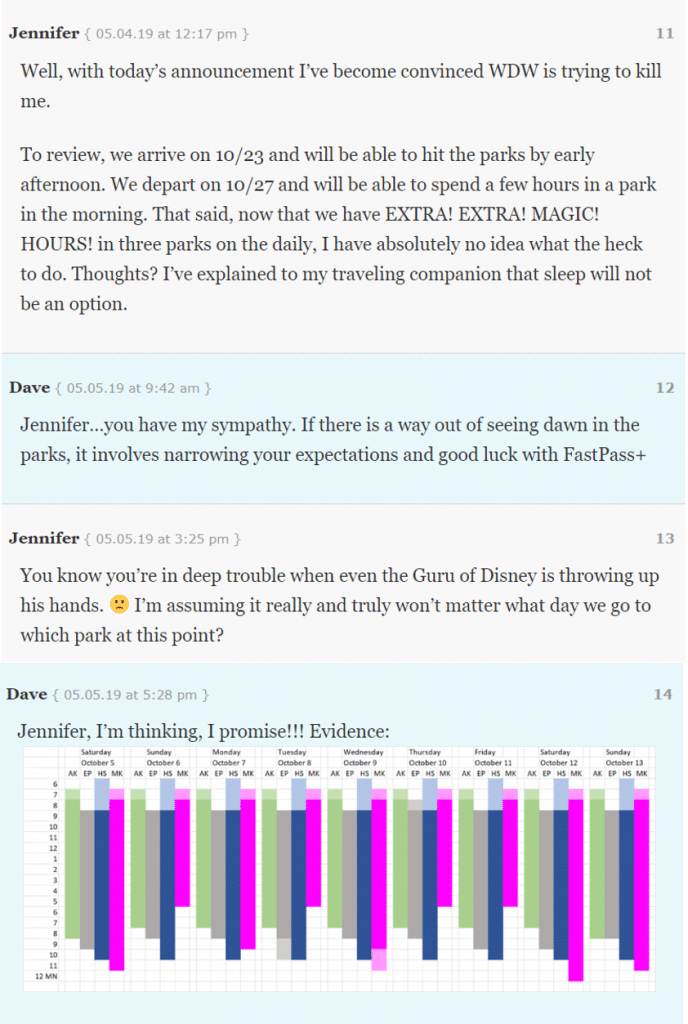 In the material below, I have the beginnings of answer, particularly to the question of what Disney World park to target what days. The basics follow the universal crowd management principle of Walt Disney World, which is to figure out what most people are going to do, and then to do the opposite.
This requires some understanding (and some guesswork) as to the basics of crowd patterns and of what elements of theme park operating and offerings calendar will attract "most people," and what elements will repel them, so let's start there.
THE BASICS OF CROWD PATTERNS IN DISNEY WORLD IN SEPTEMBER AND OCTOBER 2019
Disney World sees more attendance over the weekend, and then on Fridays and Mondays, than it does Tuesdays through Thursdays. The worst weekend during the Extra EMH period after Labor Day will be the weekend of Columbus Day—Friday October 11 through Monday October 14.
While Flight of Passage will probably remain the best ride in all of Walt Disney World until Galaxy's Edge is fully complete with Rise of the Resistance, Disney's Animal Kingdom has no distinct new draws or distinct operating features for the Extra EMH period. Crowds there on a particular day thus probably will vary as a function of how attractive the other three parks are that day.
Epcot will be the only park with EMH that varies by day during this period. So it will have a bit of an extra draw from them on Tuesdays and Thursdays. Its later hours on Fridays and Saturdays will also be a bit of an incremental draw; Food & Wine  will be a draw throughout the period, but especially on weekends and evenings; and the end of IllumiNations on 9/30 and introduction of the new Epcot temporary evening show Epcot Forever on 10/1 will draw folks there every evening—either for a last visit with IllumiNations or to see the new show.
Early 6p closes at Magic Kingdom three or four nights a week for the Halloween Party (or other reasons) will repel folks those days. On the other hand, on days when it is open late and offers its full evening program, it will have distinctive draws. This will have major spill-over effects on the other parks, as the folks repelled by the early close will go to one of them, and the folks attracted by late closes will not be going to them.
Disney's Hollywood Studios will be worst on weekends, and best on midweek days when Magic Kingdom is open late and closes early the days before and after—typically Wednesdays.
Figuring out what all this means your specific week will be tricky (you can use the comment form below to simply ask) as there are very few "typical" weeks this period. But the basics are to look at the Magic Kingdom operating hours  your dates, and note what days it is open late and what days early. Use that to pattern your weekday visits, and avoid Hollywood Studios and Epcot (and maybe all the parks) over the weekend!
To give you an example of this, I've done it for the nine day period beginning Saturday October 5th through Sunday October 13.
The first thing I did was mark up what I thought operating hours would be. For Hollywood Studios and Epcot this was straightforward, and it was also straightforward for Magic Kingdom early close days. For Magic Kingdom closing times on nights it was open late, and for Animal Kingdom hours, I used the same "week before Columbus Day" hours from last year.
(You can find those hours for your week in 2018 by putting "Next Week (September 29 through October 7, 2018) at Walt Disney World" into the search bar near the top left of every page on this site, changing the dates to the Saturday and (week later) Sunday of your week.)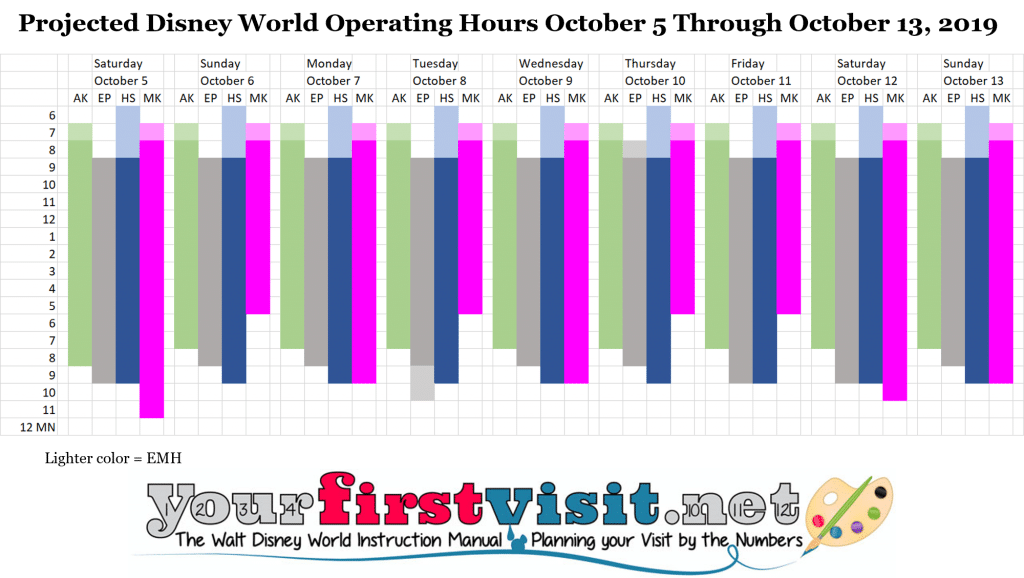 The result of this work is in the image above—you don't need to go to this trouble, but should know opens and closes for the parks every day of your visit. Note how the graphic illuminates the Magic Kingdom hour variations…
Then I started thinking, following the basic principles outlined above. The answer I got for this week is as follows:

And the specific thoughts I went through for each day are below—note that I do not cover them in date order, as the order I present them shows more quickly some of the principles involved.
DAILY THOUGHTS ON DISNEY WORLD PARK CROWDS
Thursday October 10th. Each of the four parks has morning Extra Magic Hours, none has them in the evening, and Magic Kingdom closes early for the Halloween Party while the other three parks have normal evening operations. No one is distinctively repelled by the EMH schedule itself, and some will be attracted to Epcot by its (relatively speaking) rare morning EMH offering. Many will be repelled by Magic Kingdom's early closing, going to and crowding the other three parks, and probably relatively speaking crowding Epcot in particular, because of its morning EMH offer. So on this day Magic Kingdom is the best choice, and Epcot and HS probably the worst. AK will probably be OK but not as good as MK.
Wednesday October 9. Magic Kingdom closes early both the day before and the day after, but today Magic Kingdom is open late. Nothing about their calendars makes HS or AK particularly attractive today compared to other days this week. The absence of EMH at Epcot this morning (as will be true most mornings) will add to its attractiveness for folks not eligible for EMH who are sophisticated enough about Disney World to want to see Epcot on a day when rope drop is possible for them, although since this is possible six out of seven days each week, you can't read too much into it. The late Magic Kingdom close means Magic Kingdom will be slammed, thus drawing crowds away from the other three parks. Today MK will be a bad choice, and HS on this mid-week day will be much better than is it on days MK closes early. Sophisticated locals who don't have to get up too early the next morning will head to HS this evening knowing how much of a draw the late MK close will be, but even so, midweek days when MK is open late, between days on either side that it closes early, will probably be the best choices for HS. AK and Epcot will probably be good.
Sunday October 6. Weekends I expect to be slammed at HS, and also at Epcot. Weekends will be slammed at HS because crowds are higher over weekends, but operating hours there don't change; because that's the easiest time for locals to go; and also because folks on trips aimed specifically at Galaxy's Edge will largely be in town at least over the weekends. Epcot will be slammed both because of Food & Wine and its new evening show, and also because of how easy it will be for those who balk at Hollywood Studio's crowds—especially those with hoppers– to get to Epcot: walk, take the boat, or take the eye-candy Skyliner. Magic Kingdom's early close today between late closes on Saturday and Monday will repel people from that park today, adding to the crowds at Epcot and HS, and perhaps at AK as well. MK will be the best choice, HS the worst, and Epcot may be almost as bad as HS. AK likely will be better than HS and Epcot, but not as good as say it will be on Wednesday.
Monday October 7. Magic Kingdom closes early the day before and the day after, but this day it is open late. Nothing about their calendars makes HS or AK particularly attractive today compared to other days this week. The late close means Magic Kingdom will be slammed, thus drawing crowds from the other three parks. Today MK will be a bad choice, and each of the other parks will be better than they are on days MK closes early. Since more folk will be in Disney World on a typical fall Monday than a typical fall Wednesday, HS won't be as good as it will be on Wednesday, but it will be better than any other day this week.
Saturday October 5. Saturdays will be slammed at HS as they are the easiest days to visit for both locals and out-of-towners. Epcot will likely also be nasty, as it is an easy day for locals to see Food &Wine, has an extra hour of operations which will work as a bit of a draw, will have the draw of the new evening show (as it will every night this week), and will suffer from balkers from the Studios. MK will be open late on October 5 between two days that it closes early, and will reveal itself once more to be the most popular park in the world. AK may well be tolerable, simply because of the attractiveness of the other three parks today.
Saturday October 12. Saturday the 12th and Sunday the 13th will likely be the busiest days in October, as they mark the heaviest period of the Columbus Day (and Canadian Thanksgiving) holiday weekend. HS and Epcot will be ugly for the same reasons noted for October 5. MK will be relatively less intrinsically attractive than on October 5 because it will also offer its full evening hours and program the next day, Sunday October 13, but the higher overall level of attendance at Disney World this weekend compared to the weekend of the 5th suggests that the 12th will be a day to avoid MK as well. The absence of such a distinctive level of attractiveness at MK on Saturday suggest that AK will not be nearly as good as it will be on Saturday the 5th. So I can't see any park as a good choice.
Tuesday October 8 will be much like Thursday October 10, except Epcot's draw will be in the evening. MK again has an early close sandwiched between two late close days, so many will avoid it and head to the other three parks instead. Both Food & Wine and Epcot's new fireworks show are easier to navigate on days when Epcot has evening EMH, so Epcot will be particularly attractive to those eligible for EMH. Nothing special about AK or HS will make today much better or worse at either than Thursday. So MK will be best, AK ok, and Epcot and HS worst.
Friday October 11th will start the build of crowds for the holiday weekend. MK closes early, so folks will avoid it and head to the other parks. Epcot will be popular in the evening with locals, and its extra hour of opening may make it attractive to some out-of-towners as well. MK will be good, AK may be OK, Epcot not so good, especially in the evening, and HS worst.
Sunday October 13 will be rough at all the parks thanks to the holiday weekend. There's no special reason to go to or not go to any park today compared to say Saturday the 12th, except Epcot may be a tad less attractive today than Saturday with its shorter hours and the fact that it is a school night, which will keep some locals away in the evening. Folks comparing today to Monday the 14th (not shown in my image) will prefer MK today to MK tomorrow, because Monday the 14th is one of the rare Mondays when MK closes early. AK likely will be best today, and HS and MK likely worst.
OK, that's it for the example week. Figure all this out for your dates and you will be set—or alternatively, just ping me in the comments form below!
Next, I'll be thinking about what to do if you can't, or won't, arrive well before EMH starts!


Follow yourfirstvisit.net on Facebook or Twitter or Pinterest!!
RELATED STUFF