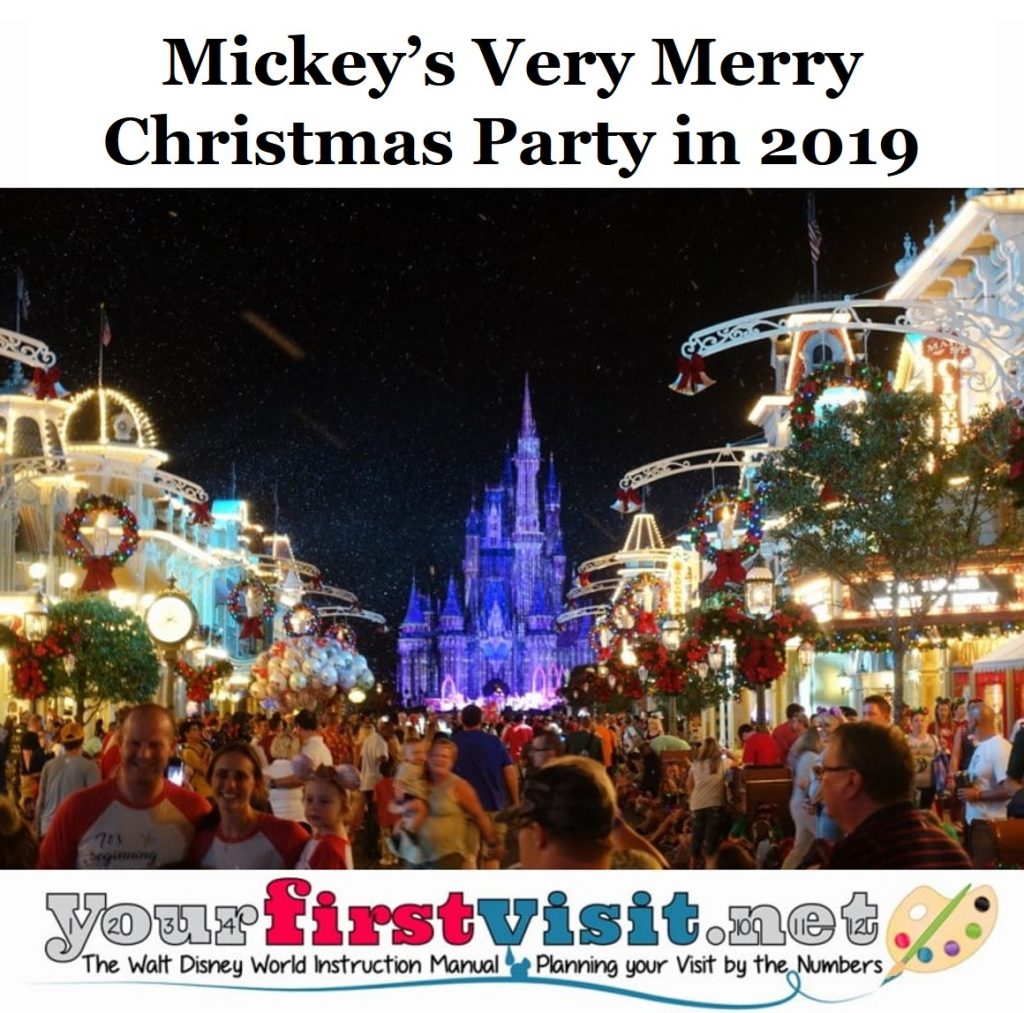 DISNEY WORLD'S SPECIAL CHRISTMAS PARTY IN 2019
While Christmas itself is December 25 of course, Walt Disney World provides a special Christmas celebration at the Magic Kingdom many nights in November and December.
This celebration is called Mickey's Very Merry Christmas Party, or MVMCP for short.
At the party, many of the Magic Kingdom's rides are open with low waits, and cookies and hot chocolate, special events, a Christmas parade, special fireworks, and even snow (!) are offered.
The official Disney World page for this event (where you can also buy tickets) can be found here. For a review of the 2018 version of MVMCP, see this.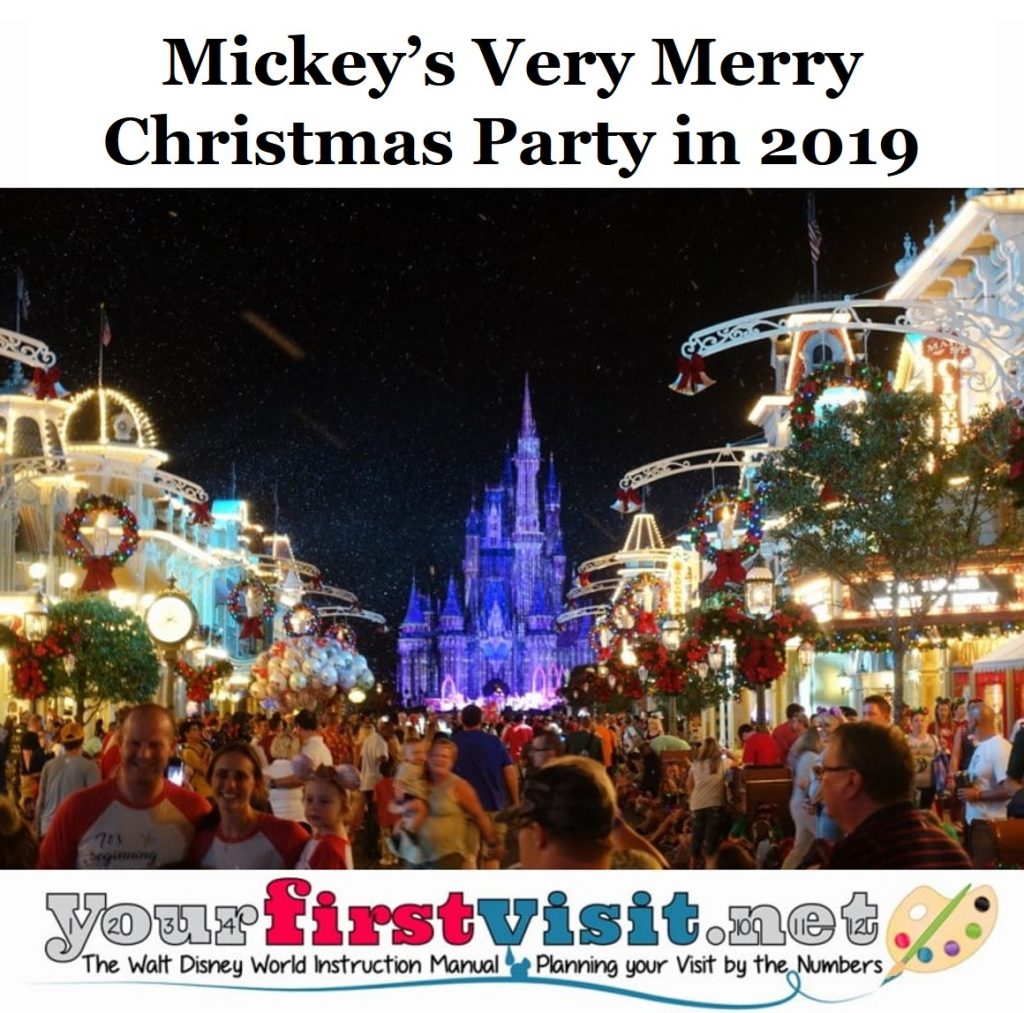 MORE ON MICKEY'S VERY MERRY CHRISTMAS PARTY
This party occurs from 7p-12MN on certain evenings at the Magic Kingdom in November and December.
The 2019 dates for Mickey's Very Merry Christmas Party are as follows:
November 2019: 8, 11, 12, 14, 15 17, 19, 21, 22, and 24
December 2019: 1, 3, 5, 6, 8, 10, 12, 13, 15, 17, 19, 20, and 22
With one exception, this is exactly the same pattern we've seen for years now.
The exception is Sunday December 22.  In the past, the last party has been the Friday before Christmas week. Having a party happen during the wildly crowded Christmas week period is a mistake–it means that the other three parks will be even more overburdened on December 22.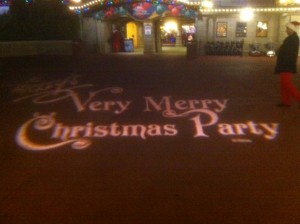 You need to buy a special ticket for this party. This ticket is different from regular Walt Disney World park admission tickets.
The special party ticket does not allow you to enjoy the rides and attractions of the Magic Kingdom before the Party starts–you need a regular ticket for that (note that you can usually enter and enjoy the rides as early as 4p–although your ticket will say 7p. The 4p entry is unofficial, and not guaranteed, though it has happened that way for years)
Regular tickets used to enter the park earlier the day of a Party do not give you access to the Party–you need to have the special Party ticket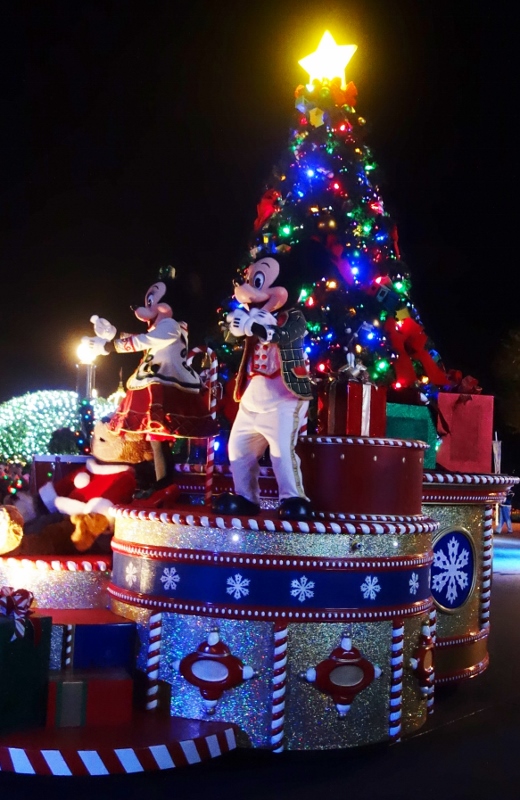 The party tickets are expensive, so why would first-time visitors be interested? A couple of potential reasons
Evening fireworks shows are rare this time of year, so going to one of the parties is a way to guarantee you can see them. There are rumors that the evening fireworks may be updated for 2018
Operating hours at the Magic Kingdom are shorter this time of year, so the Party allows you more time there within the same visit
Walt Disney World sells only a limited number of tickets to each party, so the evening can see much lower ride waits (except at Seven Dwarfs Mine Train and Peter Pan), particularly compared to whenever the Magic Kingdom is open late that week. Note that the outdoor areas of the park, especially near the hub and along the parade routes, will be quite crowded.  Where you won't see crowds is in the ride lines, other than the two noted above
Many families go the first time for one of these reasons…and then going becomes a tradition!
On the other hand, families following one of the standard 8-night itineraries on this site will see the fireworks and evening parade, and have plenty of time at the Magic Kingdom. For that reason, Mickey's Very Merry Christmas Party is not designed into this site's pre-Thanksgiving itineraries.
It is, however, built in to this site's Christmas-oriented Basic Itinerary, which works for the three weeks beginning the Saturday after Thanksgiving.
For details on what the party offers, suggested approaches, etc., see this!
Here's the 2018 party brochure–as always on this site, click to enlarge: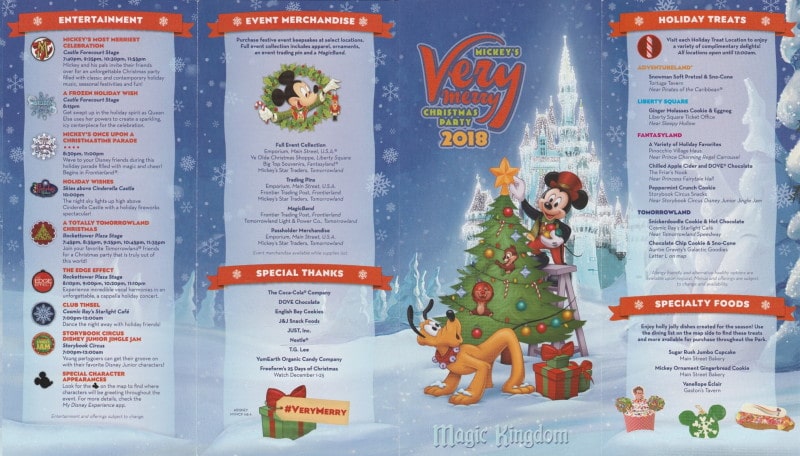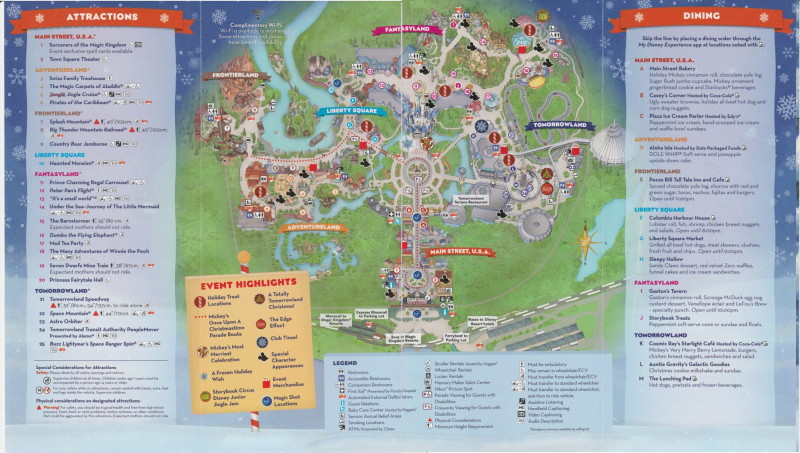 Follow yourfirstvisit.net on Facebook or Twitter or Pinterest!!