New Disney World Summer Free Meal Deal
By Dave Shute
NEW DISNEY WORLD DEAL FOR SUMMER 2019
A new deal for summer stays in certain Disney World value and moderate resorts came out this morning. It needs to be booked by June 30, 2019, and includes stays with arrival dates "most nights" May 28 through August 21st.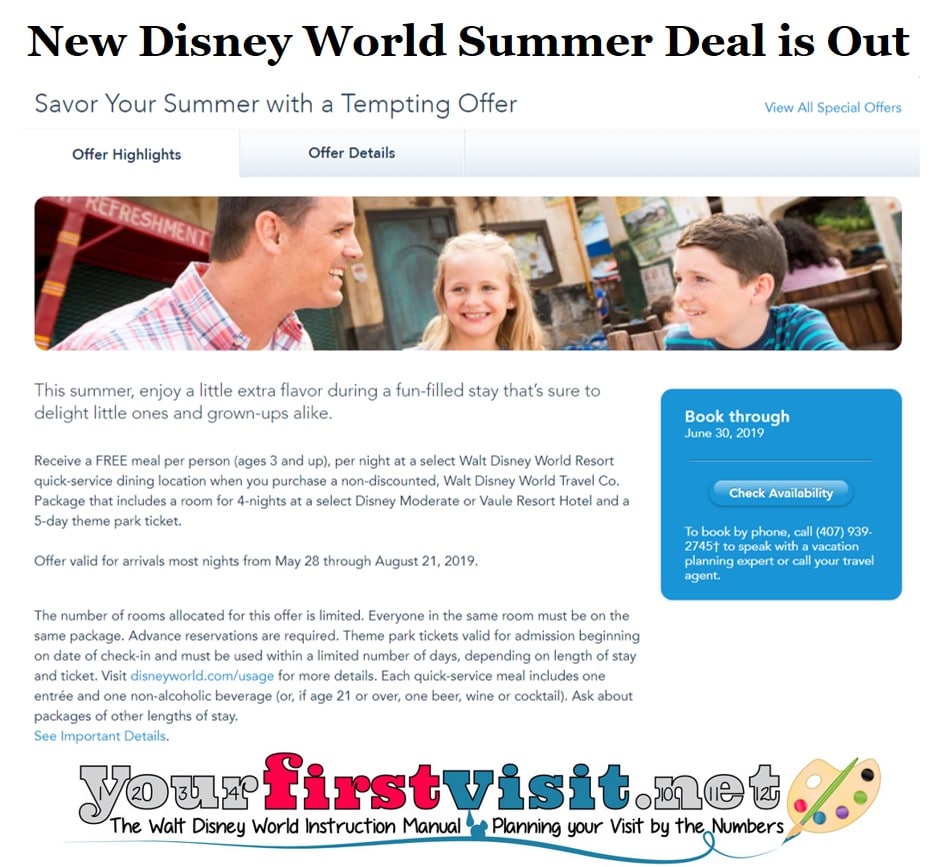 The deal requires full rates be paid for rooms and tickets, and offers one quick-service meal per person per night booked. As I write this minimum room nights and ticket days are unclear. It looks like 4 nights and five ticket days, but sometimes these items are "examples," not minimums.
I'm in a couple of board committee meetings at my day job this morning, but should have more clarity on these minimums this afternoon. Disney's material on this offer is here.
Resorts excluded from this offer are at the values All-Star Movies and the Little Mermaid rooms at Art of Animation, and at the moderates, Port Orleans French Quarter.
Savings depend on family size and ages. For a four person family with one kid younger than ten, the savings would be on the order of $55 to $75 per day. At the low end at the least expensive value resorts, that's on the order of 30% off standard room prices for this example family. Younger families and/or smaller families and/or families staying at more expensive resorts will save less as a percentage of room rates.
Kelly, the long-time travel agent partner of this site, can try to book you into this deal—subject to availability. Contact her using the form below.
Kelly will be tied up moving her already eligible clients into the deal this morning, so please be patient with her getting back to you today!
A couple of other current deals expire at later this week (on April 27) so more deals may come out soon! You'll be able to find any new Disney World deals here after they come out.


Follow yourfirstvisit.net on Facebook or Twitter or Pinterest!!
RELATED STUFF