Hollywood Studios During the Crisis: Extra Magic Hours
By Dave Shute
"The only end of writing is to enable readers better to enjoy life, or better to endure it." –Samuel Johnson
EXTRA MAGIC HOURS AT STAR WARS: GALAXY'S EDGE
As I discussed here, when Star Wars: Galaxy's Edge partially opens at Disney's Hollywood Studios on August 29, no FastPass+ will be available.
Some have questioned the benefit of staying in a resort that offers access to FastPass+ at 60 days if the hottest new ride will not be eligible for FastPass+.
I guess my first point would be that 60 day FastPass+ in the rest of Disney's Hollywood Studios—for Mickey and Minnie's Runaway Railway (now delayed until 2020), Slinky Dog Dash, Rock 'n' Roller Coaster, Tower of Terror, the Frozen Sing-Along will be even more valuable if crowding increases at the Studios.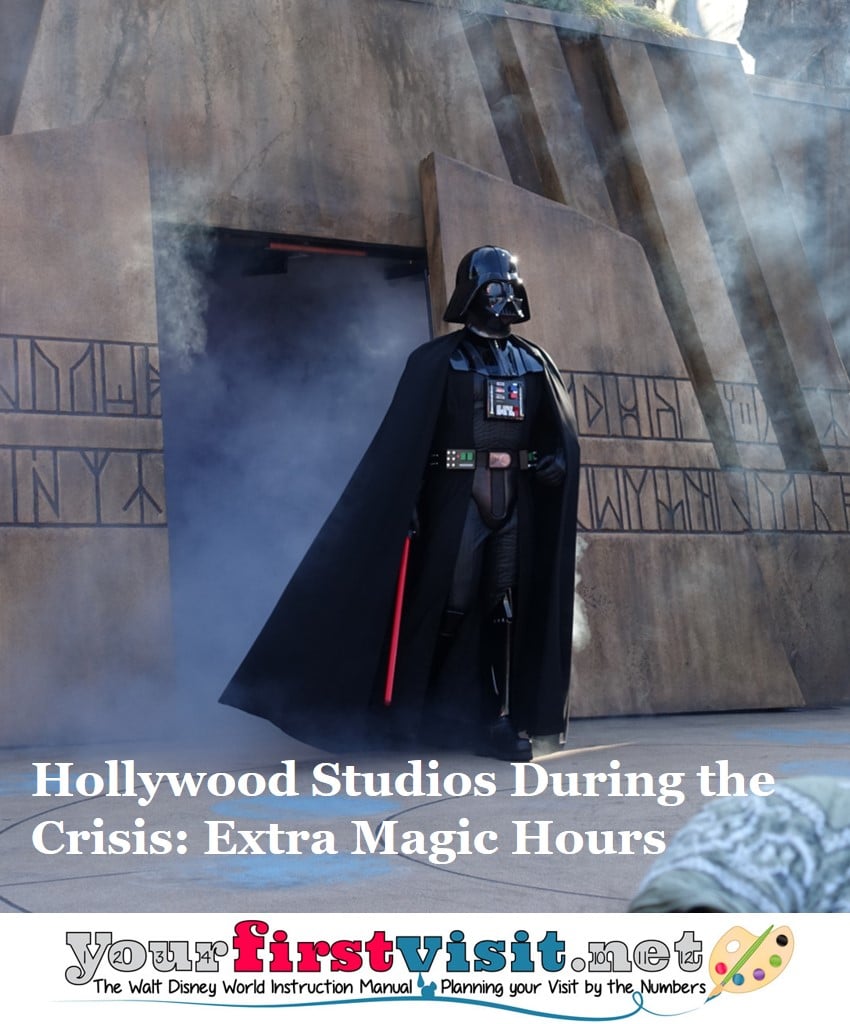 But the best reason for those focused on Star Wars: Galaxy's Edge to stay in a resort with 60 day FastPass+ eligibility might be an expanded set of Extra Magic Hours–perhaps greatly expanded.
At the same time that Disney announced that FastPass+ would not be "initially" available for Star Wars: Galaxy's Edge, it also said that at Disney's Hollywood Studios, "Star Wars: Galaxy's Edge will be available during Extra Magic Hours."
Every resort that is eligible for FastPass+ at 60 days is also eligible for Extra Magic Hours (EMH)—and only these resorts are so eligible.
Extra Magic Hours are a period before normal park opening and/or after normal park closure when only those staying in one of the eligible resorts can enjoy the open attractions. Those staying elsewhere are either not allowed in (in the mornings) or kept off the rides (evening).
Historically, morning EMH are better for touring, as folk on vacations have a harder time getting up early then staying up late, so there is not as much competition for ride capacity. But the latter part of evening EMH can work well, if they extend deep enough into the night to be an impediment to folks staying up that late.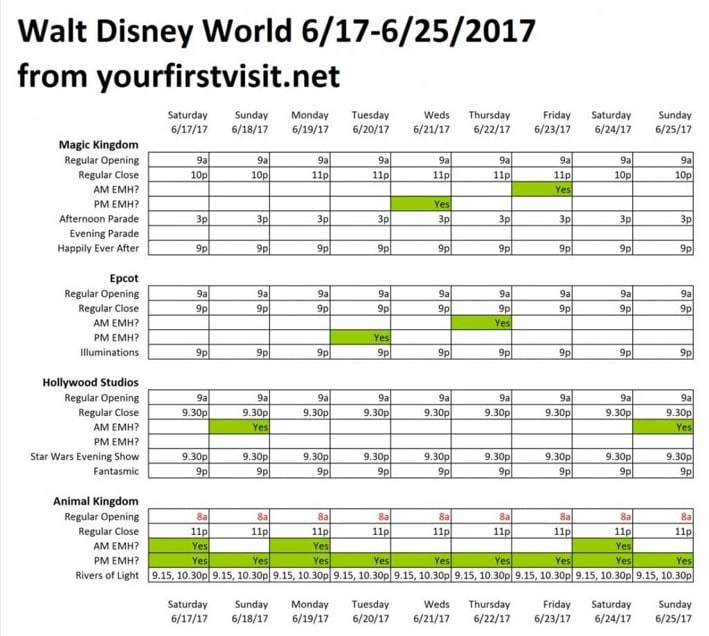 When Pandora opened at Disney's Animal Kingdom, we saw added daily evening EMH, and also the pre-Pandora schedule of morning EMH.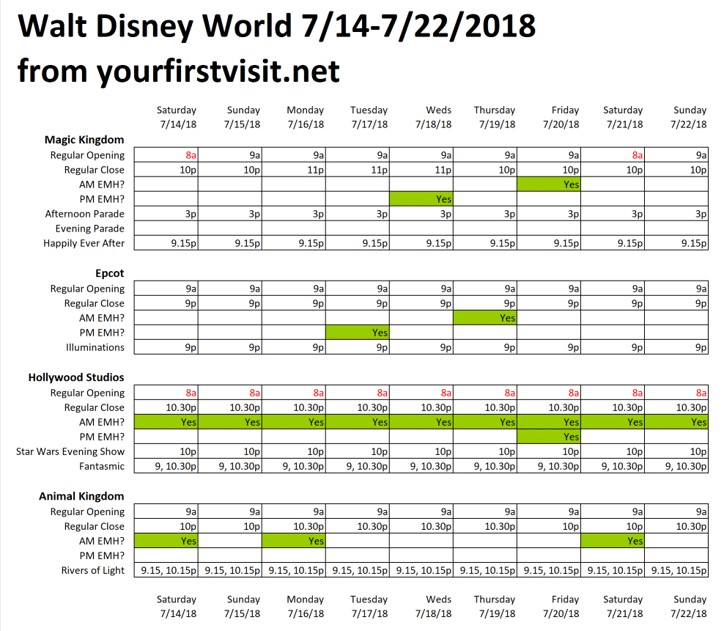 When Toy Story Land opened at Disney's Hollywood Studios, we saw daily morning EMH and some evening EMH—andalso more evening EMH than had been recently typical at the park before the new land opened.
If I were Disney, in the absence of FastPass+ for Star Wars: Galaxy's Edge, I would
Offer both morning and evening Extra Magic hours at Disney's Hollywood Studios
Offer each every day, and possibly
Extend them beyond the limits of recent practice. Contemplate, for example, the Studios having regular operating hours after Star Wars opens from 9a to 9p, two hours of morning EMH from 7a to 9a, and four hours of evening EMH from 9p through 1a.
Now note that I am recommending this, rather than predicting it—especially the last point. But approaching EMH for the Star Wars partial opening as my first two points suggest would be consistent with the approach Disney took during the last two land openings, as enhanced by the expected popularity of Star Wars: Galaxy's Edge.
And lengthening Hollywood Studios EMH so that they cover six hours of an eighteen hour operating day (from 7a to 9a and 9p to 1a in a day when the park, like Animal Kingdom first opened Pandora, that offers rides to all or some guests from 7a til 1a) would roughly match EMH capacity to what I get as the average rough proportion of guests in the Disney parks from the eligible resorts versus from everywhere else.
(My back-of-the-envelope work, available on request, suggests that on an average day, about a third of park visitors come from EMH eligible resorts–more than a third on lower than average days, and less than a third on busier days).
Now morning EMH creates complexity for those not eligible for EMH, as it substantially penalizes those who arrive in the mornings (as the park will already be busy from those who were permitted to enter early for EMH). But that is a feature, as well as a bug, as it is the result of an offering that makes staying at an EMH-eligible resort more valuable.
Over time, I would expect Disney World to convert many of these early morning and late evening slots into some sort of special paid access periods, comparable to current "Early Morning Magic" and "Disney After Hours" offerings. But I don't expect this in the initial months that Star Wars: Galaxy's Edge is open, for reasons of operational simplicity and capacity management. (I'll have more to say about paid access–including paid FastPass+–in a later post in this series.)
At the moment, the following resorts are eligible for Extra Magic Hours (although it is unclear about whether all of those listed after the first bullet will have such access in 2020 and later. Some will at least through 2020–I just don't know yet if all will.)
My particular recommendations among these hotels for Star Wars: Galaxy's Edge are here. Rooms are booking up quickly for these—although not as quickly as many predicted when the partial opening of Star Wars: Galaxy's Edge was announced.
The long-time travel agent partner of this site, Kelly, can try to book your Star Wars vacation in any of these resorts for you. Contact her using the form below!


Follow yourfirstvisit.net on Facebook or Twitter or Pinterest!!
RELATED STUFF