Hollywood Studios During the Crisis: FastPass+
By Dave Shute
"The only end of writing is to enable readers better to enjoy life, or better to endure it." –Samuel Johnson
FASTPASS+ AT STAR WARS: GALAXY'S EDGE
When Disney announced the partial opening on August 29, 2019  of Star Wars: Galaxy Edge in Walt Disney World's Hollywood Studios theme park, it noted that while Galaxy's Edge would be open during that park's Extra Magic Hours, that FastPass+ would not be "initially" available for the sole ride to open then—Smuggler's Run.
What this means is that access to the ride will happen via the old fashioned way—by waiting in line.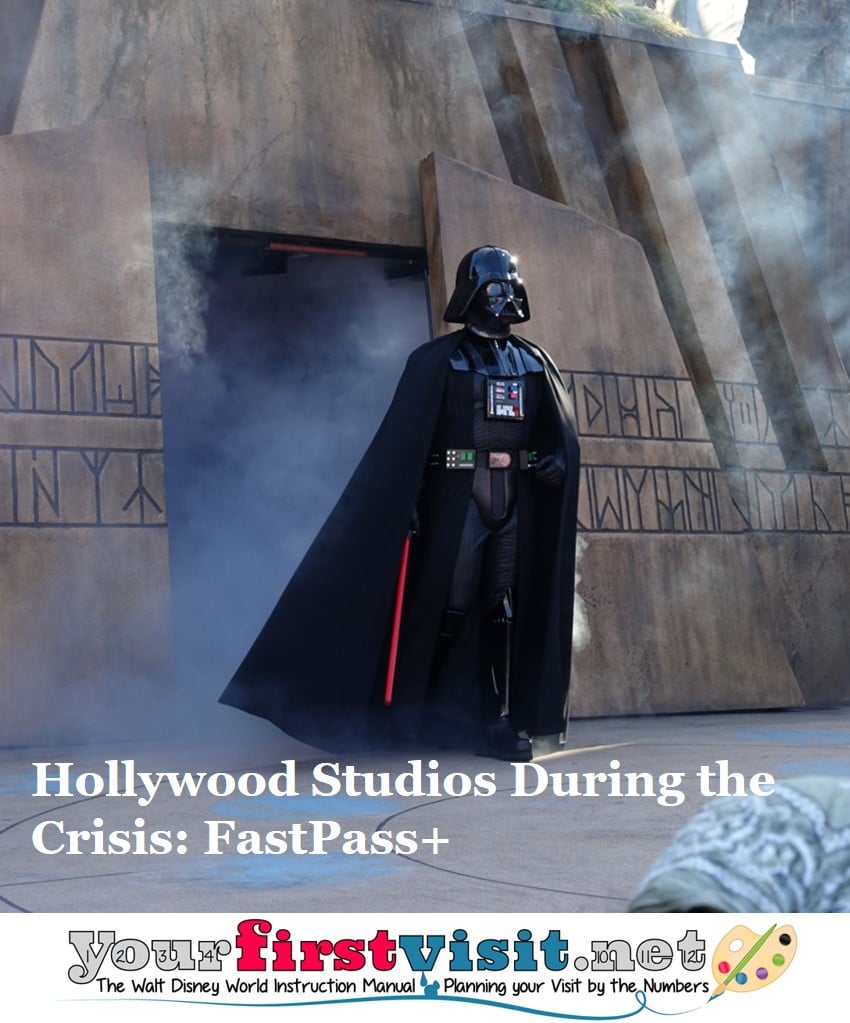 There could in fact be as many as four lines
A line to enter the park, which will start developing each day well before official open
A set of lines that I am counting as one to get through security and get your tickets scanned
A line to enter the land Galaxy's Edge itself, and
A line to access the ride
(Note that there may be as well lines on the roadways to enter the parking lots and bus drop off points—I've suggested hotels that would avoid these lines elsewhere.)
The decision to not initially offer FastPass+–and what I view as the related decision to not open the previously-announced table service restaurant in Galaxy's Edge—creates much operational simplicity, which will benefit some guests.
Otherwise there would be three ways to gain access to Galaxy's Edge
A line for those whose FastPass+ return times are imminent
A line for those with an imminent table service reservation, and
A line for everybody else
Between visitors new to Disney World who have not learned about FastPass+, predictable language difficulties, and normal human frailty, these three different logics for entering the land create the potential for much confusion—and much wasted time among guests who discover a bit late that they are in the wrong line.
The choice to not offer FastPass+ also has positive implications for the rest of the park.
Imagine two late morning scenarios.
In the first, no one has FastPass+, four hours worth of people are waiting to ride Smugglers Run, two hours more of the ride's capacity are waiting in line on Grand Avenue to enter Galaxy's Edge, and five thousand people are in Galaxy's Edge itself but not in line for the ride. At a capacity of perhaps 1,800 riders per hour, those folks sum to about 16,000 people who are not elsewhere in Disney's Hollywood Studios.
In the second scenario, 70% of the ride's capacity has been dedicated to FastPass+, but there's no more space in Galaxy's Edge to put them. That takes 7,500 people out of the lines and puts them elsewhere in Disney's Hollywood Studios, driving up in the rest of the park lines, wait times, and aggravation.
The comparable numbers are even more stark when both rides are open—the second ride here, Rise of the Resistance, is expected to open "later this year." When both are open, in the first scenario with no FastPass+, 26,000 people are physically waiting for entry to the land, to the rides, or in the land but not waiting for a ride; in the other scenario, 11,500 are absorbed in the land, and 15,000 folks with upcoming FastPass+ are elsewhere in the park.
Obviously I've made some simplifying assumptions here, and of course no one—not even Disney—knows what the incremental impact of Galaxy's Edge will be on the park, nor how long waits associated with it will be.
But the key is that since that is unknown, the approach Disney is taking to FastPass+—making it not available, and rationing rides by waits instead—means that many people who would be otherwise elsewhere in Disney's Hollywood Studios will instead be ring-fenced into lines for Galaxy's Edge.


Follow yourfirstvisit.net on Facebook or Twitter or Pinterest!!
RELATED STUFF