Resort News: No More Disney World Free Hotel Parking
By Dave Shute
(Updated 3/20 to add the Cabins back in to the list of that which will be charged for–I had erroneously excluded them.)
The last few weeks, while I've been focusing on the March update to the unparalleled The easy Guide to Your Walt Disney World Visit 2018, some resort news has come out.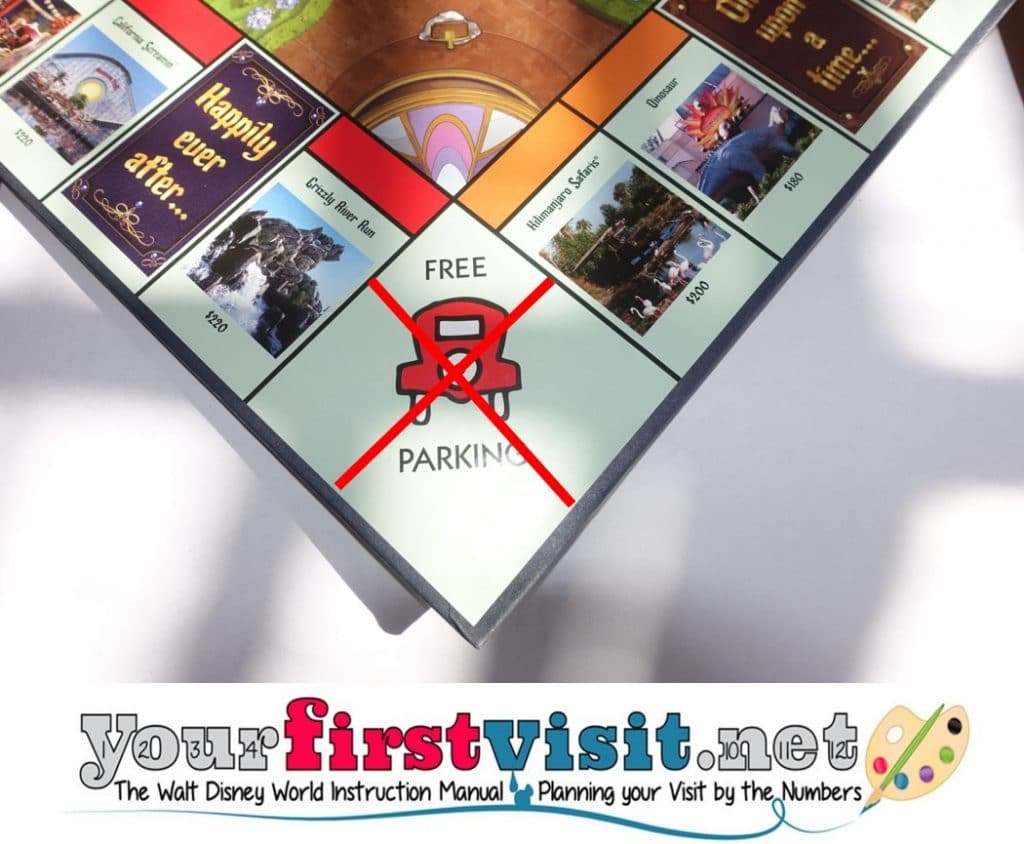 But the big news is that parking at the Disney-owned resorts is no longer free.* For trips booked March 21 or later, parking at the Disney owned hotels will now be charged, per night:
$13 at the values
$19 at the moderates, and
$24 at the deluxes
There have been two sets of reactions to this move:
It's a dipshit, unwarranted, and unearned money grab by Disney World
What took them so long to make such a tiny change? At typical occupancy, the charge is $4-$8 per person per night, and every other resort on property (Shades of Green, the Swan, the Dolphin, the Four Seasons, and the seven Disney Springs Resort Area hotels) charges for parking
As usual these days, there's been more heat than light in the negative reactions, but both reactions are valid. For years now Disney has been raising park and hotel prices at a level well in excess of inflation that I can't defend compared to increases in the benefits (rides, entertainment, hotel refurbs) it has been offering.
Part of this is strategic—Disney is trying to increase enjoyment by using price to limit—just a bit—crowds
Part of it is Disney trying to recoup its capital investments in e.g. New Fantasyland and Pandora and the other enhancements at Animal Kingdom, and the still-to-come Toy Story Land and the Star-Wars themed Galaxy's Edge.
Part of it is a dipshit money grab—Disney is raising prices because it has so much demand that it simply can.
And related to this last point, part of it, I suspect, is Parks and Resorts leadership improving operating economics in the parks so leadership looks better to the corporation and its board.
And when combined with the extension of some perks that used to come largely (but not solely) from staying in Disney-owned resorts to other on-property hotels, such as EMH going to Four Seasons and the Disney Springs Resort Area hotels, and 60 days FastPass+ access going to Shades of Green and the Disney Springs hotels, well, even though this is actually a small net increase in access to these (on the order of 15% more rooms), there's still  a lot of heat out there.
For first timers, these changes don't much matter. There's not enough meat to them. But for returning visitors who have been paying attention, cumulatively they are extremely annoying, and the taking away of a previously free benefit, even if at a fairly trivial level, has some real, painful symbolism.
There's on the order of 10,000 value resort rooms, 7,000 moderate rooms, and 5,000 deluxe rooms. (Ignore the various posts going around by the math- or fact-challenged that there's 35,000 such rooms in total.) If you adjust for ~85% to 90% occupancy and then assume that half of the guests bring cars, then do the math, this is about another $60 million to Disney's bottom line every year—coming out of its customers' pockets for a perk that used to be free.**
In my day job I am a business strategy consultant. With that hat on, I applaud this move—monetizing an asset by bringing it in line with industry standards.
But in my nights and weekends, I try to help people have great Disney World trips. And for returning visitors in particular, I understand that prices have gotten increasingly out of line with benefits, and hence the value equation is diminishing, particularly at the resorts.
And putting my business strategy hat back on, repeat visitors are very important to Disney World, and at some point, the loss in goodwill will start to hurt. This particular change, as noted, is too trivial to make a difference when viewed in isolation. But when put in context with other moves…well, at some point they all may start to add up. Part of the problem is that the current set of leaders will be gone by the time such a potential loss in goodwill starts to have consequences, so someone else will have to fix the consequences of their dipshit moves.
See also Tom's post on similar themes on Disney Tourist Blog here.
*Except for DVC members staying at a DVC resort with any payment means, or staying on points at another WDW resort. Also, I hear, guests reserving through Disney UK will be free from these charge through 2019. Moreover, one vehicle at the campsites (but apparently, not the Cabins, as I had wrongly thought) at Fort Wilderness is still free. Note that those staying at a Disney-owned hotel still get free parking at the theme parks…at least for now… Disney's current parking policy is here.
** I can think of one way in which–at least in 2019–this money may make its way back into guest pockets. I'll publish more on this thought, which has to do with length-of-stay pricing, later.


Follow yourfirstvisit.net on Facebook or Twitter or Pinterest!!
RELATED STUFF