easy Guide March Update
By Dave Shute
UPDATED EDITION OF THE EASY GUIDE
Amazon has released the updated version of my and Josh's The easy Guide to Your Walt Disney World Visit 2018, the latest edition of the best-reviewed Disney World guidebook in history.
We first published the 2018 edition in late August 2017, updated it in November, and updated it again with almost 50 pages of changes in early March 2018.
If you bought the 2018 edition you get this update (as a PDF) for free! If you've already sent in your email, we'll start sending instructions on how to get the updated PDF this week.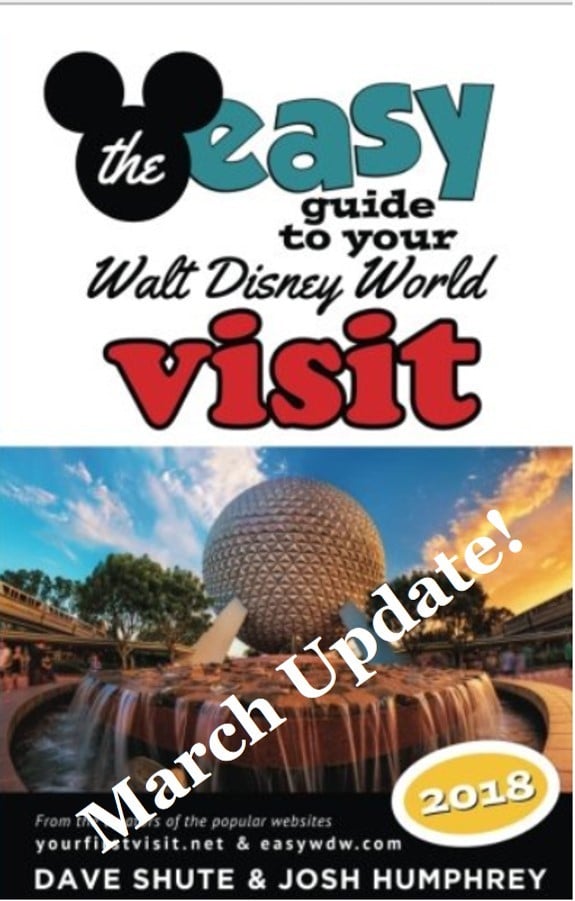 If you bought the 2018 edition but have not yet forwarded your Amazon confirmation, then quit fooling around and get it to us! Here's the instructions: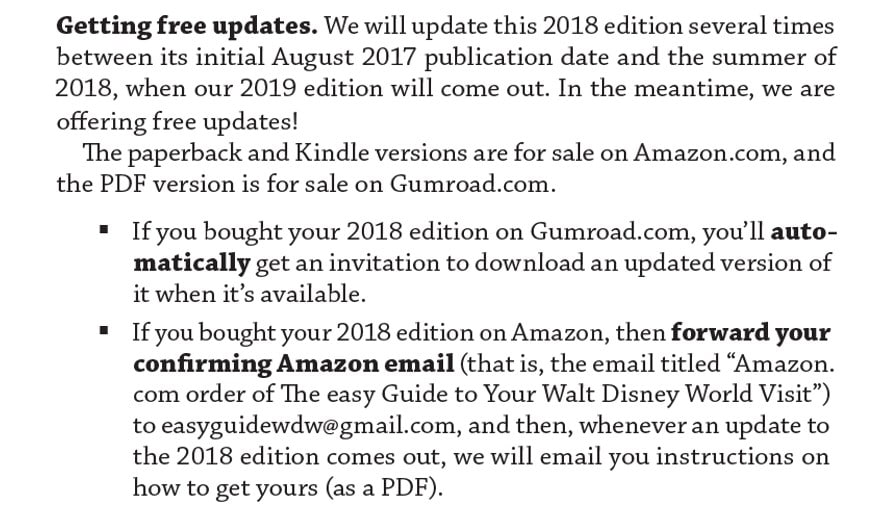 And if you haven't bought it yet, what are you waiting for?

We've had almost 300 reviews of this Disney World guidebook series on Amazon, and more than 90% are five stars. You won't find more informed, more thoughtful, more experienced, more judicious or more silly companions to the Disney World parks, resorts, or dining venues than me and co-author Josh. Ours is the most accurate and most up-to-date Disney World guidebook you can find.
"Even though I live in Florida and used to work in Guest Services at Disney, I truly enjoyed the read! As a Disney Cast Member, I would follow their blogs, and the very thorough overviews and photos that they provide of events, resort properties, new dining, etc., were hugely helpful to me in my role interacting with Guests and answering their questions. Dave and Josh are pros at finding ways to maximize the efficiency (and therefore the fun and stress-free enjoyment) of a Disney vacation. The book is serves as a great resource for anyone who will be visiting the parks and resorts. They provide fantastic overviews of all the resorts and restaurants, and their suggestions about when to visit and what to do are spot-on." –Jean
Here's the key changes in the March update:
Chapter 1: How to Use This Book
Chapter 1 has three purposes: introduce the rest of the book, summarize our recommendations for first-timers, and indicate what's new for returning visitors.
Pursuing the third purpose, the big news of the rest of the update to the book is also noted here:
The opening date of June 30 for Toy Story Land
Seasonal pricing for multi-day tickets to come "later in 2018," and
The addition of FastPass+ at 60 days for Shades of Green, Extra Magic Hours for the Four Seasons, and both for the Disney Springs Resort Area hotels
Chapter 2: Why Age and Height Matter
The only material change here was the upcoming closure of the Children's Activity Centers. We went to press before the Pixar thingy at the Contemporary was announced.
Chapter 3: How Long to Stay
The prices in this chapter are updated to reflect the ticket prices that came out in February. In some cases, the cost of adding a day actually went down.
Chapter 4: When to Go
Little changed in this chapter—we went to press after the start date for the Epcot International Food and Wine Festival (August 30) was announced.
Chapter 5: Where to Stay
We updated the hotel advice and reviews of this chapter based on the additions of FastPass+ at 60 days and Extra Magic Hours to the various hotels noted above
We also updated the refurb status of various hotels–e.g. the Dolphin, Pop Century, Caribbean Beach, Coronado Springs, Port Orleans French Quarter
The announcement that the Disney resorts would charge for overnight parking for trips booked March 21 or later came out after we went to press
Chapter 6: How to Spend Your Time
We made dozens of changes to this chapter, our most important. Most were minor—but not all. A few worth noting
A new entry on UP! A Great Bird Adventure, to debut at Disney's Animal Kingdom on April 22
Multiple revisions to the Hollywood Studios material related to challenges you'll find seeing Toy Story Mania between now and when Toy Story Land opens on June 30, including a recommended touring plan for dates when FastPass+ for it can't be booked
Changes to FastPass+ priority at Magic Kingdom
Chapter 7: Where to Eat
"Where to Eat" always sees a ton of changes when we update because of Disney World's constant pricing and menu changes. In addition
We note that Dining Plan users can now use the plan to pay for Mobile Orders
We introduce the dining options to come in Toy Story Land
We note the coming two-credit prix fixe dinner menu coming July 27 to Be Our Guest
We revise the entry on The Edison, and add new entries for Ale & Compass, Enzo's Hideaway and Maria & Enzo's Ristorante
Chapter 8: Which Tickets to Buy and What to Budget
We've revised all the material in this chapter to reflect
The new ticket prices announced in February
The move of Disney later this year to seasonal pricing for multi-day tickets
Chapter 9: How to Set Everything Up and Get Everything Done
We revised the To-Do lists in this chapter to reflect the addition of more hotels to 60 day FastPass+ eligibility.
Chapter 10: Where to Go Next
We made no significant changes to this chapter, as the places to go next remain easyWDW.com and yourfirstvisit.net!
We pride ourselves on having the most accurate and up-to-date guidebook available, and updates like this are what make that come to life! Already have yours?  Then write us a five star review on Amazon!



Follow yourfirstvisit.net on Facebook or Twitter or Pinterest!!
RELATED STUFF