A Friday Visit with Jim Korkis: Flights of Wonder
By Dave Shute
Welcome back to Fridays with Jim Korkis! Jim, the dean of Disney historians, writes about Walt Disney World history every Friday on yourfirstvisit.net.
FLIGHTS OF WONDER IN DISNEY'S ANIMAL KINGDOM
By Jim Korkis
When the Flights of Wonder show originally premiered at Disney's Animal Kingdom in its opening year, it had a fanciful storyline and continued to evolve through several different versions.
It was finally re-scripted to be a more straight-forward educational presentation along with the comedy relief of a clueless tour guide character named "Guano Joe" who is more than a little fearful of these avian performers. Along with the audience, he learns about them and learns to love them. The roughly tweny-five minute show is performed several times a day.
Under the canvas canopy of a shady sanctuary that is what remains of the Maharajah's crumbling fortress is the makeshift Caravan Stage in the "ruins" that are now the refuge for a dazzling array of birds. From opening until 2015, the Caravan Stage was covered with a canopy. A permanent roof was finally installed during a renovation in early 2016.
The façade of the roughly thousand person amphitheater is designed to resemble the architecture of that found in the Himalayan highlands or Rajasthan, India. The theater is situated outside the fictitious village of Anandapur, on the "trade route" towards Africa.
Guests are introduced to approximately twenty species of exotic birds who perform natural behaviors rather than the traditional silly tricks in some other bird shows. Some of the birds perform their antics onstage while others swoop over the audience and show off their dramatic wingspans.
While the show is entertaining and at times amusing, its core is a much deeper message about serious conservation themes and habitat loss. It promotes the World Wildlife Conservation Fund. The finale includes the appearance of an American Bald Eagle and the story of how thanks to concerted conservation efforts, this majestic bird is no longer endangered.
Among the species are birds most guests see include Barbary falcons, macaws, Amazon parrots, Harris Hawks, ibis, vultures, crowned cranes, a Trumpeter Hornbill, Great Horned Owl, Black Vulture, the previously mentioned American Bald Eagle and several other interesting birds.  The birds are from various continents and not just Asia. While the specific birds may occasionally be different in each show, the format of the show remains the same.
The host is an actual trainer who has spent hours with these birds. The birds are trained to react and take different actions based on audio and visual cues they have been taught.  Certain noises, words or a subtle hand placement will spark an action from the birds.  While the show has been carefully rehearsed to demonstrate how birds hunt and eat, they have not been trained to do the typical tricks but merely duplicate natural behaviors with an emphasis on entertainment value like grabbing a dollar bill an audience member holds high in the air.
Groucho, the singing parrot in the show who is an audience favorite, was named the World's Best Singing Parrot on the Tonight Show with Jay Leno after an appearance. He's also appeared on other television shows including The Ellen DeGeneres Show.
He is fairly unusual for most parrots because he is able to sing seven full songs including How Much is that Doggy in the Window?, Camptown Races, Yankee Doodle Dandy, Alouetta and Jingle Bells.
Hatched in 1986 in Kalamazoo, Michigan and raised by Theresa Barylock, Groucho is a yellow naped Amazon parrot with an amazing ability to articulate many words and phrases such as "Look ma! No hands!"
In 2017, trainers and birds from the Flights of Wonder show now also made occasional appearances in Harambe and DinoLand U.S.A., again emphasizing the birds' natural behaviors.
*  *  *  *  *
Thanks, Jim!  And here's more on FLights of Wonder from The easy Guide to Your Walt Disney World Visit 2018: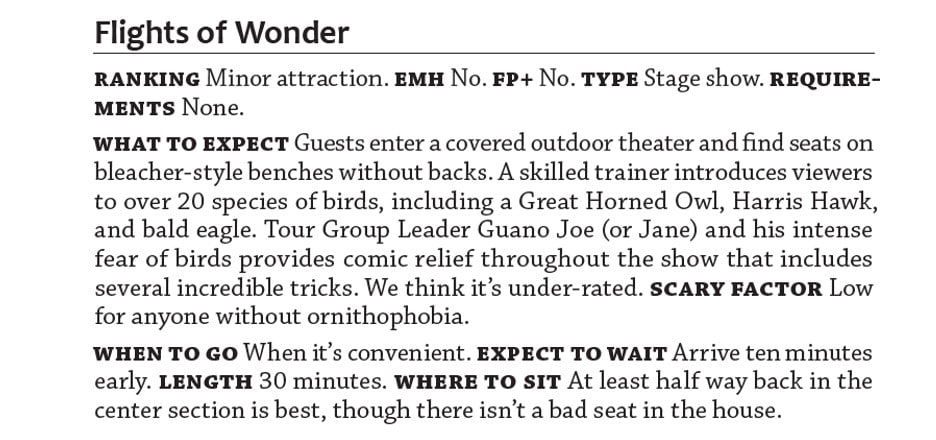 Come back next Friday for more from Jim Korkis!
In the meantime, check out his books, including his latest, Secret Stories of Disneyland, and his Secret Stories of Walt Disney World: Things You Never You Never Knew
, which reprints much material first written for this site, all published by Theme Park Press.


Follow yourfirstvisit.net on Facebook or Twitter or Pinterest!!
RELATED STUFF