Review: The Happily Ever After Dessert Party at Magic Kingdom
By Dave Shute
THE FIREWORKS DESSERT PARTY AT MAGIC KINGDOM
Happily Ever After is the new projection and fireworks show at Magic Kingdom that replaced Wishes in May 2017.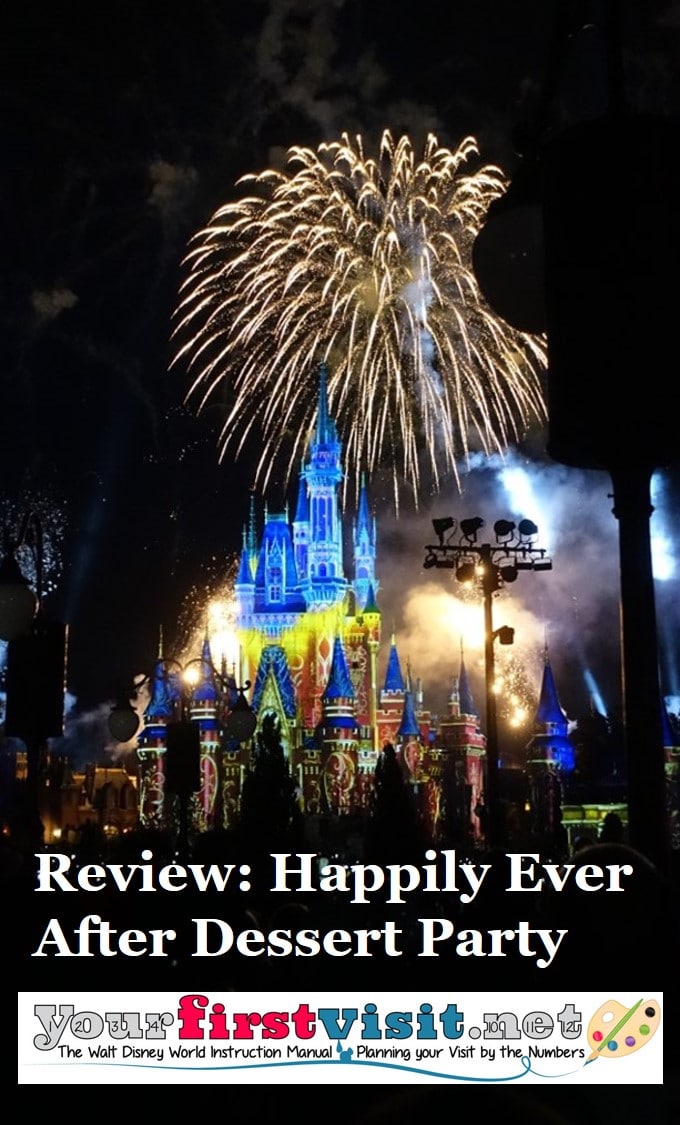 Like Wishes, Happily Ever After was explicitly designed to be seen from the axis between the Main Street train station and the Castle.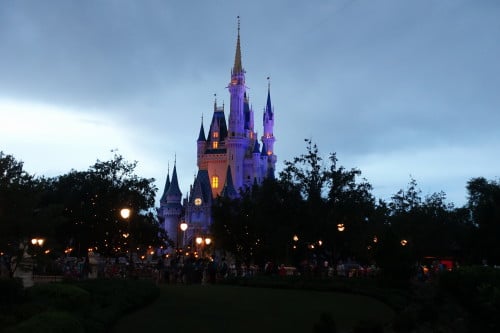 Unlike Wishes, Happily Ever After has projections. Because its projections can be small and–more to the point–are only on the Main Street side of the castle, even more so than Wishes, first-timers should see it from this axis, and from further away from the station than could work well for Wishes.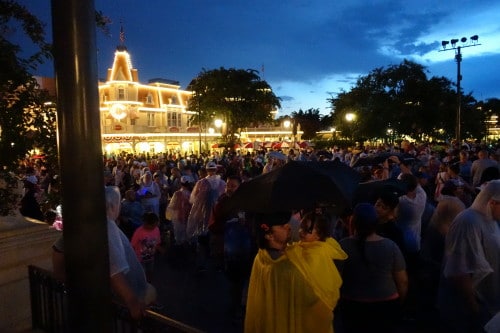 Since all locals, repeat visitors and readers of sound sources of advice have caught on to this, the area between the Casey's Corner end of Main Street and the Castle is more mobbed than ever—which will surprise those who had thought it could not be more packed. It can—and it is.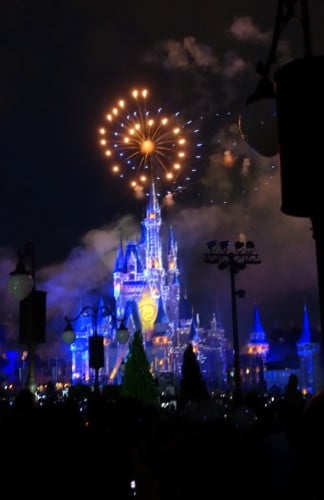 Although it is pricey, I had thought of adding the Plaza Garden variant of the Happily Ever After dessert party to my itineraries as a way of creating great, uncrowded spots to view the show. So I attended it in July 2017 to see what the value was.

The short version is that for anyone who can afford it and does not like crowds, the value is there.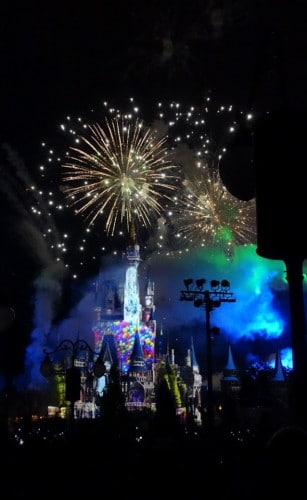 There are two different parties, both of which start in the Tomorrowland Terrace.
One is less expensive (about $63 adults/$37 kids, after tax) and has better propinquity and sightlines, but no rain protection during the viewing. This is the "Plaza Garden" party
The other, the "Tomorrowland Terrace" party is more expensive (about $84 adults/$50 kids, after tax), more distant, and with off-center sight lines, but has rain protection during the viewing.
(Both have rain protection during the "dessert party" part of the evening, which takes place in the Tomorrowland Terrace.)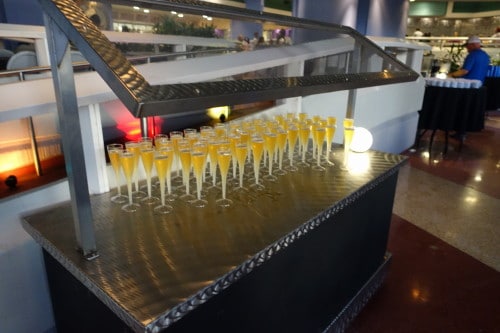 There are multiple potential sources of value here: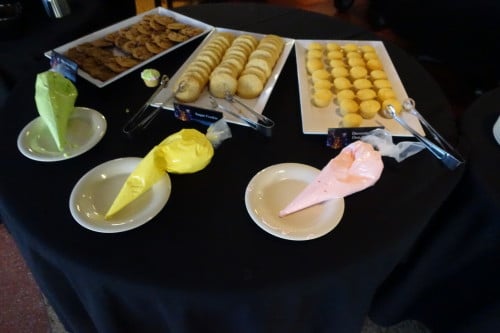 The food and non-alcoholic drinks at the party, mostly desserts…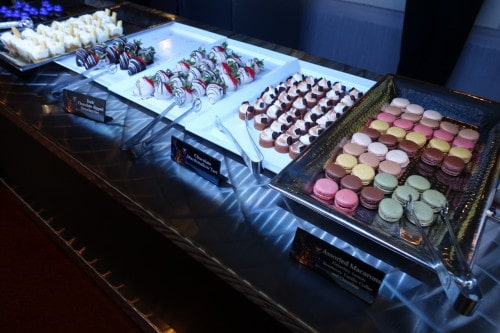 …lotsa desserts…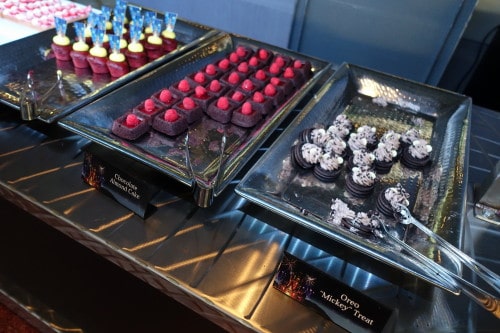 …but also cheese and fruit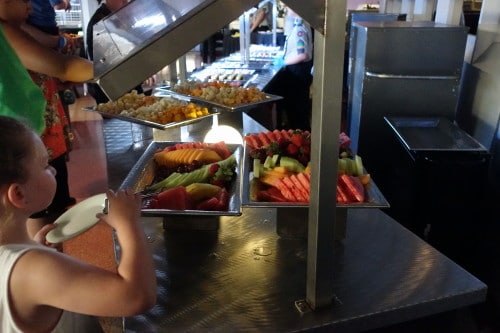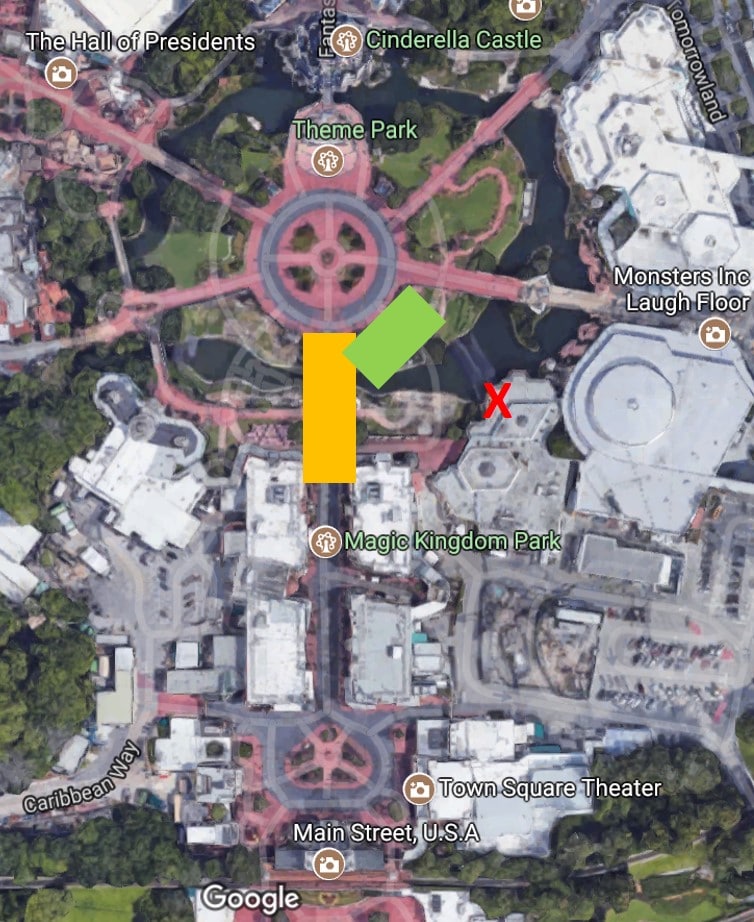 The very nice viewing location at the less expensive Plaza Garden viewing variant. The Terrace viewing is not bad, especially for those who have already seen Happily Ever After before, but it is a little more distant, and much more off center, than the Plaza Garden option. On the image above, the best spots overall are in gold, the Plaza Garden spot in green, and the Tomorrowland Terrace spot is marked by a red "X."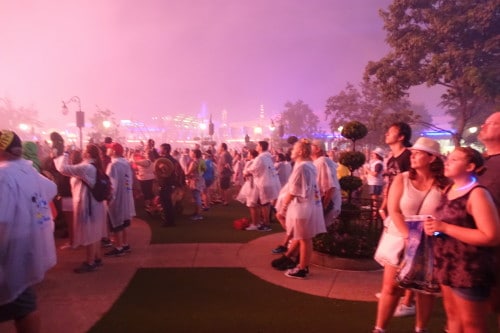 The lack of crowding at either spot. You will have crowds once you leave, but the show itself will not feature the jostling mobs you'll see everywhere else nearby.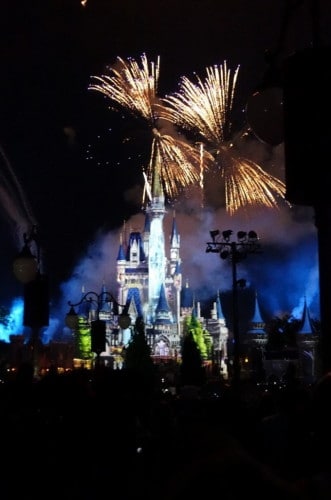 The rain protection you will get during the show from the Tomorrowland Terrace location. (Both locations dine out of the rain.)
The key sources of value will vary depending on what matters to you. For me, it is seeing a great show from a close spot with a great angle without having to show up early. Add to this the absence of crowds and jostling—a value you can achieve no other way—and it's well worth it.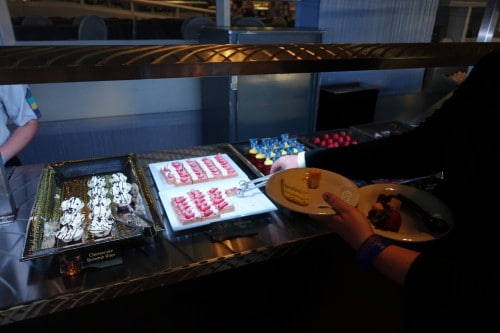 For me the food is of little value. There are ways I would much rather spend my time at Magic Kingdom than hang around in Tomorrowland Terrace for 90 minutes eating cupcakes, and even if I were in the mood for junk food—which, face it, at Disney World I usually am—there's other junk I much prefer.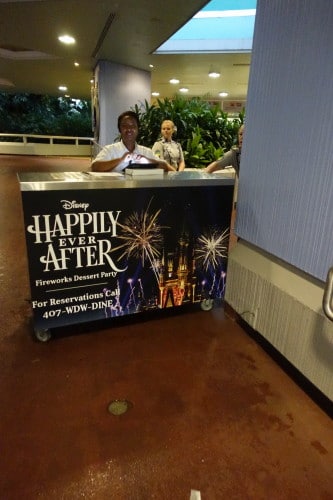 Note that while you have to check in at Tomorrowland Terrace and get your credentials, you don't have to hang around and eat and drink. Check in, get your stuff, and return about 15-20 minutes before the show to be escorted over to the viewing area.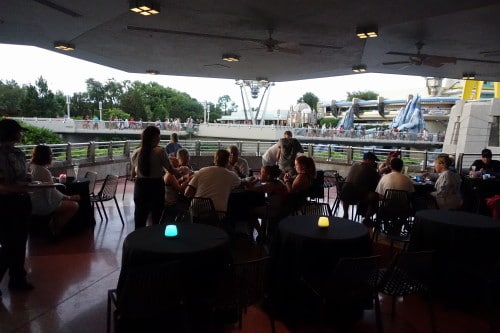 For others the food—and/or the opportunity to sit and rest for a bit–has much more value. Moreover, unless you will be at Disney World for weeks, there's not much need to obsess over the caliber of your diet, so conceivably cupcakes, cookies, ice cream, fruit and cheese could pass for dinner.
Since I spend the equivalent of a month or two in the parks every year (I have the somewhat rare notion that those advising others about Disney World ought to base that on personal, recent, deep experience) I am quite used to Disney World in the rain, so see little value to the covered viewing location compared to how off-center—and slightly more distant—it is, so can't advise paying for the more expensive party.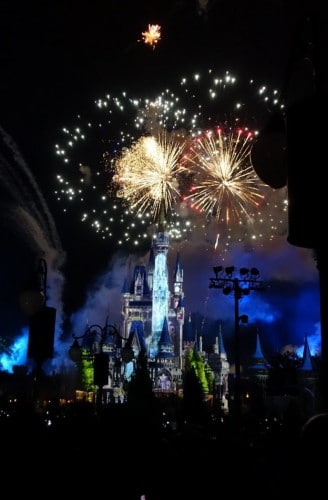 Happily Ever After is the best evening show at Disney World. Seeing it from a good spot requires a long wait and involves much jostling and crowding. The Plaza Garden version of the dessert party is a way to make these negatives go away.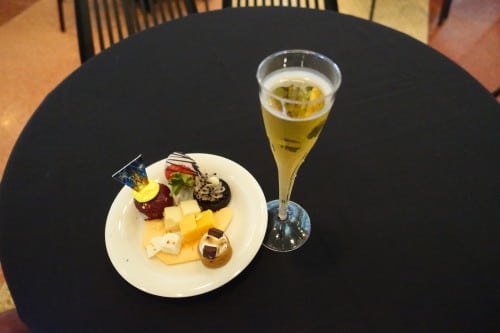 And scarf a cupcake or two while you are at it…
You can book the party on Disney's website here, and my co-author Josh has even more on the party here.


Follow yourfirstvisit.net on Facebook or Twitter or Pinterest!!
RELATED STUFF