Pandora to Open May 27, Ticket Price Increase, and Other News and Rumors from Yesterday
By Dave Shute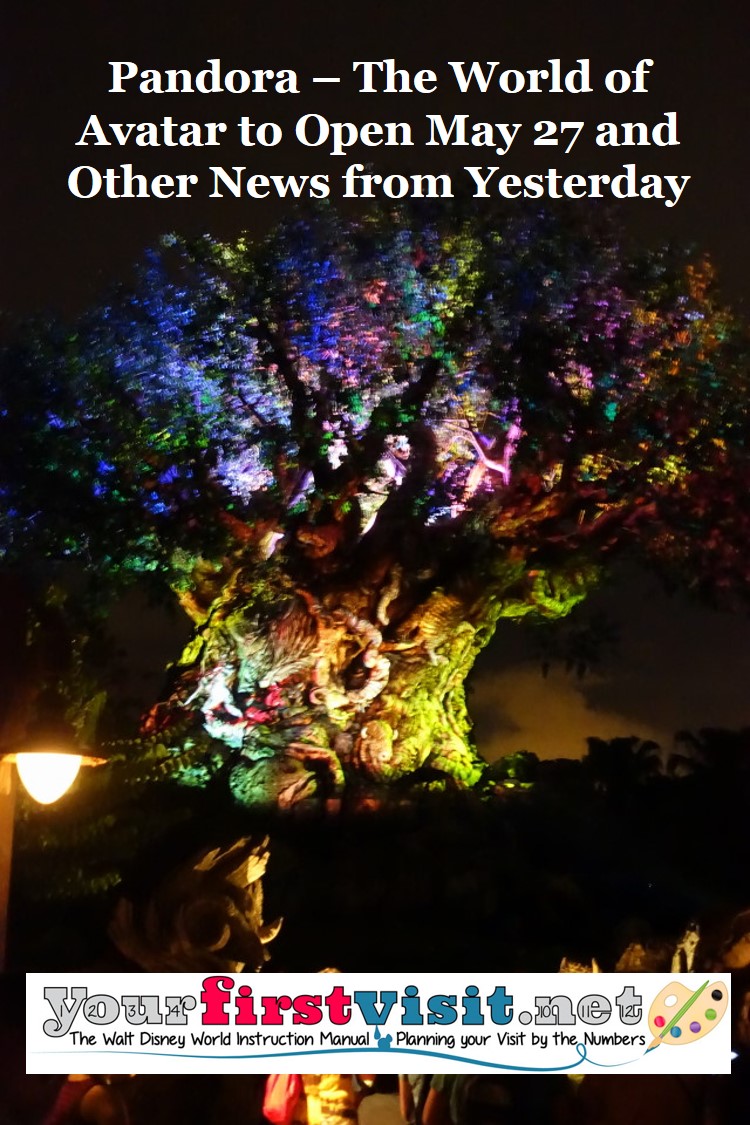 Several interesting things came up in yesterday's Walt Disney Company earnings call. One takeaway is that you might want to buy your tickets now.
PANDORA – THE WORLD OF AVATAR TO OPEN MAY 27
From Disney CEO Bob Iger's introductory remarks on the call:
"This year we'll open a great addition to Disney's Animal Kingdom with a brand new land called Pandora – The World of Avatar. Our Imagineers have brought the breathtaking world of Pandora to life through astonishing feats of artistic genius and groundbreaking engineering. The result is an exquisite environment with phenomenal attractions. And today I'm happy to announce this incredible new world will officially open on May 27."
From later in the call:
"This is a very big land with an extremely unique design and architecture because it really does make you feel as though you're in Pandora, that great world that Jim Cameron created, and an E-ticket attraction that is unlike any E-ticket attraction that we've ever built. And it is sizable. The whole experience is sizable."
STAR WARS LAND TO OPEN IN 2019
Also from Iger on the call:
"Additionally, our progress continues on Star Wars Lands at Disneyland Resort and Walt Disney World [Hollywood Studios], both of which will open in calendar 2019."
TOY STORY LAND—2018?
Toy Story Land in Disney's Hollywood Studios did not come up in the call, but the Star Wars date of 2019 has led many to continue to believe that 2018 will see its opening. This seems a little fast to me…
TICKET PRICE INCREASE?
For the last three years, Walt Disney World has increased ticket prices in February. Buying your tickets now –for example from my friends at The Official Ticket Center  –will let you avoid this price increase.
Moreover, I do expect one of these days that Disney World will move its multiday tickets to a seasonal price model, where tickets for some periods of the year are more expensive than for other periods. (One day tickets took on this form in 2016.)
The business logic of this is to simultaneously shift demand to lower attendance times and, for those who won't change their dates, to capture more value from higher demand times—as Disney's hotel prices already do.
The possibility of a ticket price increase came up in the call, and I was intrigued by how Bob Iger answered it—and specially why he did not stop his response after the words "I have nothing to announce at this point," and why he went on to mention redesign of packages and the distinctive importance of multi-day tickets at Disney World.
My take away? This stuff is on his mind…and so perhaps we will see the shift to seasonal pricing for Disney World multi-day tickets this month. If so, my guess is we will see only minor increases in ticket prices for the less-demanded parts of the year, and larger increases for the popular times.
So if you have not yet bought your tickets for your next visit, I'd do that now, especially if you plan to go in the spring break season, the summer, or during any of the major holiday periods later in the year. My friends at The Official Ticket Center  can help you get great prices.
Here's the complete discussion of ticket prices during the call:
John Janedis – Jefferies LLC
"Hi. Thank you. Maybe another quick follow up at the parks. I think you've increased ticket prices in February the last couple of years. You're going to lap the demand-based pricing model in a couple of weeks. And with Pandora opening, is there maybe a near-term opportunity to further increase single or multi-day ticket prices?"
Robert A. Iger – The Walt Disney Co.
"Yes. I have nothing to announce at this point, but we do take ticket pricing up on typically an annual basis and we do so in a variety of different ways. Sometimes it's redesign of packages. Remember that in Florida that most of our attendance is multi-day in nature, and so the single day including when we take pricing increases is less important than when we take single-day pricing up in California. But we're not prepared to make any specific comments about what's in store in that regard."
RIVERS OF LIFE NEXT WEEK?
Something else happened yesterday that was not on the earnings call—Rivers of Life, the much-delayed new evening show at Animal Kingdom, had a preview:
There's no official opening date, but one rumor is that it could be announced any day now, and open as soon as next week. I've been burned so much on predicting this show that I officially have no opinion.


Follow yourfirstvisit.net on Facebook or Google+ or Twitter or Pinterest!!
RELATED STUFF