A Friday Visit with Jim Korkis: Attractions that Almost Were at Disney World
By Dave Shute
Welcome back to Fridays with Jim Korkis! Jim, the dean of Disney historians and author of Jim's Gems in The easy Guide, writes about Walt Disney World history every Friday on yourfirstvisit.net.
By Jim Korkis
THINGS THAT ALMOST WERE AT DISNEY WORLD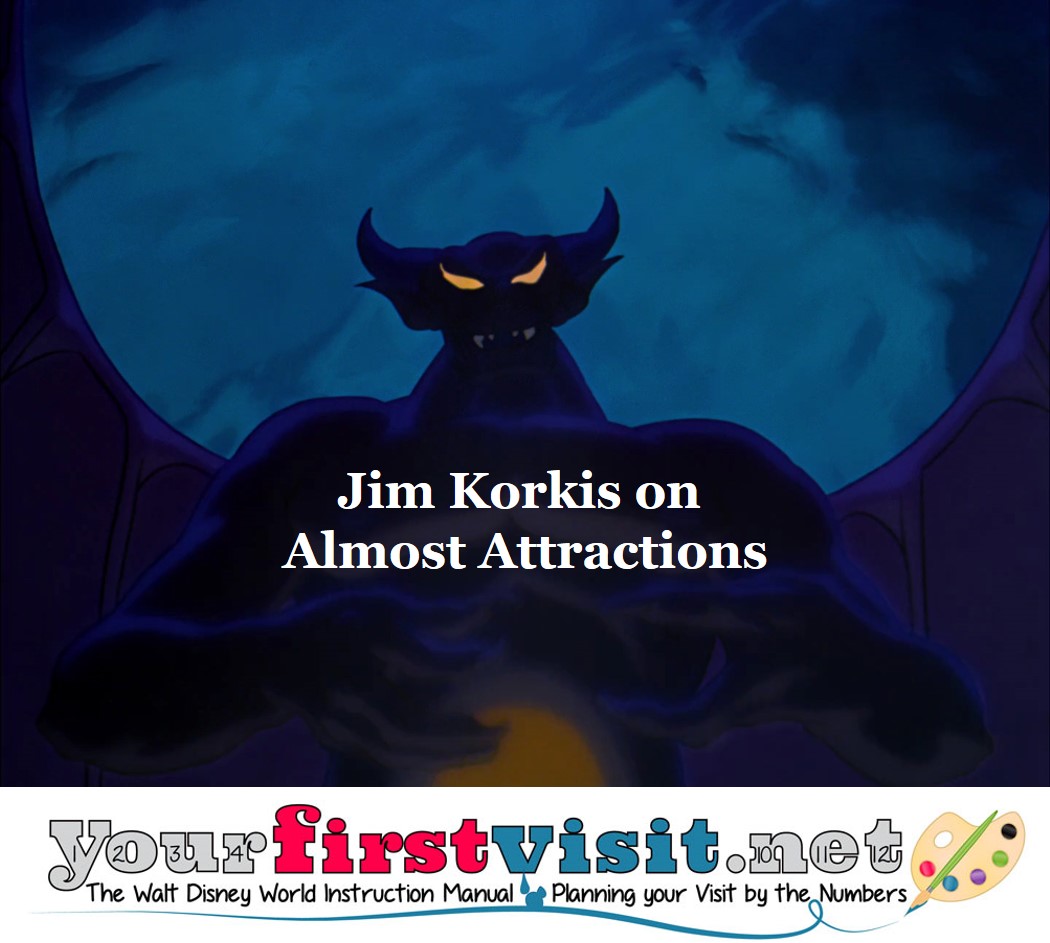 The Excavator. The area at Disney's Animal Kingdom now occupied by Chester and Hester's Dino-rama featuring such carnival rides like TriceraTop Spin and Primeval Whirl was initially earmarked for a much more impressive thrill ride attraction.
Disney's Animal Kingdom was intended to compete and outdo Busch Gardens Tampa with its live exotic animals and roller coasters. The original DAK Imagineers proposed a roller coaster similar to Big Thunder Mountain Railroad. It would be in an area that was supposedly a former sand and gravel pit with an enormous piece of leftover machinery called the Excavator.
The area had been abandoned when the Dino Institute bought the property after dinosaur bones were discovered and transformed the field offices of the former business into a dormitory and cafeteria for students.
Chester and Hester could no longer sell gas to the trucks and the workmen who operated at the site so they converted their business into a souvenir shop for tourists who were coming to see the dinosaur dig site.
The Excavator was meant to look like a series of ore cars used to haul up the sand and gravel from the bottom of the pit to dump trucks. The paleontology students who were working in the area had reconfigured the unsafe device that had fallen into disrepair to transport the dinosaur fossils they were finding.
The marketing publicity described it as "a rollicking coaster ride through a section of the dig supposedly too dangerous to enter". At one point, the ride would have zoomed through the inside of a dinosaur skeleton.
It had been planned as an opening day attraction until budget cuts eliminated it but it appeared clearly on the original concept painting of the area. It was felt that the Countdown to Extinction (now DINOSAUR) attraction (since it re-used existing technology) would be easier and less expensive to build, yet still attract guests wanting a thrill ride.
Lagoon Islands at World Showcase. "There just wasn't enough things for kids to do at World Showcase (when it first opened)," said Tony Baxter, former Senior Vice President, Creative Development, for Walt Disney Imagineering. "So one of the proposals was to use the islands in the middle of World Showcase's lagoon as kind of a kids' play area," much like the Tom Sawyer Island in the Magic Kingdom but with an international theme.
That idea was scrapped when concerns about safety, transportation, capacity and budget were reviewed. An alternative concept of making the islands an exclusive "adults only" party area was considered and "which was very much the start of [Downtown Disney's] Pleasure Island concept," Baxter said, but was also rejected.
Dark Kingdom. The opening of Universal's Islands of Adventure theme park in Orlando, Florida in 1999 and its appeal to an older teenage demographic prompted Disney to consider adding an "edgier" addition to its WDW parks. In the 1990s, Disney began formalizing a Disney Villains franchise that proved its popularity with the Villains in Vogue merchandise shop at Disney's Hollywood Studios.
So it was proposed to add a new land at the back of the Magic Kingdom to be called the Dark Kingdom or Shadowlands. The icon for this new land would have been Maleficent's castle.
Bald Mountain, a massive roller coaster ride inspired by Chernabog's lair in the Disney's animated feature film Fantasia (1940), was developed as well as a spinner ride similar to the Dumbo attraction that would have had Ursula the sea witch as the centerpiece and each of her octopus arms holding a ride vehicle. The concept was so intriguing that at one point Disney even considered expanding it into a fifth theme park.
*  *  *  *  *
Thanks, Jim! My own thoughts on a fifth Disney World theme park are here, sorta. And come back next Friday for more from Jim Korkis!
In the meantime, check out his books, including Secret Stories of Walt Disney World: Things You Never You Never Knew
, which reprints much material first written for this site, and The Vault of Walt: Volume 4, and his contributions to The easy Guide to Your Walt Disney World Visit, all published by Theme Park Press.



Follow yourfirstvisit.net on Facebook or Google+ or Twitter or Pinterest!!
RELATED STUFF