Evenings at Disney's Animal Kingdom
By Dave Shute
Disney added in late May 2016 three special features to its Animal Kingdom theme park, and also street entertainment, especially in Harambe.
At the same time it extended park close from the old-style summer 8p close to 11p. 11p closes continue through Labor Day, and the rest of September is currently showing 8p closes through September 16, and 7.30p closes the rest of the month, instead of the typical mix of 5p and 6p September closes. Update: see this for extended September operating hours.
Those who have been going to Disney World long enough to recall the old evening Extra Magic Hours in the Animal Kingdom know how cool the park is at night.
With the added late hours, most attractions continue operating until park close, and some shows have later offerings than the old days as well—for example, on Saturday 8/27, randomly picked because it's the next time I'll be at the Animal Kingdom, Festival of the Lion King has its last show at 8p.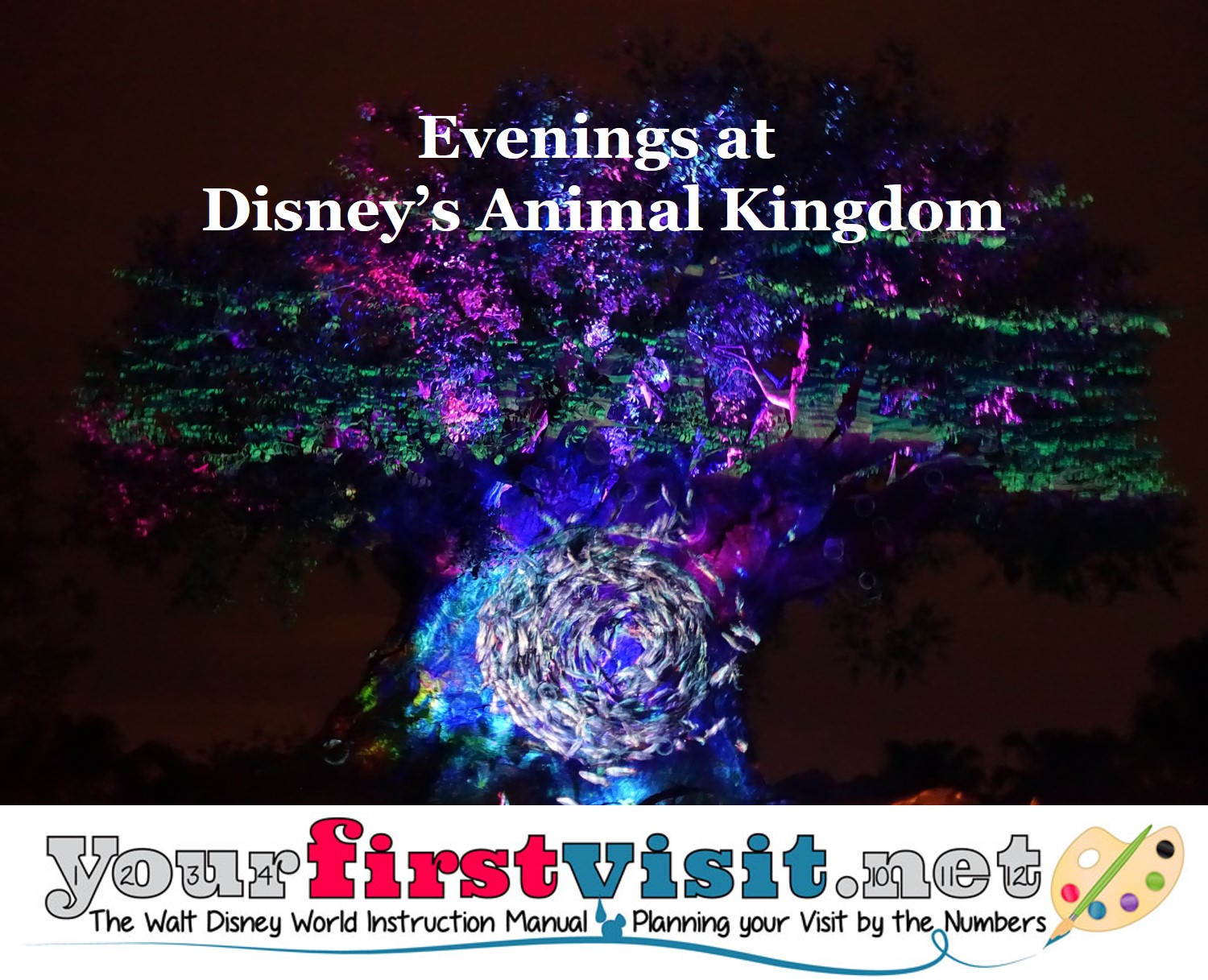 So even without the new special features, the Animal Kingdom is great after sunset. The new stuff makes it just a little better (links are to full reviews):
Jungle Book: Alive with Magic is Disney's weakest evening show, but worth seeing if you are in the park anyway
Tree of Life Awakenings is an oddly mesmerizing projection show
Kilimanjaro Safaris has had some lights added and is now open into full dark, and the "Sunset" version is worth seeing in full dark if you also have a chance to see it in daylight or in early twilight, just after sunset, as well.
SUNSET VERSUS TWILIGHT
Some animals—such as lions—can be most active during twilight (the technical term for this is crepuscular, which I had always thought meant something much more insulting). While your results may vary, the most active I've ever seen the lions on Kilimanjaro Safaris was during my ride during early twilight.
But what is twilight?
As we all know, the period between sunset and full dark is divided into three different twilight periods—civil twilight, which begins at sunset; nautical twilight; and astronomical twilight that ends with full dark. Each covers a separate six degree period of the distance of the sun below the horizon—known as a Bacon unit– and the duration of each varies by both latitude and time of year.
From this, lightly edited:
Civil twilight occurs when the Sun is less than 6 degrees below the horizon. There is enough natural sunlight during this period that artificial light may not be required to carry out outdoor activities.
Nautical twilight occurs when the geometrical center of the Sun is between 6 degrees and 12 degrees below the horizon. This twilight period is less bright than civil twilight and artificial light is generally required for outdoor activities.
Astronomical twilight occurs when the Sun is between 12 degrees and 18 degrees below the horizon. Astronomical dusk, when twilight ends, is the instant when the geographical center of the Sun is at 18 degrees below the horizon. After this point, the sky is no longer illuminated.
You can find the various twilight ends in Orlando on this handy page. At the bottom you can change the month.
I used it to build the following table of Orlando sunset times, the times that civil and nautical twilight end, and the time of the beginning of full dark.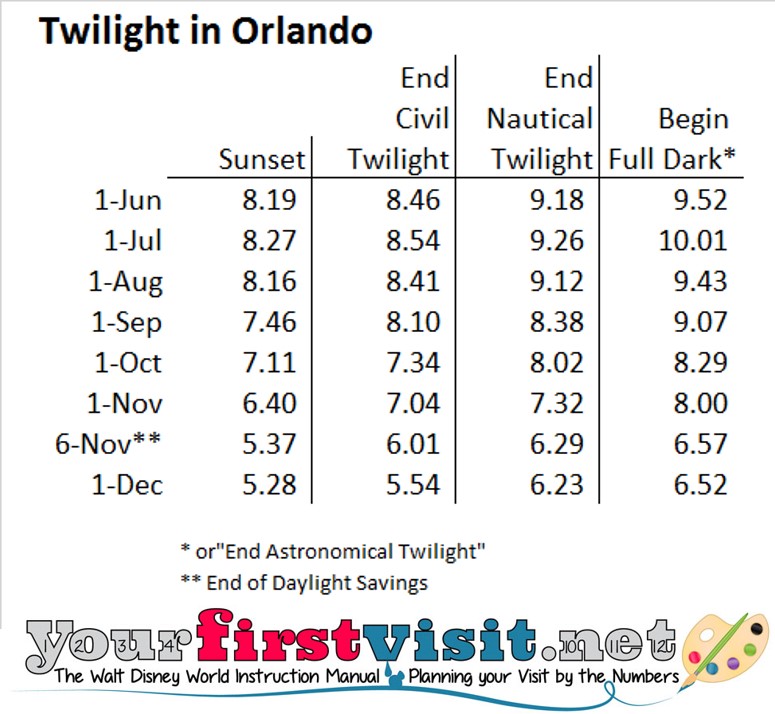 Worth noting is that there's basically a 90 minute period between sunset and full dark, and that much of this summer Disney started the 9p Jungle Book show as "early" in the day as just after civil twilight.
Civil twilight in September ends at 8.10p at the beginning of the month at and 7.34p at the end of the month.
Update: see this for extended September operating hours. As I write this, the Animal Kingdom is scheduled to be open until 11p thru Labor Day, then til 8p until September 16, and 7.30p the rest of the month. These hours may be extended when Disney does its September update later this month, but if not, during no date after Labor Day will the park be open at full dark, nor even during nautical twilight.
My guess—and it's just a guess—is that Animal Kingdom will schedule Jungle Book at the currently scheduled 8p or 7.30p park close those dates, and will add a second show 90 minutes later (with park close extended an hour, kinda like Hollywood Studios does with some second Fantasmics) on nights of expected heavier Animal Kingdom attendance.
This would put the first/only Jungle Book start right before nautical twilight, the second show, if scheduled, in full dark.
The other schools of thought are (1) that Rivers of Light will replace the Jungle Book in mid-September, or that the Jungle Book show will end after Labor Day and Rivers of Light will open later in 2016.
There are also mixed opinions on how to sequence events.
Some prefer the Sunset Safaris in civil twilight for the combination of activity and visibility, and some prefer them in full dark (so long as you can also ride it in daylight or civil twilight) to see—if somewhat poorly—the very different full dark behaviors.
For the Jungle Book, some prefer the second show for lower crowds, more likely day-of FastPass+ availability and a clearer shot at a civil twilight ride on Kilimanjaro Safaris, and others prefer the first show because since it likely will be more crowded than the second show, the audience gains more energy from one another.


Follow yourfirstvisit.net on Facebook or Google+ or Twitter or Pinterest!!
RELATED STUFF