Review: Taking the Auto Train to Walt Disney World
By Dave Shute
TRAVELING TO DISNEY WORLD ON THE AUTO TRAIN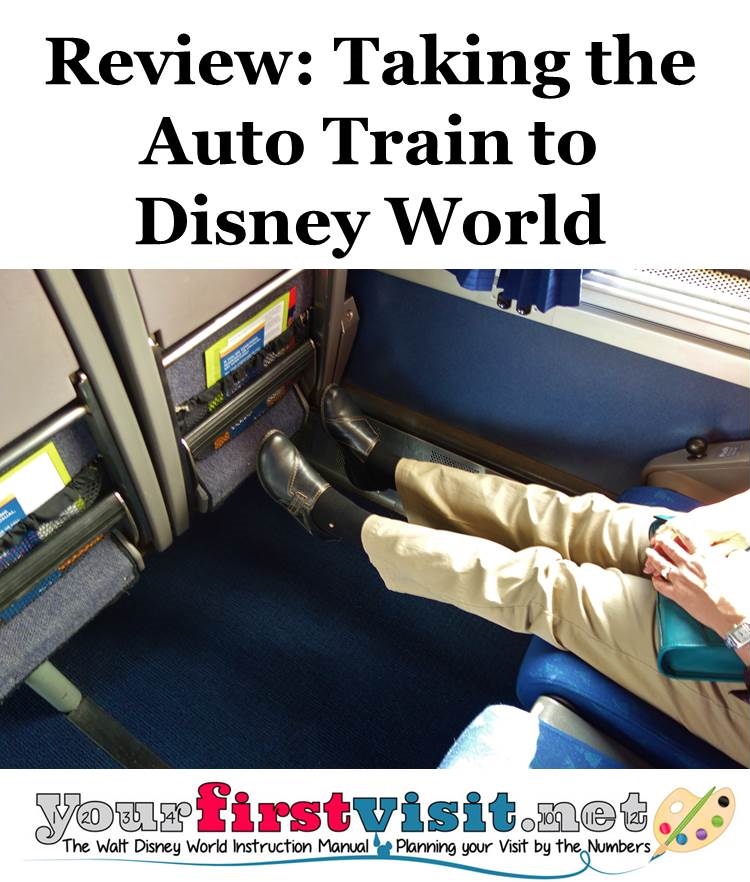 Amtrak's Auto Train is a passenger train that also takes vehicles between Lorton, Virginia, just south of Washington DC, and Sanford, Florida, about an hour east of Disney World.
It's an alternative to flying or driving the 800+ freeway miles between these two points for those who also wish to bring their own car.
(Amtrak's Silver Meteor and Silver Star are the rail alternatives for those who don't want to bring their own car. These two trains also have many more embarkation points–you can board and disembark the Auto Train only in Lorton and Sanford.)
When I was a kid and we lived near Lorton on the Quantico Marine Corps base, my family commonly took the Auto Train to Disney World, and after that traveled in our car down to Fort Lauderdale to visit my grandparents.
More recently, in late January and early February 2015, I took the Auto Train to Disney World with my dad and sister—both of whom live not far from Lorton.
My dad hates airports, and my sister hates airplanes. Each has driven to Disney World many times, but my dad has also taken the Auto Train a few times.
I don't really remember how we decided to take the Auto Train for this trip instead of driving, and we didn't even consider the Silver Meteor or Silver Star. My dad and I share a lifelong love of trains (real and model) and my sister likes them too. Maybe that was it.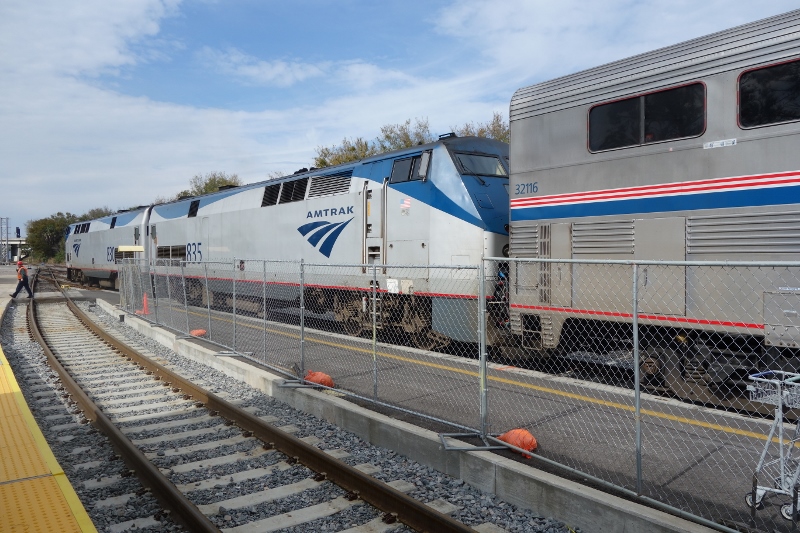 The basic operations of the Auto Train are as follows (all covered in more detail later in this review):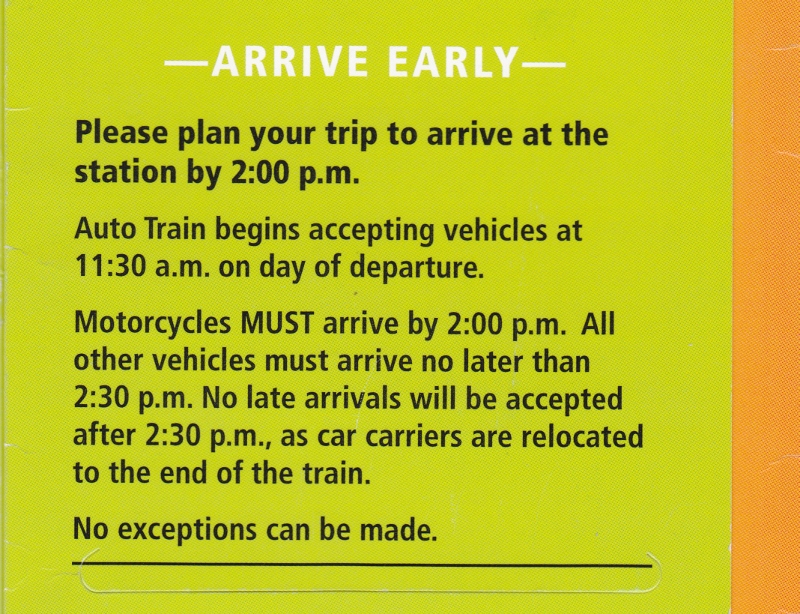 Arrive at the Lorton station sometime between 11.30a and 2.30p, preferably by 2p (You can find lingo on the web–even from Amtrak–that says 3p, but our material said arrive by 2p, no later than 2.30p–see the image)
Check in your car, grab your carry-ons (you'll have no further access to your car until it's unloaded in Sanford), check in and choose your dinner seating (the earlier arrivals will book up the more popular seating times on busy trips)
Board the train when called, likely beginning around 2.30p
After the train has been assembled, depart around 4p (we left early)
Dine during your assigned seating
Visit the lounge car if you wish for drinks or to catch a movie
Head back to your seat or your sleeping compartment to sleep.
Wake up and have a continental breakfast in the dining car
Arrive in Sanford around 9.30a (we arrived early)
Wait for your car—which can be up to two hours on busy days—someone has to be last…(you can buy, for $50, the right to be one of the first 20 cars off)
Head the three miles to Interstate 4, and drive west about an hour to Disney World
(The return trip has the same departure and arrival times)
If you arrive in Lorton around 1p, and get your car at 10.30a the next morning (which assumes the train is on time—and it is almost 85% of the time, remarkable for Amtrak–and that your car is in the first half of those off-loaded) you cover the eight hundred miles in 21.5 hours, and get to sleep while traveling—plus of course you've got your car at the end.
But it really isn't a time saver, and for most not a money saver.
Most can drive the 800 miles in 12 hours, and the remaining 9.5 hours is plenty for eating and sleeping on the road.
As I write this, the one-way charge for your vehicle is $239, or about 30 cents a mile.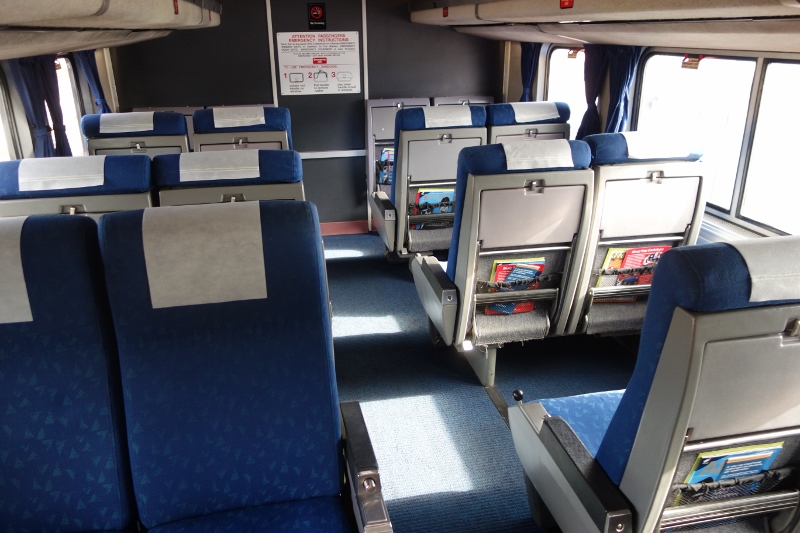 On top of that you've gotta pay for accommodations on the train as well.
Accommodations prices will vary by party size, time of the year, which ticket type you select, and which accommodations you book, but a family of four with two kids (2 -12, as Amtrak defines kids) will likely pay at least $300 more (one way) for coach accommodations, more during the more popular times of the year.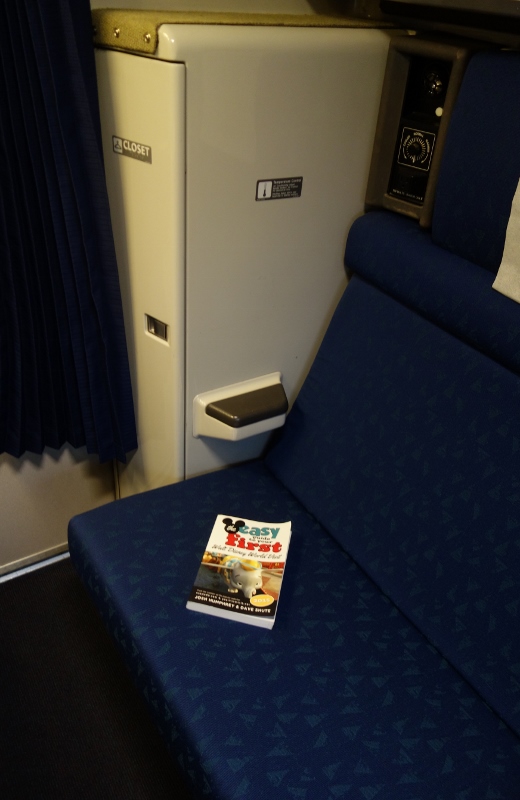 Coach is not bad, but a sleeper is the way to go if you can possibly afford it. (The image shows part of a sleeping car "Bedroom.")
The least expensive sleeper options for this same family–two "Roomettes"–will likely cost at least another $300 (again one way).
So you are at around at least a grand for a coach round trip, $1600 for a round trip with a couple of roomettes. And on busier dates the rates can be much higher.
What the Auto Train really is is an annoyance-avoider coupled with car transport. If you don't want to fly or to drive the 800+ miles of I-95 and I-4 that the route avoids, you want your car, and you don't mind paying a little more–perhaps a lot more–then it's a great choice.
You need to test book a trip on Amtrak's site (to get rates and availability) and compare the costs to your next best alternative those same dates to fully get the cost implications of the Auto Train.
VEHICLES ACCEPTED ON THE AUTO TRAIN
First, you can't travel without a vehicle. My sister decided to go after my dad had already booked the two of us a roomette and vehicle, and she needed to piggyback on our reservation's vehicle to get on.
Those without vehicles but who want to take the train should check out Amtrak's Silver Star and Silver Meteor.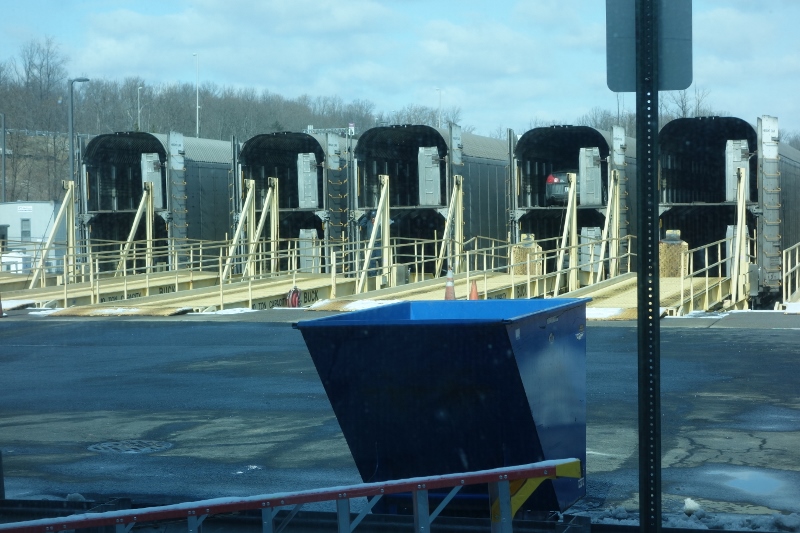 Vehicles travel in enclosed auto racks, so need to fit.
Standard vehicles that fit Amtrak's dimensions (and that don't have dual rear wheels or gull wing doors, both verboten) and motorcycles (motorcycles have to arrive by 2p, as they get special packaging) are straightforward.
Here's the maximum dimensions for four wheel vehicles:
Maximum height: 88 inches
Maximum width: 84 inches
Ground clearance: at least 4 inches
Note that Amtrak doesn't specify maximum length in inches here. Rather, for length it says "Standard factory-model (originally manufactured length) automobiles, vans, SUVs and trucks."
That doesn't mean you can't transport your 30-foot stretch Yugo, or even a car and a trailer. Rather, you'll have to measure it, call 1-877-SKIP-I-95, and figure out together whether it fits, and if so, whether or not you'll need to buy two vehicle spots.
Rear bike racks (and bikes) are fine though you'll need to sign a waiver. The only roof racks allowed are those installed by the factory, and they have to be empty—even if with your roof bags you are still under the 88 inch max height.
More is here.
AUTO TRAIN ACCOMMODATIONS: COACH
The basic distinction is between coach and the sleeping cars, with then options among the sleeping car accommodations.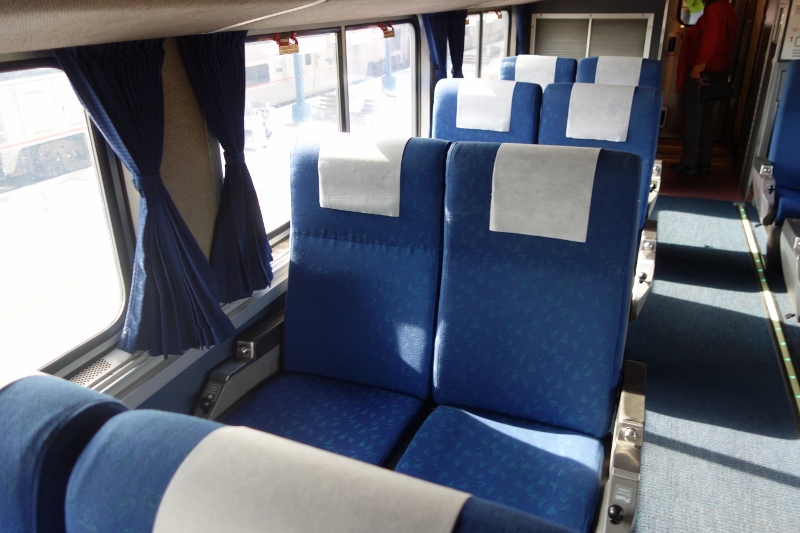 There's three levels of coach pricing, with varying refundabilty terms. The lower-priced options are not always available.
Prices vary with demand, and, because of snowbirds, may be higher during periods when Disney World itself has lower prices than you might think. Do a test booking to see prices and the refund terms. Kids 2-12 travel for about the half the price of parents, and there may be special pricing available for seniors, active duty military, students, AAA members, space aliens, and such.
If I were more talented I'd write a script that pulls from Amtrak's website coach price by passenger type, ticket type, discount type, and date and show that in a big graph.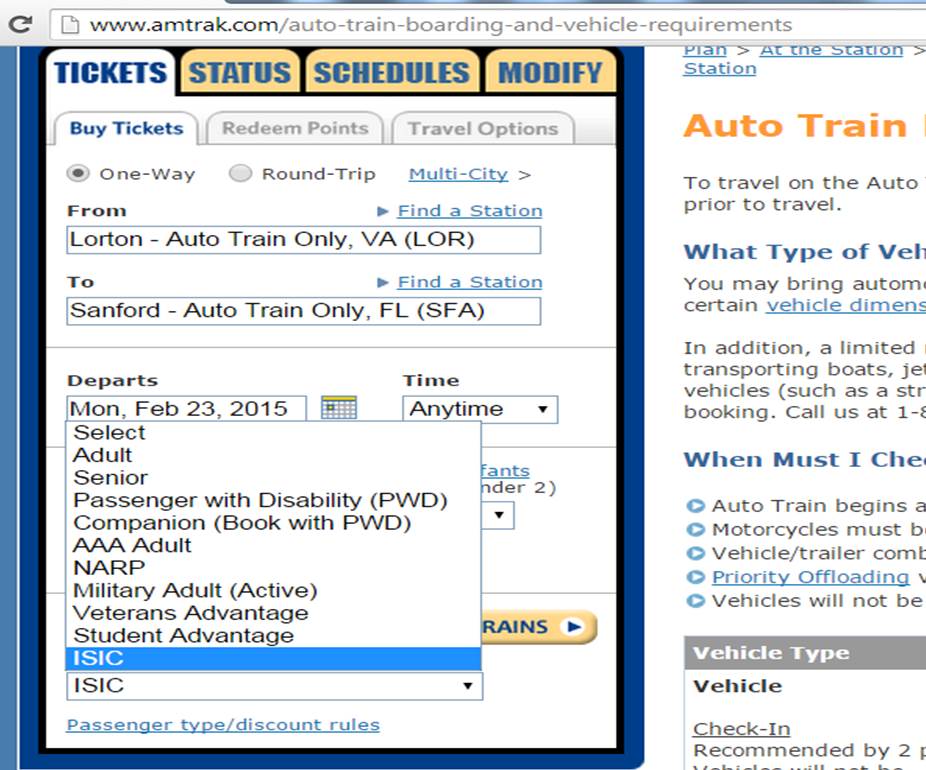 Instead all I have to offer is to suggest you try some test bookings, particularly checking deals you might be eligible for (via the drop down box) and varying your dates a bit.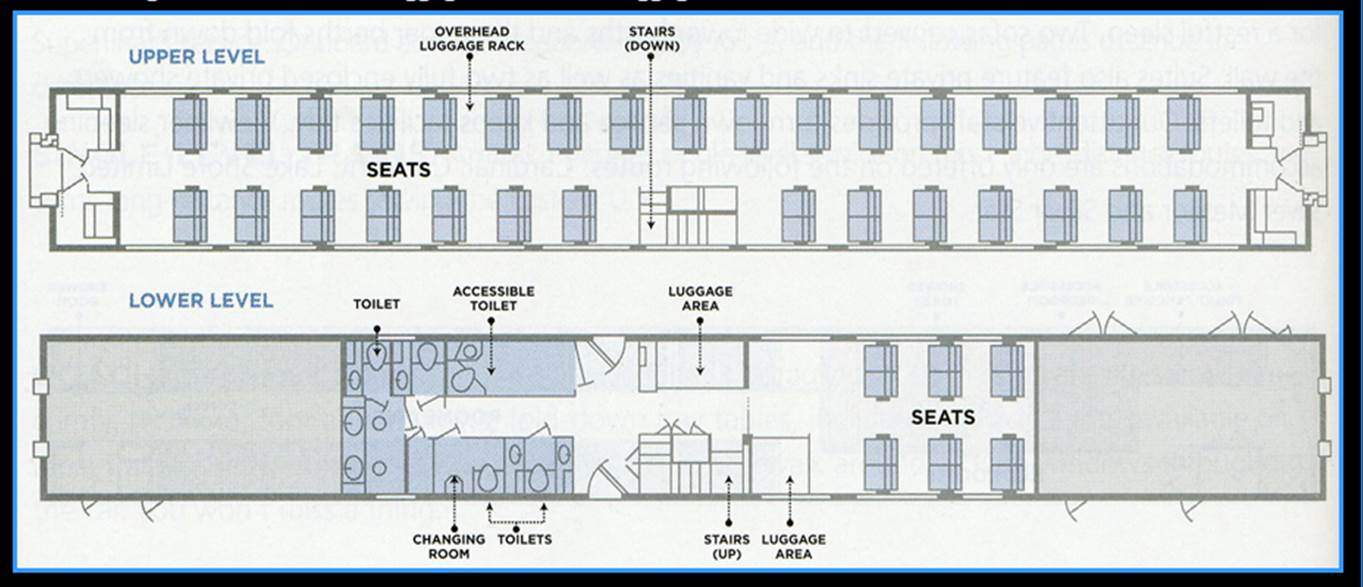 All the passenger cars on the Auto Train have two levels. You can request upper or lower level coach seats.
The upper levels (at the top of the floor plan) have much better views, more sway, and more people noise, as the corridor between the upper level seats is also the main corridor for traveling back and forth to the restrooms, the dining car and the lounge.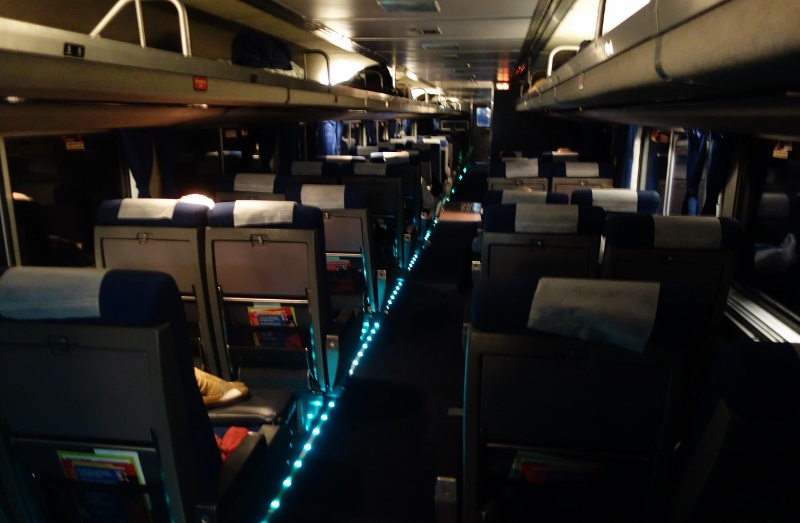 As the doors to other cars open and close, there's rattle and hum, and also some noise from clumsy bloggers taking photos.
The lower level fits many fewer people and doesn't connect to other cars, so passengers here have less people noise and less sway, but more track noise and not as good views.
The seats are not at all comparable to what you'd get in coach on a jet.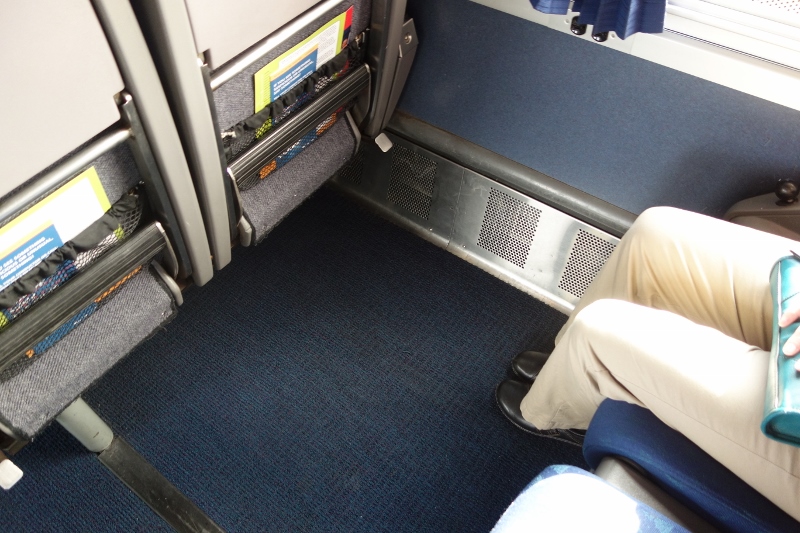 Rather, they are huge, and with enormous legroom. That's my sister seated normally…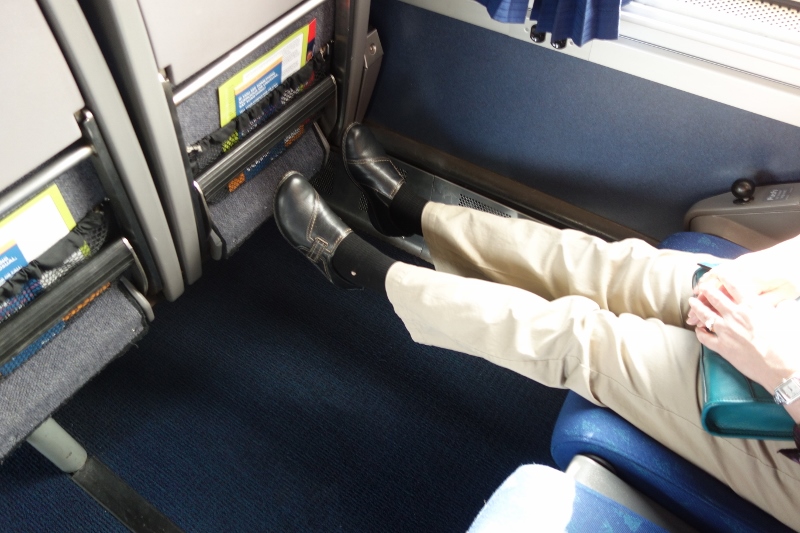 …and with her legs extended.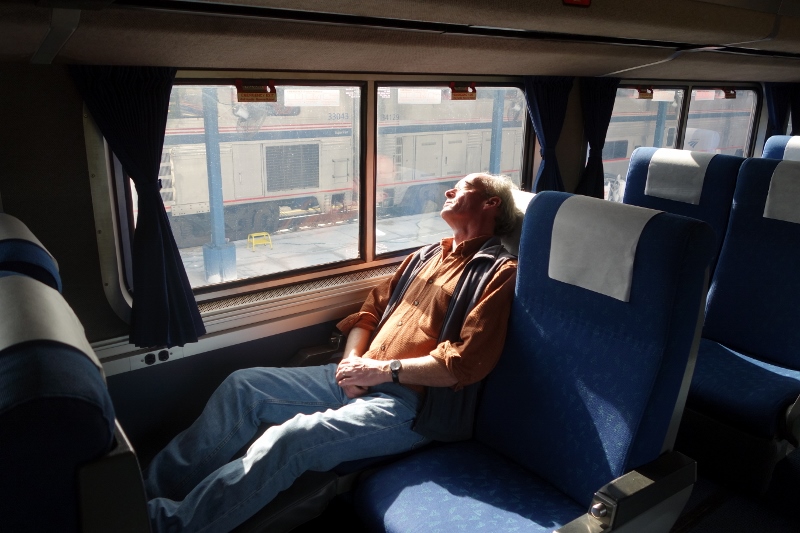 A thingy comes up from underneath to support your legs, and you get much more reclining room without bugging the folk behind you than in coach on a jet. That's me in full recline posing as a dozing coach passenger.
Luggage racks are above both rows of seats.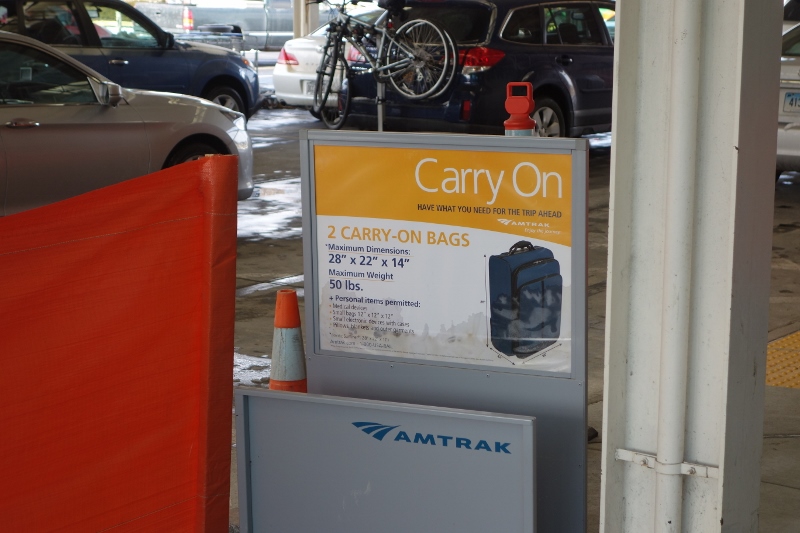 Amtrak restricts you to a couple of carry-ons–see the sign–but the only luggage you need is much less—only what you wish to have available for the time away from your car. For example
Change of unmentionables and PJs
Clothes suited to the destination weather—on the trip down, layering is simplest
Grooming and makeup gear
Blankets and pillows
Motion sickness meds, just in case (rare but it happens…)
Ear plugs or noise-masking headphones
Books, magazines, electronic toys (Kindle, iPads, etc.) and chargers
At least one copy of The easy Guide to Your Walt Disney World Visit
A power strip (there's just one outlet per pair of coach seats)
Snacks
A wifi hotspot (more on this later)
Any valuables you don't want to leave in the car
A flask of cheap bourbon to drink in the Carolinas if you have trouble sleeping
Note that the five coach baths in each car are all downstairs. Two are tiny (airplane sized) but three are larger—perfect for changing clothes.
Because of the chair size, legroom, and reclining room, sleeping—if you have something to cut noise—is much more comfortable than on say a red-eye.
It is not nearly as comfortable as having your own space and a flat bed, which is why you should consider sleepers.
AUTO TRAIN ACCOMMODATIONS: SLEEPERS
Sleeping cars (sleepers) provide private compartments, flat beds, pillows and blankets, and in some spaces private baths.
Sleeping car attendants set up and take down the beds and otherwise help out, but most of the additional amenities that used to be offered to Auto Train sleeping car passengers (a different dinner menu than that in coach, a separate lounge, free wine at dinner, complimentary wine and cheese tasting, etc.) are gone.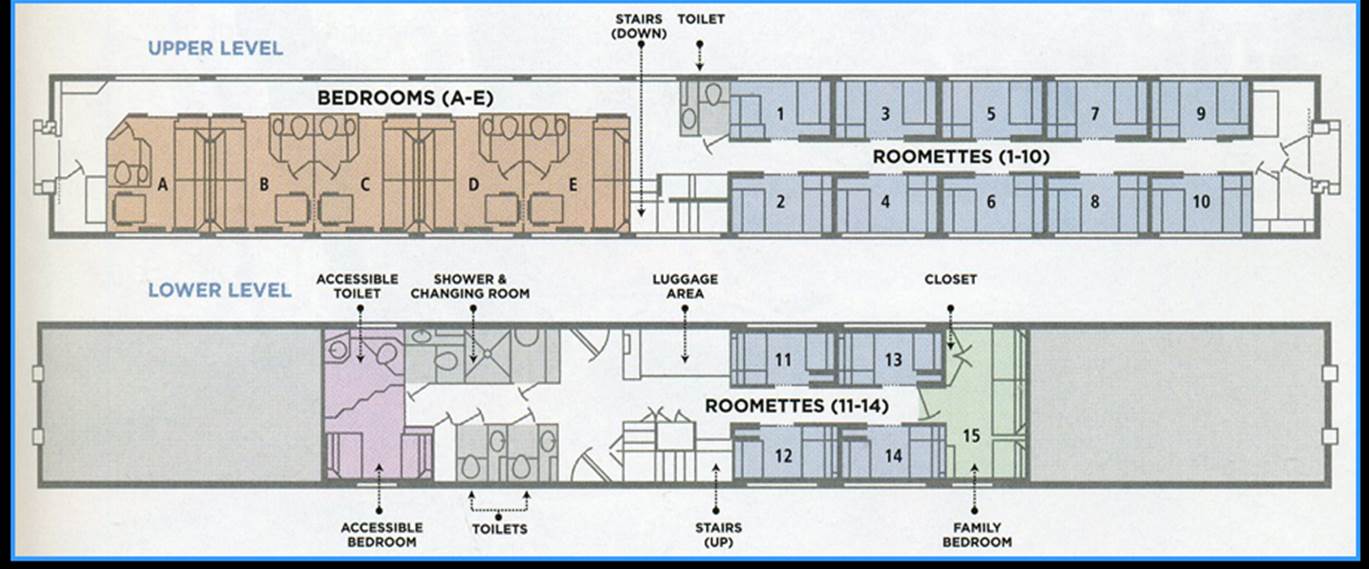 The typical sleeper has
Fourteen "Roomettes" (ten on the upper level, four on the lower level, light blue in the floor plan) that hold and sleep two. The lower bunk is 2' 4" by 6' 6" and the upper is 2' by 6' 2".
Five "Bedrooms" on the upper level (orange; some cars have ten bedrooms on the upper level, with five replacing the upper level roomettes) that seat four but are only bookable for the two they sleep. The lower bunk is 3' 4" by 6' 3"; the upper is 2' 4" by 6' 2". (Some Amtrak material not specific to the Auto Train suggests that you can book two connecting bedrooms for 6 as a "Bedroom Suite"—intending I guess to put four smaller children in the two wider lower bunks and two adults in the upper bunks, but that's a tight fit. None of my Auto Train test bookings for 6 offered this as an option—I got instead a family bedroom and a roomette.)
One "Accessible Bedroom" on the lower level that seats and sleeps two (pink), one with a mobility issue and a companion who can climb into an upper bunk. The lower bunk is 2' 4" by 6' 6" and the upper is 2' by 6' 2". This bedroom is optimized for wheelchair use, and has an accessible bath in it.
One "Family Bedroom" on the lower level that seats four to five and sleeps four–two adults and two much shorter folk (green). The lower larger bunk is 3' 4" by 6' 3"; the upper larger bunk is 2' 4" by 6' 2". The lower smaller bunk is 2' 3" by 4' 9"; the upper smaller bunk is 2' by 4' 7". Note that Amtrak will book this room for a family of five–see this!
All bedrooms except the lower level family bedroom also have a bath and shower—no roomettes have either.
Prices vary, so as with coach you'll need to try some test bookings. If more than one space fits your party, you can click the little orange arrows–circled in red above–to see other room types and their prices.
There's also a fairly cool room-viewer here.
We stayed in both of the most common room types (roomettes and bedrooms) on our trip, so here's the scoop on them.
Roomettes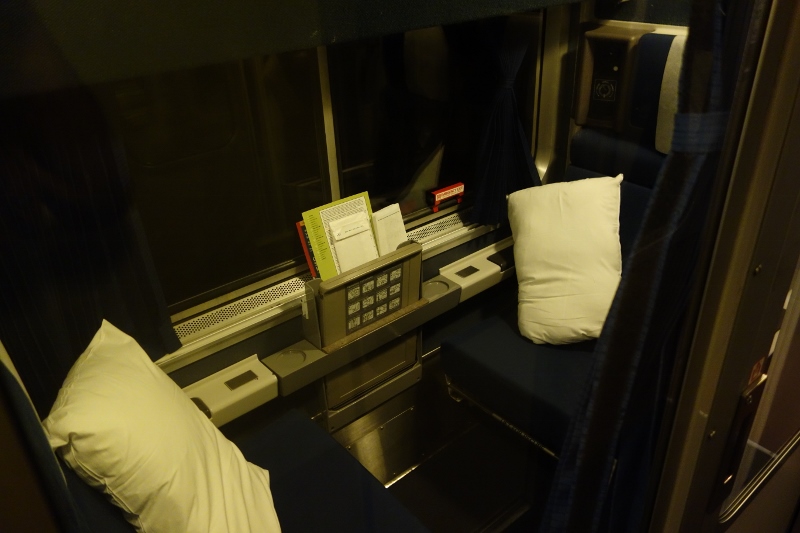 Roomettes (light blue on the floor plan) offer two large facing seats with a pull-out table between.
Between the seat and corridor wall on one side is a narrow but long and deep area for stuff—a small soft sided bag or two is shove-able here (you can also stick your bags under the seats, but they will be inaccessible when the beds are down).
The other seat has between it and the corridor wall what appear to be oddly sized shelves but are fact are steps to the upper berth.
There's plenty of reading lights—for both seats, and also for the upper berth—and coat hooks too. You are isolated from the hallway by walls and a sliding solid door, and have in addition curtains for privacy or darkness or both. There's one power outlet behind one of the seats.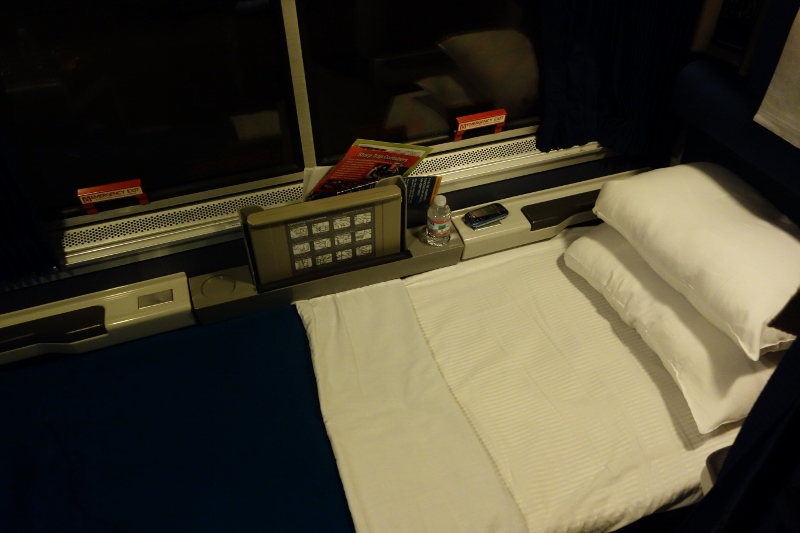 The seats convert into a lower bunk…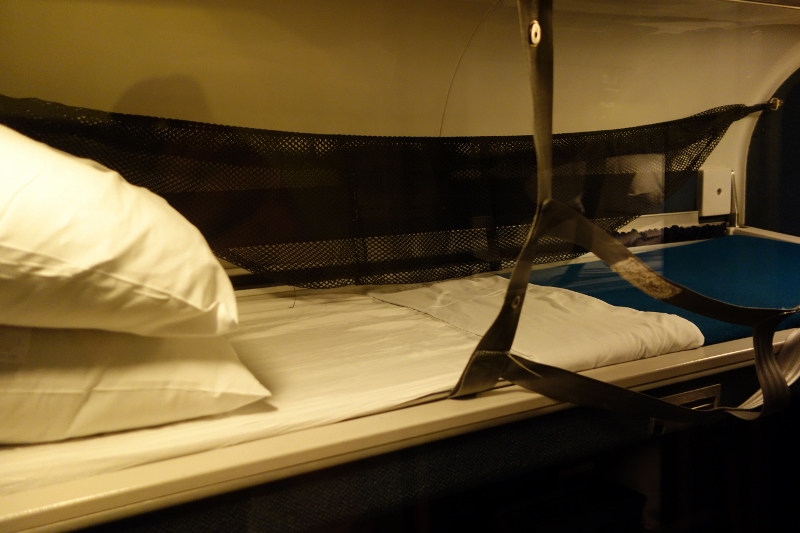 …and an upper bunk folds down from the wall. There's no window for the upper bunk, and with the small overall space and curve of the roof I found it claustrophobic until I decided to play I was a vampire in my coffin.
These roomettes, at 3'6" by 6' 6", are really, really small. That's less than 23 square feet. I've been in showers bigger than this—e.g. in the master bath at the Villas at the Grand Floridian.
Two people in the chairs need to take care of where they put their feet—when one changes feetsie position, the other needs to as well.
And when the beds are down the room becomes essentially unusable for anything but stretching out in the beds, or standing still in front of them.
The clear space in front of the beds—that you would use, for example, while dressing to go to the bath or to the dining car for breakfast—is on the order of 14 inches by 24 inches…
My dad and I in fact were so cramped that we booked a bedroom for the trip back. My sister, who was alone in her roomette, liked hers quite a bit. If I were traveling solo in a roomette, I'd probably have just the upper bunk made up come nighty-night time, so that I retained the option of sitting in the chairs if I woke up before I wished to, or had trouble falling alseep.
Bedrooms
Bedrooms are still cramped with the beds down, but not nearly so much as the roomettes. Bedrooms are 6' 6" by 7' 6"—at about 49 square feet a little more than twice as large as roomettes, although the bath takes up about half of the extra space.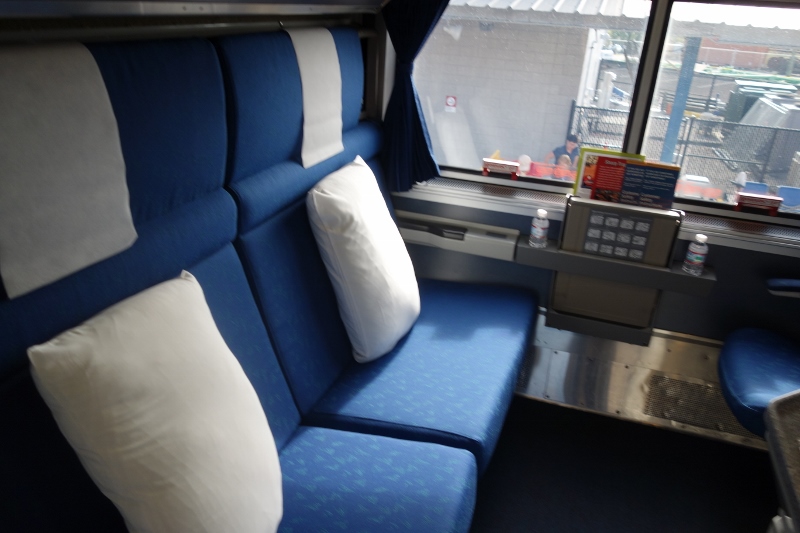 One side of the bedroom has a long couch that seats three and converts into a 3' 4" by 6' 3" berth—a foot wider than the lower berth in a roomette. When unfurled, this bed makes getting in and out of the room hard. It's only a couple of inches wider than a twin, and honestly I would rather have seen a narrower bed and better access in and out of the room.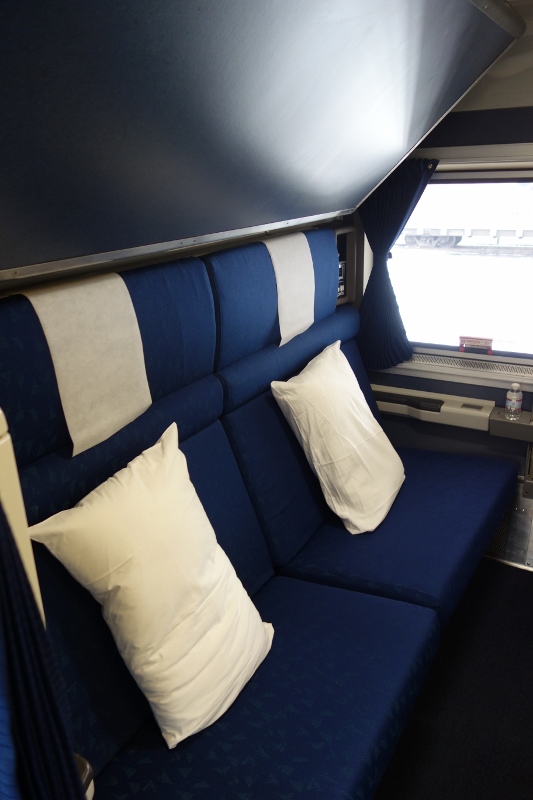 Above it is a bunk that folds down. At 2' 4" by 6' 2", it's 4 inches wider than the roomette upper berth. Because it, like the lower berth, is transverse, it both shares the window and does not have a curve restricting space above the mattress, so is not quite so claustrophobic as the upper birth in a roomette.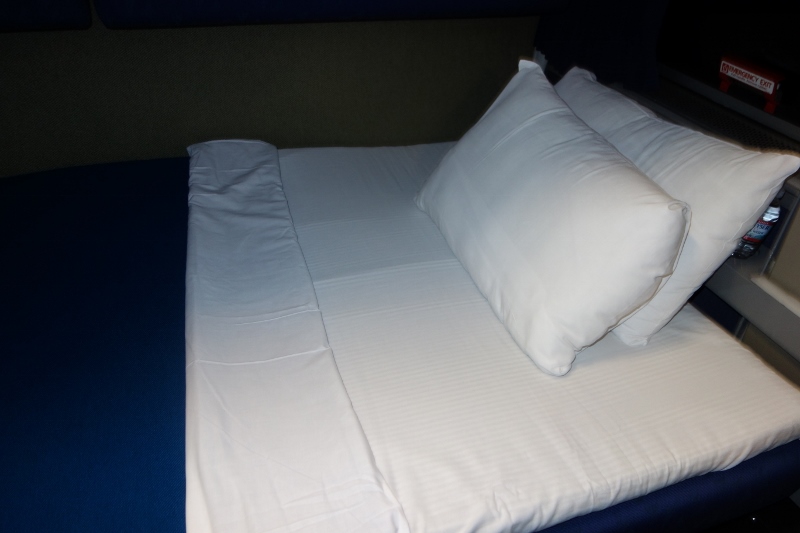 Here's the lower berth…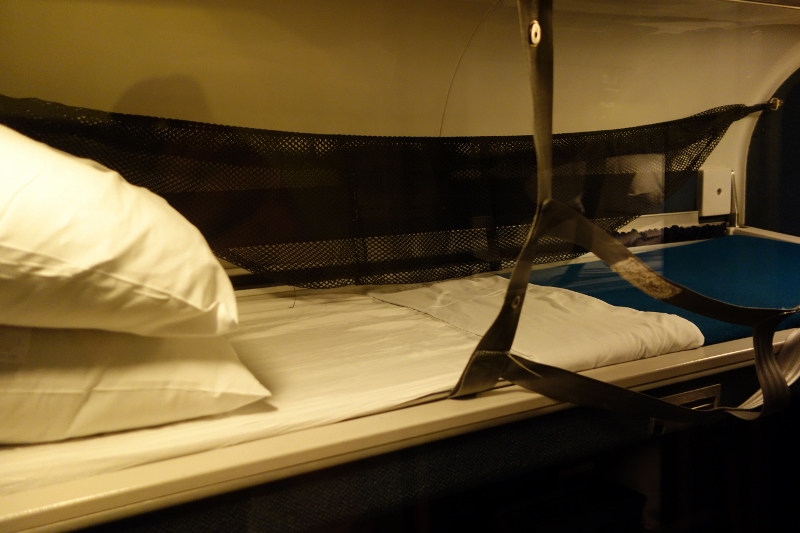 …and the upper berth.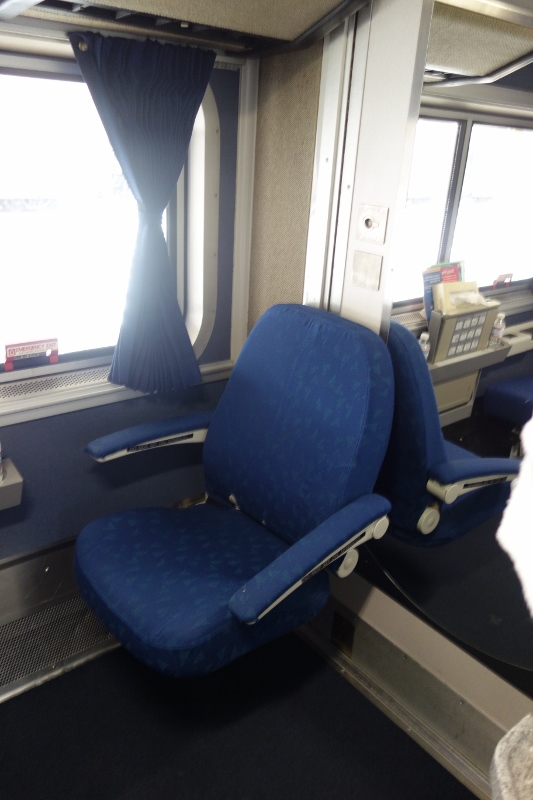 Across the couch at the window is this single chair. There's a pull-out table between this chair and the seat at the window end of the couch. The connecting door, if present, is behind this chair, and the chair folds up to improve access between connecting rooms.
The chair remains present when the beds are made, so one can sit while the other sleeps.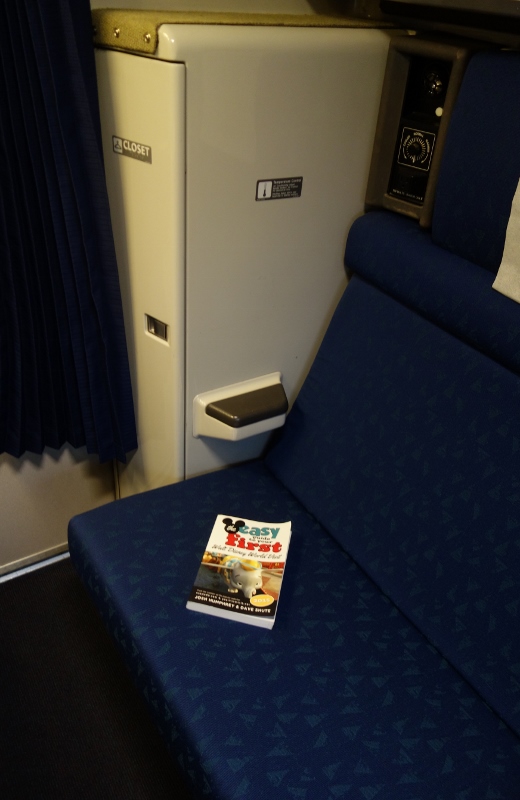 There's a full set of reading lights, one power point, and, between the couch and the corridor door, a closet.
As in the roomettes, a sliding door closes off the space and there's also privacy curtains.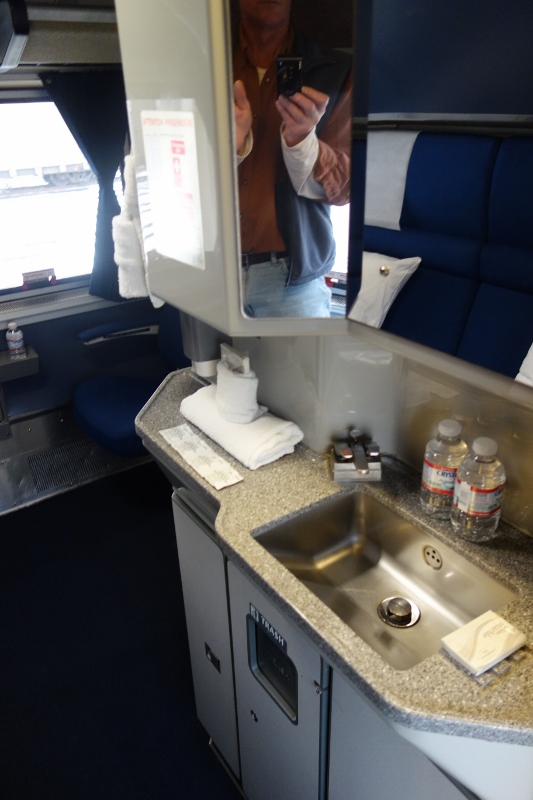 At the entry across from the couch is a sink.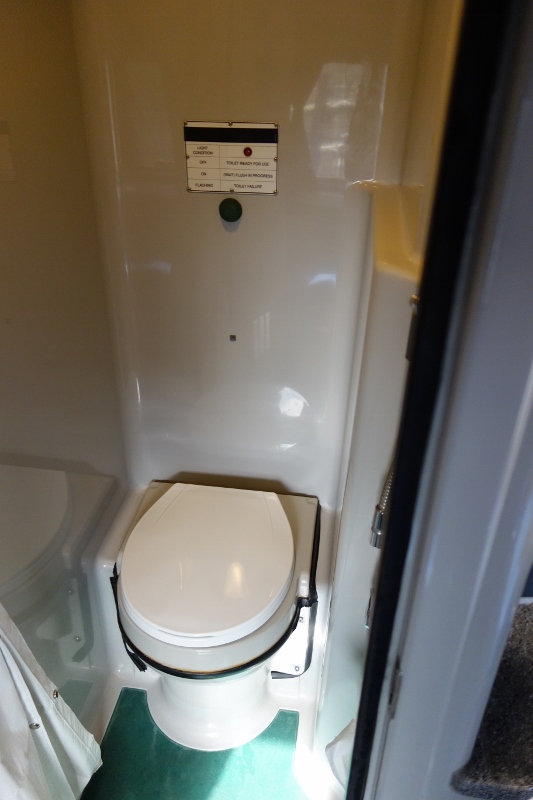 Behind the sink is a small private toilet and shower. We didn't use the shower. On other uses of this space I am silent.
A family of four could book either two roomettes or a roomette and a bedroom. The roomette and bedroom could be much more expensive (yes, you have to test your dates to see exactly how much) but because the bedroom seats four the family will have many more ways to group themselves.
(The family bedroom downstairs (green) has no bath or sink, and sleeps four only if two can fit into beds 4' 9" and 4' 7" long—but it is still likely better for most four person families with short kids than two roomettes. Its 49 square feet is all devoted to the seats and the feets, so it seems likely to be less cramped when the beds are set than a regular bedroom.)
Sleeping Car Baths
Six of the 21 sleeping rooms in a standard sleeper have their own baths—the five upstairs bedrooms, and the downstairs accessible bedroom. Those in one of the 14 roomettes or the downstairs family bedroom need to use another bath.
I can see from various comments online that many of the upstairs roomette guests miss that there's baths downstairs too. There's one small upstairs bath, but downstairs there's three more plus a separate shower/changing room. Two of the three downstairs baths are the same small size as upstairs, but the third is larger, and the shower/changing room, is, for a train, quite large.
Other Sleeping Car Amenities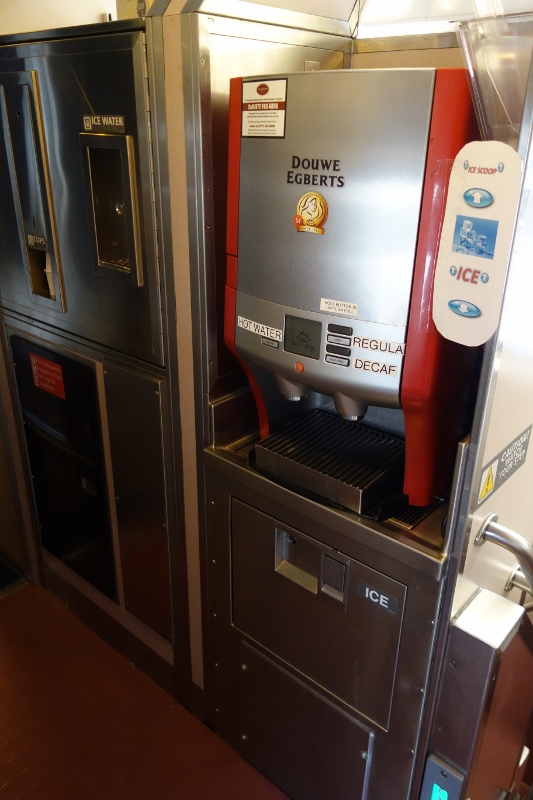 On the upper level near the stairwell there's a coffee service and nearby ice machine.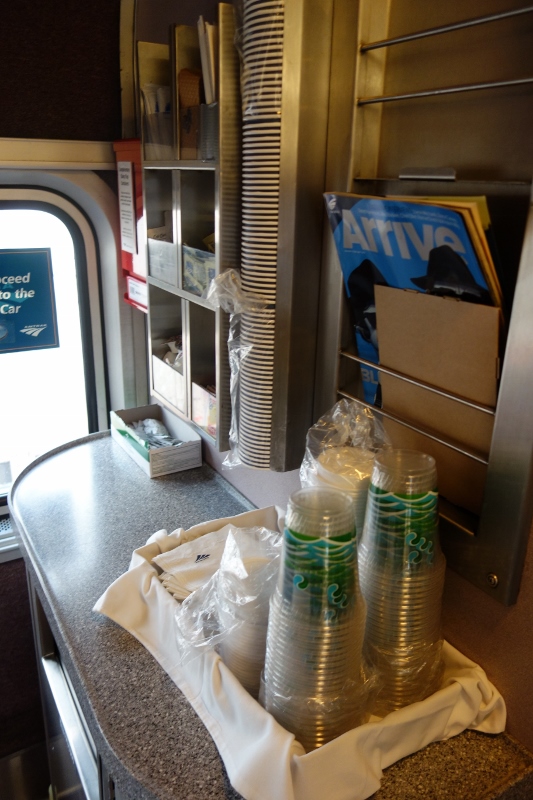 Near it are supplies, tea and hot chocolate for the hot water line in the coffee maker, and other stuff—magazines, napkins and such.
Your sleeping car attendant can also provide other services—including even getting your dinner and bringing it back to your room! Don't forget to tip your attendant…more on tipping later.
Stuff to Bring on an Auto Train Sleeping Car
Items to bring with you are similar to those you'd bring to coach, except you don't need a pillow or a blanket.
While these spaces are quieter than coach, they aren't silent, so it can't hurt to have some kind of noise-reducing gear.
The roomettes are particularly thin on storage space, so bring as a carry-on no more than you really need.
Change of unmentionables and PJs
Clothes suited to the destination weather—on the trip down, layering is simplest
Grooming and makeup gear
Motion sickness meds, just in case (rare but it happens…)
Ear plugs or noise-masking headphones
Books, magazines, electronic toys (Kindle, iPads, etc.) and chargers
Several copies of The easy Guide to Your First Walt Disney World Visit
A power strip (there's just one outlet in bedrooms and roomettes)
Snacks
A wifi hotspot (more on this later)
Any valuables you don't want to leave in the car
Fine wine to drink in Georgia if you have trouble sleeping
THE LORTON AUTO TRAIN STATION AND EMBARKING
This review continues here!!
Follow yourfirstvisit.net on Facebook or Google+ or Twitter or Pinterest!!
RELATED STUFF