Review: Taking the Auto Train to Walt Disney World, Continued
By Dave Shute
(For the first page of this Auto Train review, click here.)
THE LORTON AUTO TRAIN STATION AND EMBARKING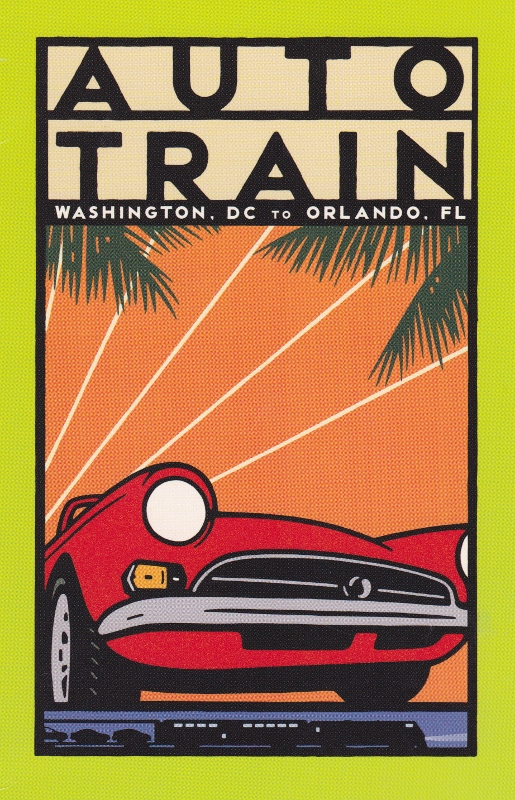 The Auto Train loads and unloads passengers only at two points—Lorton, Virginia and Sanford, Florida.
That doesn't mean it doesn't stop elsewhere—it stops in Florence, South Carolina for fuelling and a crew change, and will stop at other points on the rail network (mostly CSX, a few miles of Sun Rail) when directed by dispatcher signaling.
But no passengers join or depart except at Lorton and Sanford.
The Lorton station is just south of Washington DC on I-95. The entrance is just to the east of the freeway—I found it badly signed. Or it found me badly attentive.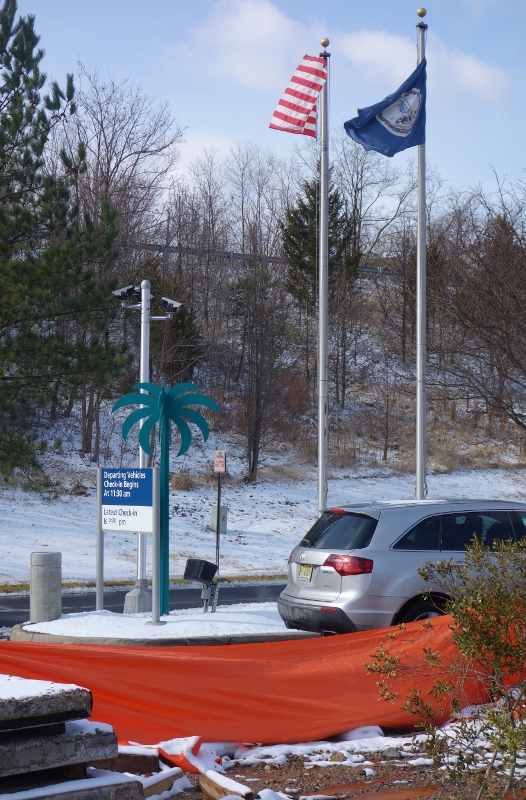 A fake palm tree greets you at the entry, where you check in and are directed to an unloading area.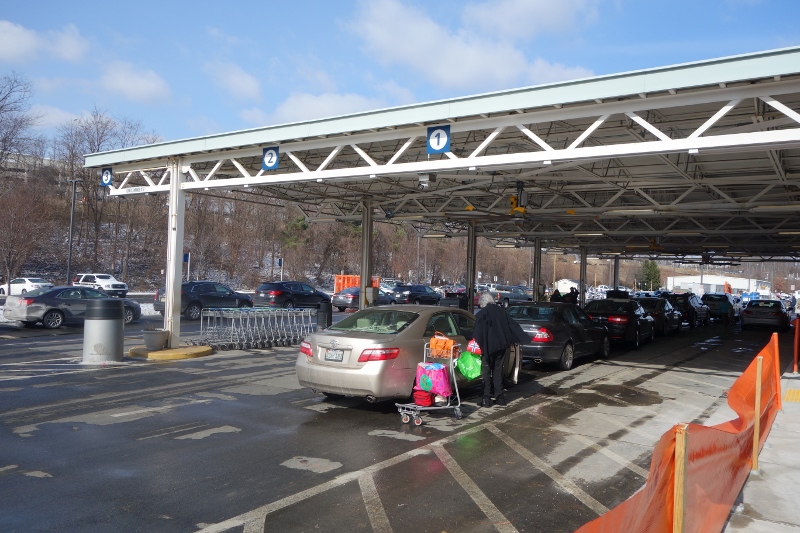 Here your car gets magnetic numbers attached (which will be announced over the PA in Sanford so that you know when your car is ready). Grab your carry-ons and head inside—you'll have no more access to your car until Sanford.
Inside you check in, get assigned a car and seats, and pick your dinner seating from among what's available. The number (2-4) and time of seatings will vary by how crowded the train is.
A check-in hint: note that the train whistles all night at almost every grade crossing from Virginia to Florida. The locomotive couples onto the coaches for the southern trip, and the sleepers for the northern trip. If the whistle may annoy you, limit noise by asking for a car away from the locomotives…although this will give you more corridor traffic.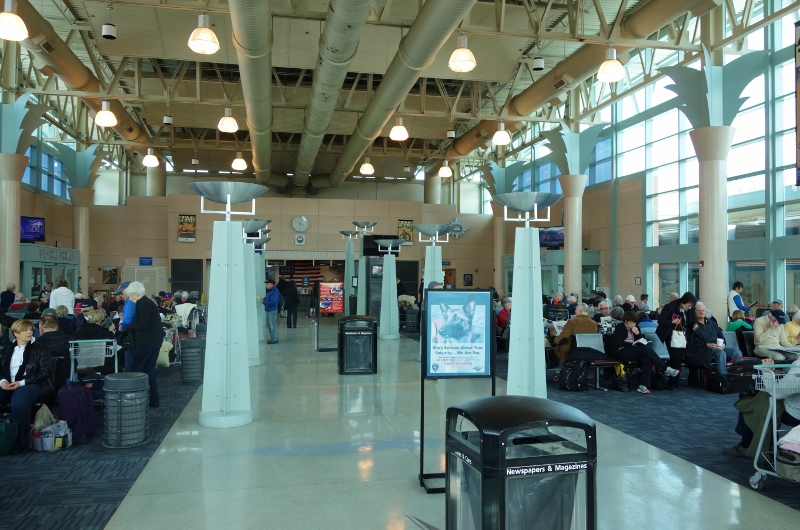 The Lorton station has a large waiting room, but not nearly enough seats for all the people the Auto Train will hold. (The train has capacity for more than 700 people and 300 cars.)
Getting a seat in the waiting room is a reason to arrive early. So is getting your pick of dining seatings.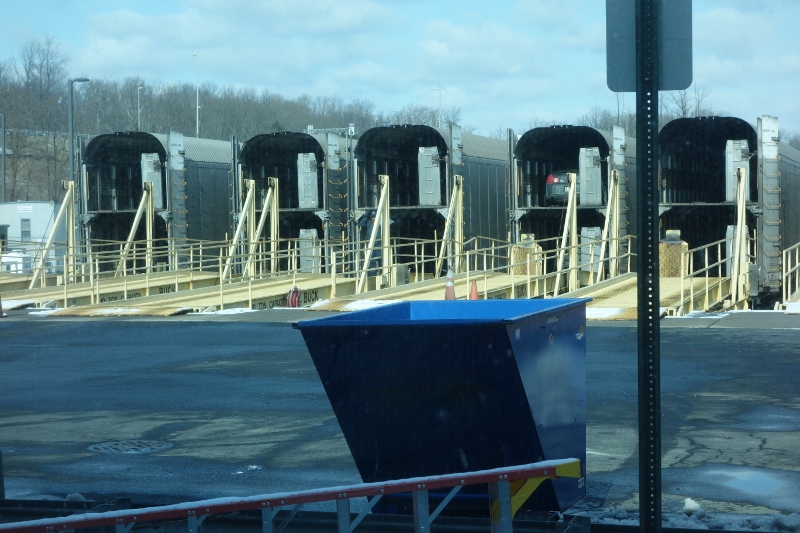 But it is not true—though often written—that the first cars to load in Virginia are the first off in Florida. Loading the auto racks is much more complex than that. The only way to assure your car is one of the first off is to pay an extra $50 which will put you in the first 20 to unload.
So unless your travel plans give you no better way to spend the time, my advice is to arrive later rather than earlier. Amtrak would like you to arrive by 2p, and you must arrive by 2.30p. I'd target between 1 and 1.30 to give you some slack for travel problems.
(When you book, you can also sign up for schedule alerts. Do that—while the Auto Train is on time about 85% of the time, the trainset that departs at 4p is the same one that arrived at 9.30a. So if there's a problem with the arriving train, you could be quite delayed.)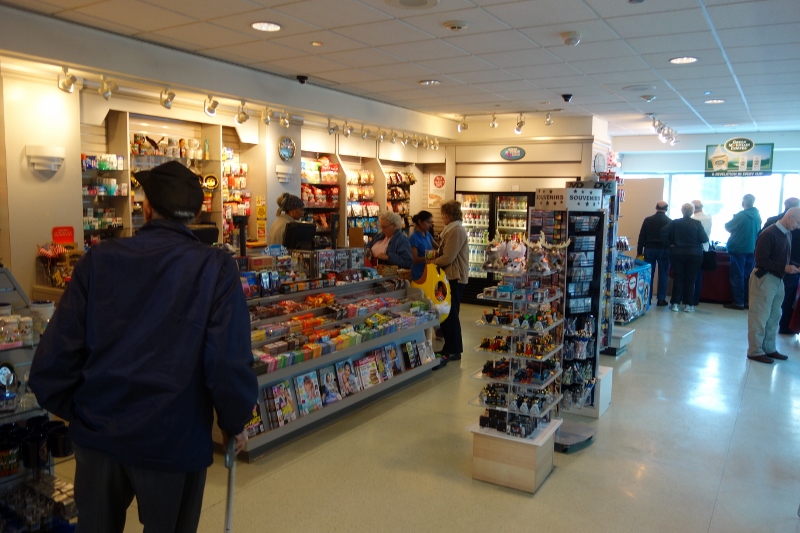 The Lorton station also has a good sized gift shop where you can get snacks…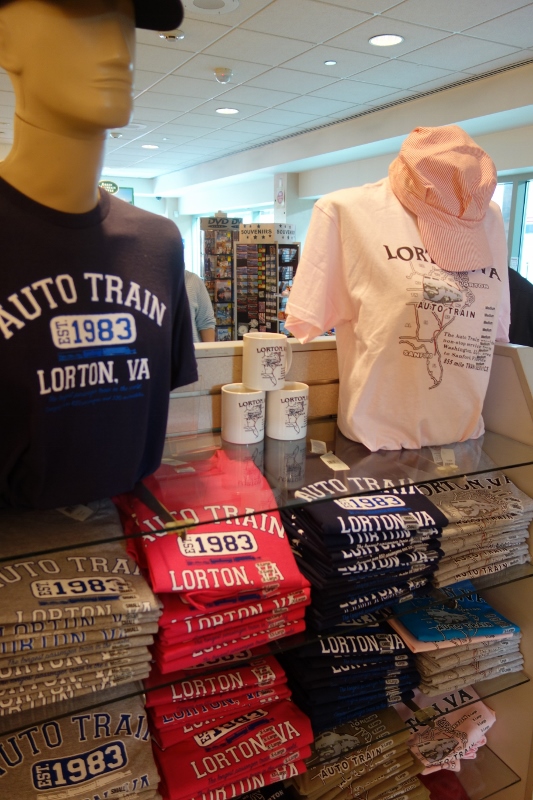 …and also souvenirs.
If all goes well you'll be called for boarding around 2.30p. You'll be called by car number, which will be on the paperwork you get when you check in. In passenger rail tradition, your car number is not what is painted on the car—that would be too simple. Rather, there will be a placard near the car with the car number.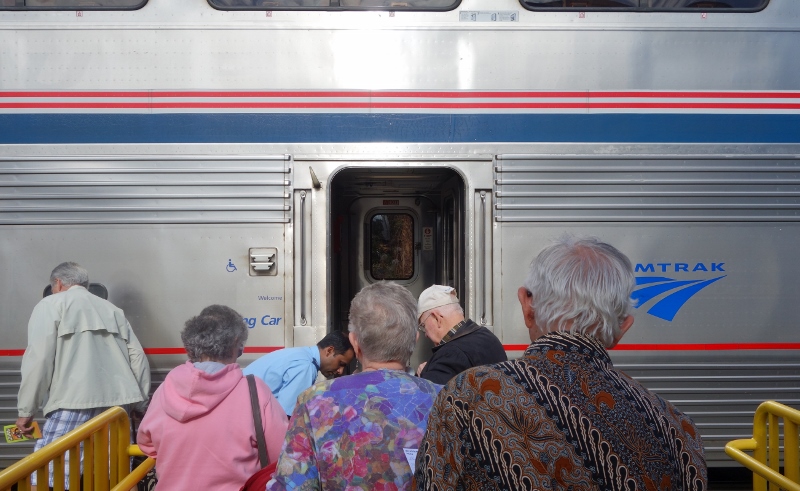 Sleeping car passengers board first, helped by the sleeping car attendants—one to a sleeper.
While consists vary, these days the Auto Train will typically have five to seven sleeping cars (one for the staff), with a diner in the middle for sleeping car passengers, four to six coaches with one or two diners for coach passengers in the middle of them, and a lounge car connecting the coach and sleeper groups, with armed guards keeping the coach riffraff away from the sleeping car passengers. (Not really hah.)
(Three constraints affect the consist. One is overall length, which CSX restricts to a total of 50 passenger cars and auto racks. This is thousands of feet shorter than many freight trains, so I'm guessing this limit is to make more (shorter) sidings available to the Auto Train for dispatcher flexibility. Second is the balance between auto rack and passenger capacity. Each bi-level auto rack can hold eight larger or ten smaller cars, while the passenger cars (averaging coach and sleepers) hold ~60 people each, so you need multiple racks for each filled passenger car. Third is the ability of the typically two GE P42 locomotives to handle the head-end power needs of the passenger cars (lights, heating and cooling, electricity, etc.) which is limited to 16-18 passenger cars. So a max consist will have on the order of 17 passenger cars, 33 auto racks, and two locomotives.)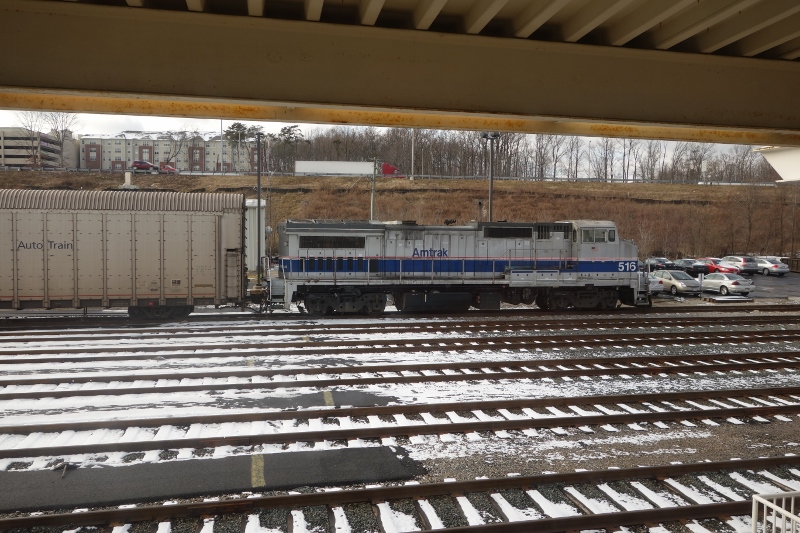 After boarding, the train is assembled, brakes checked, and it departs. Both of our departures were early. Because everyone has to check in by 90 minutes before departure time, there's no issue with waiting for last minute arrivals. If the train is ready, and the dispatcher has a place for it on the tracks, off you'll go!
Opinions on the views from the Auto Train vary. To start with, winter trips will have little daylight anyway. And trains kinda go through everywhere but the nicest parts of town.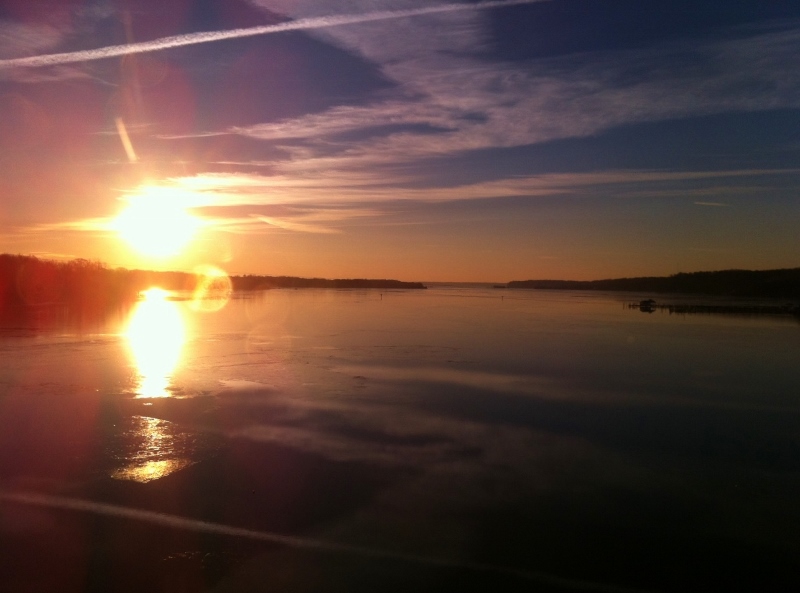 (Though see the sunrise over Aquia Creek from my phone on the trip back from Florida.)
I love the views because I find everything fascinating—farms to decayed industries to small towns to military bases to railroad facilities. It is authentic—there's nothing Disneyfied about the Auto Train routing. But some do find the views uninteresting…
DINING ON THE AUTO TRAIN, THE LOUNGE, WI-FI AND SUCH
Two meals come with your ticket, dinner and a continental breakfast, both served in the dining cars. (Note that the schedule is such that you'll want to plan something for lunch on your departure day. We brought sandwiches that my sister made (and a lot of snacks) that we mostly ate in the waiting room. The gift shop sells sandwiches and such as well.)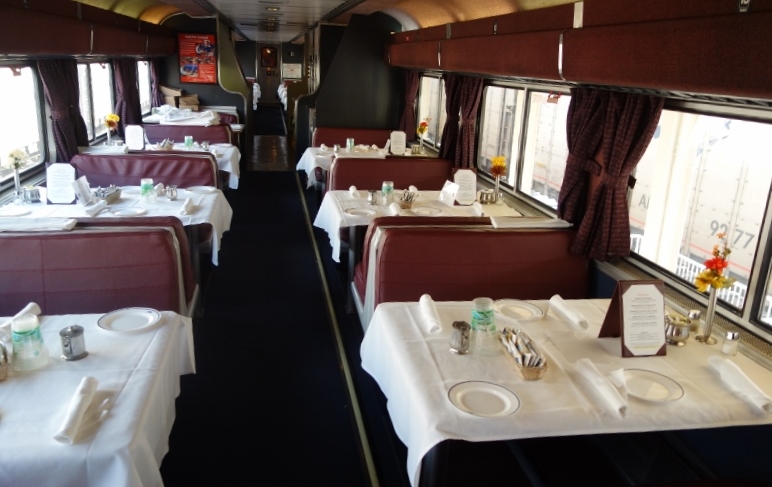 Dining cars are two levels, with the kitchen on the lower level and tables on the upper level.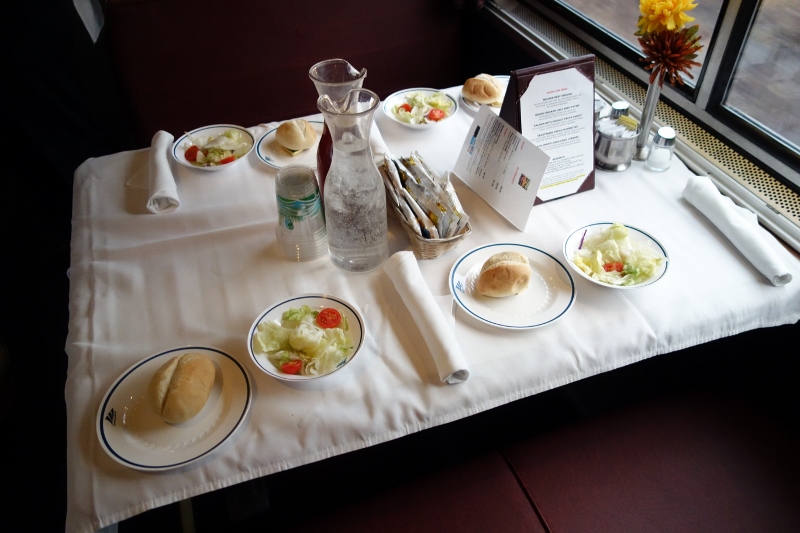 Tables seat four, and if your party is smaller you may be seated with strangers—fun for extroverts, a pain for introverts.
Sleeping car attendants will get meals for their passengers on request, a boon to those with walking impediments. Don't forget to tip them… It's also appropriate to tip the bartenders in the lounge, and the people who take care of you in the dining car.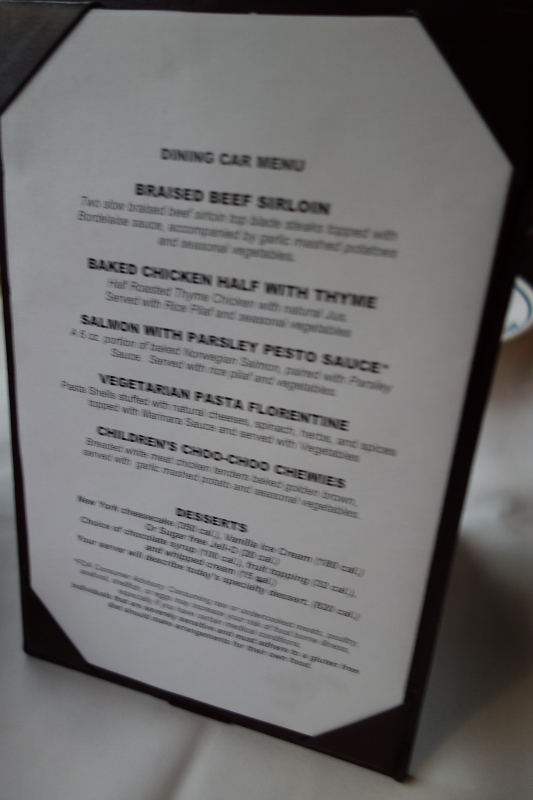 The menu is now the same in both the sleeper and the coach diners, and all customers now pay for alcohol. (Sorry about the image quality…I'll get a clearer shot on my April coach trip…) Seatings are announced over the train's PA system. The announcements can be hard to hear in the sleeping compartments.
We had among us the beef and the salmon, and thought both OK under the circumstances. Not remotely fine dining, not as good as what you'll get in airline first class, much better than anything offered in domestic airline coach.
Continental breakfast is served as a cold buffet, and eaten at the tables (my sister snuck bananas back to her roomette). It begins at 6a, but is not announced until 7a.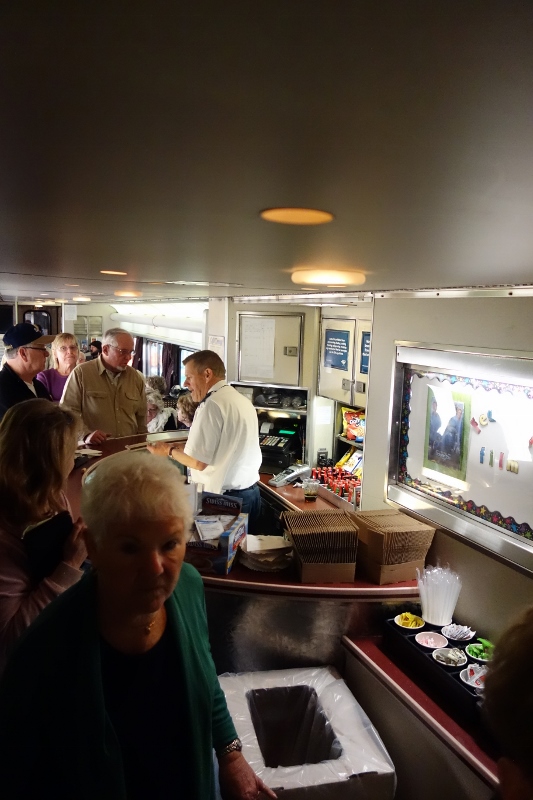 Between the coach section and the sleeper section you'll find a lounge car (the dedicated sleeper lounge has been discontinued). Here you can get drinks and snacks, and movies are also shown in the evening.
There's two WIFI access points in the lounge car as well, each of which can take ten devices. In other words…if WIFI is important to your trip, bring your own hotspot.
THE SANFORD AUTO TRAIN STATION AND DISEMBARKING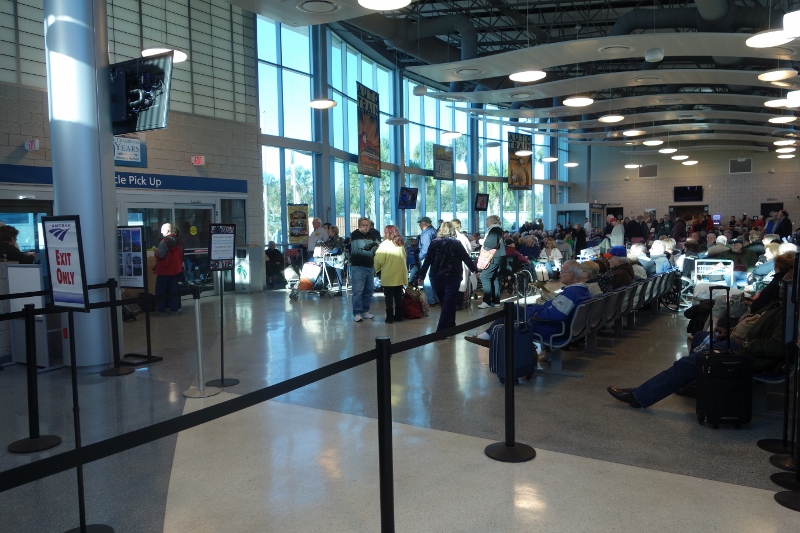 The Sanford Station is similar to the Lorton station…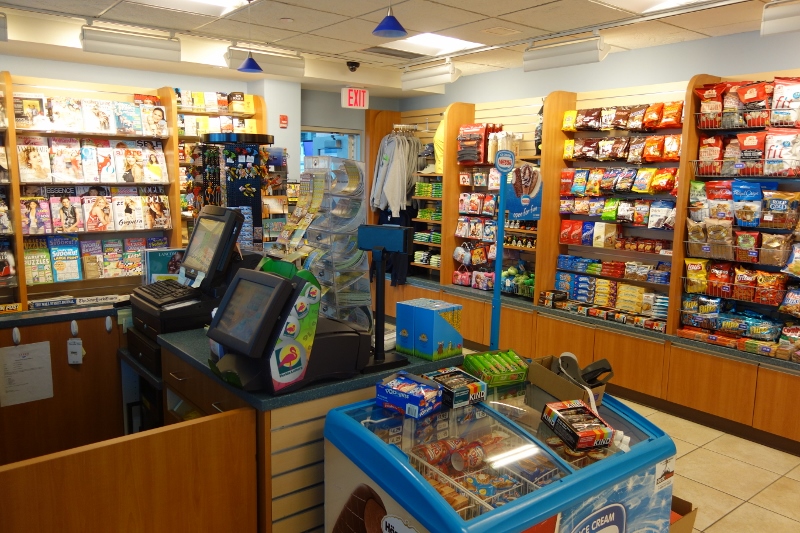 …except the gift shop is smaller…
…and because of shorter platforms, there's a little more complexity to passenger loading and unloading—not all the passenger cars can be on the platform at once.
The train will arrive before you do–it takes a while for everything to be safely switched. Then you grab your gear, get off the train, and wait for your vehicle number to be called. It's kinda like bingo from hell, as it can take a couple of hours with a full train, and somebody has to be last.
Specifically, on our trip down, ours was the very last car to be unloaded!! After a while the wait became a little comic. We might have been annoyed to have been second-to-last, but last—now, there's a distinction!!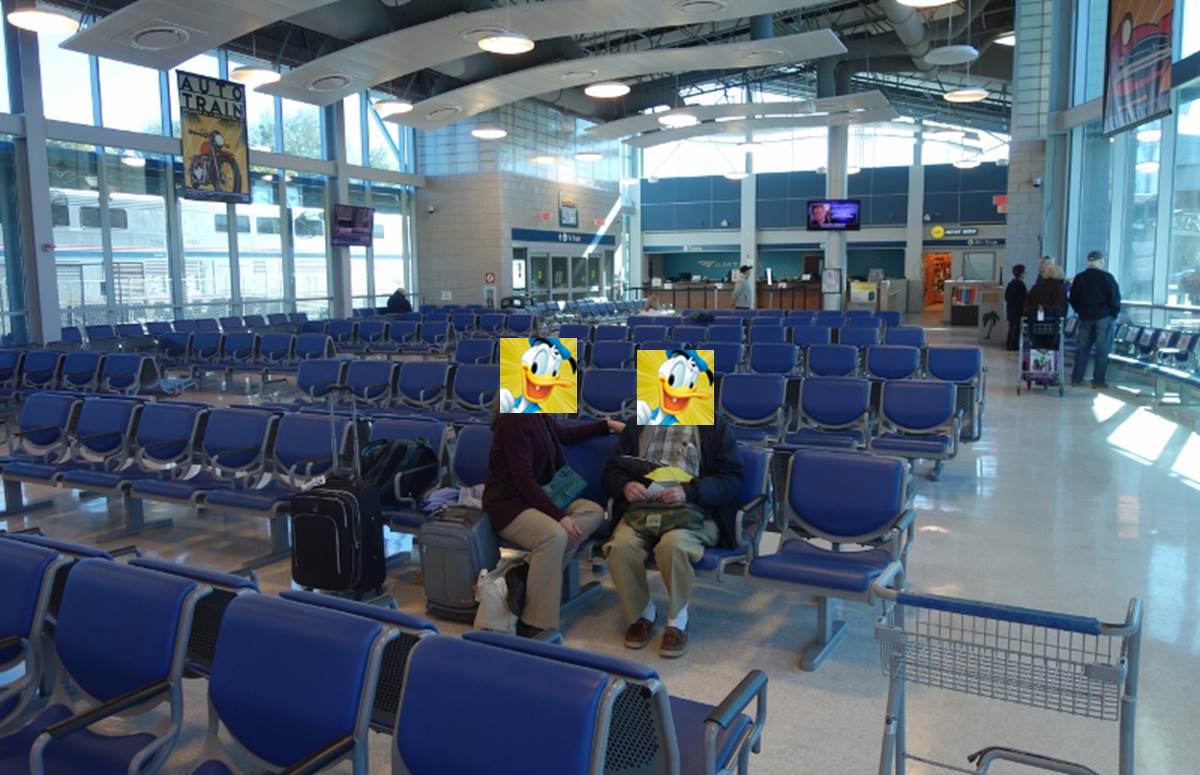 That's my sister and dad–anonymized a bit, aren't you jealous of my image-manipulating skills?–at the end of our lonely wait for our car…
My sister asked—she was told there used to be a prize for the last car, but not any more…
Even before our car was unloaded I had laid out the $50 to be unloaded in the first 20 cars on the way back to Lorton. Whether it's worth the money to you would depend on how you'd spend the hour or two you might potentially save from this. In our case, once I arrived in Lorton I'd then be driving an hour to drop my dad off, another hour to drop my sister off, and then 6 more hours to get back to Ohio, so it was worth it to me…
From Sanford Disney World is about an hour's drive. Left, left, three miles, then left again onto I-4 West. But I-4 is about to go into massive construction along almost all of this route, so the longer (and tolled) route via FL-417 may be a wiser choice as this project unfolds.
Heading north from Sanford to Lorton, all the key points–including departure and arrival times–are the same.
AUTO TRAIN ALTERNATIVES
If you want to take the train to avoid flying and I-95, but don't need your car, consider Amtrak's Silver Meteor and Silver Star.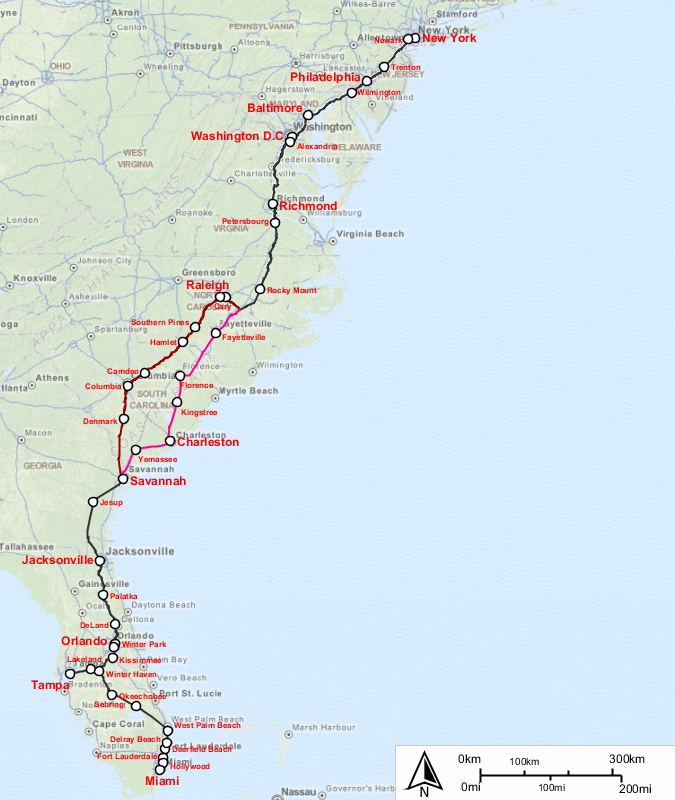 These sister trains (route map above; they have a sisterly quarrel over the Carolinas) provide many more places to board than Lorton, drop you off in downtown Orlando rather than Sanford, and don't charge the vehicle fee.
Because of the extra stops, the elapsed time on the Silvers is longer for an equivalent Auto Train trip—e.g. the Silver Star leaves DC about an hour earlier, and gets into Orlando about an hour later. But since you don't have to arrive at least two hours early, and don't have to wait up to two hours for your car, it's about a wash.
Follow yourfirstvisit.net on Facebook or Google+ or Twitter or Pinterest!!
RELATED STUFF