Disney World Deal for Into September 2014
By Dave Shute
NEW DISNEY WORLD DEAL INCLUDES LATER AUGUST AND SEPTEMBER 2014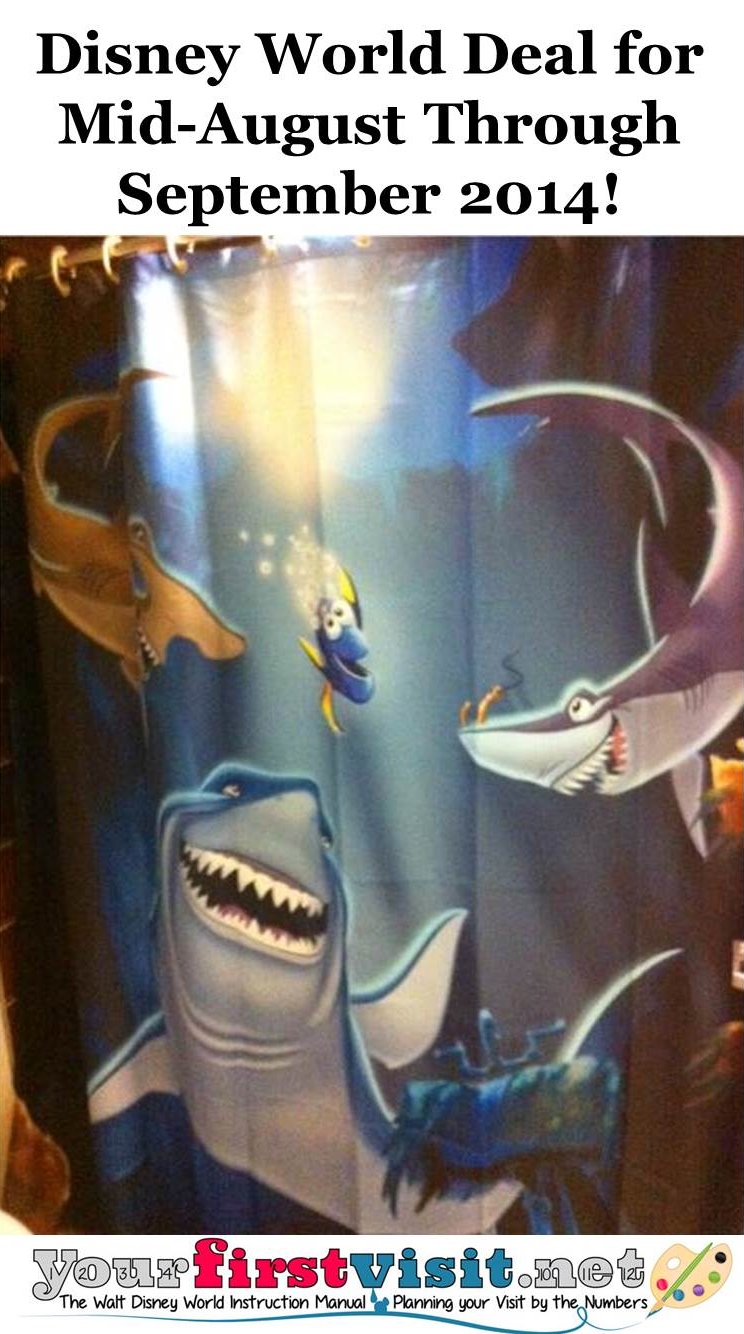 Disney World has announced a combined room rate and photo deal for stays 4/27/14 – 6/15/14 and 8/15/14 – 9/30/14.
This is the earliest in the year it's announced a late August/September deal for a while.
This deal needs to be booked by April 20, 2014.
It requires at least a three night hotel stay, and at least two days of tickets.
Those getting the deal will get room rate discounts:
In addition, you'll get Disney's Memory Maker Photo Package for free. The Photo Package is a way of pre-paying for photos taken by Disney photographers.
Disney's web page on this deal is here, or check with my friends at Destinations in Florida Travel–877-918-8941 or online here.  Remember to mention yourfirstvisit.net when you call! And then they'll sprinkle a little pixie dust on me if you book with them…
SOME ODDITIES WITH THIS DEAL, AND WHAT TO DO ABOUT FREE DINING
The room rate discounts are slim compared to recent deals for this time period—about ten percentage points lower than last year. (Last year's deal.)
It's also unusual for Disney to announce a room rate deal for this period before it announces free dining—which has been available during at least part of the August-September timeframe for more than a decade.
This deal also follows a deal that's also unusual—the current room rate deal that overlaps with the first part of this deal, but includes an extra ticket day free. We haven't seen free ticket days for a while.
So what's going on? Well, as usual I don't know, and as usual I'm willing to guess.
First, there's an ongoing battle in Florida about the county hotel tax treatment of certain room discount transactions. By shifting what would normally be "room rate" deals into—with the addition of both required ticket buys and ticket or photo deals—"package deals," these deals are, I think, protected from any negative fallout from that battle. So that may be part of it.
Or it could be as simple as perhaps the Seven Dwarfs Mine Train opening later than hoped—I saw today rumors of the summer, though until today I'd been hoping for early spring—and Disney needing something to carry it marketing message until then.
Or it could be both, or neither.
Many have asked if they should take this deal or wait for a better offer—especially for free dining.
I have mixed feeling on this. First, whenever a new deal comes out–like free dining–you can always compete with everyone else to get it, and, if you are successful, cancel your old deal, keeping your new one.
On the other hand, if lots of people book up what are normally slow September days with this room rate/photo deal, then the odds that Disney will provide other deals in September are slimmer.
So here's my advice:
If you are going to go during the August/September eligible period regardless of free dining, then book this deal. At least you'll have a deal…and can always try for a better deal later if one comes out…
If you'd only go during the eligible period with free dining or a better room rate deal, skip this and wait for the hoped-for appearance of those deals…which I'd expect to see come out no earlier than late April…
What about you?  Gonna take this deal, or wait–and why?
Follow yourfirstvisit.net on Facebook or Google+ or Twitter or Pinterest!!
RELATED STUFF