First Time Visitors and the Christmas Season at Walt Disney World
By Dave Shute
(A slightly different version of this first appeared in WDW Magazine.)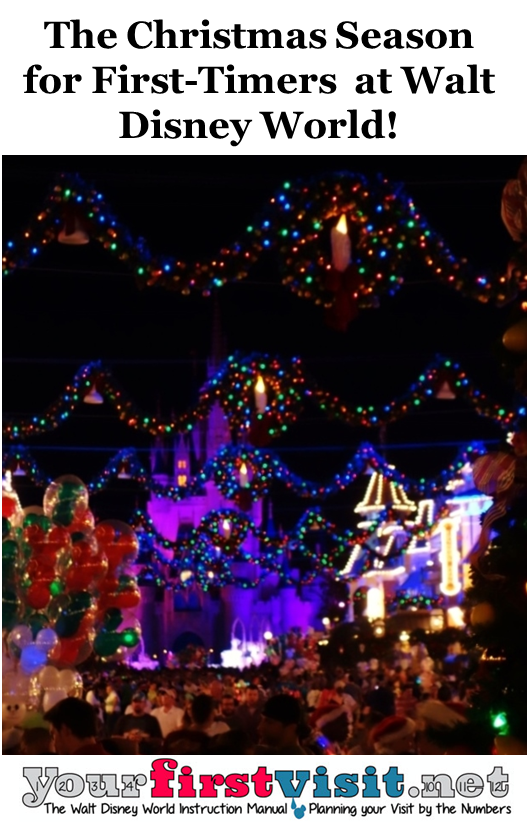 The purpose of yourfirstvisit.net is to help first time visitors to Walt Disney World make great vacation decisions quickly.
Because of that, it ranks the weeks of the year in order, and for each week publishes a recommended itinerary.
Since it opened more than five years ago, the three weeks between Thanksgiving and mid-December have always been the top-ranked weeks, combining as they do lower crowds, lower prices (only the first two weeks), and wonderful, magical Christmas programming.
(Carl Trent, founder, publisher and editor of WDW Magazine, had a role in setting me straight and helping pick those three weeks—thanks again, Carl!)
There's three parts to the Christmas season at Walt Disney World
The two weeks that include Christmas and New Years— wildly crowded, wildly expensive, and to be avoided
The period beginning about a third of the way into Thanksgiving until Thanksgiving Day—much, but not all, of Disney World Christmas program is in place these dates. Up until the Sunday before Thanksgiving, these are low crowd and low price dates.  Thanksgiving Week is a mess…
The three weeks beginning the Saturday after Thanksgiving—recommended because they combine low crowds with the full Disney World Christmas program.
My "Basic Itinerary" includes all of what I suggest is the best of Disney Christmas for first-timers.
But honestly, for some there is too much, for others, not enough, and yet a third group rather sensibly would rather pick and choose!
So I've taken the core elements of Disney's Christmas program and divided them into three groups:
Must-Sees: wonderful offerings that are easy to build into your Disney World Christmas visit
Nice-To-Sees: also wonderful offerings, but with "issues"—some kind of logistical or timing complexities, extra costs, or other issues that may make them not for everyone. (All of the Must-Sees and Nice-to-Sees are in my Basic Itinerary.)
Maybe-Sees: offerings not worth a special trip, but worth checking out if you are in their neighborhood when they are happening!
DISNEY WORLD CHRISTMAS SEASON MUST-SEES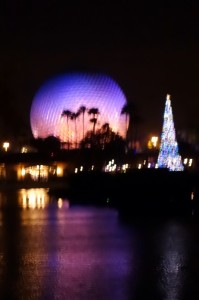 The Christmas decorations in all the theme parks.
You'll see these anyway as you visit—but look not just at the major decorations, but also the details! And try for blurry but arty shots from a distance…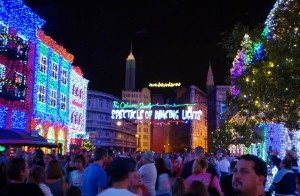 The Osborne Family Spectacle of Dancing Lights in Disney's Hollywood Studios, every night from around 6p on.
The Holiday Storytellers at Epcot—holiday traditions from each of the countries in Epcot's World Showcase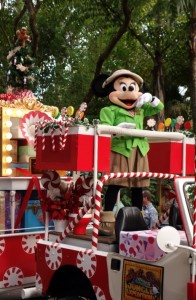 The Christmas-themed afternoon parade at Disney's Animal Kingdom
The Christmas special version of Illuminations at Epcot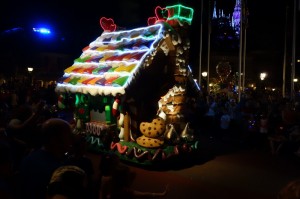 (Christmas and New Years weeks) Holiday Wishes, and the Mickey's Once Upon a Christmastime Parade, at the Magic Kingdom.
Only viewable as part of MVMCP until the Saturday before Christmas, on that day these become part of the Magic Kingdom's core offerings.
DISNEY WORLD CHRISTMAS SEASON NICE-TO-SEES
Mickey's Very Merry Christmas Party ("MVMCP") at the Magic Kingdom.  MVMCP is a special evening party held certain nights at the Magic Kingdom, typically with its last show the Friday before Christmas.
At it you will see special Christmas parades, fireworks, character greetings and shows, have access to most major Magic Kingdom attractions with shorter waits, and luxuriate in free cookies, hot chocolate…and snow on Main Street!
The negative of the party is its extra cost. Prices vary by show date and how and when tickets are bought, but a typical family of four will spend between $200 and $300 for tickets to this special party.
The nightly switch-on ceremony for the Osborne Lights at Disney's Hollywood Studios.  The Osborne lights are typically turned on daily at 6p (beginning, in 2013, November 8), and this switch-flip is usually preceded by a music show by "Mulch, Sweat, and Shears" and followed by the opportunity to meet Santa Goofy.
For families who have never seen the Osborne lights, the transition from darkness to their full display is simply astonishing.
The issue with seeing this transition is that, this time of year, Fantasmic is often scheduled for 6.30 p.m., and even with a Fastpass+ you can't quite be sure you'll be able to get from the lights-on across the park to Fantasmic. Not only is it a hike, but also you won't want to leave the show that quickly…and given the crowds that it attracts, may not even be able to.
So, if you have only one evening at the Studios on a night Fantasmic is at 6.30p, skip the "switch-on" ceremony, and head to Fantasmic instead, checking out the Osborne lights later that evening.
The Candlelight Processional at Epcot.  The Candlelight Processional is shown several times nightly from the Friday after Thanksgiving to the night before New Year's Eve.
Taking place near the American Pavilion in Epcot's World Showcase, the Processional combines Gospel readings from a celebrity narrator with Christmas hymns and carols sung by massed choirs.
For some families, there are a couple of potential issues with the processional.
One is that it is not remotely secular. The Candlelight Processional is a very Christian show—not "Rudolph the Red Nosed Reindeer" or "Here Comes Santa Claus," but rather "Oh Little Town of Bethlehem" and "Silent Night, Holy Night."  This makes it fine for some, but perhaps a little too "churchy" for others.
Second, there's no great way to get in to the show.  There are two lines: a "space available" line, and one reserved for those who book the Candlelight Processional Dining Package.
The "space available" line may involve hours of waiting—and then not getting in, if no space is left. The Candlelight Processional package, which guarantees a seat (though you still have to wait in line, especially if you want to sit close to the celebrity narrator) is quite expensive—on the dining plan, it's two credits.
The Christmas decorations in the Deluxe Resorts. Disney's deluxe resorts have wonderful Christmas decorations in their lobbies from about the middle of November through the holiday season.
Four are easily accessible from the Magic Kingdom: the Polynesian and Grand Floridian by monorail, the Contemporary by either monorail or walking, and the Wilderness Lodge—my Christmas favorite—by boat (you can also get to the Lodge from the Contemporary by boat).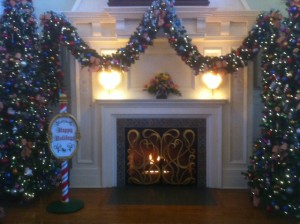 Three are easily visited from Epcot—the BoardWalk Inn (my Christmas favorite among the Epcot resorts), Beach Club and Yacht Club.  You get to them from Epcot's World Showcase entrance, either by boat or walking.  You can also get to these three via a longer boat ride or walk from Disney's Hollywood Studios.
Touring the deluxe resorts is always fun, and especially magical at this time of year when they are dressed in their Christmas finery.  Such visits are on this 'nice to see" list only because they can take, with transport time, more time than you may have or want to spend.
DISNEY WORLD CHRISTMAS SEASON MAYBE-SEES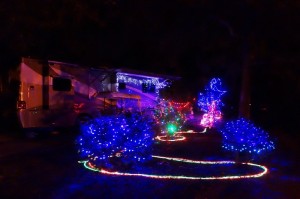 The Christmas decorations in the campground at Fort Wilderness.  It's been a tradition for decades for families staying during the Christmas season at Fort Wilderness to decorate their campsites, rigs, and tents with Christmas lights and holiday decorations.
Fort Wilderness is out of the way, and these decorations are not worth a special trip.  But if you are at the Fort anyway—perhaps to see Hoop Dee Doo Revue—and have some extra time, it's well worth checking out some of the loops closest to Pioneer Hall to see the creativity, and honor the willingness to share holiday festiveness, of the campers behind these displays.
Festival of the Seasons at Downtown Disney.  Downtown Disney finds itself re-decorated to a Christmas theme, and populated with special acts and performers, from mid-November through December 29.
Like Fort Wilderness, Downtown Disney is out of the way, and these offerings are not worth a special trip, but if you are in Downtown Disney anyway—to dine or see Cirque du Soleil, for example—it's well worth building some extra time in your schedule to enjoy the decorations and street shows.
The taping of the Christmas Parade.  Disney's Christmas parade, shown Christmas morning, is typically taped at the Magic Kingdom the first Friday and Saturday of December—in 2013, the 6th and 7th.
This is not really a spectator event—rather, Main Street and the area near the Castle becomes basically a television studio, and the prime viewing areas are not easily available to the general public.
Unless you are really a fan of someone being taped, and are willing to stand around in a not great viewing area, this isn't really a destination event—rather, it's just a way that Main Street and the front of the Castle (but not the rest of the park) get clotted up.
If you are here these days anyway, it's worth a look…but it's not really a show, and not really set up for viewing by regular park visitors.
For first-time visitors, all these special events, shows and displays are worth seeing.  But use the thoughts above to balance how much time and money you commit to them!
Follow yourfirstvisit.net on Facebook or Google+ or Twitter or Pinterest!!
RELATED STUFF