Review: The Holiday Storytellers at Epcot
By Dave Shute
THE HOLIDAY STORYTELLERS AT EPCOT'S HOLIDAYS AROUND THE WORLD
The Holiday Storytellers are one of the major components of Epcot's holiday season celebrations–the others are the Candlelight Processional and a holiday adaptation of Illuminations.
The overall celebration is called "Holidays Around the World" and runs from the Friday after Thanksgiving until December 30.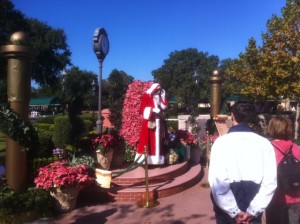 During the season, characters depicting a traditional figure from each of the nations of the World Showcase relates how a holiday (Christmas mostly, but also Kwanzaa, Hanukkah, or New Years) is traditionally celebrated in their country.
These characters are the Holiday Storytellers.
REVIEW: THE HOLIDAY STORYTELLERS AT WALT DISNEY WORLD
The holiday storytellers are one of the best marriages of kid appeal and cultural education at Epcot, and seeing at least a few of them should be part of every Epcot holiday season visit.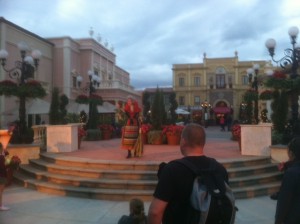 None is so compelling that you need to make sure your family sees them, but all are worth for waiting an extra 15 minutes or so if they are about to perform in the pavilion where you are.
Your kids will most likely want to see storytellers from within or near to their own tradition, while older kids will have fun seeing a mix of storytellers from several traditions.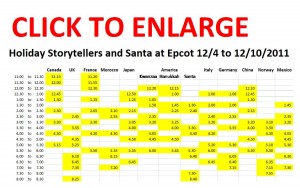 The times of the storytelling sessions are listed in Epcot's Times Guide.
See the image for how the schedule typically plays out.  (It includes Santa, not strictly a holiday storyteller.)
If you study these times a little too closely, you'll note that no storyteller is available from when the World Showcase opens until it ends.
For example, the sessions in Canada and France begin and end early, while those in the UK, Norway, and Morocco begin and end late.
The upshot is that you can't see them all in one visit without back-tracking.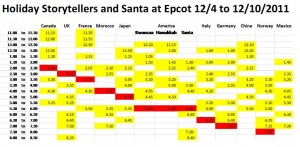 The image shows with a red highlight a path that starts in Canada, but if you don't jump around, you'll miss China and Mexico.
(I've done the same for starting in Mexico, with similar results, but will only post it if someone insists…)
I don't think this matters much, because while the storytellers are a wonderful part of the holidays at Epcot, no one among them is so powerful as to be required viewing. Be sure to see some; no need to see all.
For more detail on each of the storytellers, see Kristen Helmstetter's post on the TouringPlans.com blog.
RELATED STUFF