New Shades of Green e-book from Steve Bell
By Dave Shute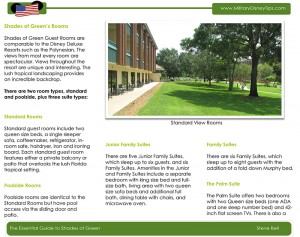 The author of MiliaryDisneyTips.com and moderator of military family issues on this site, Steve Bell, has released a new e-book on Shades of Green, the Armed Forces resort at Walt Disney World.
(Click the image for a sample page.)
As you can tell if you click the link, I think quite a lot of this e-book!
(Disclosure: I'm such a fan that I've set up an affiliate relationship with Steve, so if you buy the book, he'll share a bit of pixie dust with me.)
For those eligible for it, Shades of Green has one great positive and one great negative.
The great positive of Shades of Green is wonderful rooms at much less than half of the price you'd pay for the equivalent Disney-owned rooms.
The great negative is an almost complete absence of the fun theming you will find in the Disney resorts.
For me the  negative outweighs the positive for first time family visitors who may never return (see my review here), but many families just don't agree that it matters given the low-priced wonderful rooms there.
Steve's e-book deals with this and all of the other issues and opportunities that Shades of Green presents in a really comprehensive and well-illustrated way.
So if you are considering a stay at Shades of Green, but not completely sure, you need to buy this e-book. It will help you make a decision you will be happy with!
Steve Bell is the Military Moderator on this site. And Steve's Military Disney Tips has always been the go-to site for military families looking to make the most out of their Disney World vacations.
But like every other website (especially mine), finding exactly what you need to know, in the right order, sometimes isn't as easy as you'd like it to be.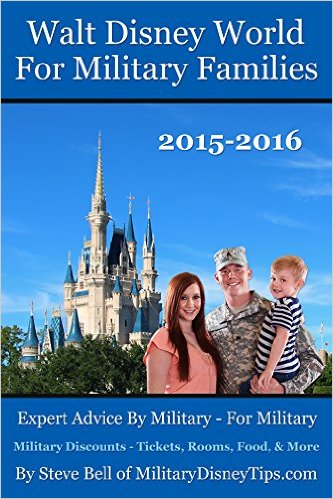 So the great news is that Steve has just published a Disney World guidebook for military families.
With entire chapters devoted to the 2016 salute, to Shades of Green, and to other deals and perks available to military families, I can't recommend it enough!!
It's available as a PDF–probably the most convenient format–here, and on Amazon.com here
.
This book will be a great help to military families contemplating a Disney World visit in 2016!!
Deals and Discounts
Shades of Green
Comments moderated by Steve Bell of Military Disney Tips.
RELATED STUFF