Military Families at Walt Disney World and A Split Stay at Shades of Green
By Dave Shute

OVERVIEW: A SPLIT STAY FOR MILITARY FAMILIES AT SHADES OF GREEN RESORT AT WALT DISNEY WORLD
Eligible military families, and civilians who can travel with an eligible military sponsor, should consider a split stay (staying at two resorts during one trip) at Walt Disney World that includes Shades of Green, based on its very low prices.
Shades of Green is a deluxe-level resort owned by the U.S. Department of Defense, across the street from the Polynesian.
SHADES OF GREEN ELIGIBILITY AND PRICES
Those eligible to stay at Shades of Green include active duty and retired members of the US Military, current members of the Reserves and National Guard, employees of DOD, U.S. Public Health Service Officers, their families, and people that they sponsor and accompany on the same trip (but not necessarily in the same room–unless you wish to do so).
See this for more specifics on eligibility, services, etc. And check out Steve Bell's Shades of Green e-book.
Rates vary by rank/rate, and are exceedingly low for rooms of the size (as large as any standard rooms owned by Disney!) and quality offered.For example, junior enlisted (E-5 and below) will pay about $95 a night, and field grade officers pay around $135 a night.These rooms sleep up to 5.
In addition, Family Junior Suites, sleeping up to 6 ($250 per night for all rates/ranks), and Family Suites, sleeping up to 8 ($275 per night for all rates/ranks), are available.
RECOMMENDATIONS
Rooms are comparable to those at Disney-owned deluxe hotels.However, the overall look and feel, while not military, is spartan, and is not nearly as kid-appealing as any Disney-owned hotel. Transportation is much less convenient than at the Polynesian.
Because it is not so appealing and/or convenient, take advantage of its low rates through using a split stay. (On visits after your first, it's a great place for your entire trip, but on your first visit go for the split stay!)
If you are aimed at Art of Animation or another Value, spend your first four nights at Art of Animation, and your last four at Shades of Green (don't reverse the order, or you'll be too spoiled by the space at Shades of Green to enjoy Art of Animation!).
If you are aimed at the Polynesian or another deluxe, spend your first four nights at Shades of Green and your last four at the Polynesian. (Here, too, don't reverse the order, or you will be too spoiled by the kid appeal and convenience of the Polynesian to enjoy Shades of Green!)
MORE DETAILS
For an overview of Shades of Green, see this. For the official Shades of Green website, click here.
Steve Bell is the Military Moderator on this site. And Steve's Military Disney Tips has always been the go-to site for military families looking to make the most out of their Disney World vacations.
But like every other website (especially mine), finding exactly what you need to know, in the right order, sometimes isn't as easy as you'd like it to be.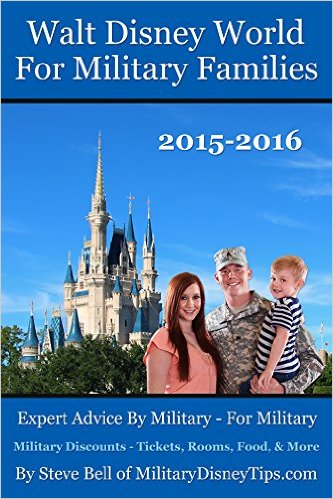 So the great news is that Steve has just published a Disney World guidebook for military families.
With entire chapters devoted to the 2016 salute, to Shades of Green, and to other deals and perks available to military families, I can't recommend it enough!!
It's available as a PDF–probably the most convenient format–here, and on Amazon.com here
.
This book will be a great help to military families contemplating a Disney World visit in 2016!!
Deals and Discounts
Shades of Green
Comments moderated by Steve Bell of Military Disney Tips.