Disney World Armed Forces Salute for FY14
By Dave Shute
Update July 21, 2014: the Armed Forces Salute has been renewed for another year!
GREAT DEALS FOR MILITARY FAMILIES AT WALT DISNEY WORLD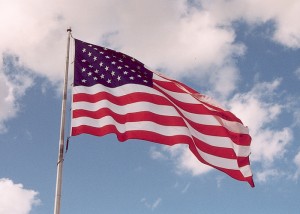 As reported by my friend Steve, Disney World has launched a new version of the Armed Forces Salute for most nights from September 29, 2013 through September 27, 2014.
As in past versions of this offering, there's two parts–you can use either or both.  One is highly discounted four day tickets, and the other is discounts of 20% to 40% off of Disney World hotels.
There's a lot of complexities and fine print to this offer (and the fine print varies between Disney World and Disneyland), of which the following are most important for Walt Disney World visitors:
The offers, are for active duty members, reservists, National Guard members, and career retirees. Almost all vets who don't also fit into one of those categories aren't eligible
You can get a maximum of 6 tickets–unless your immediate family–think member, spouse and kids–is larger
The member or spouse with proper military ID needs to be there in person to either check in to the room or activate the tickets (both if you are using both)
So long as the deal is activated by the right person, the other people benefiting from it can be anyone–your non-military family can use tix which your eligible uncle buys for you, so long as he is at Disney World in person to activate them
There are ineligible dates both for the room deal and for the tickets.
You can book the room discounts for eligible dates now, but the tickets won't be available until mid-August–and of course can't be used until September 29.
Disney's similar FY13 deal is still available for use until late September 2013.  See this.
For much more detail on the offers and their specifics and rules, see Steve's stuff and its links beginning here.
For more on military families at Walt Disney World, see this.
Follow yourfirstvisit.net on Facebook!
RELATED STUFF