THE BARNSTORMER FEATURING THE GREAT GOOFINI
The Barnstormer (featuring the "Great Goofini"–that is, Goofy in his plane-flying guise) is a kiddie coaster in the Storybook Circus section of the New Fantasyland at the Magic Kingdom.
The ride is identical to what's been here for more than a decade, but has been lightly re-themed to match the new occupant of this terrain (which was formerly Mickey's Toontown Fair): the Storybook Circus area.
It continues to be a hoot of an introduction to roller coasters for little ones (although they have to be at least 35 inches tall to ride), and is a fun–though brief–attraction for slightly older kids, but for them not worth much of a wait.
REVIEW OF THE BARNSTORMER AT STORYBOOK CIRCUS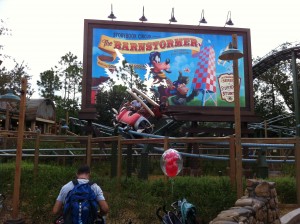 The Barnstormer is a brief, open air roller coaster.  Disney calls it "mild but wild" and that seeming contradiction is fair, at least for younger kids.
It has the classic elements of an older-style coaster: a hill to the top of which the ride vehicles are pulled up, and then a speedy and turny run back to the load/unload area.
It's an underrated ride among older (but still pre-teen) kids.  It's plenty zippy and twisty–"wild"– for a Magic Kingdom ride, and for them the main negative is how incredibly short it is–which is why it's not worth much of a wait.
What makes it great for really little ones (35 inches or taller) is not that it's slow and easy.  It isn't.
Rather, what makes it an ideal "mild" first roller coaster  is that
It's completely visible to them from the outside and the waiting area, so there's no surprises
There's two by two seating, so parents can sit with a little one to reassure them
And it's really short, so if it is a bit too much, it'll be over before panic has a chance to peak!!
Kids too little for, or too afraid of, Space Mountain or Big Thunder Mountain should give it a try, to discover how much fun a roller coaster can be.
Families with slightly older kids might put it on their "skippabble" list, but should be willing to go for a flight with Goofy if the line isn't too long!