Personal Favorites: The Epcot Resorts
By Dave Shute
This post on the Epcot resorts is one in a series about personal favorites. See lower on the page for more about this series.
FAVORITE EPCOT RESORT: DISNEY'S BOARDWALK INN
This site's ranking of the deluxe resorts at Walt Disney World for first time visitors puts Disney's Polynesian Resort first, Disney's Wilderness Lodge second, and Disney's Animal Kingdom Lodge third.
Among the Epcot resorts, all three come in last on the list of recommendations for first-timers, with Disney's Beach Club Resort ranked best among them, Disney's BoardWalk Inn ranked last, and the Yacht Club in between.
My personal favorite among these, however, is the one ranked last: the BoardWalk Inn.  Why?  Well, give me a minute, and I'll tell you.
DISNEY WORLD'S EPCOT RESORTS
The Epcot resorts are deluxe resorts grouped around Crescent Lake within easy walking distance of Epcot, and a moderately longer walk away from Disney's Hollywood Studios. Boats take guests to both parks as well.
As I count them, there's seven Epcot resorts:
Disney's Beach Club Villas
The Swan
The Dolphin
But most people, when they think of the Epcot resorts, are thinking of the Beach Club, the Yacht Club, and the BoardWalk Inn.
WHY THE BOARDWALK INN IS MY FAVORITE EPCOT RESORT
Resorts are ranked on this site for first time visitors based first on their kid appeal, and then on their convenience carrying out this site's itineraries–which are heavily weighted to the Magic Kingdom area.
Based on these criteria, all three resorts suffer. 
The Yacht Club and Beach Club come out ahead of the BoardWalk Inn because of much higher kid appeal of their shared pool, and the Beach Club edges out the Yacht Club both because it has more intrinsic kid appeal and is more convenient than the Yacht Club.
The BoardWalk Inn–by a bit–is the most convenient of the three, but on this site kid-appeal always trumps convenience.
(You will read here and there that the Yacht Club is "much more formal" than the Beach Club.
This is a crock.
Disney World has reinforced this message since these hotels opened, and many have repeated it. 
But the marketing communication differentiation really exists just to try to separate the perception of these two hotels and give people a reason–however slender–to choose one rather than the other.  In fact,  they are essentially identical but mirror image wings of a single building.  Yes, the Yacht Club is a tad more formal–see  my review–but not in any way that  matters.)
So what brings the BoardWalk Inn to the top of my list of the Epcot Resorts?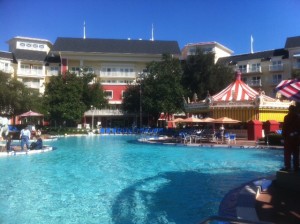 First, the kid appeal difference is real but, for me, trivial.
Yes, the Yacht and Beach Club's Stormalong Bay pool is much more fun than Luna Park pool at the BoardWalk Inn. But if I'm picking a Disney World hotel based on its achievement in  kid appeal, none of these would be even on the list.
Second, I like its convenience.
When you add in the effect of both boat and walking transport to Epcot, it just beats out the Beach Club, and is more convenient to Disney's Hollywood Studios as well.
Third, I have good family memories of the BoardWalk Inn and Disney's BoardWalk Villas. These were the first Epcot resorts my wife and kids and I stayed at, and that will always make a difference.  Hardly rational, I agree…but that's why this is part of the personal favorites series!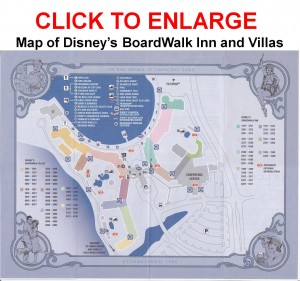 But the real draw of the BoardWalk Inn for me is the peacefulness of its sheltered outdoor spaces.
The BoardWalk Inn is the only hotel at Walt Disney World where room wings and walls entirely surround an "interior" outdoor space, creating an equivalent of a "berm" that shelters the interior gardens from the rest of the world.
While not a unique hotel design–you'll find the same at one of Marriott's Courtyard properties–the loveliness and scale of these interior spaces puts them in their own class (see the very first image at the top of the page).  It creates an enclosed serenity that you won't find at another Walt Disney World resort hotel.
MORE ON THE PERSONAL FAVORITES SERIES
The advice on this site—when to go, where to stay, what to do, etc.–is aimed at the typical family visiting Walt Disney World for the first time, unsure if they will ever return.
It is based not on personal favorites or my own taste, but rather on a combination of facts, analysis, inference and judgment about what would be best for such a family.
My personal favorites can be quite different from my advice for these families–particularly because I'm older and hence traveling with twenty-year-olds, not little kids; have been to Disney World more than forty times; and know I'll be coming back!
I thought at least some might be interested to hear about some favorites…if for no other reason than so that they can argue, using the comment form below!
MORE ON WHERE TO STAY AT DISNEY WORLD
RELATED STUFF