Review: The New Queue at Winnie the Pooh
By Dave Shute
THE NEXTGEN QUEUE AT WINNIE THE POOH
While the main features of Disney's NextGen Project will unfold slowly, one aspect—enhancing the experience of the waiting lines for certain rides—has been showing up for a while, dating back at least to the Space Mountain refurbishment.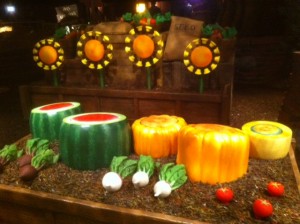 These enhancements don't make the lines any less long—in some special cases they may even make the wait longer, see below.
Rather, they just make waiting in line more fun.
NEW QUEUES AT WALT DISNEY WORLD MAKE WAITING IN LINE MORE FUN
The new queue at The Many Adventures of Winnie the Pooh in Fantasyland at the Magic Kingdom is a great example of an improvement to the waiting experience.
The essence of the new queue is a much wider space to line up in, with interactive play areas to one side of it.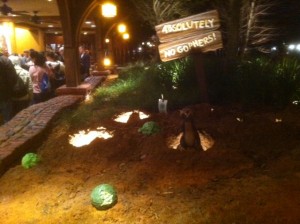 This allows parents to hold a place in line while kids play with finding bunnies, banging drum-like melons, etc.
The play stuff is quite fun, and often subtle, making even finding out how to play a fun adventure.
It's so much fun that in some families, the kids are gonna have to hold the place in line while their parents play.
In our case, my younger son and I—both over twenty, half by quite a bit—had much more fun playing than we did on the ride itself! Of course we'd seen the ride a million times before…
The total play time won't be that much except for the most frenetic kids—on busy days, they'll still spend much more time waiting than playing—but there's no question that the overall experience of waiting for the Many Adventure of Winnie the Pooh is better.
Tom Staggs reported at Disney's recent investor conference that some kids are pressing their parents to avoid the FASTPASS return lines so that they can play instead!
I believe that the next revised queue to open will be at the Haunted Mansion—it'll be interesting to see what the Imagineers come up with for this richly detailed ride's line, especially given that most of time waits aren't that long for this ride anyway.
RELATED STUFF